Guys,
An update of my initial post with a few pics showing results of some load development with my new 300 Blaser Magnum.
There is a bit of a background story. Some years ago I obtained a 300 BM barrel for my R93 Blaser. At the same time I obtained a FL CH4D Titanium Nitrided Die and on special order 300 pieces of brass from Norma. I never managed to produce any satisfactory loads and never hunted the barrel. Despite rubbing shoulders with the 300 Win Mag, a calibre I love and do shoot, I never lost interest in somehow having a 300 BM rifle but couldn't work out a way to do it. Then one day here I saw a guy trying to sell a Tikka rifle fitted with an aftermarket barrel in 7mm Blaser Mag. The case head size is the same as the 300 Blaser Mag. I contacted the seller and he confirmed the Tikka magazine easily took the rounds and he didn't need to machine the Tikka bolt as the magnum bolt face worked just fine. That was the lightbulb moment. I just needed to find a barrel maker here who had the necessary reamer. One guy I found had a reamer and would cut the chamber but not a 30 cal barrel !!!

He makes a 7mm wildcat based on the 300 Blaser Mag case and after a phone call and two emails he refused to communicate any further. He told me want I wanted wouldn't work in a Tikka rifle !!

I've had dealings with Hugh Bradley here who used to be the NZ Blaser dealer. As long as I have known Hugh he has also been a gunsmith and he just happened to have the right reamer and was prepared to make a barrel an fit it to a Tikka. So a new donor Left Hand rifle was promptly obtained from my favourite gunshop and off to Hugh it went. The brief was to make a Stainless Steel, 24 inch, 1:10 twist, free floated, contoured to 17.50 mm at the muzzle, fluted barrel bead blasted to matt finish. Getting the finished rifle back was delayed a bit by Lockdown complications but I did the contactless collection from the gunshop on 18 October.
Happily, I broke out the Norma brass and made some initial loads with RL26, AR2213sc ( H4831sc), AR2217 ( H1000 ), AR2225 ( Retumbo ), Federal Magnum 215 Primers, Hornady ELD-X 178 gn bullets. All but the AR2225 showed potential at the first range session. I was pleased to see AR2213sc showing promise because it's a favourite for some 300 Win Mag loads and I recently bought a quantity from a new shipment. AR2217 also showed promise so the next batch of trial loads included both AR2217 and AR2213sc and I shot these at the range this morning. Groups were shot at 200 yds and I think I might have a couple of loads to settle on. A final range session shooting the selected loads at 200, 250, 300 and 400 yds will determine whether I settle on these loads and continue to use them. Hopefully next week sometime, weather permitting.
These loads are not producing anything my 300 Win Mag won't and if anything I think recoil, or at least felt recoil, might be a bit stiffer with the Blaser Mag with the same powder charge, bullet, rifle make / model ( my 300 Win Mag is also a Tikka T3x ) fitted with the same scope. But, at the same time velocity might be a tad higher although this may be attributable to the barrel itself ( ? ). Possibly I could push the load with AR2213sc a bit further but the case is already close to completely full and I'm not that keen on compressed loads. The AR2217 load is lightly compressed and I won't push it beyond that.
I've also managed to get the first 300 Blaser Mag kill today while still in load development ! Behind the target berm is a high sandbank that catches the spent bullets. Bullets hitting there frequently throw up small sand spurts that get noticed by inquisitive Magpies. I was lined up on a target square when through the scope I saw two Magpies flutter down to investigate one of the sand spurts, no doubt thinking an easy meal was on offer. I thought "what the hell" and swapped out my trial round for one of the fouler rounds and lined up. I held a bit low on center mass and the shot took the Magpie through the centre of the neck. I was already having a good morning but that was the cherry on top. Shooting Magpies is testing and great marksman practise.
Just F.Y.I. the new rifle came with the standard magazine that fits 3 rounds of 300 Win Mag. Due to the diameter of the 300 Blaser Mag case this magazine is limited to 2 rounds which I find a bit restrictive. I purchased a 5 round magazine which comfortably fit 4 rounds of 300 BM and is much more suitable for goat culling outings.
Although it may be nothing more than a 300 Win Mag kissing cousin I am nevertheless happy to have a working 300 Blaser Mag. I'm sure using it will bring great enjoyment. The first serious outing will be some goat culling whenever we get past these restrictive Lockdowns here.
Hope you enjoy the pics guys.
Cheers
New Toy - Happy Days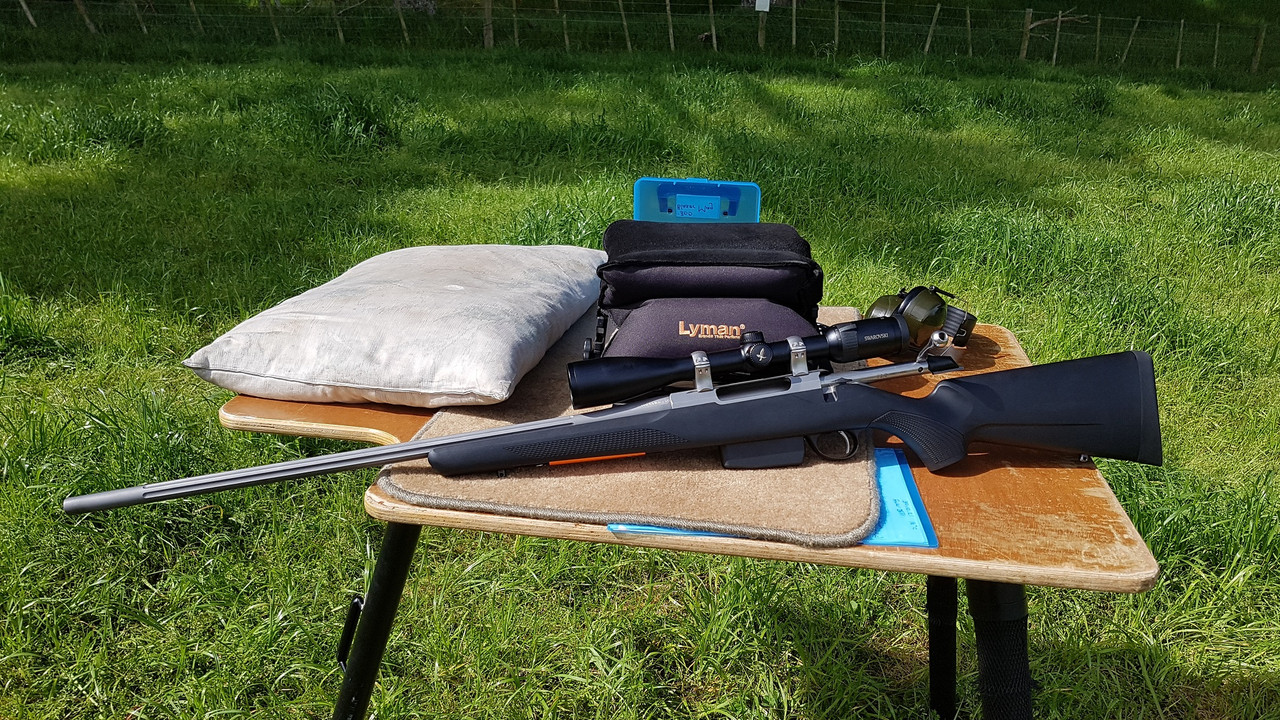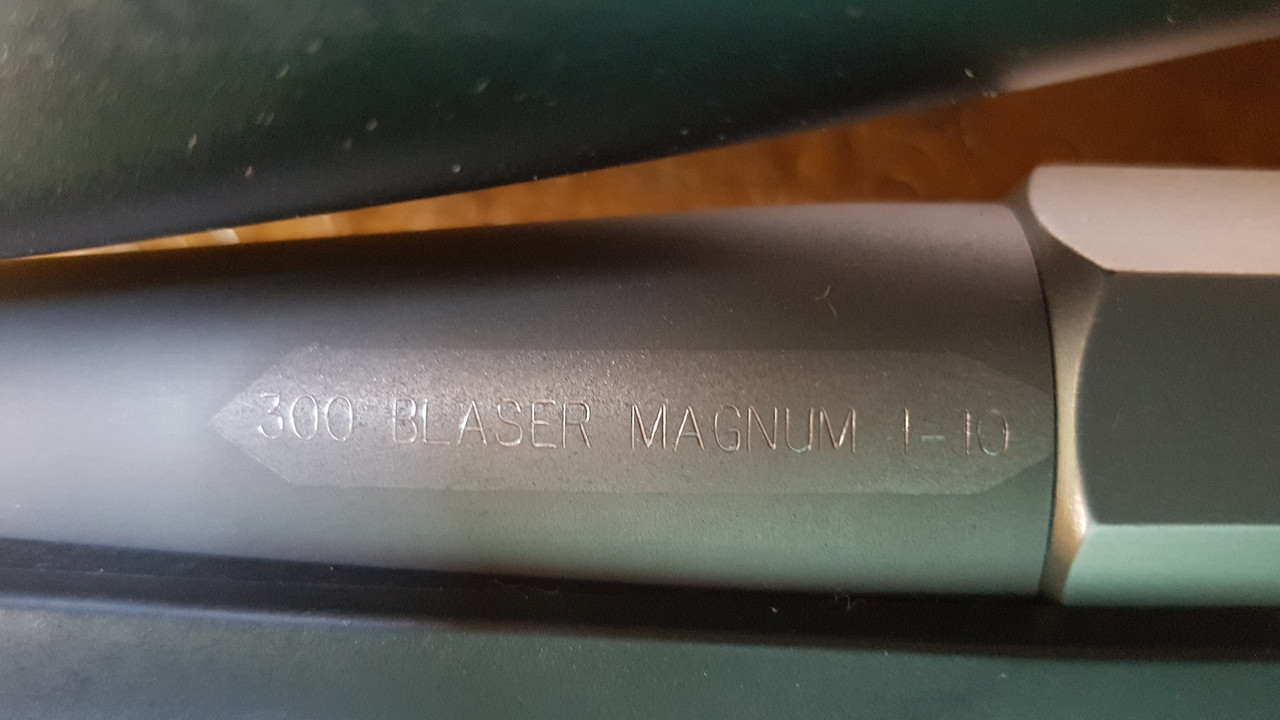 AR2213sc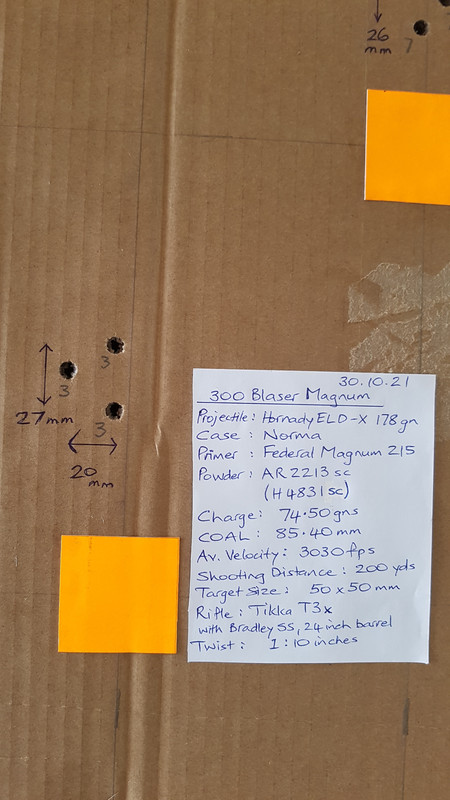 AR2217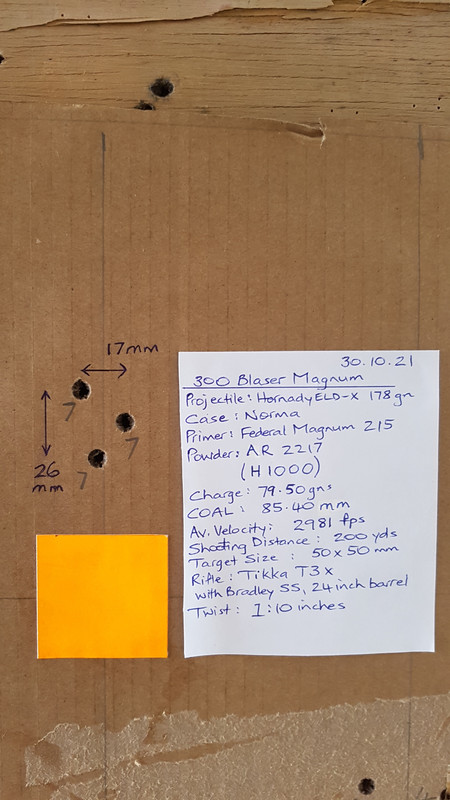 Magpie location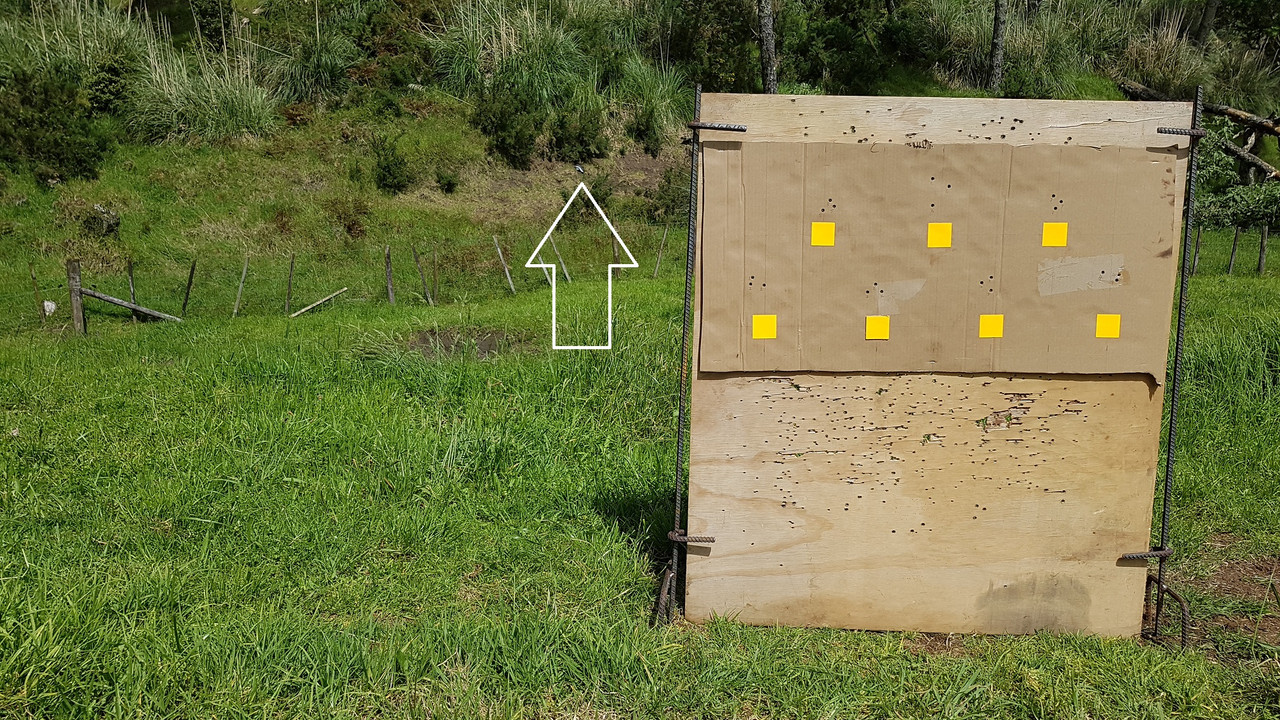 Magpie closeup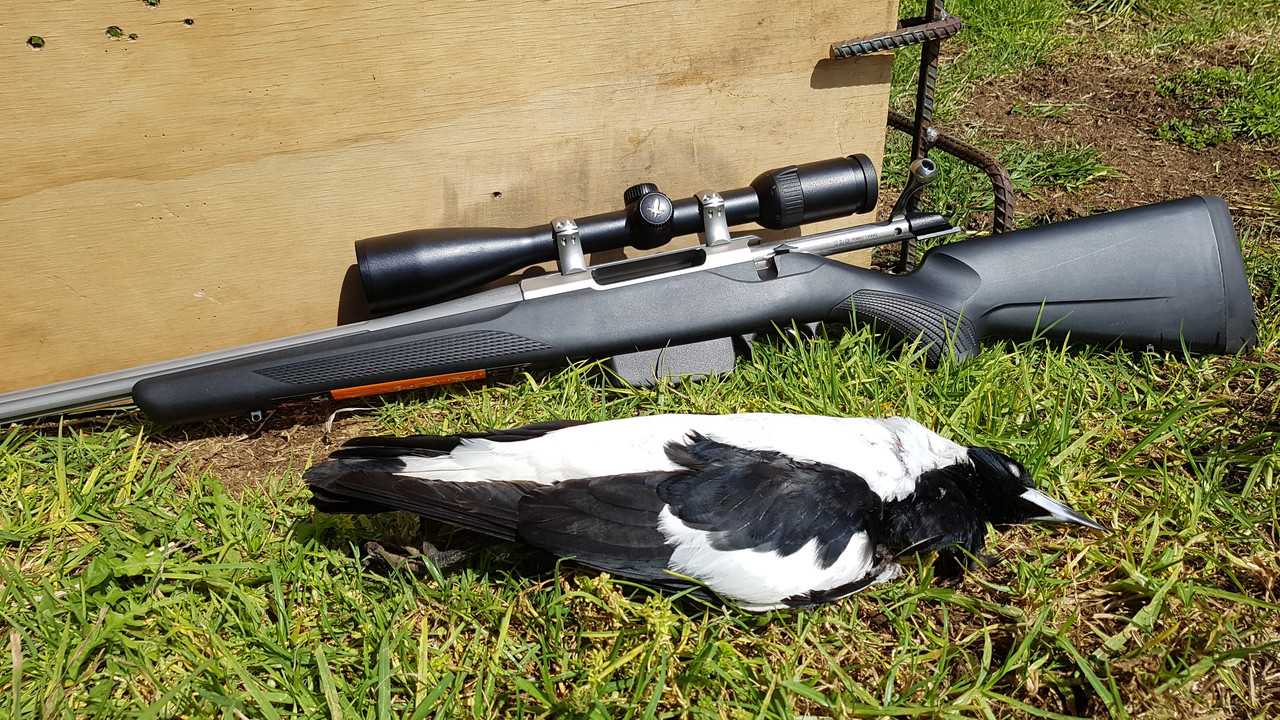 Hunting.... it's not everything, it's the only thing.