This is the first time I'm including pics in a reply, so please be patient.....

For decades, I did my reloading in the servants' quarters built onto the house. Since opting to accept a severance offer in January and semi-retiring, I have been home all day, and had plenty of time to make a mess. I really needed a full-time domestic, which means live-in, which means that my reloading room had to move indoors. So it had to be neat and presentable, preferably with a bit of a 'Wow' factor to it.
All credit to this thread, which is really where my inspiration came from. Apologies for ideas that I have shamelessly ripped of from others!!
Below is one of my single-stage presses, with shelf storage for components, dies, ammo etc behind. To the right (not visible in the pic), is another 5 undercounter drawers, and a wall-mounted rifle cabinet (with downlighters and laminated glass doors) The beauty of the rail system is that my Lee press is packed away, as it is not needed. It can be mounted in about 2 minutes.
The next pic shows my Dillon 550 (under wraps), some fishing tackle etc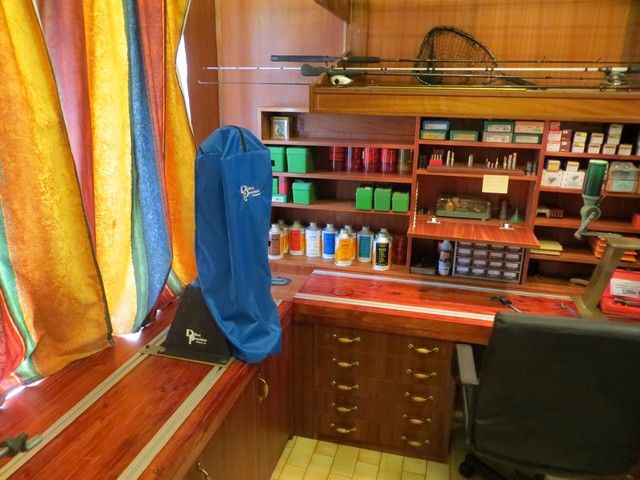 Then my Case Prep bench, with only my case trimmer currently mounted. Everything else is stored in the undercounter cupboards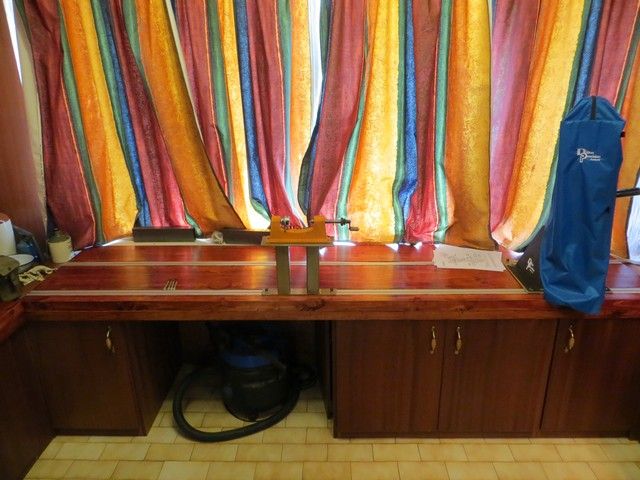 Then, my cleaning / maintenance station (which is a mess, as I'm trying to get that 220 Swift's barrel clean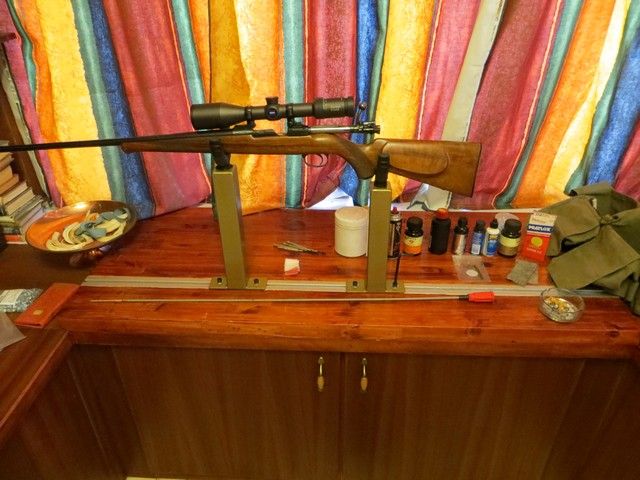 It's still very much a work in progress, but I'm trying very hard to keep it tidy (totally against my nature!). My ultrasonic cleaner, case tumbler, my miniature lathe etc is all on a dedicated bench in my workshop, in order to keep the indoors area clean.
Sincere thanks to all of you who unwittingly contributed so liberally of your ideas!
OK - let's see if I got this image-linking thing right!