I've wet sanded to 1000 grit, wood has a nice glow, so it's time we got on to checkering. The most important part of checkering is a nice, steady and comfortable checkering cradle. I built this about 35 yrs ago and still haven't gotten around to padding the seat. The pivoting ball is made of brass 2 1/2" in diameter, sandwiched by hand contoured steel plates...Brass on steel...nothing wears!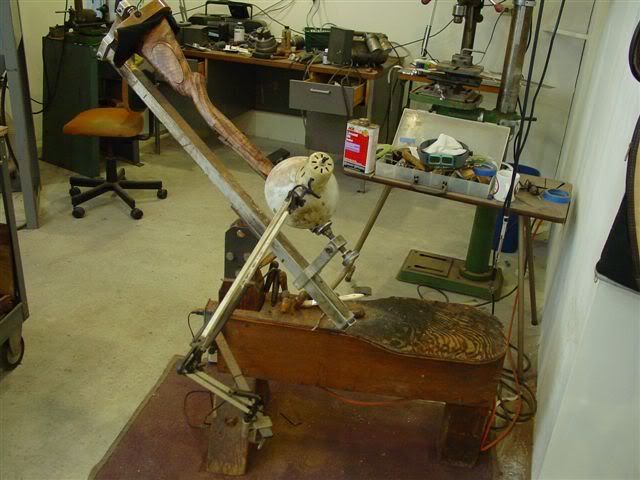 We'll be using a classic one piece point pattern (No room for cutesy pie here). First step is to lay out the top line parallel with barrel channel. Though this tool is home made, a commercial variety is now available
Using some paper tape, we can wrap around the forearm and then divide into three parts. This will leave three equal spaces, the reason will soon be clear. Since the forearm tapers, do the same layout near the action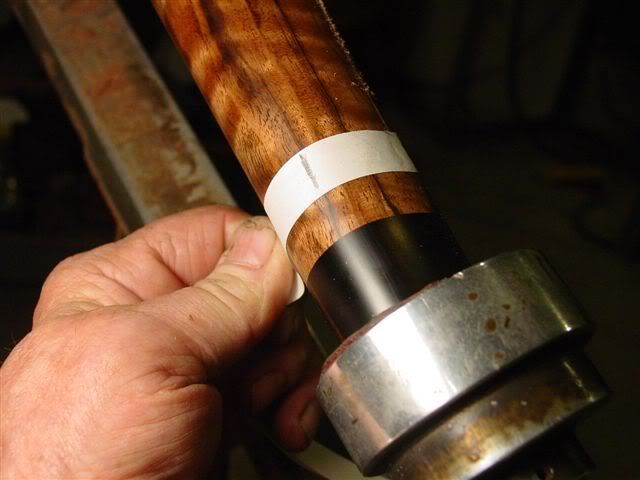 Now, make some marks where those equal divisions were and that will position our points as the pattern develops. Using a plastic template, I kind of like the looks of a 3.5 to 1 diamond proportion. So, now finding the EXACT center of the forearm, lay out the diamond angle. I like to use a "Stabilo" pencil, which is something like a grease pencil, but a lot finer and can be sharpened. The marks are easily removable and will not scratch or dent.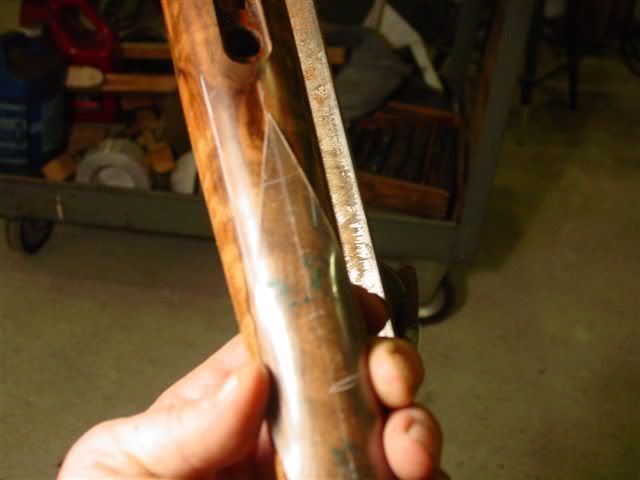 All part of the primary layout, those parallel lines indicate location of "points"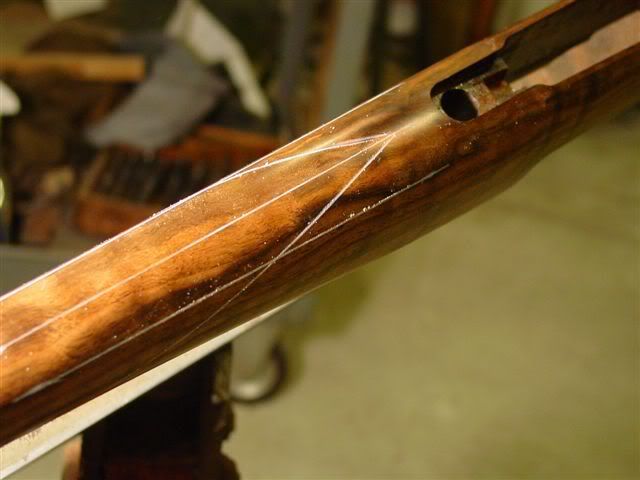 I use a piece of 1/2" wide flexible ruler tape about a foot long and line the backside with electrical tape to protect the wood. Mark parallel lines all across the pattern...they will act as a visual to maintain straight checkering lines.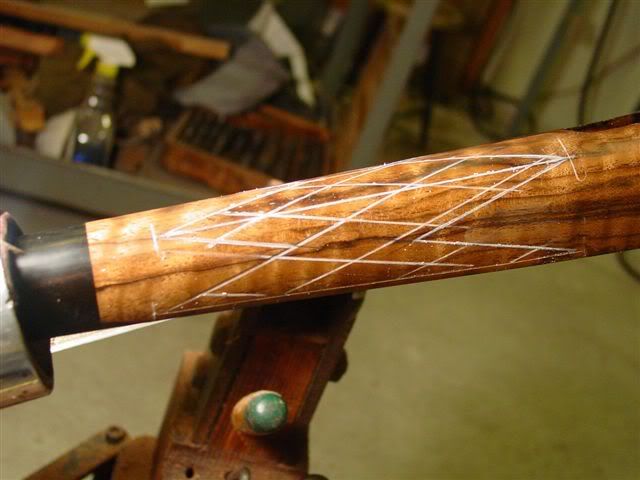 Using that same flexible rule material, scribe and deepen the master lines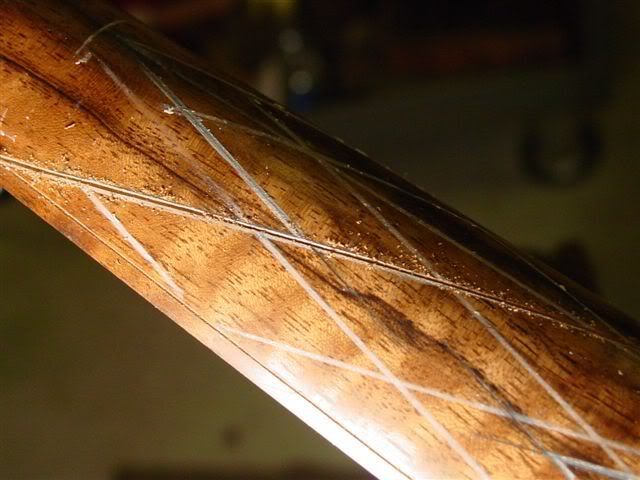 I'm using an electric tool here and soon find out that the grain is causing a bit of trouble (tool ends to follow the grain). Every couple of lines, I find it necessary to straighten out with what Monte Kennedy called a "jointer", which is merely a hand held tool with an inch long cutting surface. It tends to leave straight line…no matter the grain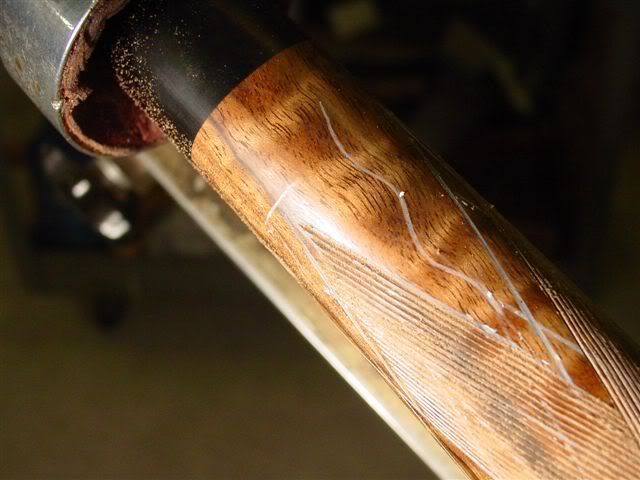 Can't stress how important it is to maintain straight lines so the borders will be a simple extension of a checkering line...were this a fleur de lis pattern or similar "fill in" these parallel lines are not quite as vitally important, though one must get in the habit of always keeping the lines parallel and straight
After we've deepened as much as called for, use a little linseed oil, which will act like a lubricant when using the veiner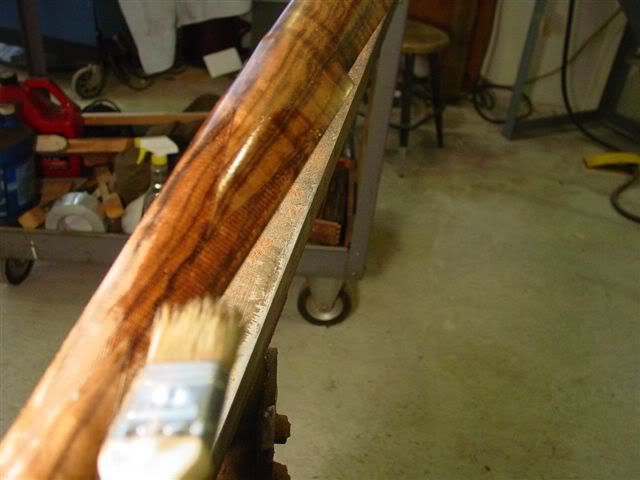 Each and every line must be taken carefully to the edge. I use a veiner...a very sharp veiner! Need I mention that stopping in time is pretty important to avoid runovers.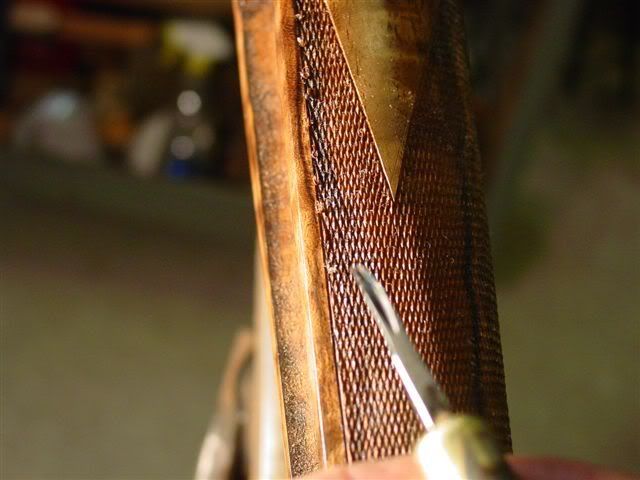 We'll be using a border, but first we'll do the grip...next time.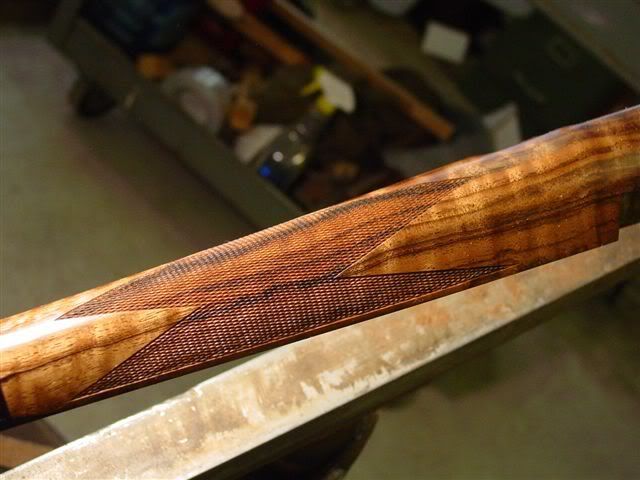 I know I couldn't have cover all the nuances, so fire away with any questions. I would also invite the other stockmakers to join in.
Thanks.
Duane