This is a good time for an update on our project and an appropriate time to reflect on our purpose.
Mark Stratton still has the metal work and recently told Duane Wiebe it will be in his hand's shortly for stocking. Mark signed on to install a barrel on the rifle but has ended up giving us an octagon barrel with quarter rib and sights. He's also installing some beautiful custom scope mounts on the rifle. We put a lot on Mark's plate and he's been a real gentleman to take on much more work than we told him about ahead of time.
It has been almost a year since Sheryl passed away. Fortunately for all of us, Sheryl leaves a little of herself in each of the many students she taught through the years. If you read through her online obituary, you'll see heartfelt comments from her students including many students who have long since graduated but still have loving memories of a dedicated teacher.
The purpose of the Sheryl Searcy Memorial Scholarship Fund is to educate another (or, if we're lucky, several) teachers who will have the same positive impact on young lives as Sheryl had. We're building a rifle to help the cause; but as I like to say, we're really building a teacher.
Around here, baseball and softball season has already started. It reminds me of a really cute photo of Sheryl (the "Hometown Hero") throwing out the first pitch at an Astros game.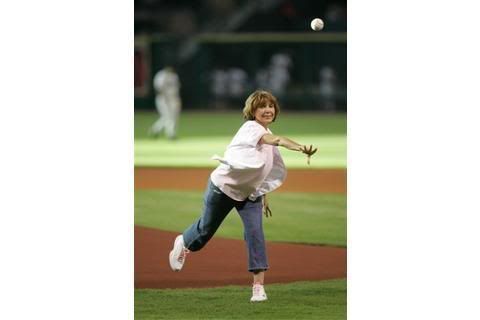 During the time I've been involved in this project, I've been regularly surprised at the acts of generosity that have helped our cause. This week it happened again. I bought a rifle from one of our AR forum members, "M16". As I paid M16, he said he wanted to donate all the money to the Scholarship Fund. Believe me, it was not chump change either. M16, thank you and a big pat on the back to all who have helped our project along. We're a little behind our original schedule, but we're continually making progress and have raised enough money to support a scholarship grant this year.
Trez, thanks for your compliment and offer to help. The only gift I have is to be in the right place at an opportune time and to find myself surrounded by lots of generous people. You have lots of talent and I'm sure you'll come up with an idea that benefit the Fund. Maybe you could give some thought as to our next rifle project?


______________________________
"Truth is the daughter of time."
Francis Bacon