Location:
Khomas Hochland, Namibia
Outfitter:
ARUB Safaris (Damara for Leopard),
Booking Agent:
Mark Young, with Adam Clements Safari Trackers
PH:
Malan Lambrechts
Trackers:
Matthew, Anton
Dog:
Rigby
Dates:
September 15 - 19
Rifle:
1938 Hoffman Arms with Winchester M70 action in .375 H&H
Scope:
Swarovski 2.5 - 10
Ammo:
Federal TSX 300 grain, 69.9 grains of RL15
Animals hunted:
Kudu, Gemsbok, Warthog, Red Hartebeest, Blue Wildebeest, Black Wildebeest, Springbok, Hartman's Zebra.
Animals seen:
Kudu, Gemsbok, Warthog, Red Hartebeest, Blue Wildebeest, Black Wildebeest, Springbok, Hartman's Zebra, Steinbok, Klipspringer, Blesbok, Baboon.
Animals taken:
Cheetah, Kudu, Hartman's Zebra, Warthog, Blue Wildebeest.
After a 7 day self drive tour of Namibia including Etosha and Swakopmund, my wife Joyce and I were picked up in Windhoek by Barista, the wife of Malan Lambrechts, my PH in Namibia.
We made our way about one hour and arrived at the ranch. Malan's ranch itself is about 25,000 acres, all low fenced with a non game restricting cattle fence. Malan's Father and Sister own the adjoining ranches of about the same size and game is pursued on all of these locations as well by means of wire gates the trackers open as you go. These fences stop only the cattle that is scattered throughout the properties.
We saw an abundance of game of quite the variety.
We also hunted another local ranchers property, which Malan called and got permission for, because he had a much greater number of Hartman's Zebra on his very mountainous property.
The accommodations are very comfortable being a separate bungalow located next to the ranch house. They only book one hunting group at a time. There's a small swimming pool and cabana. This is definitely a wife friendly location, although i need to mention my wife is very low maintenance. Barista will do what ever is necessary to make sure everyone is entertained. They offered horse back riding and well as "nitpicking" by their pet Baboon Cindy. I kid you not. My wife bonded with the Baboon.
Barista is a fantastic cook and our laundry was done daily looking like you had just brought it home from the store after the perfect pressing.
The equipment such as the safari cruiser is all in excellent condition. The skinning shed and butchering operation is top notch. It appears trophies are well cared for.
This was my first trip to Africa, thus my first Safari. There will be a separate later report on the "second" Safari into the Luangwa Valley of Zambia to follow.
Early on Malan mentioned there is an abundance of Cheetah on the property and he jokingly said he seems to always run into them when Americans, who can't import a Cheetah, are present. He made it plain that they can be a target of opportunity if seen and he would not charge the trophy fee.
30 minutes into the first morning we had a Cheetah down.
We returned the Cheetah to the skinning shed and headed back out. My list of animals sought was wide open except for the little guys. The irony is I saw some very nice Steinbok and Klipspringers, which Mark Young tells me I will regret not shooting someday.
As I said, game is plentiful but very wary. You can expect shots to average 200 - 350 yards and you will have very little time to set them up. I recommend practicing off of sticks and having the ability to fire within 10 seconds.
Kudu ended up on the menu next. The shot was about 230 yards.
We only saw a couple of Hartman's Zebra on Malan's property. Ironically one has taken up with a group of horses and has stayed with them for over two years now. It's pretty weird to see this Zebra that thinks it's a horse.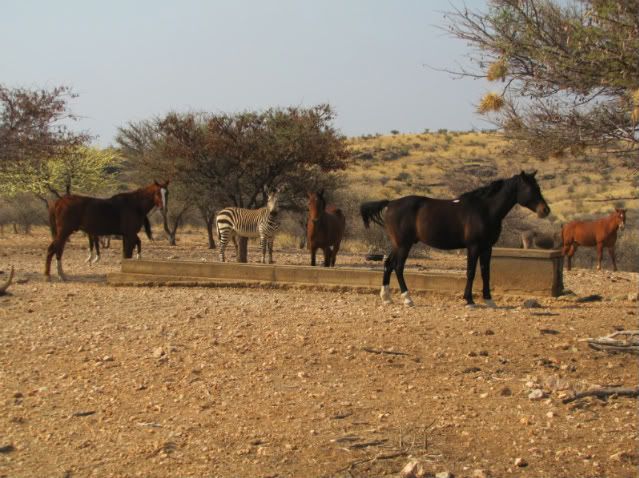 We drove 30 minutes to an adjacent rancher's property to hunt Hartman's Zebra. The area was much more mountainous and the Zebra were plentiful.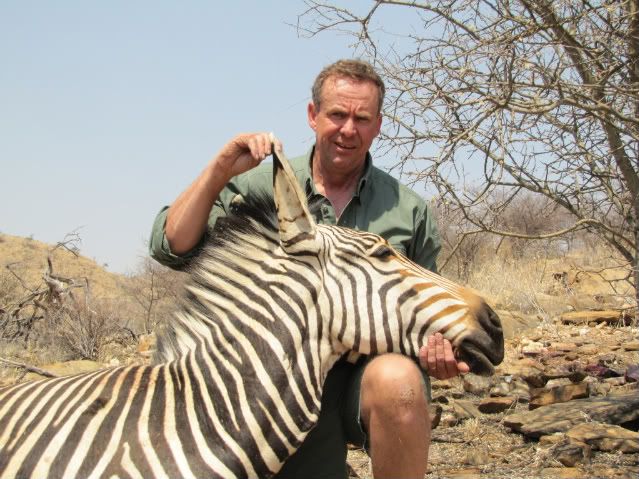 The next animal ended up being a target of opportunity. We were stalking a Gemsbok and a decent Warthog presented itself. Many of the pigs in Namibia have a tusk broken off and since this one did not we shifted our focus to the only animal my wife really wanted. The stalk was made easy when the Warthog slipped into a ditch out of sight. We quickly set up the sticks and I ambushed him when he came out.
We attempted many stalks on both Blue and Black Wildebeest but found it difficult to get into a comfortable range with the .375 H&H. Lots of wary eyes keeping watch and the whole herd would stampede into the next valley if they pick up any movement. I enjoyed these blown stalks almost as much as being successful. Malan is an excellent PH and he realized quickly that I love hunting, even unsuccessful stalks, as much as successful ones.
Finally we were fortunate enough to get within 300 yards of two lone Blue Wildebeest with both being shootable bulls.
I have no hesitation recommending ARUB and Malan. The operation is very organized, the hunting challenging the way it should be, the food and accommodations excellent, and you will leave feeling like you have new friends.