I hope this works out and I did the hunt justice in my report. I haven't had time to proof read it so please forgive my errors.
I will also add a few pictures here in the next day or 2.
August 14 start date
Hunted Nuanetsi area
PH- Thierry Labat
Tracker Mudini
Game scout- Bedzi
Booked the hunt with Zambezi hunters Through Mark Young
Blaser R93 375 HH with 300 Gr swift A frames
Hunt was for a leopard Buff and plainsgame.
Saw almost every species possible
I have so much to say and be greatfull for I don't know how to put it all into words. I feel truly blessed with all of the good that has happened on my trip. It all started years ago knowing I wanted to do this and started to put the pennies in the bank. I booked the hunt almost 2 years ago and was going with 2 other friends who will be posting as well. I will say that I was a bit dissapointed with the loss of the Hammond area to hunt and then finding out later that Arda might not happen as well. After some research I was very excited to be able to hunt Nuanetsi. After the hunt I must also add that Brent has done a fantastic job with this chunk of land. I had the pleasure of meeting Brent and his family and they are amazing and some of the best people around. Brent is hard working and down to earth and I know Brent went way out of his way to make my hunt truly a trip of a lifetime and I thank you so much for that Brent. You deserve a gold medal in my books.
The hunt started as usual with the long flights. We got into camp via bush plane and all went well. Guns were shot and checked. Mine was hitting 8 inches high and needed a bit of attention so did the other 2 guys that went with me.
Camp was nice with tents and a few buildings with bedrooms. It was put together nicely.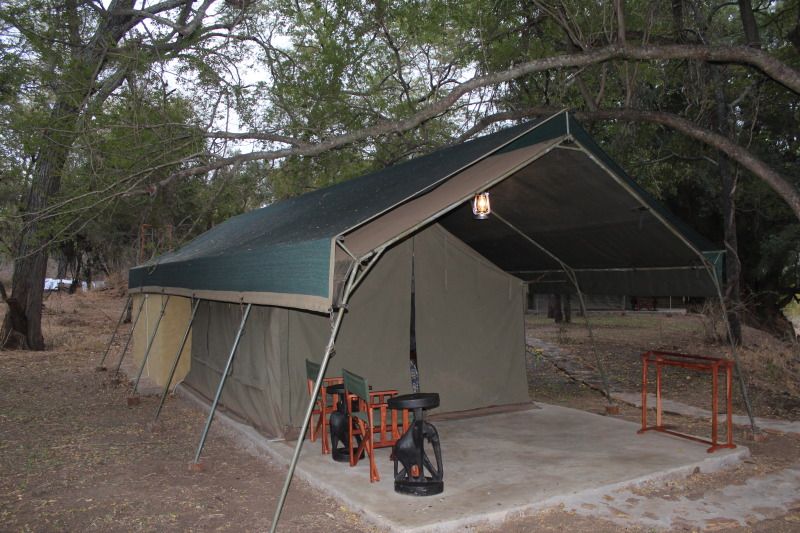 The camp was overlooking the river and we had great viewing.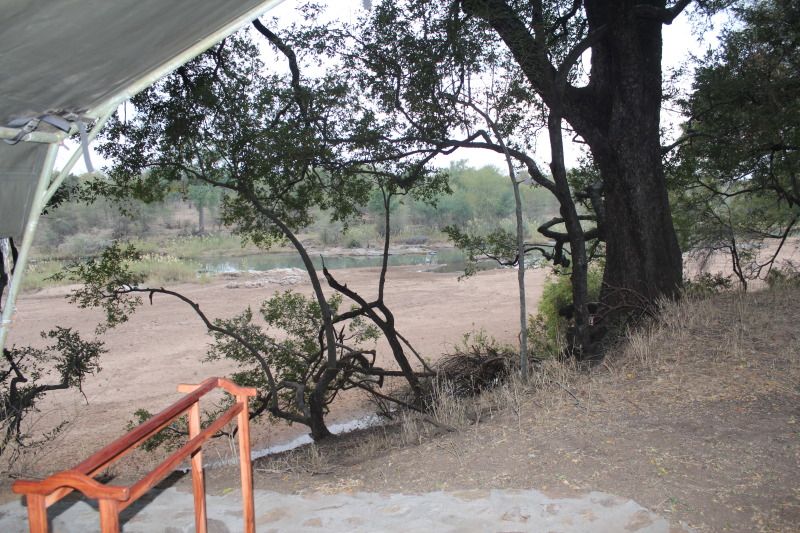 For miles around camp and along the river it was a no shooting zone and we saw hundreds of animals around camp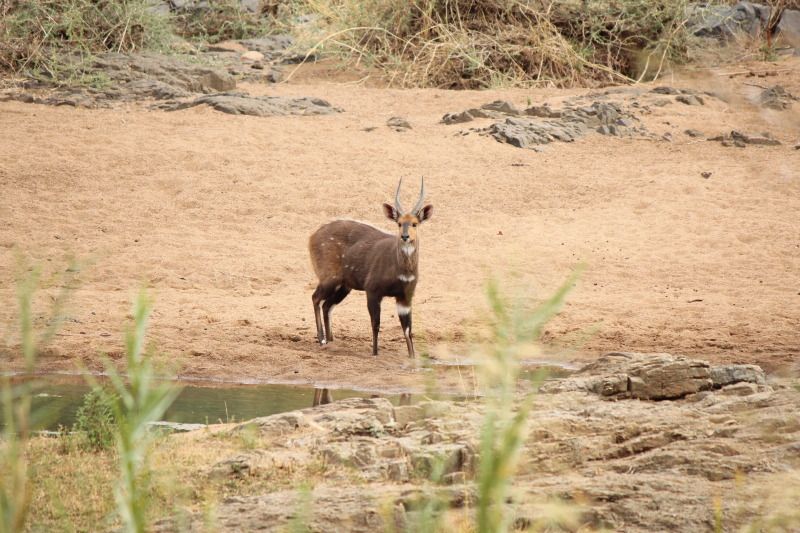 The first day out was the usual for a leopard hunt. We collected bait all day and I was on the ball and ended up getting 3 impala out of 1 herd and then shortly before that I got one more. With the help of Brent we knew of a couple spots to check out and hang a bait or 2. Thierry was amazing at finding tracks and we assessed their size and found a couple real good 2 3/4"-3" tracks to work on. We then hung 4 baits out.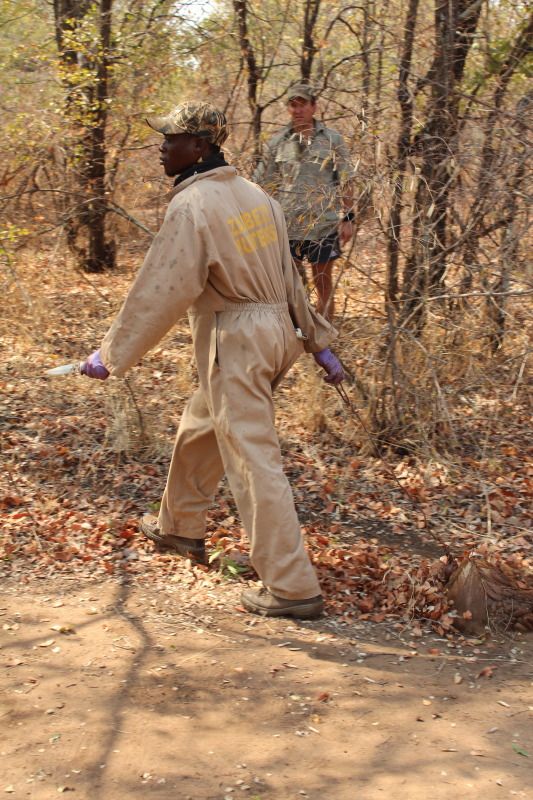 With most of the day gone Thierry wanted to get a head start on bait for the next days baits so we went tracking some zebra. While following tracks we ran into a warthog that I thought was pretty good. We had to take the pictures after dark because while going back for the truck we spotted some zebra. After a fast stalk and a half hour later we got to within 140 yards and I smacked the zebra right behind the shoulder. It ran another 100 yards and piled up.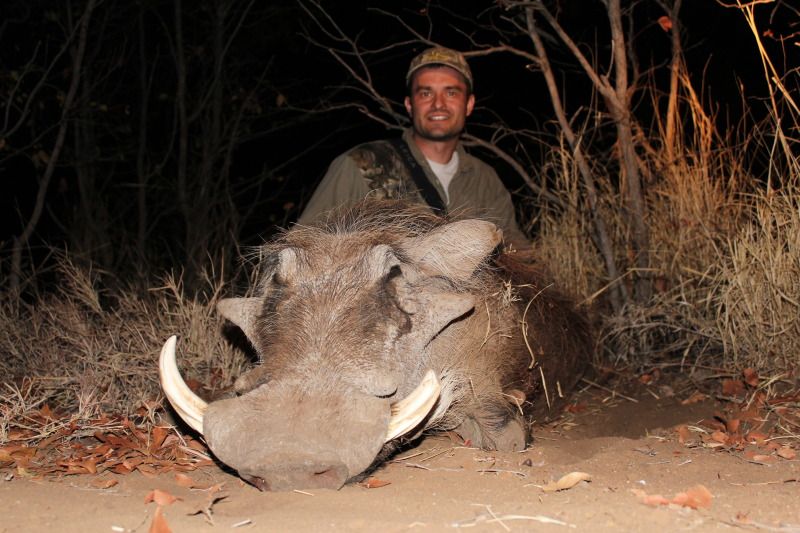 Now I had 4 baits up and 4 baits ready for the next day and a good warty in the salt. What a good start to the hunt I thought.
The next morning was real exciting for me. I was excited to check baits. After no hits on the first 2 I must admit I was o.k with it but the excitement was wearing off. I knew I shouldn't expect it to be that easy and gave myself a slap in the head to smarten up. Later down the road we ran into another huge Leopard track in a spot Thierry wanted to bait the day earlier. It was right at a waterhole where the cat drinks often. The other part that excited me was to find out that 3 other PH's had failed on this cat as well. That was all Thierry needed to rev him up. He loves the challenge of a tough cat. We named this cat Hercules.
We took our time and Thierry with his cat like thinking found us a spot to put the blind and bait. We looked over some of the other baits from previous PH's and could see why they may have had difficulties killing this cat and we made our plan.
We cleared the bush and strung the bait up. I wanted to be a part of it so I thought I would help out by clearing some branches from a Fever Tree. Boy that was a mistake and I took a thorn into the side of my arm. I knew it needed to come out and tried all I could to get it out. I even took my knife and tried to cut my skin open but couldn't get in far enough to get to the end of the thorn. I tried to shrug it off and went to check the last bait of the day which we found to be hit by a big cat. We had some good pictures of him and he had a big 2 3/4" + track. Then the choice came to either hunt the cat or go to the hospital to have minor surgery.
It was an easy decision for Thierry I think. He had his sights set on the cat we had previously baited for and where I hurt my arm. It was the challenge of that cat that saved this one we had on bait and made the decision to run to the hospital.
Hercule's track
The thorn had ended up going all the way to the bone and was hitting the nerve which was causing some problems. It took some digging and after sticking her fingers all the way in my arm pulled out a thorn that was almost an inch and a half long!!! Sorry for the graphic pic.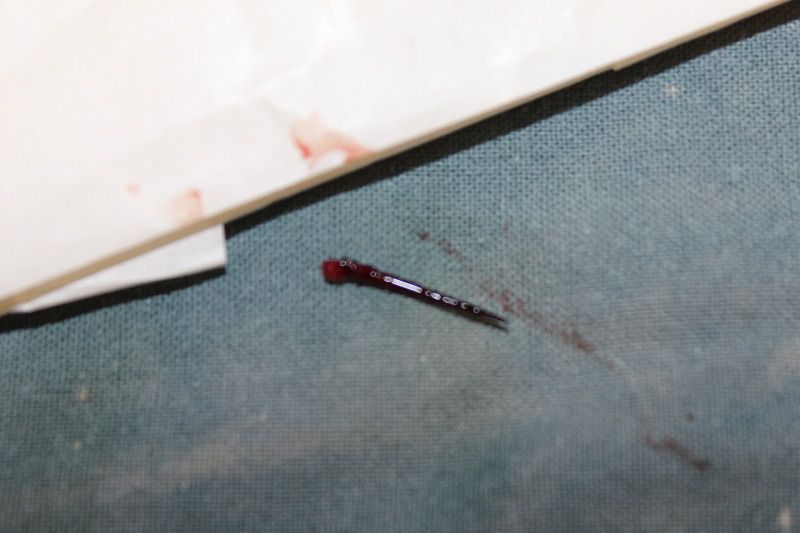 I must admit I was very worried about going to a hospital in ZIM!! After though it was all good. Everything was clean and only packaged supplies were used and I had no issues. I also found out that Thierry was born there and he had the nurse give him his chart to look over while he was there. I was given some antibiotics and sent on my way.
On the way home from the hospital we ran across a steenbuck. It was Thierry's first guided steenbuck.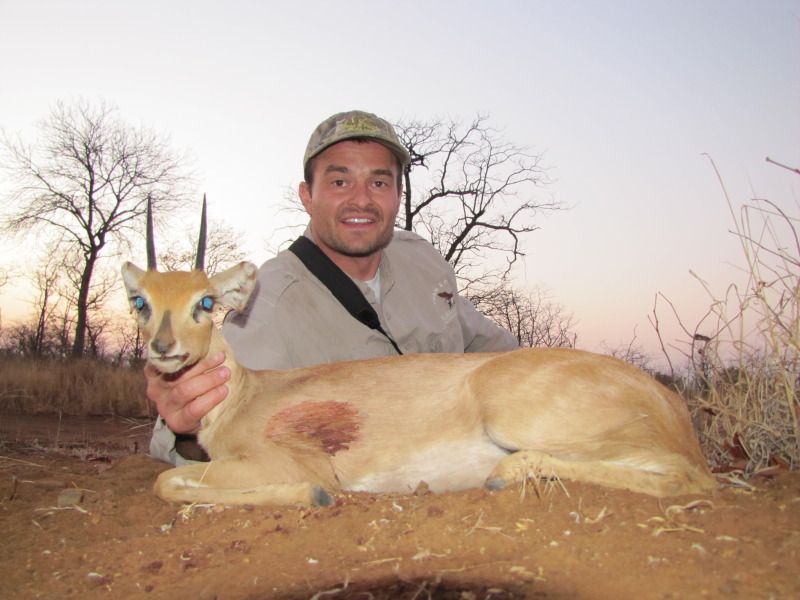 The next day we checked baits again and we had another hit form the one cat and we went to the bait where I got stuck by the thorn. It was hit as well!! We made a blind and got things ready for the evening hunt.
Checked the tracks again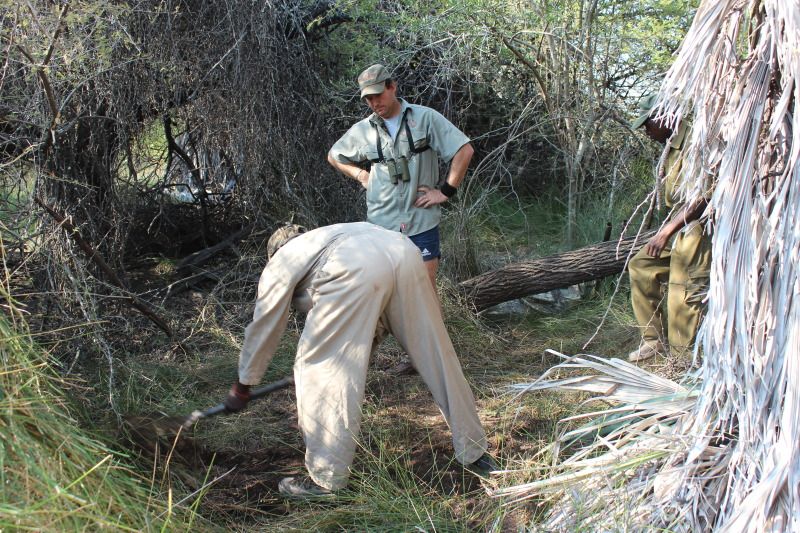 I don't think you could hide a blind better than this.
We did a little hunting during the rest of the day but mostly took it easy and had lunch back at camp.
We got into the blind at about 4pm. We had a troop of baboons right around the bait site which kept us awake for a bit. They moved off and behind us. At about 5:30 I heard what I thought was a cough of a babbon. Thierry and I looked at each other with a surprised look. He knew it was a leopard. I still thought it was a baboon but wondered if I was mistaken. The sun went down and it got dark. At about 8:30 I heard a scratching noise and my heart jumped. I tapped Thierry on the leg and he tapped back excitedly. I knew it was the leopard and I couldn't control my breathing I was so pumped. Thierry told me to get ready!!!!! He switched his little remote light on and I was looking through the scope. It was a weird color and at first I didn't see much. Then I saw a big slinky shape jump to the ground with a big thud!!!! WOW, I just saw my first leopard. Thierry switched his light off and after 20 seconds the cat came back. He did this a few times and then Thierry left the light on. I could see the cat at the base of the tree. He then jumped up on the branch and started to feed. Thierry gave me the "shoot him". I tried to calm myself down without much success and aimed behind the shoulder and let the shot go. I felt the shot was good but there was no cat at the base of the tree.
Here is a video I got from the trail camera of the shot. Click on the picture and it should work.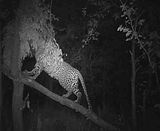 We heard the cat run about 60 yards, caugh and then silence. We sat there for a minute before I asked Thierry what had just happened? I said I felt real good about the shot. He said it was normal for them to run 60 yards. We went to the bait and started to look for blood. I was real excited to find a small fist sized glob of lung blood at the base of the tree.
We tracked him for about 50 yards and I was starting to get worried. Mudini joined in on the tracking and we got to a place where there was 5 foot high grass. Thierry said I couldn't go any further as it was too dangerous.
Here is a picture of the grass in the morning.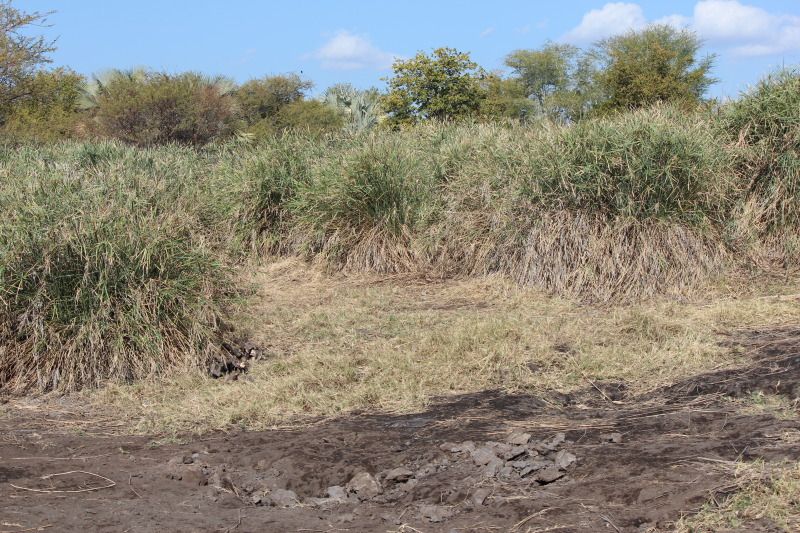 I was not happy at this point and thought maybe I didn't shoot well. Thierry and Mudini started tracking agin and went around the first clump of tall grass 5 yards form me and then Thierry walked over and said congrats on your cat. He pointed ten yard over and right on the edge of the grass lay the cat.
I can't tell you the feeling I had. I sat there for a couple minutes taking it all in and not rushing the experience. It was the best hunting experience I have ever had.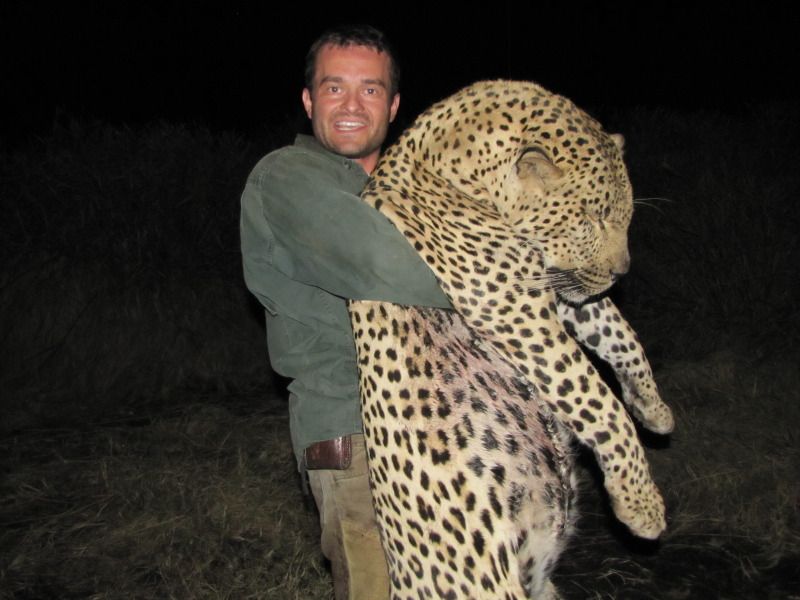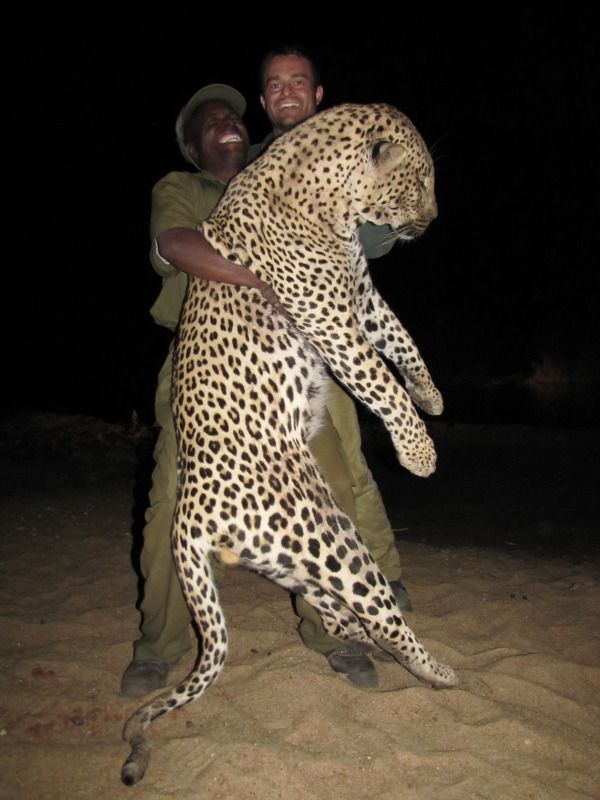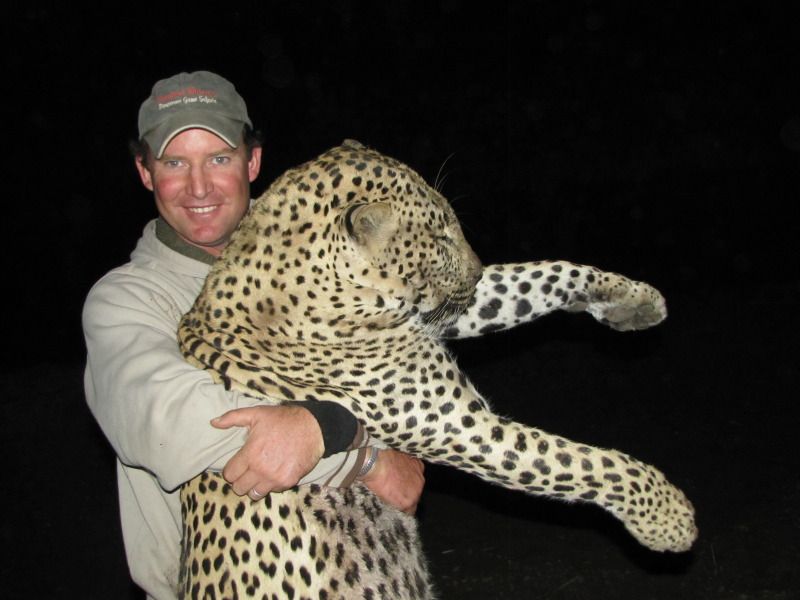 The cat weighed in at 75 KG and was 7' 4" long. I was indeed a very happy camper. Thierry said this cat would be number 33 for him and his second heaviest cat. Wow, how lucky am I !!!
The next day we took it easy and slept in a bit. We went to run our bait line and do some hunting along the way. My one friend still had a cat to hunt and we would try to help if we could. Along the way I spotted a kudu which I thought looked good. Thierry stopped the truck and at a quick look before it ran off he figured 53" or a bit bigger but he didn't have the best look. It was big enough anyways so off we went to track it. After about 25 minutes of tracking we came over a rise and I saw the bull 100 yards out. I took a shot and thought I missed. I took 2 more as it ran through the trees in hopes I could connect. Then the bull slowed and piled up. As we got up to it everyone was real excited and I had no idea why. They all started throwing numbers out like 56", 57" but later found out that we just shot a 60.25" kudu!!!!!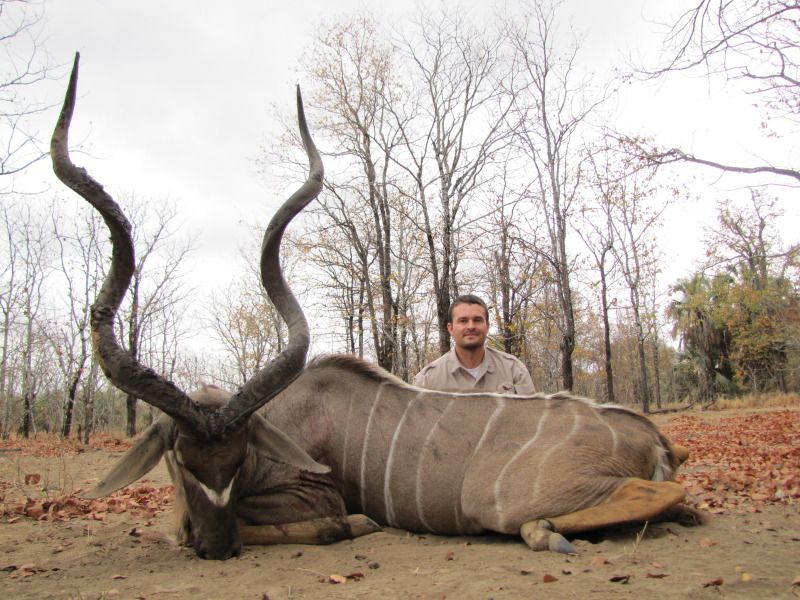 We got the Kudu back to camp and took it easy for a bit. Then we went for our routine walk along the river. We came to almost the end of our walk after an hour and Thierry spotted a Nyala on the other side that we needed to look at closer. Thierry doesn't have a lot of experience with Nyala but knew this one was worth wading across the river and getting wet for. Most people would have thought it was crazy to get wet walking across the river but I loved it. We stalked the 400 yards and got to where he was. My boots were noisy with all the sloshing going on but we got to within 45 yards of the Nyala in the shadows. Thierry asked me if it looked good. He knew I wanted a real nice one if I was going to shoot one and wanted to make sure this is what I wanted. I appreciated that and from what we could tell he was bigger than all the others in the skinning shed and had bases.
At the shot the Nyala ran 40 yards and piled up under a thorn tree.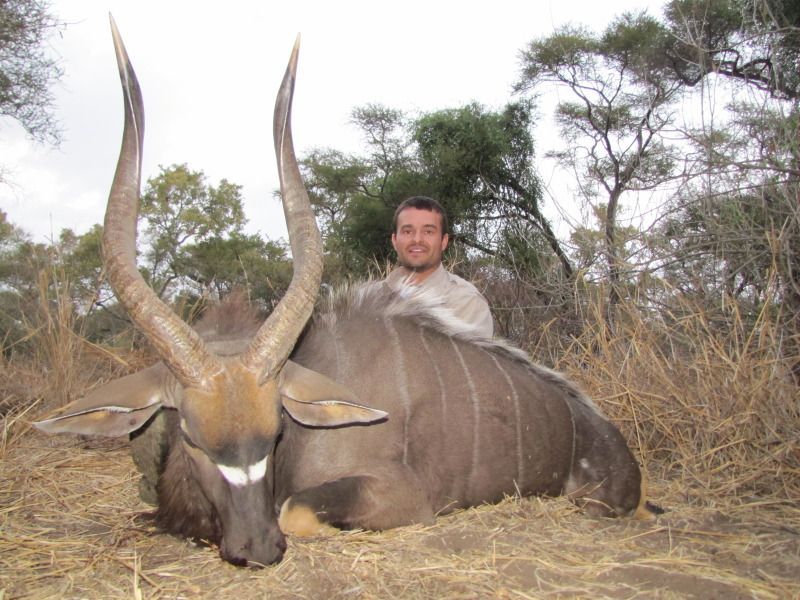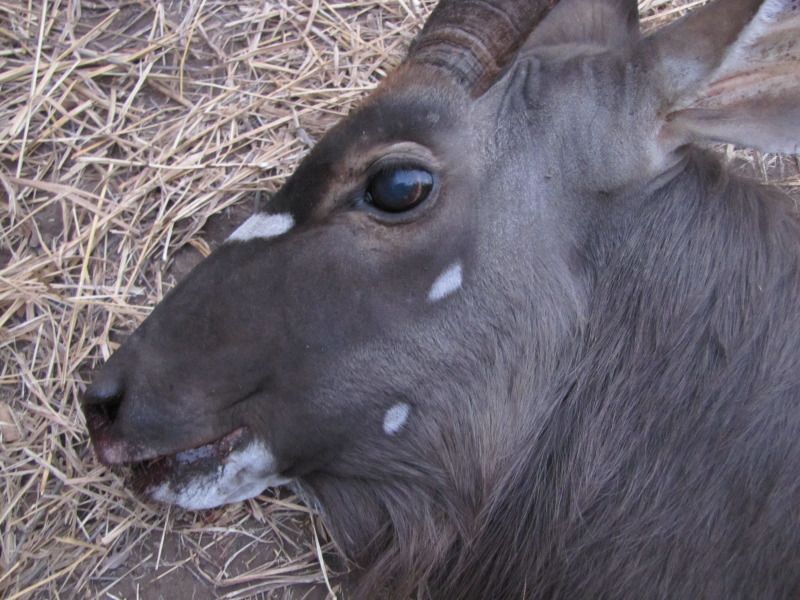 We spent the next couple days chasing buffalo around and looking over a bunch of Bushbuck. We also found another old warthog and he was skinny and ugly.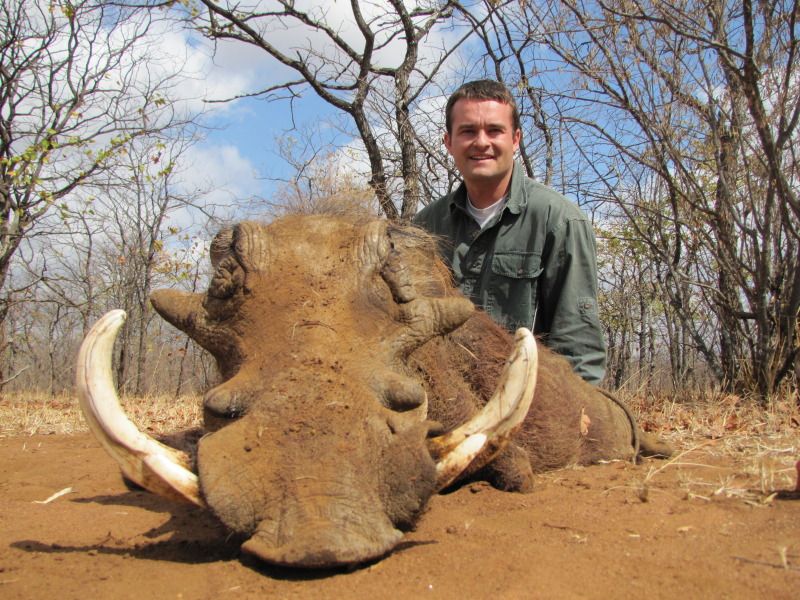 After tracking buffalo for a few days and getting into some nice bulls and bumping a few we spotted some bulls while driving. We looked them over and decided if we didn't see much else the rest of the day we would come back in the afternoon and track them. That is what we did. It didn't take long to get into them. There were 2 bulls that morning and it was later in the afternoon now. AS we tracked into them we found that a 3rd bull had joined them. Thierry thought that he looked better than the other 2 and we got in on them to about 50 yards. As the bull turned I put one high in the shoulder and he dropped. After 3 or 4 solids and a soft to finish the deal the bull was down for good. It sure was a rush and now I know why people like to hunt buffalo so much. I was excited. He wasn't as big of a bull as we other opportunities at but it was an experience that I won't forget and I am sure it won't be my last bull.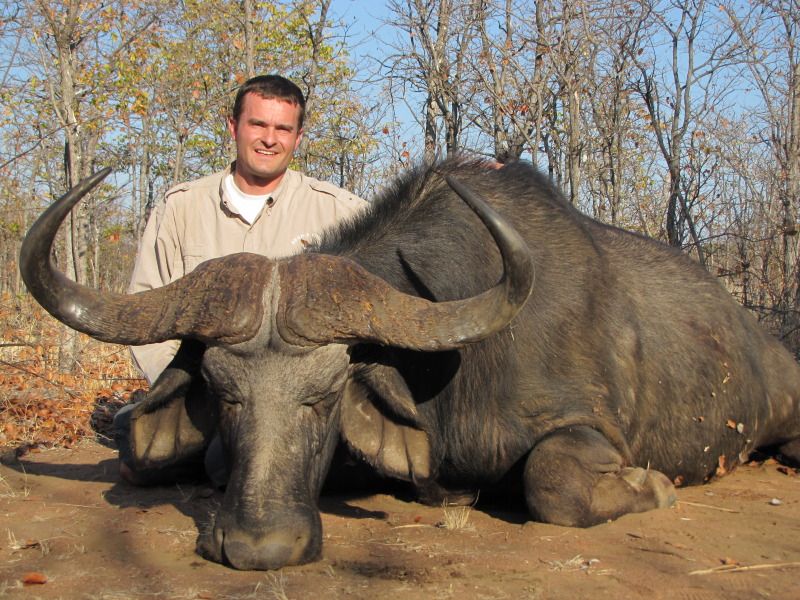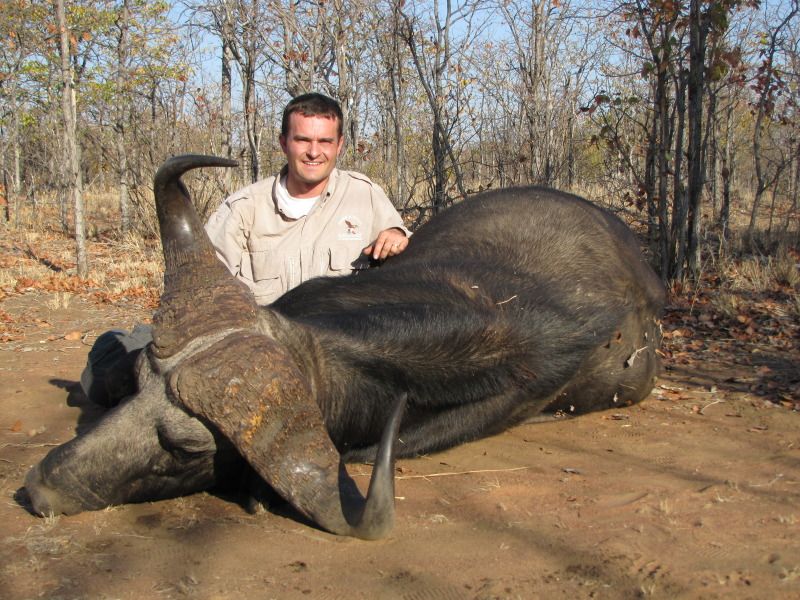 we still hadn't seen a real good Bushbuck yet in the trip. We had been seeing rams every day and it was only a matter of time. While hunting for Bushbuck every day we ran into a few other critters along the way.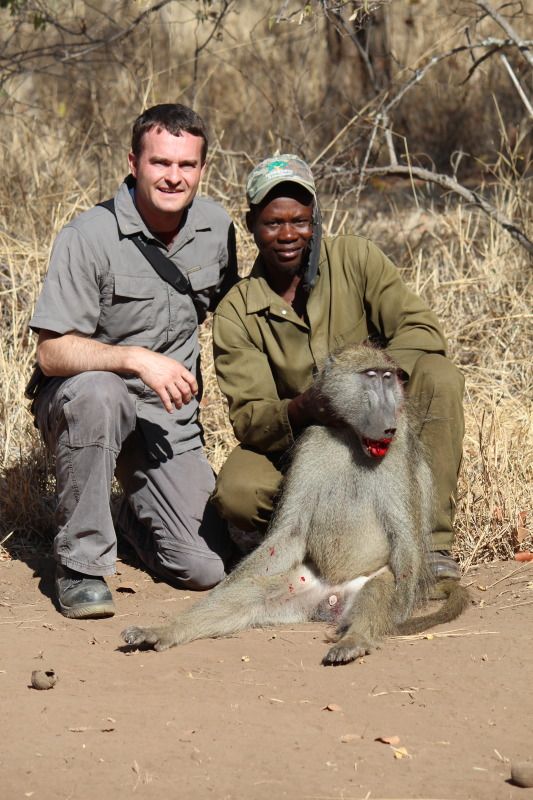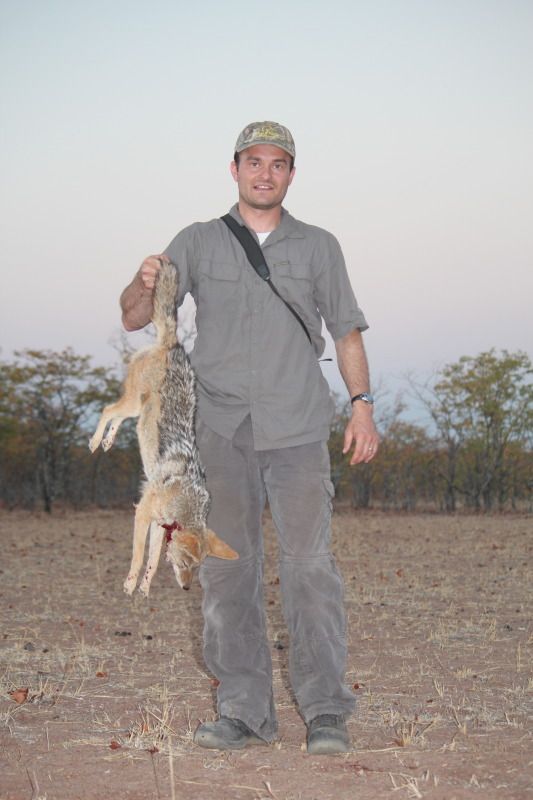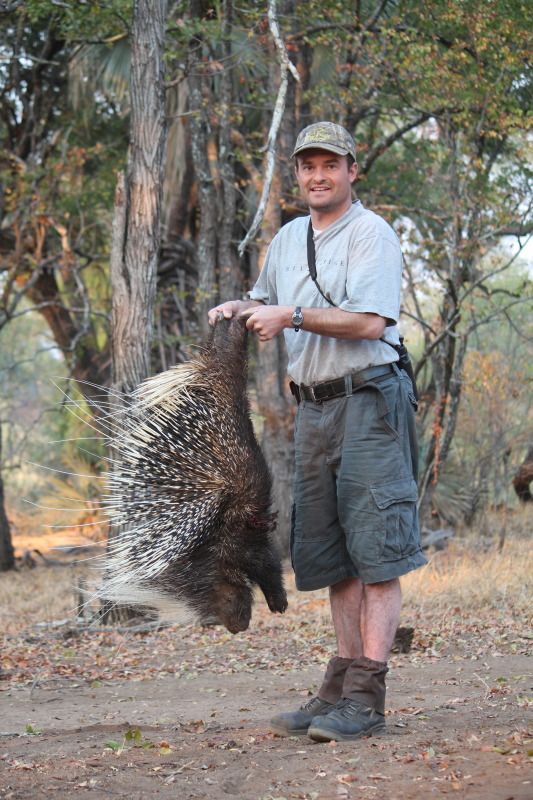 One day while looking for a Giraffe for my friend we ran into an Eland and I was told it was a good bull. I made a 250+ yard shot on this bull and even after a perfect shot he still ran 200 yards before he piled up. What an awesome animal he was.
We were still looking for a bushbuck and we had plans to leave the area and go to Ian Rutledge's place to hunt croc with my friend. I only had a couple days to get it done on my bushbuck. Along the drive to the river to hunt bushbuck again I spotted a duiker that I thought was a good one. I jumped out of the truck while Thierry kept driving. The game scout was with me and we tracked through the bush and along the trail and he spotted it up ahead. I looked him over real quick and decided he was one of the biggest we had seen in the trip and I made a free hand standing shot at about 65 yards on a nice Duiker.
Later on that day Thierry had spotted a Grysbuck beded down next to the road. We stalked back and saw him bedded down behind a rock. We tried to make all kinds of noises and even had the game scout singing 100 yards back to get him to stand up. It didn't work so I had to sneak around to get a good shot but there was so much thick bush. He also started to get alert. I had one little opening to see him and about 4 inches of the top of his back to shoot at. I thought I would go for it and let the shot go while kneeling down at about 40 yards. After the shot nothing was running away and I ran over to see a massive Grysbuck if you can really say massive in the same sentence.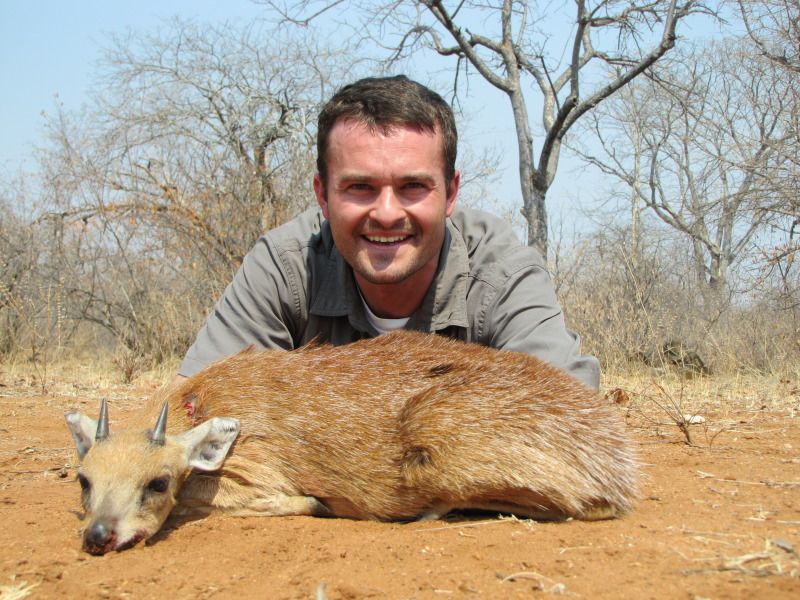 I had pretty much done it all it seemed but we still had bushbuck on the mind. We hit the river again one morning and started seeing game right away. We did our daily walk along the river and we jumped a bushbuck that we needed to give another look at. We had seen him right under the bank where we were and we were waiting for him to walk into the open but we stood there for about 15 min and nothing. Thinking that he had slipped by us we stood there while the game scout and Mudini went around to see if they could push him past us or find out where he went. After a few min. Mudini came back and told us to hurry. We went further down the bank of the river and snuck around a tree to see the bushbuck standing right below where we just were. The crazy thing was just standing there the whole time and the bush was so thick we did not see him. He was about 100 yards off and I made a great shot and he dropped in his tracks. I have wanted one for years and I think they are outstandingly pretty creatures. He might not be like the 19" ram that was shot earlier in the year but I was happy with a 15.5" ram with good mass and a nice flare of the tips of his horns.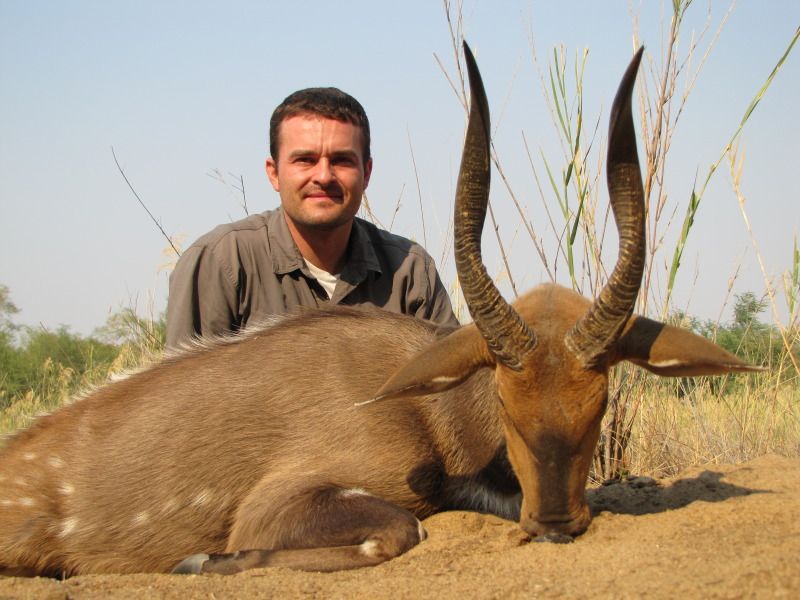 After the bushbuck the next day we decided to head to a new area. We went to stay at Ian Rutledge's house and hunt his area there. I really was going along to be with my friend on this trip now and didn't have much to hunt except Klippies which I saw a couple but nothing decent. My friend was hunting Croc mostly and I thought I might try a little night hunting as well.
We spent 2 days hunting croc and we ended up having a ton of fun chasing those lizards all over. I am really amazed at how well they hear and smell. They are hard to hunt. We had some great luck on a 13+ footer which I am sure my friend will share with us in his report.
I also went out doing a bit of spotlightling. We had permission to hunt a bunch of fields near to Ian's place. Theirry and I got the light going and off we went. It didn't take long and Thierry spotted eyes. He told me to shine the light on it while he looked it over with the binos. He quickly told me to shoot and that it was a huge Genet! One shot and it bounded off and we lost site of it. We drove over to the area where it was and Thierry spotted my cat. It was a nice Serval cat. I quickly forgave Thierry for miss identifying it as it was a quick look, dark and I had one of the nicest trophies ever laying before me. Thierry told me it was not easy to find a serval and I was very happy with what we had run into that night.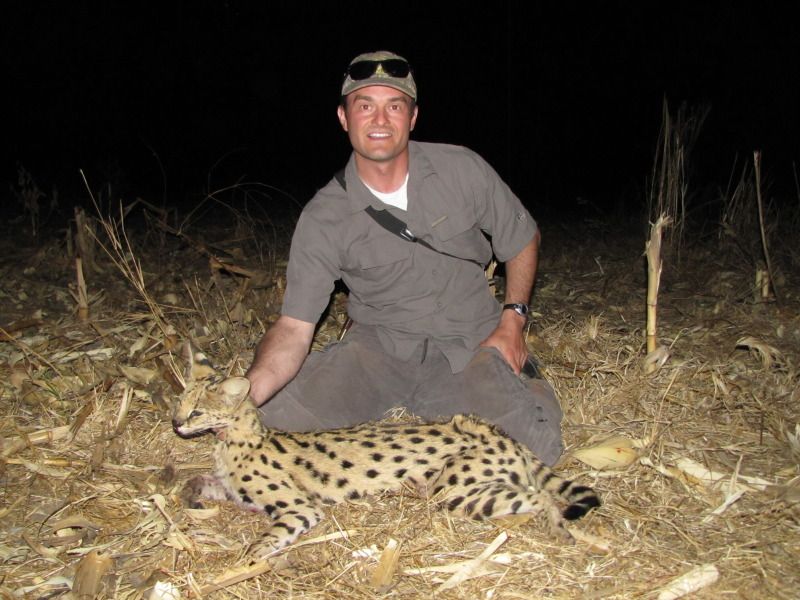 The hunt was pretty much over at this point and Thierry was nice enough to offer to go back to his place and spend a night or 2 and play a little golf. We had been hunting hard and I imagine there were things at home he needed to do. He hadn't had a haircut for a while either. I am not sure if it was on purpose of if he was trying to grow his hair out like Suzie or not. Either or I figured we should get him back to town just in case he wanted to go for the haircut.
The trip was a blast! I don't think it could have been any better. ZH is top notch in every way. Allistair deserves a big thumbs up for his role in setting up everything in such a trying time. He did everything possible to make it all work out or as they say "Make A Plan". I have been an outfitter here in Alberta for the past 10 years and I have guided for many years on top of that. I know what it takes to make it all go well. Thierry in my books went way beyond his duty for me. He is a great hunter, fun , hard working and very in tune with what the hunters needs and desires are. He in my book is an OUTSTANDING PH!!!!!!!!! Thank you Thierry for making my dreams come true in every way.
Also a big thanks to all of those involved in helping this trip come to reality. Larry, Will, Mark and Brent a big thank you to all of your help!!!!!!
I love hunting in Africa!!!!!!