Unfortunately I do not have a "before" picture, but here is a Buck 119 Special that I got with about 1/2" broken off the tip and someone had tried to sharpen it on a bench grinder so it more resembled a Kukri than a hunting knife.
Anyway, first step was to re-profile the blade tip and remove the "belly" that had been ground in. After the profile looked how I wanted it to I reground the false edge on the top of the clip point and got all the curves to blend in together, and then I did a "flat grind" on the blade. If you look you can see the grind lines on it and the hollow grind in between the two, which of course is left over from the original grind.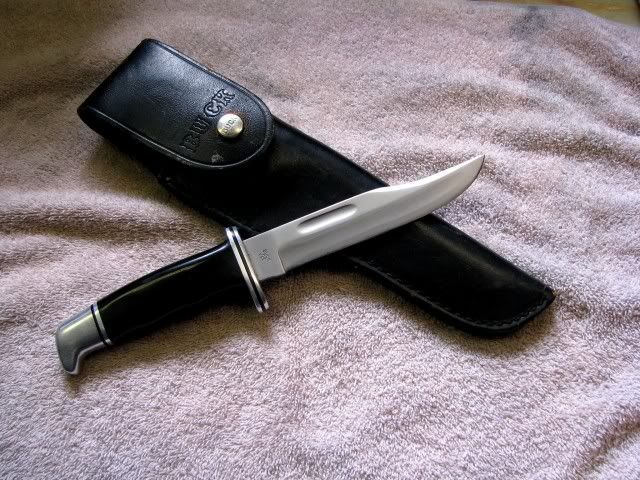 I was thinking about taking the original hollow grind out to the edge but by the time I got to that point I was already questioning my reasoning behind putting a couple of hours into a garage sale knife! Afterwards I gave it a glass beading to blend all the finishes together.
The other area I worked on was the handle, which was way too thick for my taste in its original form. One thing that I did that I don't think I'd do again is follow the contours of the original finger grooves in the handle. IMHO finger grooves are good when you're fighting pirates but a smooth handle allows for more varied hand positioning when you are actually using the knife to butcher a deer.
Anyway, as I mentioned earlier my technique for regrinding tempered blades is to have a pot (as in cooking pot so it is easy to dunk) of water right next to the grinder and keep the blade wet at all times. Be especially careful when working on the edge as the metal is so thin that there is not much mass to carry away the heat.
Here is an image grabbed off the net to see how much material has been removed:
Regarding the question about tempered D2, yes the way to go about doing it would be to anneal it and then re-temper.


for every hour in front of the computer you should have 3 hours outside