The Accurate Reloading Forums
My Merkek 50E/122!
03 May 2021, 06:05
LHeym500
My Merkek 50E/122!
I mentioned a my Merkek 12 50E/122.
Well, I can post pictures now.
Status for Nerds:
Model: Merkel 50E/122. This was the sideplated gun in the old Merkel line up with the 47E (boxlock), 50E (sideplated), and 60(E) sidelock. The E stands for ejectors. The 50E could be ordered with stragint wrist or pistol grip with grip cap. Mine is pistol gprip wrist with cap. The pistol grip guns also have a cheekpiece. The 50E also has cocking indicators with the plate Arabesque scroll engraved. The 50E could also be ordered with single select trigger (I have seen them) or double trigger.
Mine is choked modified (right) and full (left) with 28 inch barrels. The box says grade 3 wood.
An example just like mine sold for $4,000.00 on Guns International. I got mine for $2K. There is a single trigger gun right now on Gun Broker, but it is a straight wrist and single trigger, Modified and Improved Cylinder choke.
Some issues: The forend attachment on a Merkel or at least the now older Merkels I have handled is tight. I mean you need a mule and two boys to get the foreend off. I have 100 hundred rounds through the gun (light, 3 dram loads). I am hoping after another 200 rounds, I can send one of the boys home.
Merkel for their quality and price use damn plastic buttpads. The gun fits me perfect. I like the pistol grip and cheek piece. It is great for turkeys (next year maybe the winter season if I get desperate). I have a pheasent clock. The trick of closing your eyes and moutning the gun puts the bead right infront of the pheasent's head. So, I have no issue with the cheek peice and pistol grip.
The gun can handle smaller steel loads. I hate everyone who had anything to do with the lead ban for shotguns that is extending into upland game.
I named him Bismarck.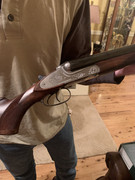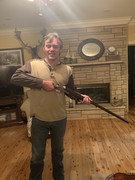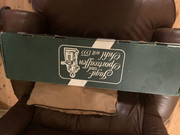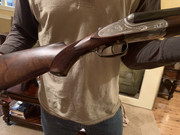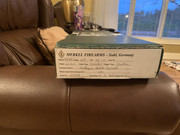 04 May 2021, 00:24
Stonecreek
quote:

I named him Bismarck.
I have a Merkel 280 in 28 gauge. I haven't shot it yet and haven't named it yet, but am considering "Archduke Ferdinand".
I also have an American-made CSMC sxs 20 RBL Launch Edition which I have neither shot nor named. "Woodrow Wilson", perhaps?
I'm torn between "Tojo" and "Hirohito" for my Japanese-made SKB.
I've got a pretty decent Turkish-made CZ sxs 28 gauge, but I'll be damn if I'll call it "Erdogan". And my Berettas are certainly not going to be either "Benito" or "Mussolini".
But if I ever own a Holland and Holland, Purdey, or a Boss I have reserved "Churchill" for it. Or, maybe more intimately, just "Winston".
04 May 2021, 03:01
LHeym500
If I ever buy an English gun, I am going to name him Richard.
04 May 2021, 21:04
Stonecreek
It just occurred to me that I could name my Merkel after the current leader of Germany, which would make its name . . . "Merkel"! But I would lovingly refer to it in private as "Angela".
05 May 2021, 03:04
custombolt
A steal at $2,000. Nice one.


Life itself is a gift. Live it up if you can.
08 May 2021, 07:36
Big Wonderful Wyoming
quote:

Originally posted by Stonecreek:
It just occurred to me that I could name my Merkel after the current leader of Germany, which would make its name . . . "Merkel"! But I would lovingly refer to it in private as "Angela".
Her name is AN-GEL-AH that is how Germans pronounce it.
I call her that stupid cunt.
I lived in Germany from 2016-2019. I was hoping that she would get unseated in 2018, but it didn't happen.
I am an Alternative for Deutchland guy.
08 May 2021, 19:26
LHeym500
All Shotguns are male.
Rifles are female.
Blasers are transitional-get it.
10 May 2021, 05:11
LHeym500
Did 50 clay with the new Merkel.
I missed one crossing at 40 yards. Only shot 4 of those bc they are hard.
The rest were straight going away like a flushing bird and overhead. I did not miss one of those.
The Merkel fits me so well and has a high Old Fashion Pigeon Rib. I, and most others, only see one sight plain. The open pistol grip lets you get to the rear trigger, but let's you drive the gun and helps with pitch printing a little high like a Pigeon Gun.
It is a live Pigeon Gun.
I love it. Off for a 3/4 inch recoil pad for 3 inch and pheasant loads.
Choked Modified and full.