Project Tightwad!!
Mean. Stingy. Tight. :0)
Just a few of the uncharitable words that have been used to describe me. Whatever, over the years I have developed an unholy love of taking budget end rifles and doing just enough to make them shoot. The satisfaction gained from outshooting an outfit costing double, is without compare and this is what started me thinking.
Sometime back I decided to investigate whether it was possible to build a rig that would shoot but not cost the sort of figures that are bandied around amid the long range fraternity. The idea was straightforward. I wanted something that would be capable of comfortably taking 300lb game out to 600Metres. Maybe target shooting or plinking out a bit further still. Nothing too extreme, but still biggish distances for a shooter here in the UK.
http://i2.photobucket.com/albums/y8/IanF/Nwifle.jpg
After a bit of research I settled on a Varmint spec Howa 1500 recently imported to the UK by Brian Fox of Fox Firearms. With a pedigree stretching back over the years and a design picking the best bits out of the Remington 700 they couldnt be that bad could they? The retail pricing was so competitive that getting hold of one took a couple months gunshops were selling their stock as soon as it was on the shelves.
When I eventually took delivery first impressions were very good. The model selected was the stainless laminate in .308win. The stock is an attractive silver grey construction that compliments the matt stainless barrel and action. A friend purchased the same model in a blued finish his stock exhibited a slight greenish tinge that again made for a stunning looking rifle combination.
Wood to metal fit was excellent the barrel being free floated, the fore end having 9 ventilation slots that add to the striking looks of the stock. Metal work seemed to be of high quality, the overall impression being of a lot of rifle for the money paid out.
Three position safety, allowed unloading from the drop plate magazine with the trigger blocked a welcome feature on a budget tool. The rifle was looking better and better.
Once back home and it became apparent there was room for a little fettling to be carried out. The barrel was bearing slightly against the left hand side of the channel. With the stock screws loosened off, there was considerable movement indicating the potential for an improvement in the bedding.
Trigger pull was crisp without noticeable creep but a bit on the heavy side for a rifle intended for precision use.
All in all, not much to get sorted. :0)
Weaver bases and mounts were knocking around the bits box and I had dug out an early Tasco 10 x 42 which I soon had mounted and bore sighted. Still no great expenditure. Out of curiosity, off to the range to see what it could achieve out of the box.
The first few shots on the range were a disappointment. I had picked up a few boxes of 168gn Privy Partizan match after reading a couple favorable reviews but it soon became apparent that it did not really like it. At one hundred meters, two+ inch groups from a varmint weight barrel was not quite what I was hoping for.
Moving to 165gn Hornaday Interbonds made for a noticeable improvement and grouping improved to an inch and a half as the velocity increased. Still not too dispirited (I had not got around to relieving the barrel channel) I threw in some 150gn loads I had put together for a friend. Bingo! :0) Bullet holes touching, and a tidy group that had shrunk to .53 inch! I got a strong feeling that this was going to be a shooter.
http://i2.photobucket.com/albu...HowaTargetMedium.jpg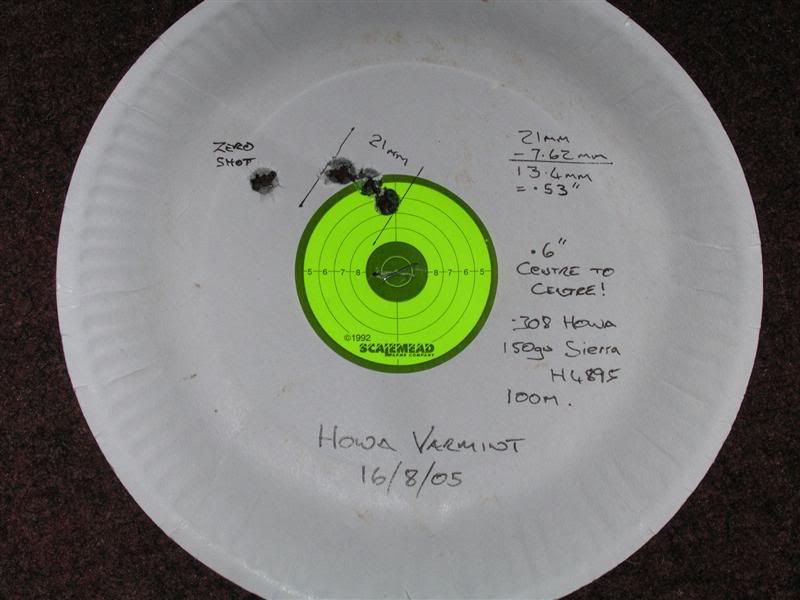 Back home and the next stage was glass bedding the stock. Having done this on several rifles, without exception it has resulted in a noticeable improvement. After trying various mediums I now stick to Acraglas GEL. Very important decision, as it is far easier to handle than the glass bed version.
As normal, an hour spent in preparation was followed by a day waiting in anticipation of that moment when rifle is parted from the stock and you can see the fruits of your labours. I bedded from the recoil lug, forward to the point where the barrel taper steadies to a regular profile. Gel was placed around the action tang to ensure an evenly bedded action.
Once all had hardened off, I took a look at the trigger and safety. Backing out the FRONT screw has the effect of quickly lowering the pull to a very pleasant one and a half pounds. A bit light for a stalking rifle maybe, but for shooting accurately from a static position it is my preferred setting. Leave the rear screw alone it controls backlash and is set at an optimum postion. Incautious adjustment will have the effect of bringing in creep and probably mucking up the safety catch operation.
The safety works on a sprung plug that blocks the trigger allowing bolt operation in its middle position. Removing the circlipped pins will allow disassembly without altering trigger settings. I rounded off the cone that forms one end of the plunger the safety action becoming much smoother and lighter. After reassembly and confirmation of safety catch operation, it was time to reassemble, test and adjust if necessary.
The blued steel version tried, had a very smooth action by comparison to my stainless receiver. Dry fire practice with a little SolvolAutosol applied to the rails has resulted in the overall feel of the rifle improving noticeably. After thoroughly cleaning the metal polish out of the action, a little moly grease was applied. The end result is very pleasant and smooth. Much like a good Sako action, you are not even sure your bolt has picked a round from the magazine.
Remounting the scope and the rifle was ready for a further range test.
A word about the scope I have chosen to use branded the Super Sniper it is a fixed 10 x 42 Mildot unit with external turret adjustment. A 30mm tube and rear mounted parallax adjustment completes the specification.
These were originally put forward to the US Navy when they were seeking a replacement for the Leupold. It was tested to destruction (as only the military can) and eventually taken into service by the SEALS. The original scopes were excellent quality this soon slipped however and the name ˜"Trashco" started to be bandied around.
Years later, the Super Sniper is back. Manufactured (in the Hakko factory same people constructing the Nightforce range) and sold direct by SWFA. Excellent optics, very repeatable tracking and bomb proof construction.
Have a look at the website
http://www.swfa.com
and check out the testimonials. Do try to get your hands on one rather than discounting them on price. They cost pennies in the US and are now truly excellent value for money. I thoroughly recommend them.
Back at the range, I used the same load that had previously shown to be successful. The idea being that it would show any improvements due to my efforts at bedding.
Following a couple shots which keyholed, I felt confident enough to make some corrections and place the group above the aiming point. A dry pullthrough with a Boresnake and I settled the rifle back onto the sand bag.
The first two shots keyholed once again. Trying my best to stay focused on good technique, I squeezed off the final round of the group.
http://i2.photobucket.com/albu...8/IanF/HGpMedium.jpg
At .16inch centre to centre this is the best group I have ever managed to achieve. To say I am satisfied with the rifle/scope combination is an understatement.
I look forward to taking this performance out to greater distances it's looking very promising.
Would I recommend a Howa? Oh yes!! :0)
Rgds
Ian


Just taking my rifle for a walk!........