.
"Een-gonyama Gonyama! Invooboo! Yah-bo! Yah-bo! Invooboo!"
(From a Zulu fighting anthem very roughly translated as 'He is a lion! He is more than a lion! He is a hippopotamus!'
When I was planning this hunt and talking to Buzz, I thought it was a pretty unique kind of trip - Kariba, house boats, hippo on land and tigers in the water. But from all the hippo and croc reports on AR this year it seems like it was a pretty popular package. Either way, here goes our story ....
You could think that Anja and I had intentionally decided to hunt dangerous game based upon weight and BMI - theirs not ours that is - starting low and going up the scales. Anja started with a leopard in Namibia, I then hunted lion and went on to hunt buff in Zimbabwe with CMS. Each one larger in size than the previous one and equally or even more 'DG' in their own right as the last. This statement could start a wonderful and likely endless debate right here and now on AR on danger factor vs weight factor, but I digress and I should not. Progression would have then dictated a tuskless ele cow or ele bull ( let's not even think about rhino as the next one up on the weighing scales as that hunt will likely not happen), but then, rather then ele, I had this big in-between itch to hunt hippo. In fact I did not want to hunt just one hippo but I wanted to hunt two hippos or to be grammatically correct two hippopotamuses or hippopotami. A brace of bull hippopotami! Big animals and all part of the wider DG list. Our African hunting was about to take a turn for some water sports!
And what better place for water sports in Southern Africa than Lake Kariba and what better company to go to Kariba on the Zim side with than CMS. Oh and if we are going to do water sports in Kariba let's throw in lots and lots of tiger fishing - on fly of course - and let's do it all off of a house boat ! A seven day double hippo and lots of fishing late season hunt with Buzz Charlton of CMS, based off a houseboat on Lake Kariba!
Oh and by the way the only thing that we wanted to take "in the water" would be the tigerfish! The hippo we wanted to hunt on dry land - the hippo up close with a big bore double.
Now for the record, I did my damnedest in the months before this trip to persuade Anja to try for a monster 14 - 15 ft Kariba croc, thinking there will be plenty of big croc about and she could try for one. However, Anja said from the outset that croc did not interest her at all and she would come along as an observer and see how things go and she would decide as and when depending on what game we come across......
For the tigerfish I decided on an Epic 6 weight glass rod fishing a floating or sinking line and various own tied tiger and predator flies! (Btw Sandy Nelson at 'fishingthefly.co.uk' made the rod to my specs and his added suggestions, specifically for Zambezi tigers. Bit of an add sorry, but his work is great and he's worth looking up if you like glass fly rods.) I would also take a Sage 4 weight to chase bream and tilapi with nymphs, small poppers and dries from the banks.
Now the hippopotamus (who by the way - for those that don't know - is related to the whale and dolphin) is the planet's third largest land mammal after the ele and the rhino - and here we are of course talking common hippo and not Pygmy hippo. In fact there were 5 subspecies of the common hippo, the Great Northern, the East African, the Cape or South African, the West African and the Angolan Hippopotamus. The Northern or Nile hippo is now extinct but the other four are going pretty strong.
Males average 1.500 kgs and females 1.300 kgs, but males of 2 tonnes plus have been recorded. And as we all know they spend most of their daytime hours in pods in the water keeping cool and then come out to graze alone around dusk, consuming 60 plus kg of grass and vegetation. I had no interest in shooting one in the water from land or from a boat. My hope / wish was to take both of the hippo on land using a double over open sights either during the day or late in the day. Exciting stuff!
And the setting Lake Kariba, which itself is the worlds largest manmade lake having been damed in the late 1950s by damming and flooding the Kariba Gorge, after burning down all the vegetation in the gorge. The town of Kariba was set up for the workers that constructed the dam. I heard a story that the architect who built the Kariba dam, an Italian, built seven dams in his lifetime and that Kariba is the only one that is still standing! He apparently committed suicide. Buzz confirmed the story. Now may be the time to go to Lake Kariba if you are serious about hippo and croc in the lake! The lake itself is some 225 kms long and over 40 km wide at its widest. The average depth is something like 30m but in parts it hits nearly 100m.
It serves as a massive fishery for both Zambia and Zimbabwe (the national border between the two actually runs down the middle of the lake) especially in the production of kapenta, a whitebait like fish, which is netted at night using huge drop nets and surface lights and the catch is then sun and salt dried on land as a food / protein source. And its the kapenta that the tiger fish love to eat! I tied up a lot of sardine sized white and cream coloured flies on size 1.0 and 2.0 hooks and put together an assortment of own tied flies and some purchased poppers for the top water fishing, hoping to get into some seriously large, double digit tigerfish on fly!
A couple of words about tigerfish for those that do not know them or have not experienced the thrill of fishing for them - African tigerfish (here Hydrocynus vittatus) must rate as one of the world's top fresh water sporting fish. They are Africa's equivalent of the South American pirahna - they have streamlined bodies, large fins and broad tails and razor sharp teeth. They grow well into double figures and are a serious water predator! Their mouths are all bone and teeth and setting a hook is no easy feat and if - not when but if - you do manage to hook one, keeping the hook set is even more difficult with blinding runs and ariel jumps! You have to fight them hard and dirty, keeping maximum pressure on the hook tip at all times. Landing a double figure tiger is a major achievement and to do so on fly is even more special! Heck, I am not sure what got me more excited before this trip - the thought of hunting hippos on land with a double rifle or hooking and battling large tigers in Lake Kariba on a glass rod! Lets settle for both!
We would be staying on a house boat, "What A Pleasure", the same one Marty and Sue stayed on a couple of months back, which would give us flexibility and mobility in our plans, plus the bonus of fishing whenever we were back on the boat! In addition, Buzz has set up a tented camp as a land base where his staff and the scout would be based and we would have a Cruiser available to go after plains game as and when we wanted. We would be using camp rifles with me traveling in from Nigeria and Anja from Germany, it would have just been too much red tape for her to travel with my double from Duesseldorf plus ammo - permissions, certified statements and passport, marriage certs etc. Just too much paper. I would use Buzz's 500 NE for the hippo and Anja and I a scoped R93 .375 for anything else. Thank you Buzz.
Everything seemed to be well thought out and planned - as you would expect from CMS.
I flew in to Joburg on SAA from Lagos and Anja flew in on Iberia from Germany, and we had an afternoon to put together our hunting gear, get in some quick shopping, pick up some USD cash and have a great steak dinner and a bottle of SA red at Turn & Tender.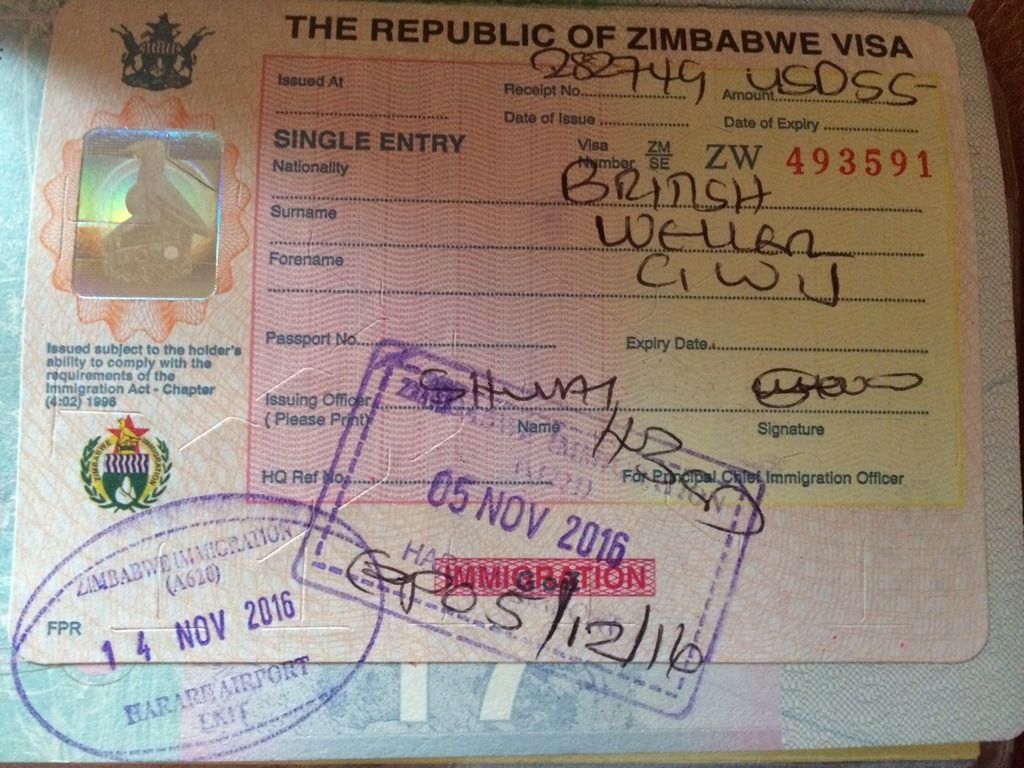 Harare
Saturday 5th November, we arrived in Harare, clearing immigration and customs in under 15 minutes, to be met by Buzz in the arrivals hall. We went straight to Amanzi Restaurant, where Buzz's wife, Stef, joined us and we enjoyed a great salad lunch before checking into our guest house. A comfortable B&B and ok for the one night. They had a great German Shepherd named Diesel who spent the whole night stretched across the doorway to our rooms.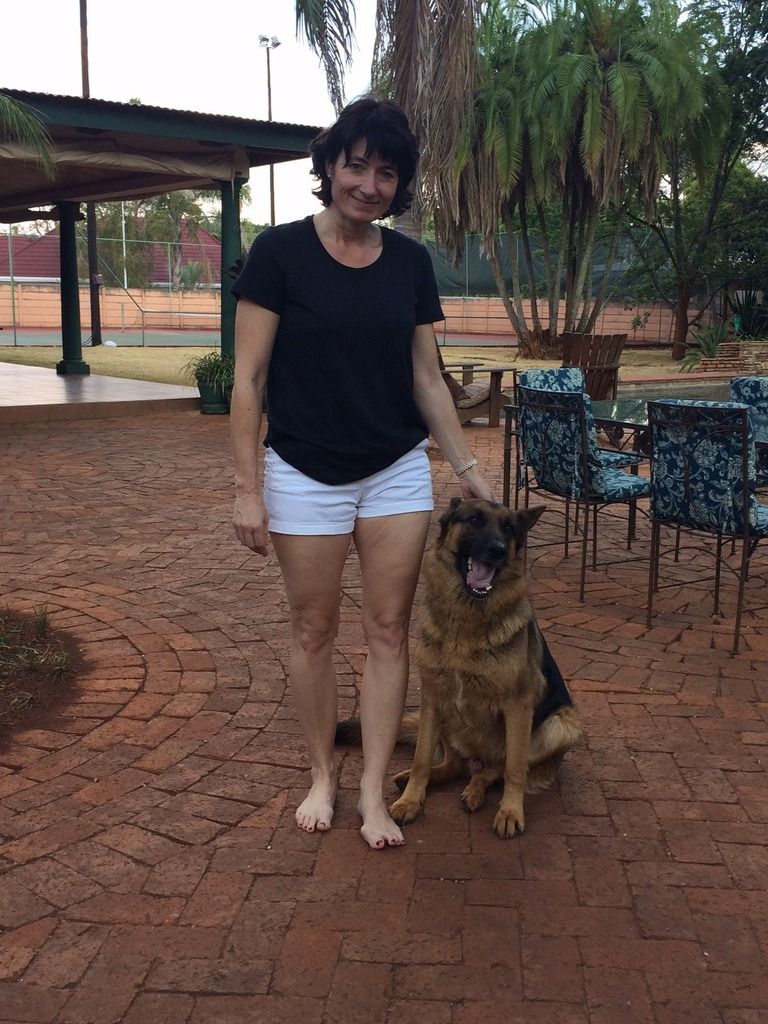 That evening Anja and I went out to Amanzi for a memorable dinner. I was hard to see / feel that Zim is crumbling compared to other African states based on what we saw, where we stayed and what we ate and believe me it was not all 5 star but rather comfortable and good quality.
Early the next day, Buzz and the ever smiling Eddie, collected us in the Cruiser for the 5 hour drive to Kariba. We only encountered one police road block and duly accepted the USD 10.- fine for "three passengers being seated in the front seat" ( which Toyota designed for three passengers - but we wanted to get on our way).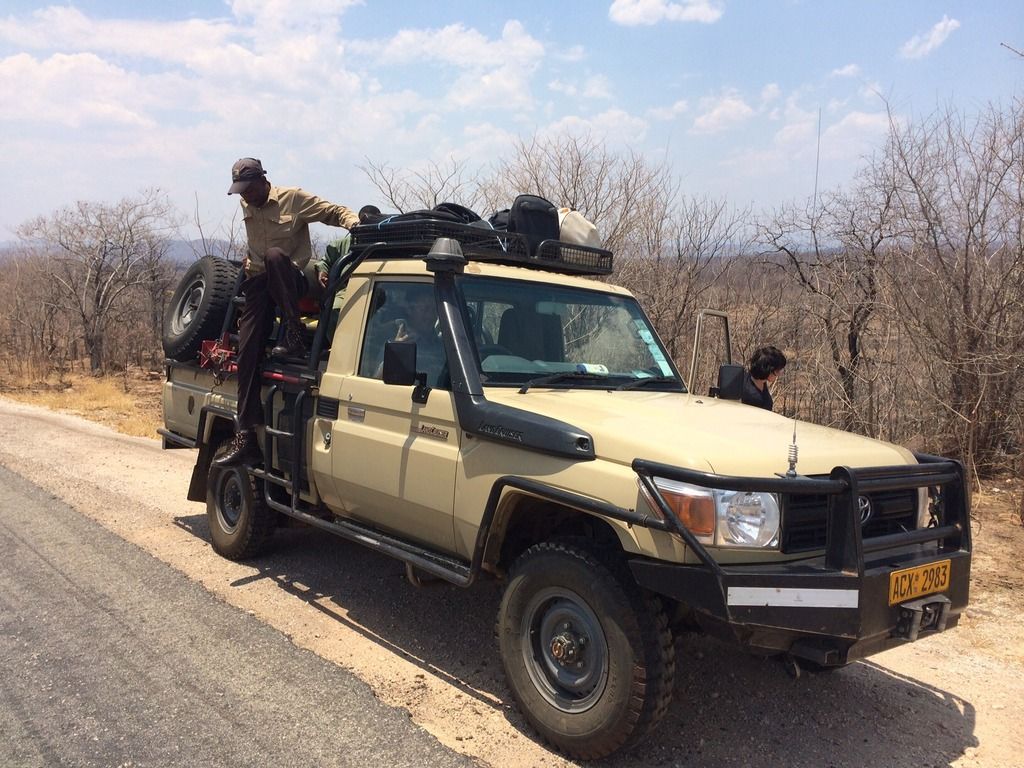 We broke the trip with a short stop at the Lions Den Cafe for great bacon and egg rolls and coffee and then met Nyati, Buzz's tracker, en route before arriving at Kariba Bay around midday. Criton, Buzz's other main tracker, was in Dande with Myles and a client hunting lion.
Kariba Harbour and "What a Pleasure".
Buzz paid the Park fees and fishing permits and we unloaded the Cruiser and settled in on board the houseboat "What a Pleasure". Buzz also collected our Parks Scout, Charles, who then went with the Cruiser to rendezvous with us that evening after we moored. The boat crew consisted of Cpt Goodson, Deck Hand Moses and Jimmy the cook. They were all great and worked hard all week on the house boat, the tender boats, filling the pool, sticking cool boxes, doing laundry, cooking and taking us fishing. It worked well and was fun being on the houseboat instead of a fixed or fly camp. The cabins were functional, although we slept under mossi nets on deck to get more from the breeze at night. Meals were taken on the top deck, where there was also a bar and a plunge pool which we all enjoyed to cool down from the sweltering November heat.
We set sail across the vast lake for an area called GatchiGatchi and the start of our Kariba / Charara Safari Area hunting and fishing adventure.
A quick line about our scout, Charles. We decided he fits into category 2, ie idle but doesn't interfere. Cat 1 being a helper and hard worker and 3 being an idle meddler. Nope this time ours was simply there when he had to be but didn't get underfoot. I fact it was the first time I had seen a scout use an AK as a back rest, propping it at an angle against a thorn tress and leaning back on it as a back support / rest! Another great use for an AK!
Another thing about the lake was the magnificent sunsets! They were some of the best we have ever seen in Africa or elsewhere. Simply stunning!
"Would someone please shoot this bushbuck!"
Having had a test shot with Buzz's .375 and chasing buff in the morning, we boated to the GatchiGatchi river inlet late afternoon on day one to see if any hippo were out and about. We left the tender boat, agreeing a pick up time, and slowly we walked the river bank upstream.
The river was chocked with bright green flowering water hyacinth. Large pods of hippo, 30 and 40 strong, wallowed in the waist high waters with the hyacinth half covering their backs. The grunted their displeasure as we passed them on the banks going slowly upstream with Buzz ahead of Anja and I, followed by the scout.
Suddenly Buzz ducked down and, crouching, quickly came back to us.
"Would somebody please shoot this bushbuck!"
I followed Buzz closer to the edge of the bank which dropped away steeply to the riverbed below and there, about 50m out on the dry bank, stood a wonderful buck, feeding away from us.
Buzz then went through his "let's get closer" routine (taking no chances) and at about 30m I sighted onto the now broadside feeding buck. At the shot the ram kicked out hard with his hind legs and bolted to the right in a downstream direction. I reloaded and we walked closer to the edge when suddenly the crashing of hooves on stones behind us pulled us around in a flash. The bushbuck burst up the bank between Buzz and I and Anja and the scout! I scoped down to 1, swung onto the bushbuck, lifting the rifle high over Anja and the scout, and leading the ram by a couple of meters dropped the buck with a running shot which took out both his hind legs at the hips. The first shot was a good high heart shot and the bushbuck stretched out in full a moment later.
What a beauty and what great markings. I am not sure who was more pleased - Buzz, Anja, myself or the scout ( fresh meat !). Buzz later mentioned that he had seen this ram when hunting with Marty a couple of months back but they never got onto him. If that's the case 'Thank you Marty!' He is a great bushbuck ram!
Nyati carried the ram back to the waiting speedboat and off we went back to "What a Pleasure".
That evening we enjoyed a fine meal, good red wines, we played Liar Dice and drank Killerpitch !
Buffalo - "Charles, you have a very particular wife!"
We saw buff every day - daga boys in twos and threes and fours and fives and bigger herds of buff. Anja decided she wanted to hunt herds and not daga boys. This made it tougher for CMS as most of the bulls had left the herds. Nevertheless Buzz took up the gauntlet and we went in search of herds of buff.
"The thick shit." (Buzz´s technical term)
The first tracks were of two old bulls - not a herd in Anja's books - and we caught them and left them 20m from the roadside.
We then followed a herd of 30-40 buff into some very thick bush and we bumped them at about 15m. Buff crashing around us in the 'thick shit' - great stuff but no shooter bull amongst them. We left them and set off for the road.
Another day we caught two smaller herds but the wind swirled and Anja did not get a chance. And another day we called a halt at 11.00 a.m. and 41 degrees Celsius! It was a blistering day and a long humid walk back to the Cruiser.
Another herd we spoored had lions behind them so we left that herd alone and went in search of others.
"Tomorrow for a change of scenery we'll drive 20 kms inland and hunt another area."
Now that statement from Buzz just sums up free range, no fences hunting! A 20 km drive without leaving the concession. Awesome!
We climbed down from the Cruiser at 06.00 and were on tracks within minutes - a HERD of 6 to 8 bulls! And again this was "thick shit"! After an hour we came onto a solo bull, following the herd to the side. Buzz put him at 41 inches and solid. He saw us and was gone. We stalked on. Around hour two we caught up with a straggler and he fortunately ran to the left not spooking the others. At hour three we caught up with the rest of the herd and Buzz, Anja and Nyati crawled in on the group whilst Charles, the scout, and I waited back.
Over the next 30 minutes Buzz and Anja glassed the group of bulls but no sticks went up and finally the wind swirled and the bulls went crashing away thru the bush. I walked over to Anja and Buzz.
"Charles, you have a very particular wife!"
"Yes I know that's why she married me! What happened?"
"Well, the one bull had no hair on its face, the other - around 39-40 - was 'ugly' - big flat cow like horns, two were around 36 but mature and the other two were soft." Replied Buzz.
We all laughed and killed a bottle of water before trekking back to the road.
The following day, after good rains in the night, tracking was easy and we followed a herd of 50 plus buff but they spooked and ran and ran. They crossed the road right in front of the Cruiser and Eddie later told us that there were no good shooters in the herd.
That evening we started sketching out plans for a 2018 double buff hunt for Anja in the Save Valley, with herds of 100 - 200 buff.
Tiger, tiger, burning bright!
I would love to say that we caught double digit tigers, monster vundu and huge tilapia but it would be an untruth. We did not. The fishing was a big disappointment. We put in the time and effort fly fishing and changing through 20 plus flies / patterns, spinning, drifting dead baits, floating live baits under balloons and throwing out kilos of dry and fresh kapenta. We had a few knocks and a couple of hook ups and Anja landed one tiger of about 1 kg to make her the 'tiger Queen'!
Buzz and I had fun taking pan sized bream on light fly tackle and size 18 and 20 flies off the side of the moored houseboat. Hardly the hard core tiger fishing that I had hoped for but fun all the same and enough for an appetizer before dinner the one evening.
To get the fishing good, someone will have to tackle the poachers and netters in a big way - fines, burning nets and sinking boats.
The winning tiger -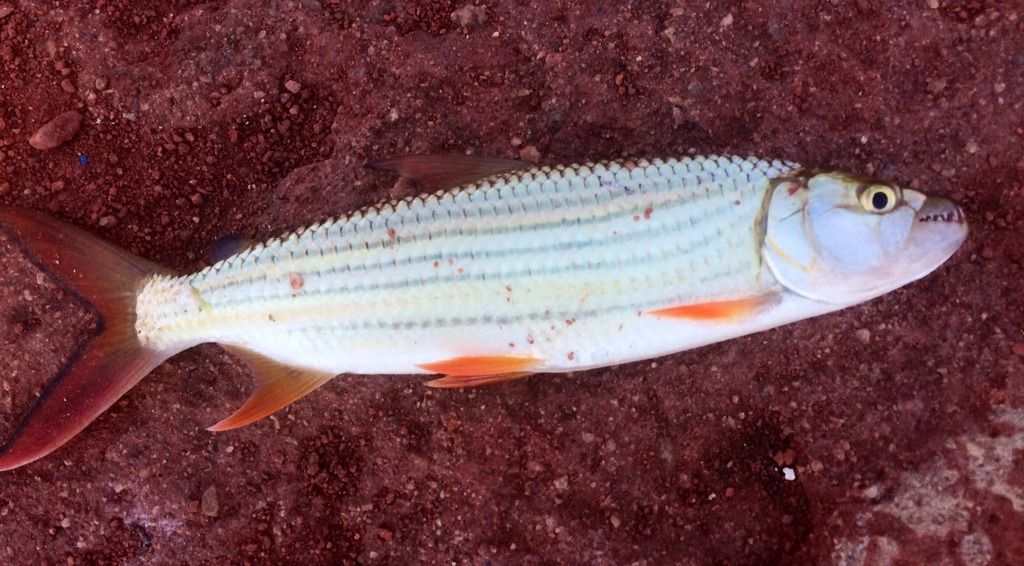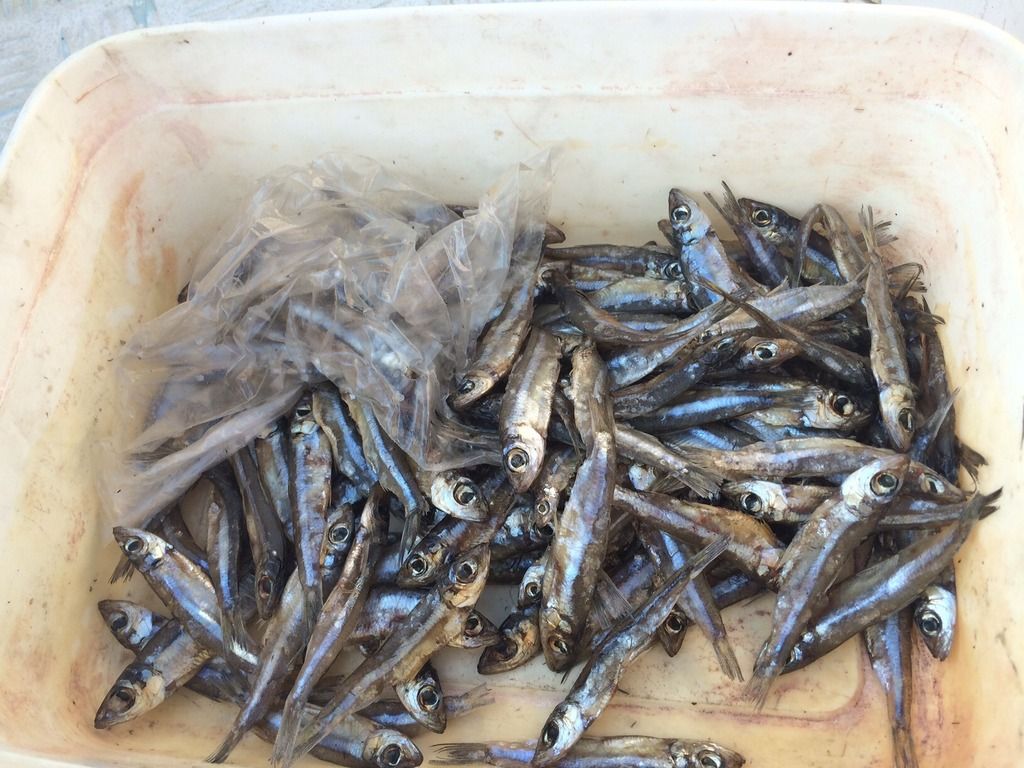 Crocodiles!
We saw lots of crocs but never a shooter. In fact we only saw half a dozen crocs on the land. A local fishing guide told Buzz that the week before we arrived the water temperatures rose to over 32 degrees C and hundreds of crocs exited the rivers and river mouths in a croc like great migration! Strange.
One evening, having shot the hippo by day, Buzz chained half the hippo ribs and pelvis to one of the many mopane trees in the water near the shore. We enjoyed sundowners and braaied on the sandy lake / river bank that evening. Hippo and bushbuck steaks! Within two hours of darkness, the high power torch revealed some 50 pairs of yellow eyes in the waters around the bait.
What happened then was fascinating. A seriously large hippo bull put himself between the bait and the crocs and protected / defended the bait for well over an hour, splashing and grunting! He then retired and the crocs came onto the bait. The following morning only the chained pelvis, stripped clean, remained.
The two biggest crocs we saw came to check us out one evening when we were fishing off the tender boat. One above and one below us in the channel. The bigger of the two likely went an easy 15 ft with or without the last 1 ft of his tail. He was a seriously big croc!
Next time!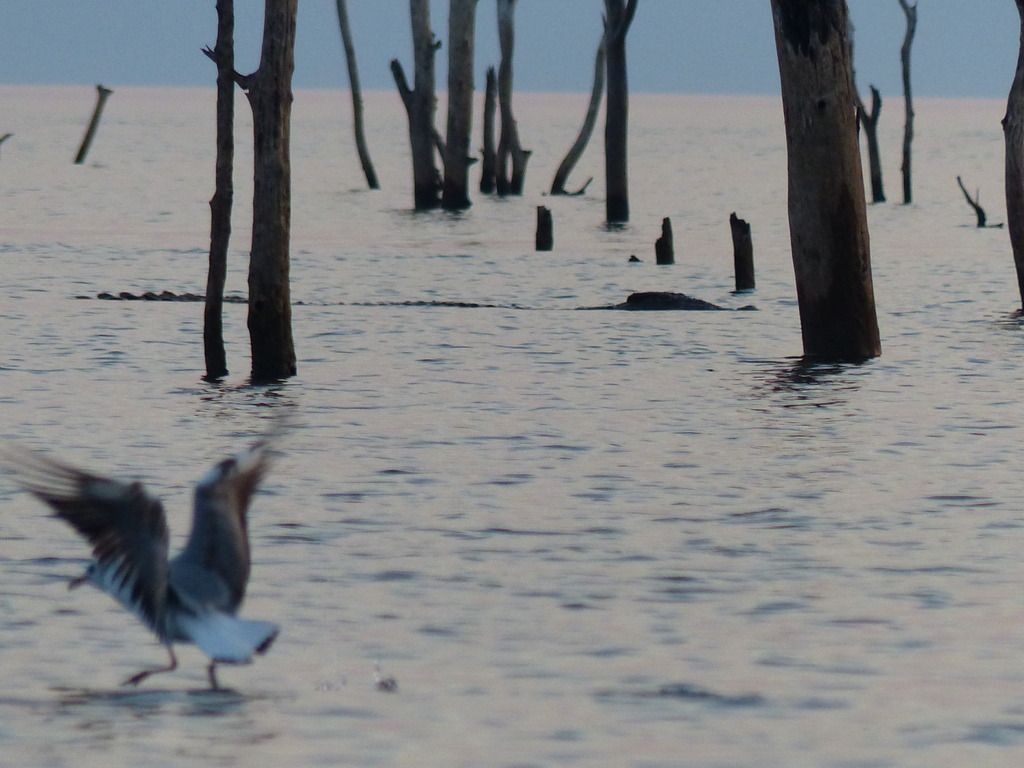 A lot of sweat for an impala!
Whilst there were a lot of good bushbuck in the areas we hunted, Anja hunted one last year and did not want to try for a second. There were also a lot of impala on the flood plains and although Anja has already shot 20 plus impala she is always ok to hunt another one. And so we set off on 'a quick evening impala hunt'!
There were three groups - two mixed herds and a bachelor herd - feeding up the inlet on the wash plain. We made a large circle stalk to come in downwind about a kilometer below the antelope. It was so hot and humid that we were all drenched by the time we got onto the plain. We crouch stalked in to about 250 m when the impala spotted us and began their warning snorting. The bachelor herd ran to the tree line on the left whilst the mixed herd ran to the right after some five minutes of strained necks and snorting.
Buzz and Anja followed. The impala set off again and it seemed that the hunt was off and that the impala had won the day heading up the river bank away from us. Buzz and Anja climbed up the dry river bank and myself, Nyati and the scout followed. Suddenly, 100 m ahead of us, Buzz and Anja switched back into hunting mode, crouching and crawling into the cover of the bank and a large sand mound.
After a short while Anja, resting on the mound, took her shot, had Buzzer reload the Blaser for her, and put in a second shot to successfully end what was probably the longest and hottest impala hunt that we have ever made! Anja's first Zim impala and fillets for a Rooibok casserole !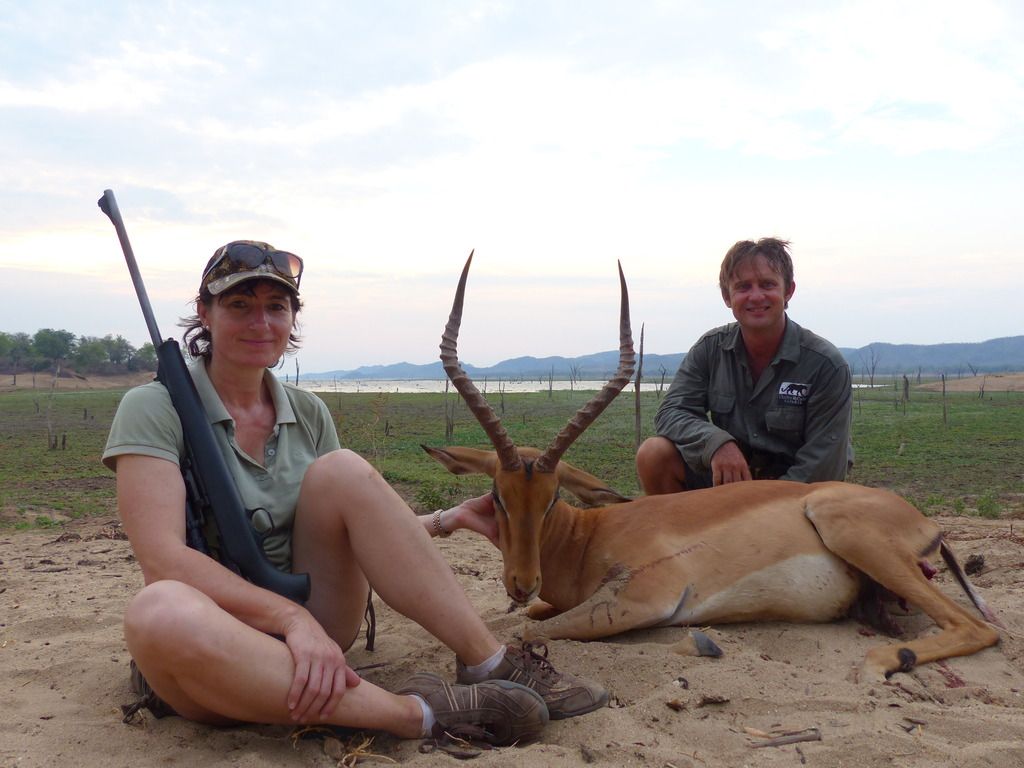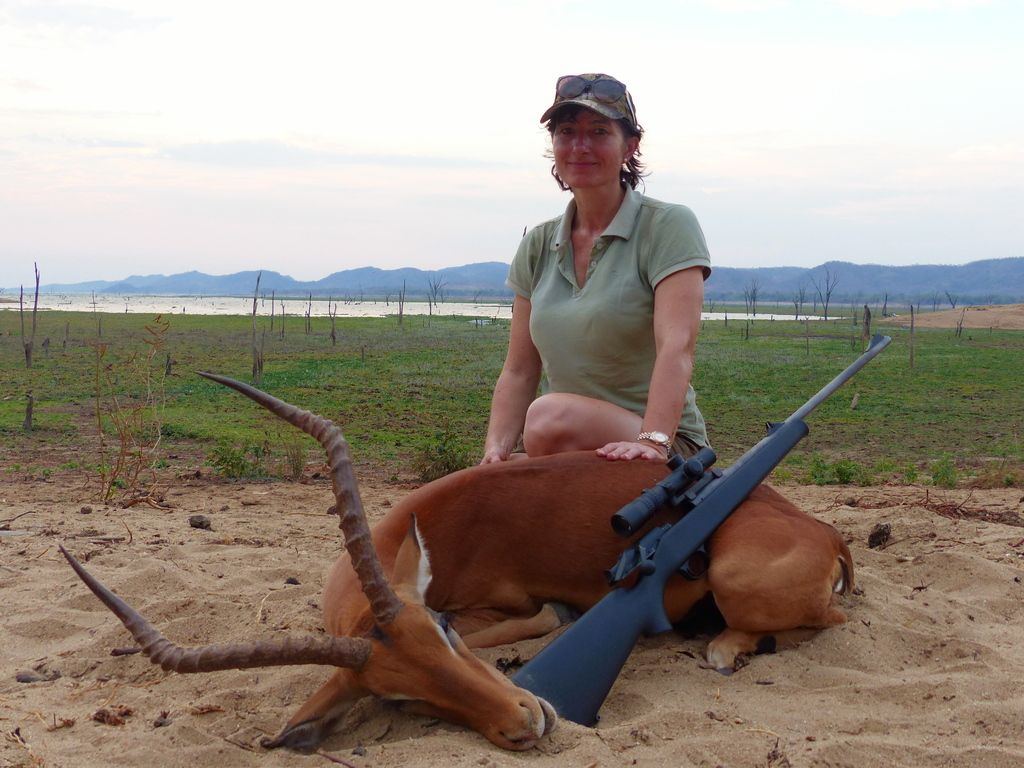 "Do you want to klop a baboon?"
Driving a dry sand river bed, we saw a troop of fifty plus baboons ( or Georges as Nyati calls them) spread all over the river bank / cliff. I asked Buzz to stop and we glassed them for a moment. A large dog baboon stood out from the rest, arrogantly resting in the shade at the base of the cliff looking over his shoulder in our direction.
"Do you want to klop a baboon?" Buzz asked.
Now I shot one last year when hunting buff with Buzz, and despite what I thought was a good shot, the .30-06 bullet had made such a mess of the baboon that we had to leave him for the jackals.
"Yes, I will have a go for him."
We exited the vehicle and walked away from the Cruiser. I got on the sticks with the .375. The big old dog baboon didn't move and just continued to gaze in our general direction. I hit him in the shoulder. Obviously baboons are to be my nemesis because - despite what I thought was a good solid hit - he needed a few more shots to finish things off. Needless to say he will not be the full mount I would have wanted but rather a simple skull mount. I did not feel great about the baboon as it was more shooting than hunting but then again there are so many of them and they do heaps of damage. I got over my bad feeling fast.
"Buzz, what will he do if we just get up now and walk straight at him?" A hippo on the edge of the flood plain.
We saw hundreds and hundreds of hippo. Pods of thirty to forty hippo in the river mouths amongst the water hyacinth, single bulls here and there or small pods of three or four animals in the middle of the rivers amongst the dry white mopane trees. Along the flood planes we saw hippo in the shallows everywhere. In fact we went over one in the speed boat and had a moment of rock and roll! It would have been child's play to sit on the lake or river bank and shoot a bull hippo in the water and then wait for him to float to the surface to claim our prize. You could have shot dozens like that.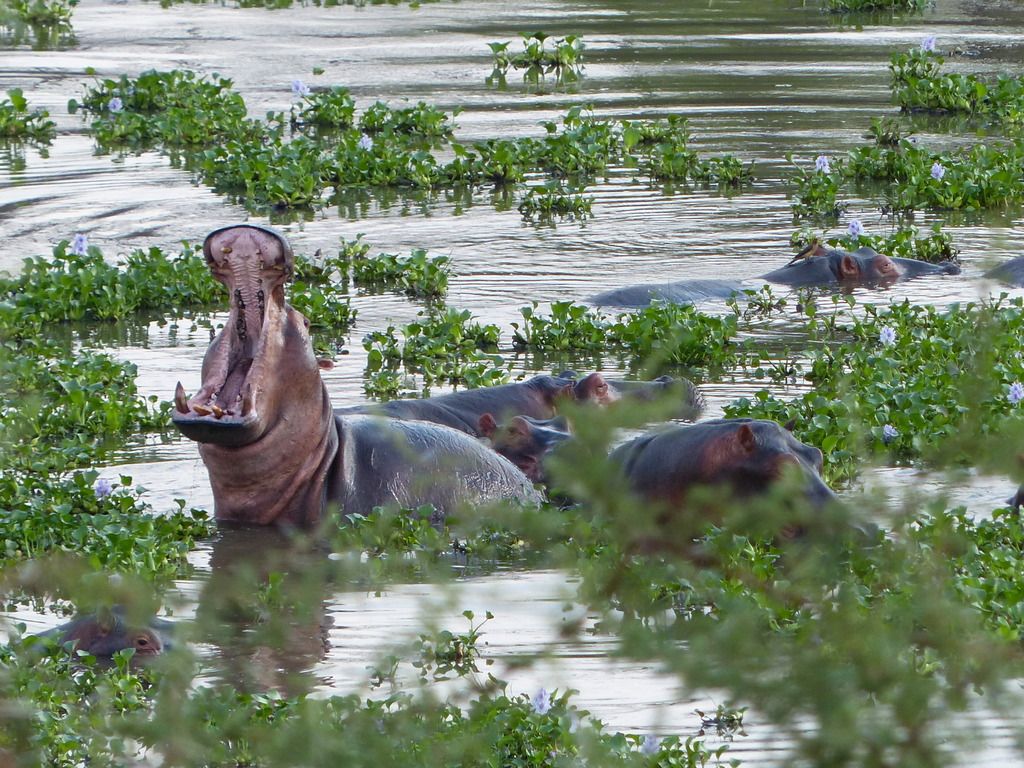 But that is not what we wanted. We wanted to hunt and take a hippo out of the water. And then we found one, early on the third day, driving the flood plains, Nyati spotted a (large) hippo laying down at what looked like 20 to 25 meters from the waters edge.
We made a plan! The mobile blind that Eddie had constructed from poles, green cloth and thatch grass came in to play and from about 750 m out we began our stalk. Eddie and Nyati each carrying a pole with Buzz, Anja, the scout and myself huddled in a group between the two we - step by step - approached the hippo. Over some 20 minutes we got to within 250m of the hippo when it stood up and began feeding, facing away and upwind of our position. We waited and after a few minutes we closed the gap, huddled behind the blind.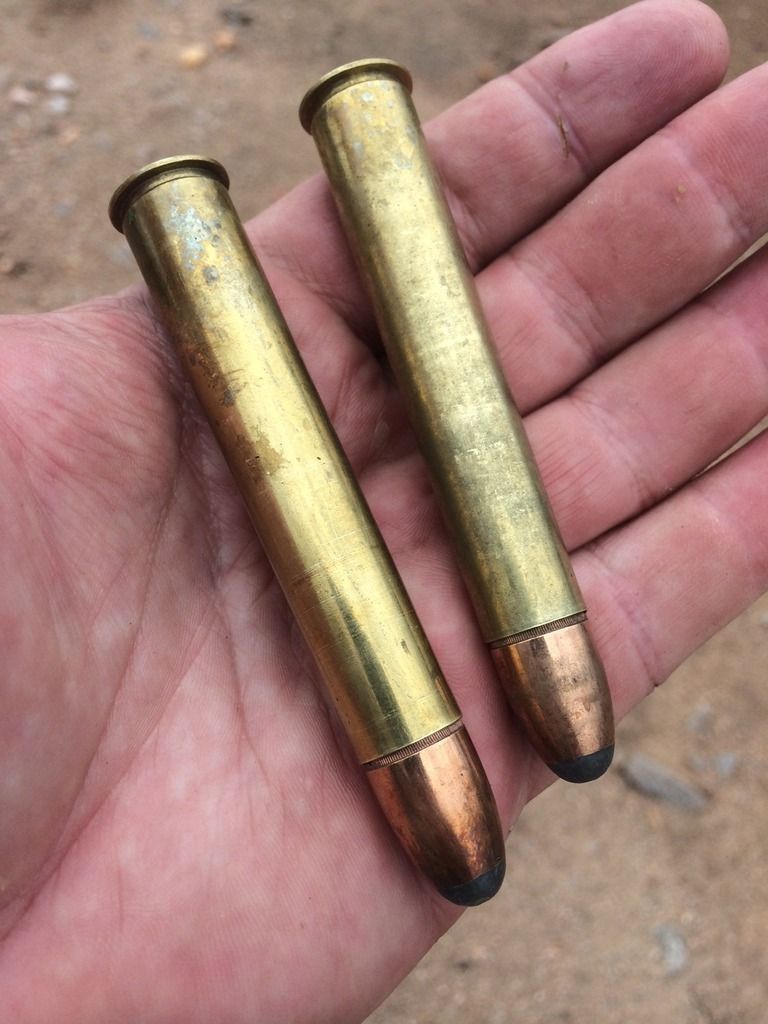 At about 75 m Buzz and I began our bum / leopard crawl, Buzz with his 500 NE and me with the .375. Slowly we crawled over the dry lake mud and decaying hyacinth, closer and closer. It was smelly uneven ground scared by deep dried hippo tracks. At about 40m we put up the sticks and in whispers contemplated a brain shot off the sticks with the .375.
"Let's try and get closer," whispered Buzz and leaving the sticks behind we crawled to two dried mopani trees about 25m from the hippo. It was here that Buzz decided to remind me that a) we still did not know whether this was a bull or a cow - sure it was a big hippo and we assumed it to be a bull but we had not seen between its back legs yet and b) as regards the tusks and teeth it was a bit of a "crap shoot" as we hadn't seen its teeth either. I whispered a "Yes I know and it's all good" and our attentions went back to the hippo. We crawled a few meters more. The bull - we were now able to tick the gender box - was laying 20 meters out, facing away from us.
"What will he do if we just get up and walk straight at him?" I asked
"Probably turn and look at us and then head for the lake as fast as he can," was Buzz's reply.
Still laying low we swapped rifles (a Heym 500 NE has a much better feel than a Blaser R93!!) and on three we got up and walked straight at the bull. He sensed / heard us and rose and turned towards us. My first shot with the 570 gr Norma Woodleigh soft was square on his shoulder and the second behind his ear, Buzz put in a shoulder shot and then pulled two more 3 inch bullets from his belt for my reload and I put in another shoulder shot and a low head shot and the bull went down. In the space of some 10 seconds we had hit the bull hippo 5 times from 10 - 15m and he had gone less than 10m before dropping. He did not need another finishing shot. We had our dry land hippo - me with a heavy double and Buzz putting in one shot with the .375. I was thrilled, it was more than I had imagined and hoped for of the hunt. A great and unique stalk with a mobile blind, a long crawl and a close and fast action finish.
We admired the huge bull and took our time taking pictures and enjoying the surroundings - white faced ducks flew by in the hundreds and the rest of the pod of hippopotamuses grunted their annoyance from a distance and a lone large croc eyed the goings on.
We had our land hippo and btw his tusks were just fine ! The recovery took a few hours and the meat went to the Parks scouts, the boat crew and our crew. Kilos of hippo meat was dried that afternoon in the hot African sun.
We did have another crack at a second hippo, just after sunrise on our second last day. Buzz spotted two hippo coming down the flood plain towards the lake around 05.00. We grabbed guns and belts and Cpt Goodson ferried us across the river to intercept the hippo on their way to the river. Buzz and I bailed out of the boat and waded, splashed and stumbled our way through the knee deep hyacinth covered (and likely croc infested) water to try and cut them off. The hippo beat us to the water and that ended our hippo hunting for this trip.
Flora & Fauna / Odds & Ends.
The first days were sweltering and we abandoned hunting after 11.00 a.m. starting again late afternoons. It peaked at 41 degrees and was humid as hell. We then had rains and strong winds around day four. The winds came when we were out fishing and sent us running for shelter as the waves came up. It was amazing that two days later the parched, dry bush began to sprout green! We saw fantastic bird life on the lake especially the fish eagles of which there were many. Sadly we also saw massive poaching / fish netting day and night wherever we went. The lake supports numerous kapenta fishing boats that drop large circle nets at night with massive light bulbs in the middle which pull in the small white bait sized fish by the thousands. The nets are then hand winched up and the catch salted and dried for market. We saw horizon to horizon lights from the boats at night. We also saw the huge bream / tilapia fisheries with dozens of floating nets, a bit like the Scottish farmed salmon industry. In fact we even tried for tigers around the edges of the nets keeping to the 50m enforced boundary lines but with no success. One of the many striking features of the lake were the old mopane trees sticking out of the water by the thousands; a clear reminder that the lake is man made having flooded the burnt Kariba Valley in the 1950s. Anja and I decided to climb into one of the trees for that special holiday photo and Buzz drove away in the boat to take the picture for us. How high can crocs jump?
We walked up a hot spring stream one morning. An amazing sight. At the source the water was so hot that it burned. I know I tested it - kind of like " care -wet paint!" and you still have to touch it and see for yourself! Yes the water was boiling hot. Another morning we walked a river bed lined with giant Albeda Acacia trees, where we saw plenty of game and Anja stalked a bushbuck with Buzz but it was young. We saw plenty if eles, herds and bulls, tracks and dung and a dozen eland on the flood plains with two big trophy bulls amongst them. Had we not previously hunted eland I would have tried for one of these bulls. We saw sable, kudu, waterbuck, warthog, impala, bushbuck, hippo, croc, duiker and we heard lion and hyena roaring and whooping near our houseboat camp at night. We saw giant baobabs. We saw a number if ele skeletons in the bush and a recently killed young ele cow at the river mouth. The scout recovered a small tusk, suggesting lions rather than poachers. We saw an old lion kill 50 inch kudu bull (poachers would have taken the spine with the meat on).
Here some more photographs -
A welcome sight when it 41 degrees !
Eat your heart out Sir Walter Raleigh ...
We returned to Kariba Harbour and then the 5 hour drive to Harare, with only one police check and a return stop at the cafe for steak / prego rolls for lunch. We checked into Ridgeway House and then enjoyed a great Indian curry dinner with Buzz and Stef and Myles and Liv.
After a full cooked breakfast on our last day, Myles played tour guide and drove us to meet Gareth Hook, a Zim wildlife artist, and to see his work. I would recommend to anyone interested in wildlife art if you are in Harare with an hour to spare, visit Gareth at his home studio! You will not be disappointed. I hope to purchase one or two of his works.
Buzz dropped us at Harare International Airport for the short SAA flight to Joburg and my connection to Lagos and Anja's to Germany ( she has a house project going on there at the moment hence separate return flights). It was great to see that Harare airport has a full mount lion and leopard on show in the departures area ! Imagine that at Heathrow or Atlanta!?!
It was a most memorable week's safari, with good hunting in a remarkable environment, Lake Kariba. A very big thank you to Buzz and CMS for again putting on an excellent hunt for us. A big thanks to the Eddie and Nyati and the houseboat team for taking care of us and thanks to all AR readers for coming along too.
.


"Up the ladders and down the snakes!"