Area Hunted: Dande East and Dande North, Zimbabwe
Professional Hunter: Richard Tabor
Outfitter: Charlton McCallum Safaris
Firearm: Kimber Caprivi, .375 H&H
I just returned from an unbelievable safari and hunting experience in Zimbabwe with Charlton McCallum Safaris, hunting the Dande East and Dande North hunting concessions. This hunt was booked last year as a sable/buffalo/plains game hunt, and it became very exciting from the start.
While the hunt is described below, in summary I will say I was extremely pleased with CM Safaris, my PH Rich Tabor, the entire staff of trackers, scouts, cooks and camp workers, and the overall quality of the experience. My wife Romona joined me on this safari, and we stayed in 4 different camps over the course of a 16-day hunt. All facilities were in top-notch condition, well stocked and managed. The food was great, staff was very cordial, and Rich was an absolute pleasure to hunt with and get to know. This was my first trip to Africa, and I feel like I got 2 or 3 safaris in one – definitely one of the highlights of my hunting career.
Now for the hunt report:
The first day consisted of driving the Dande East unit to check the roads and waterholes for tracks, just to get an idea of activity in the area we would be hunting. We made a few walks, and saw quite a few sable, impala and a few kudu. We saw a really nice sable (around 39") on the first morning, but Rich decided not to pursue it. He was confident we could take a 40"+ bull if we were patient, and we had a 16-day safari ahead of us.
Day 2 consisted of walking, tracking buffalo and seeing more sable and kudu. We almost got a nice kudu at the end of the afternoon, but we couldn't determine how good the tips were quickly enough – we only needed a few more seconds on him, but he saw us and was gone.
Day 3 was the day we got a big sable. We had seen a herd of around 40 sable each of the 1st 2 days, but the largest bulls were only 37-38". Today, however, a larger bull had joined the group and I knew I wanted him as soon as I saw him. Rich gave me the green light pretty quickly, and we promptly made a stalk and got the shot from around 120 yards.
That was early in the morning, so we took him back to camp, ate an early lunch and went back out. We began tracking a herd of around 30 buffalo, and when we finally got sight of them, there was a great bull in the bunch. We chased them for several hours in the thick stuff, but we never got a shot opportunity. We saw that big bull several times, and we knew he was one to go after.
On day 4, we picked up the track of the buffalo herd from the evening before and caught up with them around 9 am. I shot that bull twice, and we ended up getting him after a long day of tracking and following. The trackers did a phenomenal job of keeping up with him, and Rich and I were both excited to finally get him down. He is a great bull, with huge drops and sweeps, measuring 40" wide.
We hunted the next day for Kudu and then decided to move to the Mururu camp in the Dande North to try for some of the plains game that were more plentiful in that area (zebra, bushbuck, waterbuck). I also learned that a leopard tag was available and decided to try to for one since we were only 5 days into a 16-day hunt. It turned out to be a great decision.
On day 7, from the Mururu camp, we tracked a herd of zebra and I shot a really nice stallion around mid-morning. We spent the rest of the afternoon "swingin' steaks" – hanging 5 baits in hopes of attracting a big male leopard.
The morning of day 8, we found big tracks around the first bait we had hung, so we built a blind and prepared to hunt it that evening. We returned to the blind at 4:15, and the leopard showed up around 5:30 and I got him then. This was unbelievable luck to locate and get on a leopard so quickly – I still can't believe it. Everyone in camp assured me I was probably the luckiest hunter in the Zambezi valley at that moment. It was a really neat experience to drive into camp with all of the staff singing and chanting. Everyone in camp delayed their supper and stayed up to see us arrive with the big cat. It sure felt like a big deal.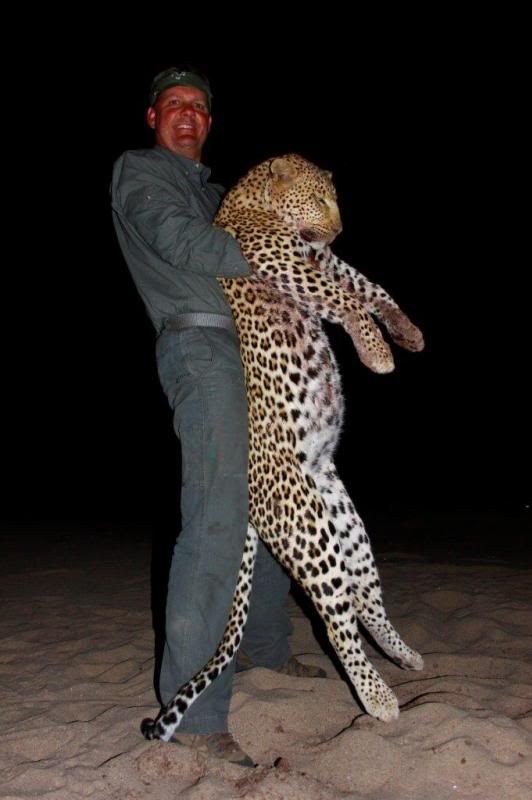 The next morning, Rich and his team removed the 5 leopard baits and we relocated them to an area closer to camp where we could try for a hyena in the early morning hours. It took 2 nights for the hyenas to find the bait, and the first morning we hunted them, they left before it was light enough for me to shoot. There was a lioness on the bait as well, probably keeping them more on edge than normal. Regardless, we snuck in the next morning in the dark and got one at first light. I now understand why the PH's describe them as an under-rated trophy. They are certainly a great trophy, and I'm really glad I got one.
The rest of the hunting days were spent making walks to locate kudu, bushbuck, waterbuck, warthog, impala, etc. With the big animals behind me after the first 8 days, we relaxed a bit and rotated to other camps in order for Romona and me to get a broader experience in the area. It was a wonderful time. I ended up shooting a 2nd zebra and got a really nice impala.
We ended our hunt with 2 days at the Motombo river camp, which has a tremendous view of the Zambezi River – especially at sunset. We went out on the river each of those 2 afternoons, and we saw lots of hippos and crocs, and quite a few elephant as we made walks looking for bushbuck and waterbuck. It was a great way to end the hunt.
As I said before, all in all, this was a tremendous experience. With 16 days, we were able to really settle into a long hunt, develop a routine of rising early, walking a lot each day, relaxing around the fire with a couple of "sundowners" before supper, and then retiring early. The trophy quality was exceptional, and I still can't believe my good fortune to take a great sable, a great buffalo, a leopard and a hyena on a single safari.
Also, I can't say enough about the professionalism of the staff and how well the entire operation was run. I would definitely recommend this hunt and CM Safaris to anyone who can walk and would enjoy the tracking-style of hunting like we did for the buffalo. That was my favorite.