[I have been remiss in getting a formal hunt report posted on my recent trip to Zimbabwe. I posted a few pictures on the African Hunting Forum but wanted to get an "official" hunt report filed. Hopefully someone will find some enjoyment or utility in the the report.]
Hunt Dates: August 21, 2012 – September 7, 2012
Areas: Dande Safari Area, Zimbabwe and Dande East, Zimbabwe
Outfitter: Charlton McCallum Safaris
Professional Hunter: Buzz Charlton
Travel Agents: Steve Turner and Susan, Travel With Guns
Airline: Emirates (Houston-Dubai-Harare)
Trophies Taken: Elephant, Buffalo, Kudu (bull and one cow), Hippo, Hyena, Duiker, Bushbuck, Grysbok, Impala (ram and three females), Baboon
Game Seen: Lion, Wild Dogs, Civet, Brown Hyena, Waterbuck, Klipspringer, Sable, Leopard
Rifles Used: Holland and Holland Dominion Grade .500/.465 and Duane Wiebe .404 Jeffery (1935 Chilean Action)
Cigars: Macanudo Duke of York, Oscuro 601
Note
Unlike prior hunt reports that I have done, I am going to try and keep the narrative to a minimum -- which is tough for a lawyer. I know from my own review of hunt reports done by others that sometimes the narrative can be a bit tedious. On the other hand, everyone enjoys pictures. Besides it is a heck of lot easier to post a bunch of pictures than it is to write cogent text!
General Background
This hunt and the background behind this hunt were quite a contrast to my prior hunts. During the weeks and months leading up to this hunt the company that I work for was involved in its second major merger in the last two years. This time, however, I would not be continuing with the company following the merger. So after thirty years with the same company I was adjusting to the pleasant reality that going forward work was something that would be optional for me (I have a hard time at 54 using the term "retirement"). I have been incredibly fortunate throughout my career and the circumstances surrounding the merger are such that I have the full range of options open to me going forward, from spending all of my time at the shooting range to starting a new career. As a result of the situation at work, we had to do a little adjusting to the hunt schedule but fortunately were able to squeeze the hunt in despite the pending merger. In addition, our plan was to hunt lion. I have shot a lioness before but had not hunted a male lion. I was looking forward to the hunt although baiting and sitting in blinds are not two of my most favorite things.
Travel
For this hunt I flew Emirates. In the past I have always done the Houston-Dulles-Johannesburg-Harare route on South African Airways. Traveling during the summer in Houston I would always worry about weather delays resulting from summer thunderstorms that might cause a missed connection in Washington. When Emirates announced that it would be flying from Dubai to Harare, and with Emirates already having a non-stop Houston to Dubai flight, I decided to give Emirates a try. I am glad that I did. I was able to eliminate a connection and avoid fretting about a possible missed connection in Washington. I was also able to swap traveling on an Airbus across the Atlantic for a Boeing. Finally, I just think customer service on Emirates is taken more seriously than it is on SAA. While it is a long flight and you have an evening layover in Dubai going, I still believe that Emirates is the way forward for travelers that choose to flew into/out of Houston. The fare was significantly cheaper on Emirates too than both Delta and SAA. You do need a gun permit to transit through Dubai, but Steve Turner and Susan with Travel With Guns take care of that for you. I had no issues with my firearms going or returning.
On the way to camp, but first a stop at Borrowdale for some odds and ends . . .
No trip over the escarpment would be complete without a stop to load up on the little bananas that they sell along the roadside. I can eat those damn things until I have an upset stomach . . .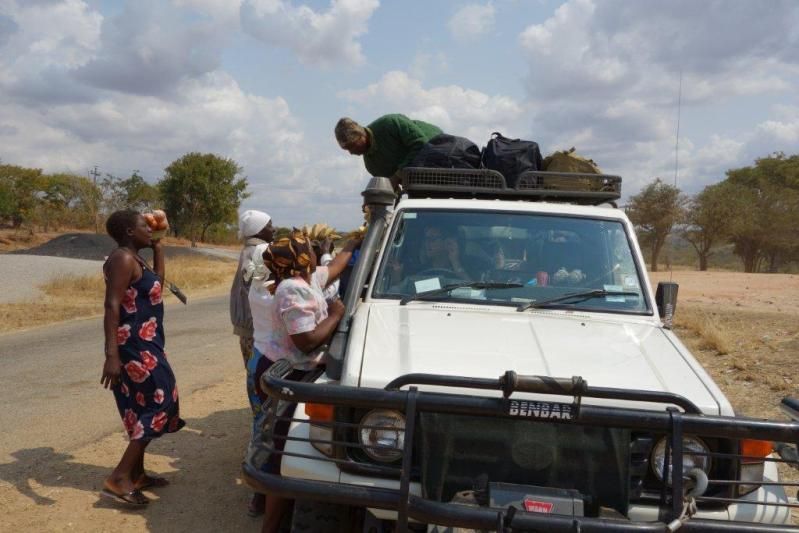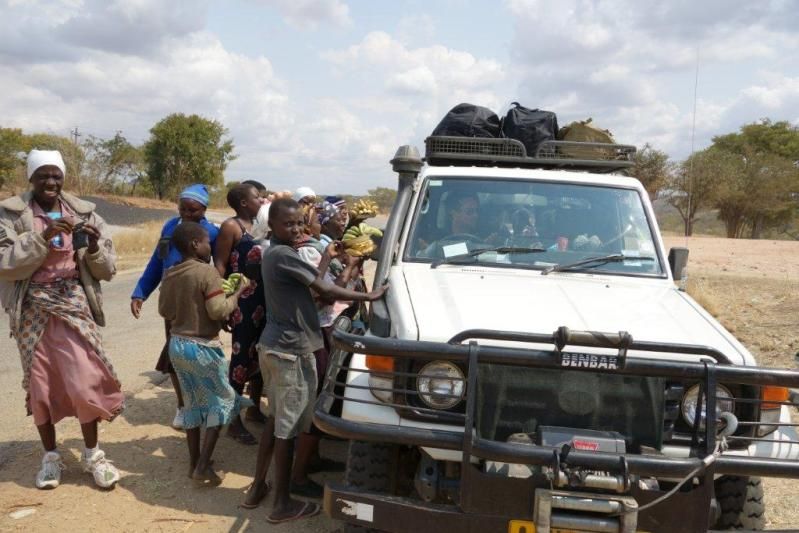 These were the envy of everyone on the hunt. While they made fun of them to try and cover up their envy, I knew that secretly everyone was wishing they had a pair, particularly TImbersnake. (Timbersnake, how that Bovril got spread inside your shoes I will never know, you should check with Buzz, maybe he knows. Does Bovril stink after it sits in a pair of sneakers for several days? Come to think of it, Bovril stinks right out of the jar.) All kidding aside, these worked great, easy on the feet, dry quickly, no blister worries . . .
The mascots for our trip . . .
Hunting
Our first stop was in Dande East to whack a hippo and get a jump on the baiting. For those that have not hunted hippo in the East, it is less like a hunt and more like an assassination. The "hunt" lasted less than 30 minutes and we were on to the recovery. The good news was that we had a number of good lion baits now and residents in the communal area would get some protein . . .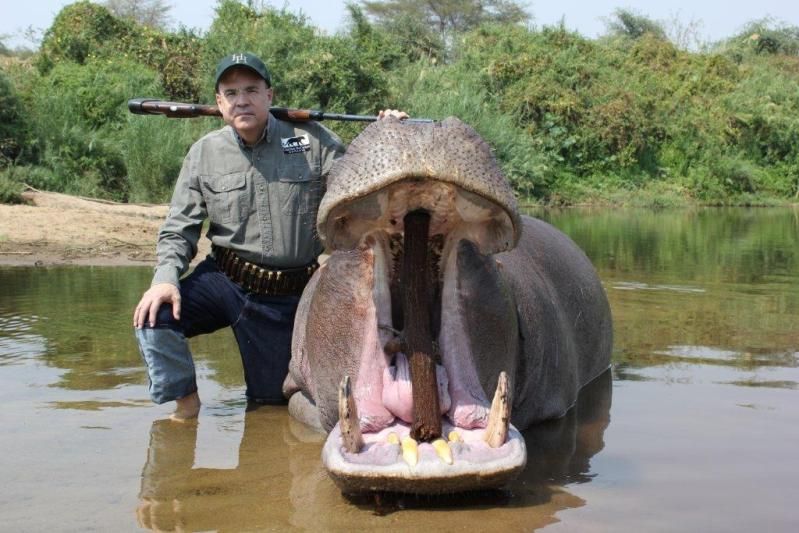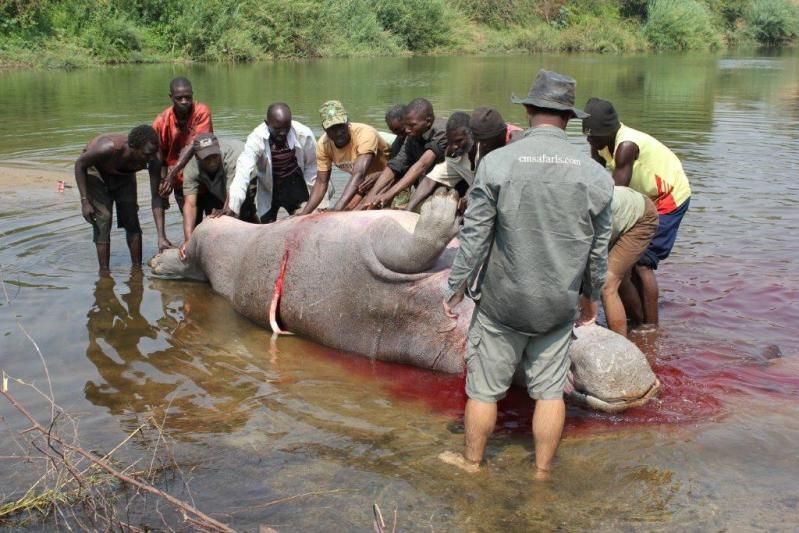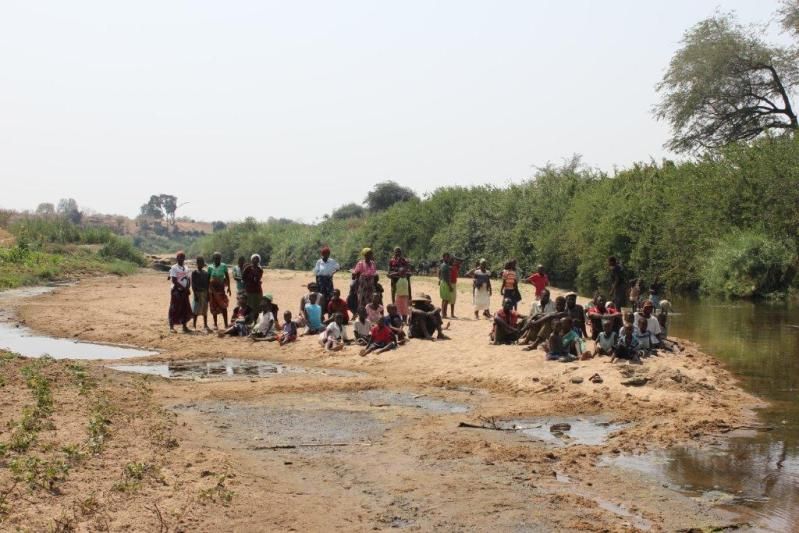 I was shocked to learn upon arriving in the DSA that Buzz had taken on several "little houses". I guess in light of Zoe's recent arrival and his upcoming marriage, he felt the need to find a little love in the bundu. It was gratifying to see the girls getting along so well together in camp . . .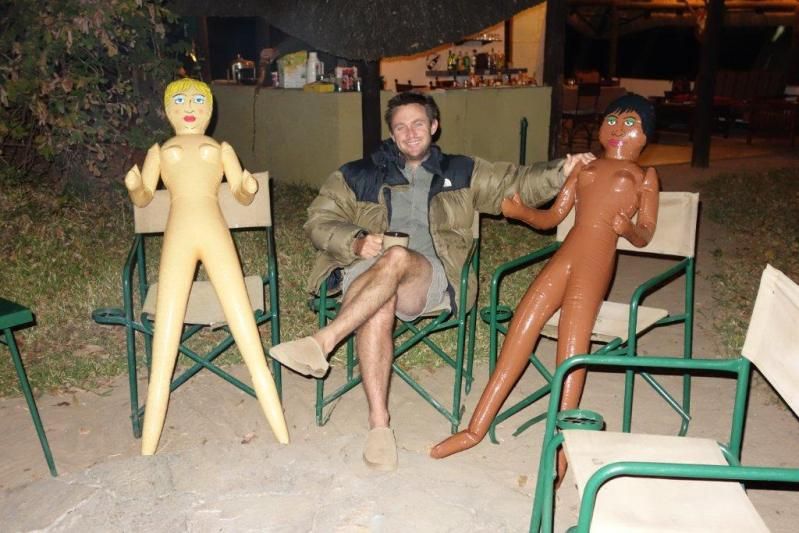 We were sharing camp with several Aussies, Dan and Hilly. Both were great company and good sports. Only down side was that it meant that Pete Barnard was in camp too . . .
I felt that I could not duplicate Shootaway's efforts in his recent Hunt Report to photograph -- and post pictures of -- every meal that he ate in camp over the course of his entire hunt, but thought I might at least try to capture one lunch and one dinner . . .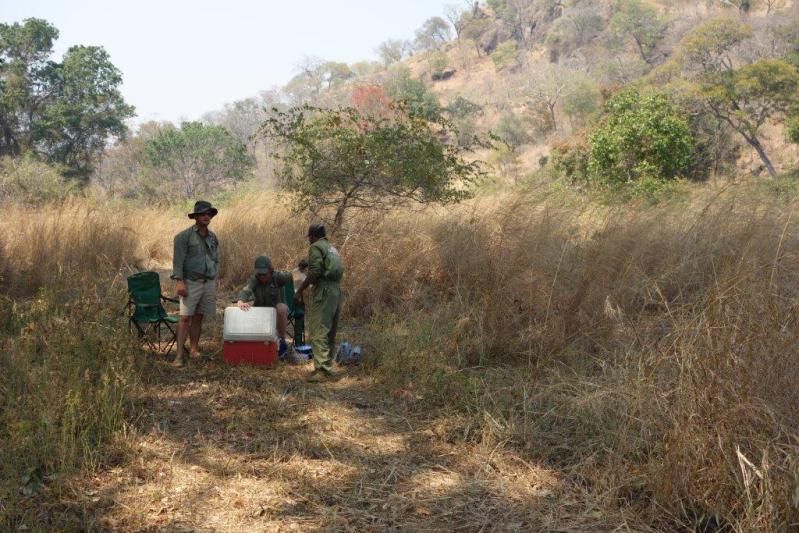 Driving back to camp one evening after hanging a bait, Buzz was chatting to Myles on the radio. We rounded a corner in the road and walking down the middle of the road in front of us was a hyena. I insightfully commented to Buzz, "There is a hyena walking down the road toward us." I could tell from his reaction talking on the radio, he was thinking, "No more doro for Jines". Then he realized, there really was a hyena walking down the road. He dumps Myles on the radio, we clammer out of the Cruiser and several shots later the hyena is down. I guess this is my fourth or fifth hyena. While my lion hunting luck is somewhat dubious, I have certainly been lucky on the hyenas . . .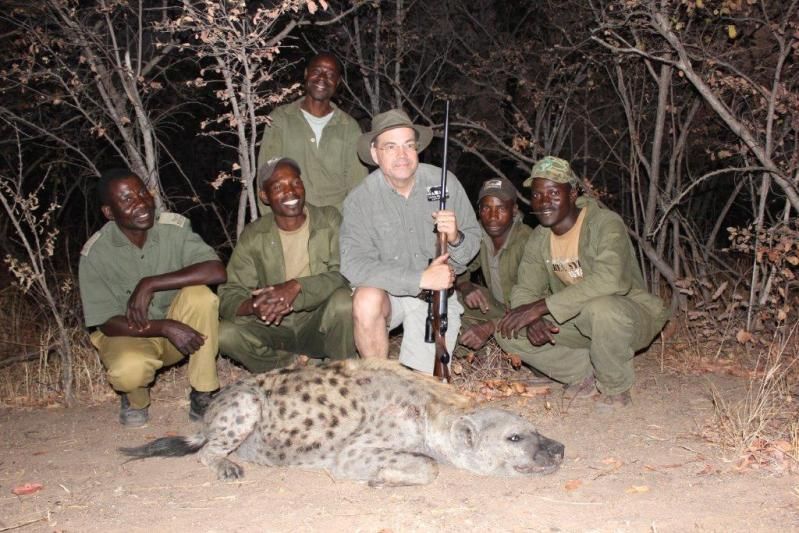 Cat hunting is an emotionally draining experience, at least it is for me. First, baiting and checking baits is incredibly tedious. Second, shooting bait animals, hanging them and watching them rot seems like such a waste. It is all part of the cat hunting experience but it wears on you day after day. I guess that is why I like elephant and buffalo hunting, it seems like you are always in motion. Similarly, the days that we tracked lions were exciting. Early in the hunt we tracked a male and female and caught them sleeping against the bank in a sand river. Not sure who was startled more, them or us. On the last day we tracked a male and ended up bumping a lioness with a cub. That was tense. After a five or ten minute standoff with her growling and mock charging she finally moved off (although we bumped them again a little later). There is something about that deep, throaty growl of a big cat that gets your attention . . . instantly.
Baiting and some bait animals . . .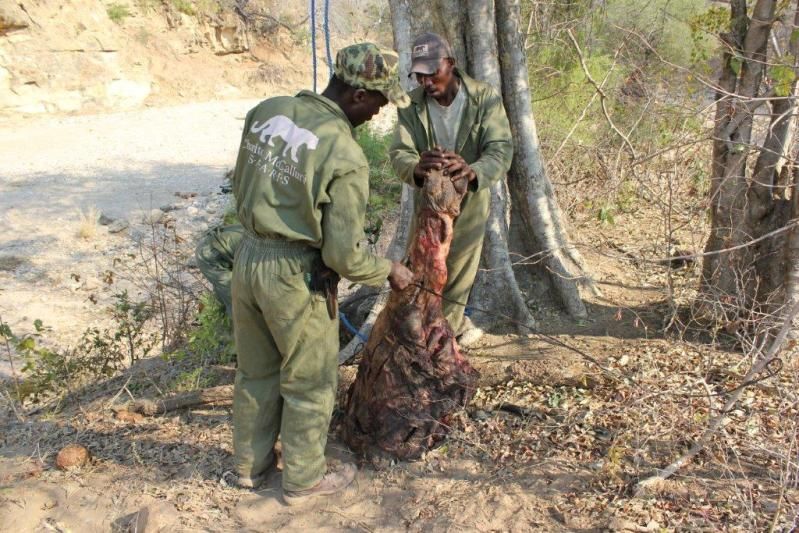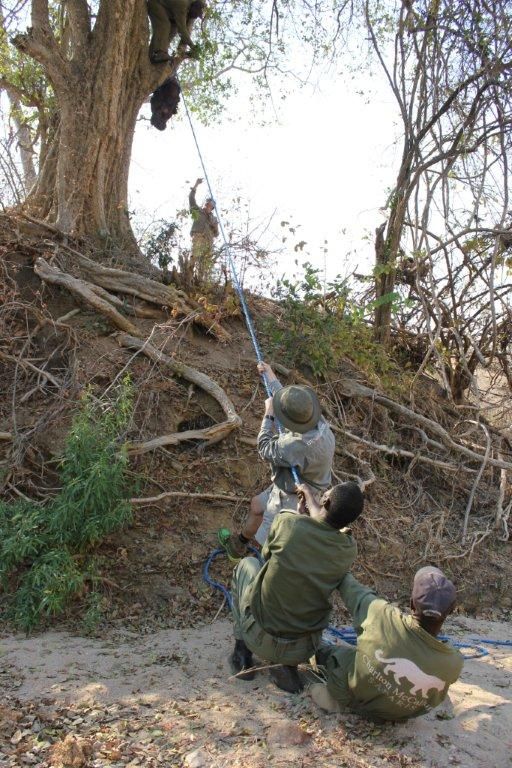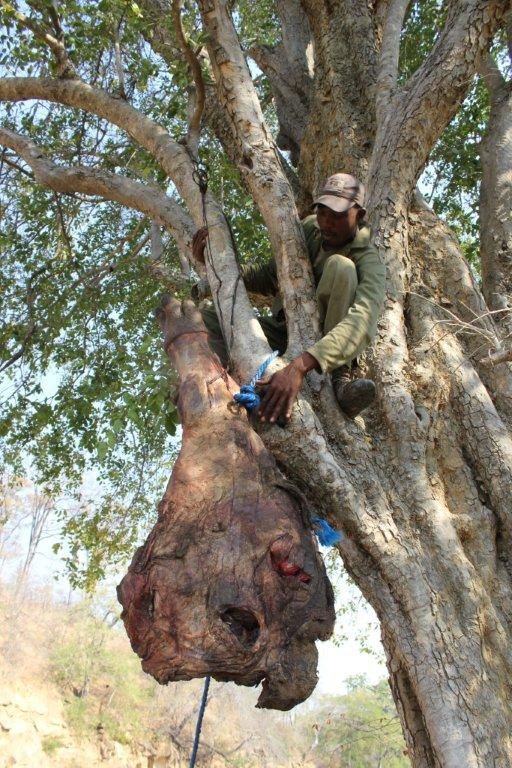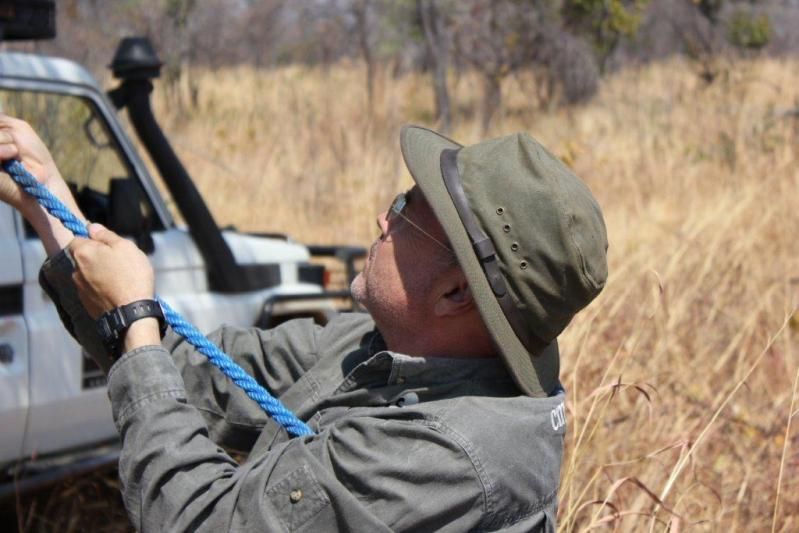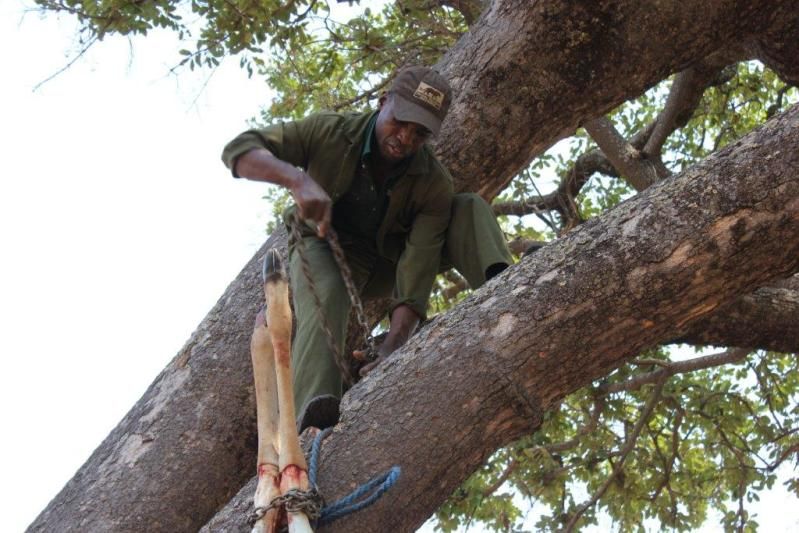 Yummy . . .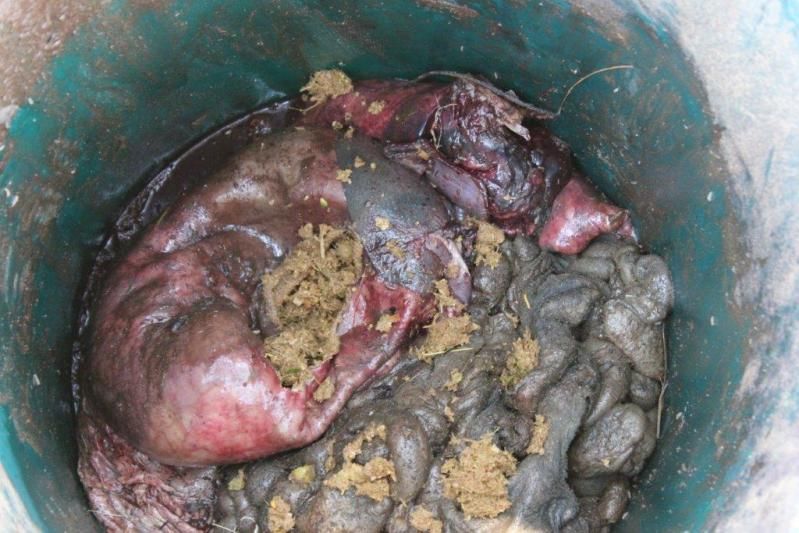 Some hunts you shoot better on than others. I have to say that on this hunt my shooting was dialed in. I did most of the shooting with the .404 Jeffery that Duane Wiebe built for me. The fit and function of the rifle is darn near perfect. It is accurate and it is dependable. And what the heck, it is deadly too. (I hope that is not a trademark infringement on Hornady's motto.) The three impala were shot out of single herd while they scrambled to get out of a river bed. Buzz was convinced I had only shot one, but when we walked up, there were three laying in different spots in the river and going up the hill. Oh ye of little faith.
I have never been particularly interested in the small antelope. Not sure why. I know that others make the tiny antelope their passion in life. On this trip we did shoot two of the small antelope, a duiker and a grysbok. They are beautiful creatures. Frankly, I shot the grysbok just because I was sick and tired of seeing the tail end of them always running away. I felt like I needed to confirm that they actually had a head . . .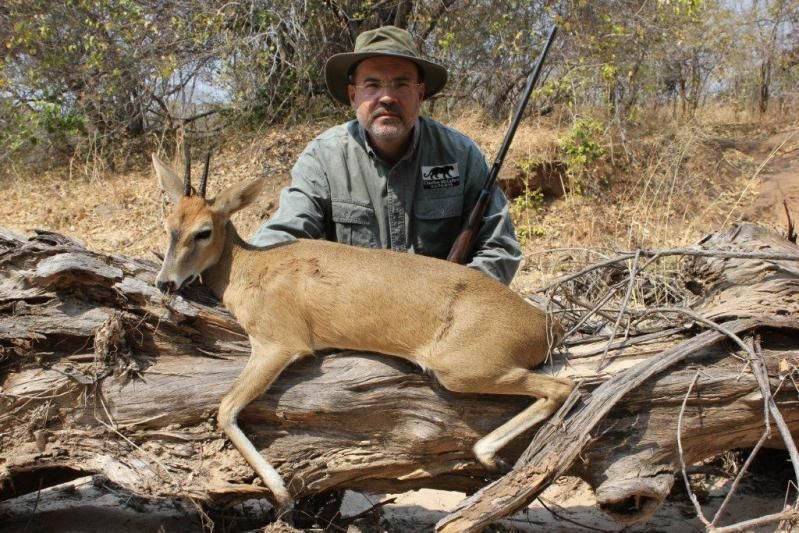 My friend Ike Takumaro had to cancel his hunt this year due to some health issues. Ike is a baboon slaying machine, big baboons, little baboons and all sizes in between. This is a baboon that I shot in honor of Ike, I hope that he makes it to Zim next year to hunt . . .
I am not sure which is worse, teste flies or mopane flies. I need to go back and re-read Dante's Inferno. One of the nine levels in hell must surely involve the presence of mopane flies . . .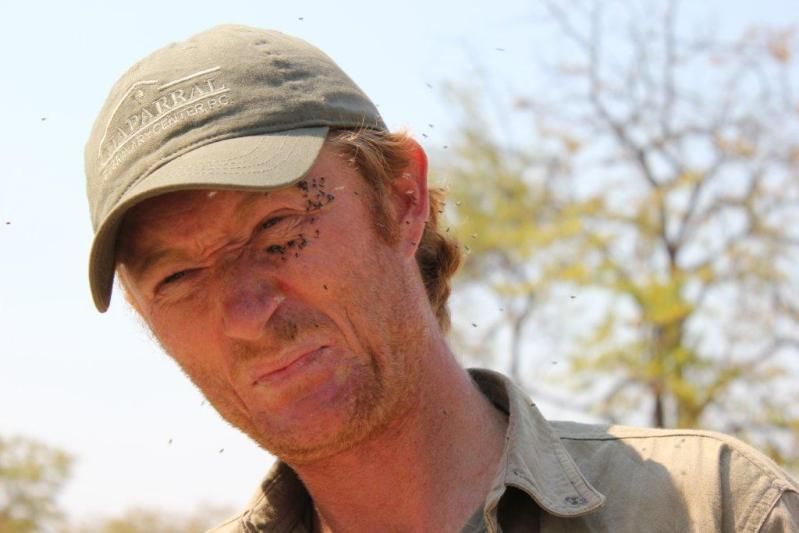 . . . and mopane fly repellant . . .
As the baits would eventually go off, it was time to replenish them. We actually ended up in a pretty good situation bait wise. We never struggled for bait and were able to space out the hunting for the bigger species in such a way to keep multiple baits active at the same time. On our elephant, I had told Buzz that I was interested in a hunt that would "not be too manic". Always out to please his clients, we ended up tracking our elephant through a thick jesse block. We abandoned our initial approach because it had us with our backs to a gully and in the event we needed to retreat we would have had to do so navigating through the brush and the gully. We tried an alternative approach but could not get a clear shot. All this time the elephant were under a tree and the cow we ended up shooting was becoming increasingly uneasy. She was swinging her front foot, swaying her head and rocking back and forth . . . she clearly knew something was not quite right. We went back to our original approach despite the issues with the gully. Walking to approximately twenty paces from the cow, she turned and faced us. One shot from the Holland and Holland .500/.465 and she was dead before she hit the ground. We backed out and the other elephants eventually moved on . . .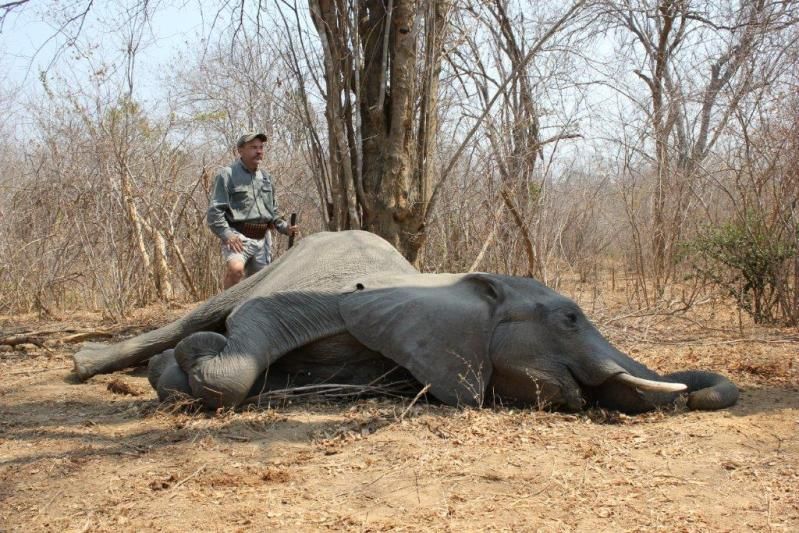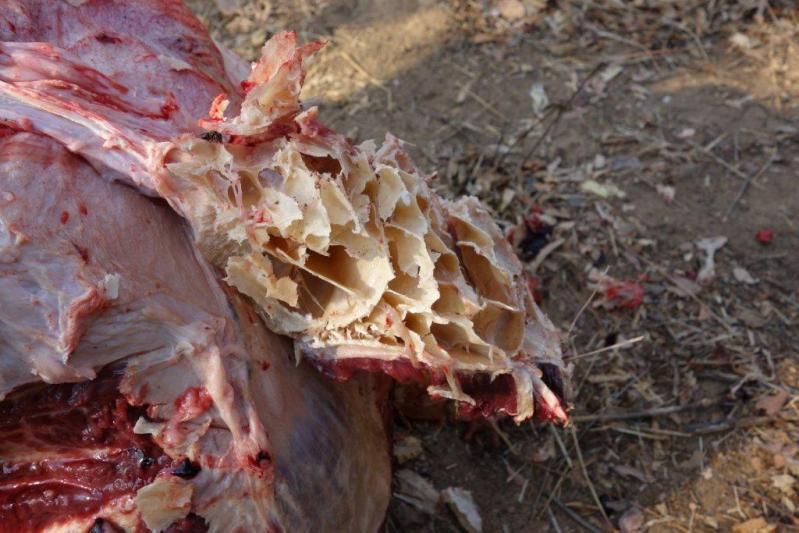 It was fun hunting with the old Holland and Holland double. The rifle was built in 1931 and it is just a pleasure to hold and shoot. Taking it on this trip you could not help but feel that you were bringing the rifle home, back to where it belonged.
The Holland and Holland was also the rifle that was used on my buffalo. Several days we chased buffalo around. Some were in herds some were dagga boys. One morning while driving one of the trackers spotted a group of four or five dagga boys on a hillside. They busted off and we decided to see if we could track them and catch up with them. The area we were hunting was actually a bit reminiscent of Makuti. Rolling hills with little valleys. Eventually we caught the bulls laying down under a tree. We were up on the side of a hill overlooking them. As we moved up to get a shot, the bulls spooked and started running up the hill. My theory is to throw lead until something hits the ground, a theory I employed on this occasion. The buffalo eventually dropped after running about 100 yards up the hill. It was fun shooting the double off hand at the running buffalo. Afterwards Buzz said, "Most clients would not have attempted that shot but would have waited for a broadside shot." Translated I think that means, "You are a dumbass!"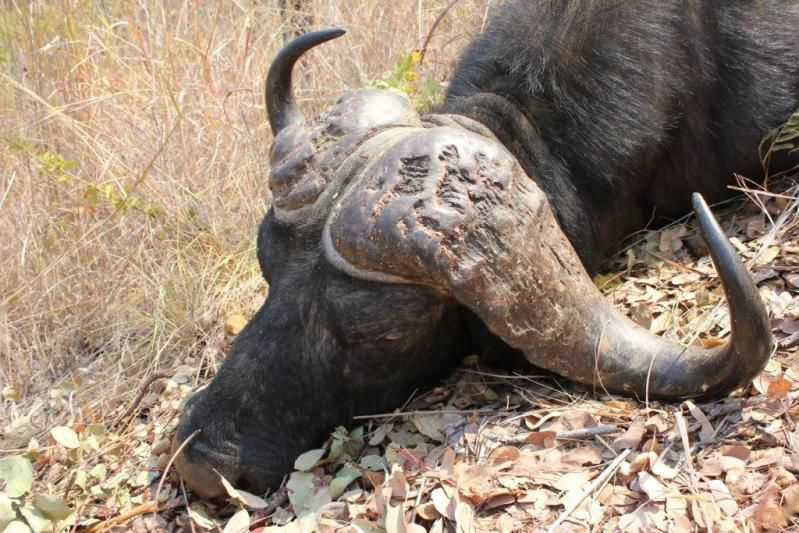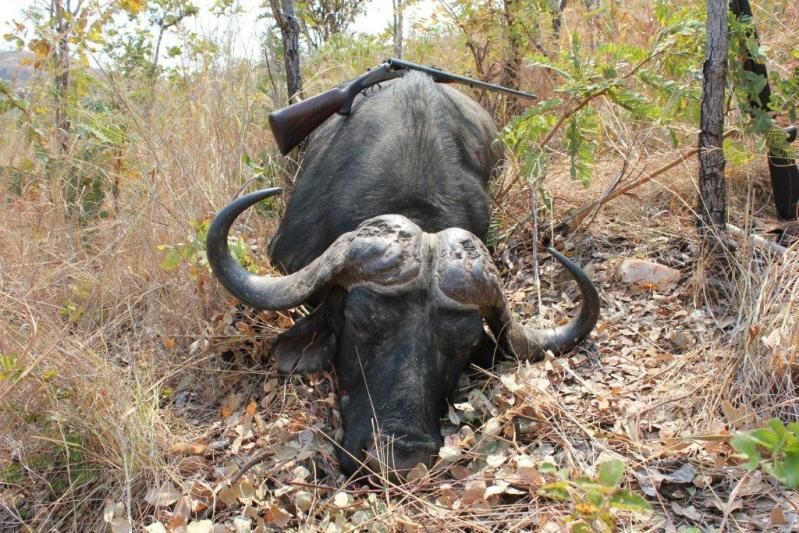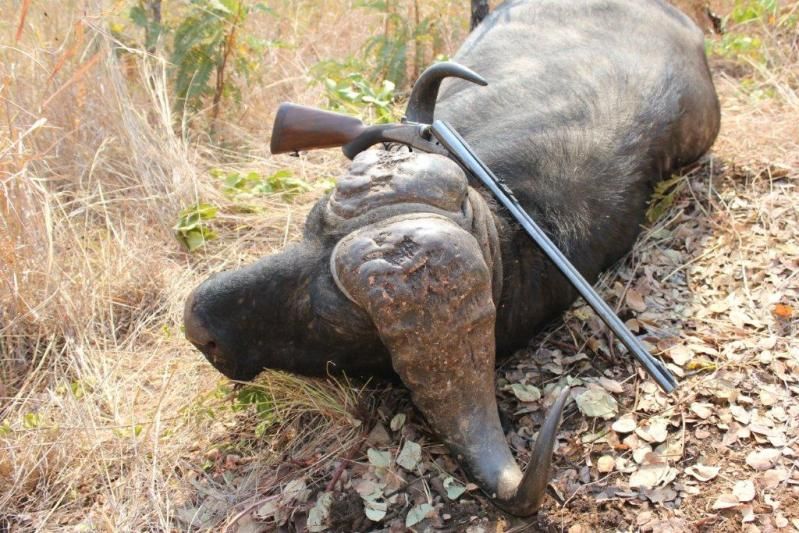 As with most hunting, the bushbuck, kudu and the impala were really targets of opportunity. Not much of a story with the impala or the bushbuck. Regarding the kudu, we initially saw the kudu bull with some cows on a hillside. I took a long shot -- more of a prayer actually -- and missed. We tracked the kudu and caught them on another hill. This time the shot was true . . .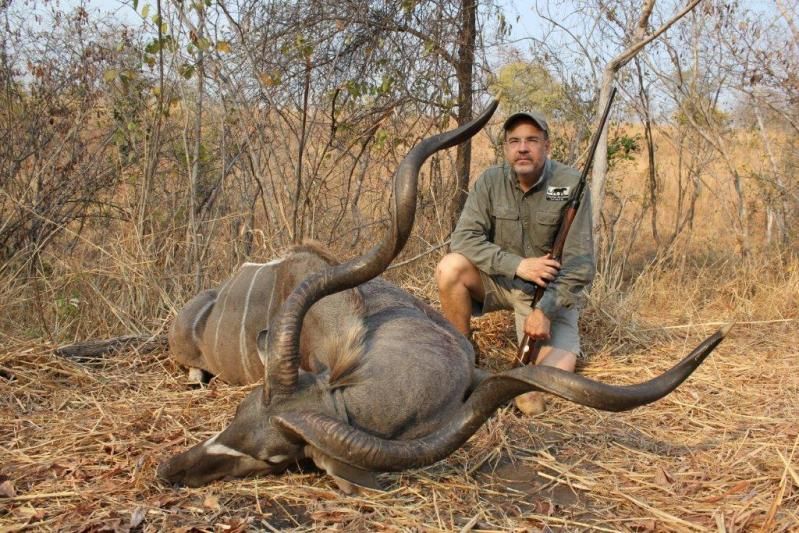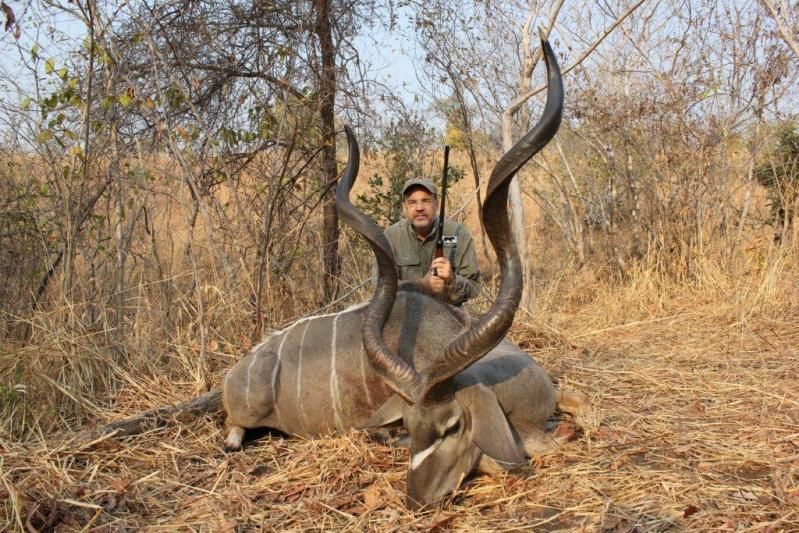 I guess at some point I need to come to grips in this Hunt Report with the lack of success on the lion. First, our lack of success was not due to a lack of trying. We worked hard from the beginning of the hunt until the end of the hunt. For example, the last day of the hunt we tracked a male lion for almost nine hours before reluctantly conceding that he was unlikely to stop before it was dark and it would be too far to walk back to the Cruiser. We had numerous baits up and multiple hits on the baits. We sat in blinds on a number of occasions, including one evening when we had four lioness, two young males and a cub all feeding on a bait for about an hour in daylight. That was quite an experience since we were in a ground blind that was only about 75 yards away. Watching and listening to the pride feed had all your senses on high alert. We had several shootable males feeding but fate always had us a day ahead or a day behind them. It was frustrating and disappointing but sometimes that is hunting. I could feel the sense of disappointment that the entire team felt when we all realized late in the day on the long tracking session on the last day, okay, the lions have won this time. Todd Williams is going to pick up the baton and try to get this lion tag filled in several weeks. Hopefully things will fall into place for Todd. Good luck Todd.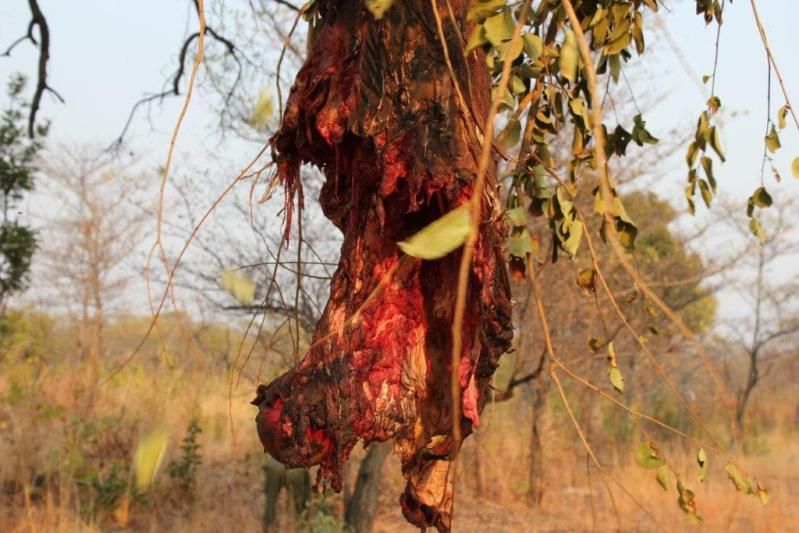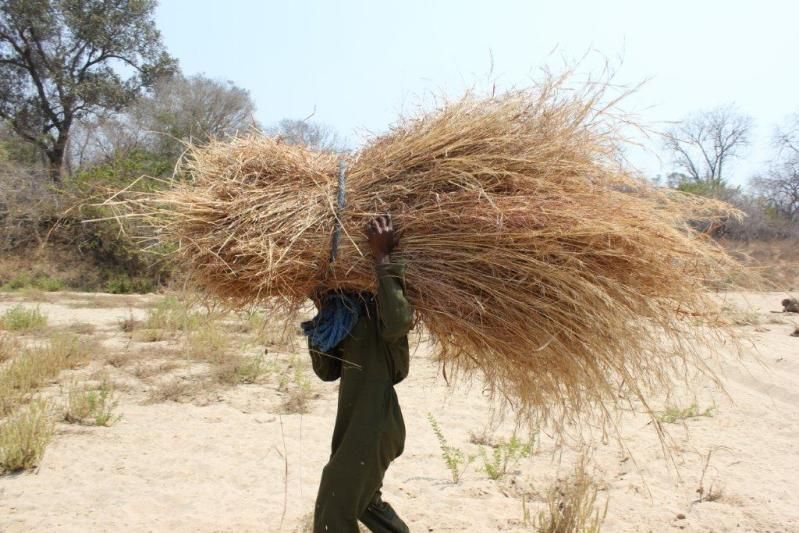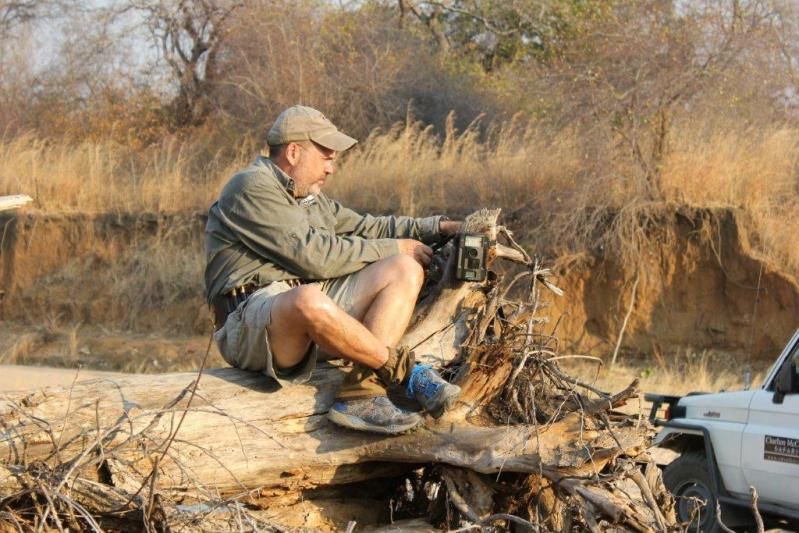 Poaching
Poaching continues to be a problem throughout the rural areas in Zim. We discovered several poached elephant carcasses during the hunt. While National Parks does patrols, they are ill equipped to be very effective.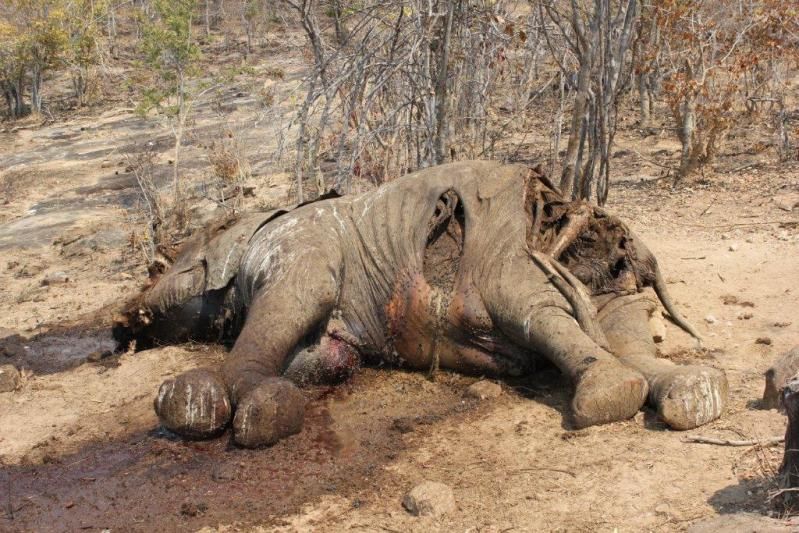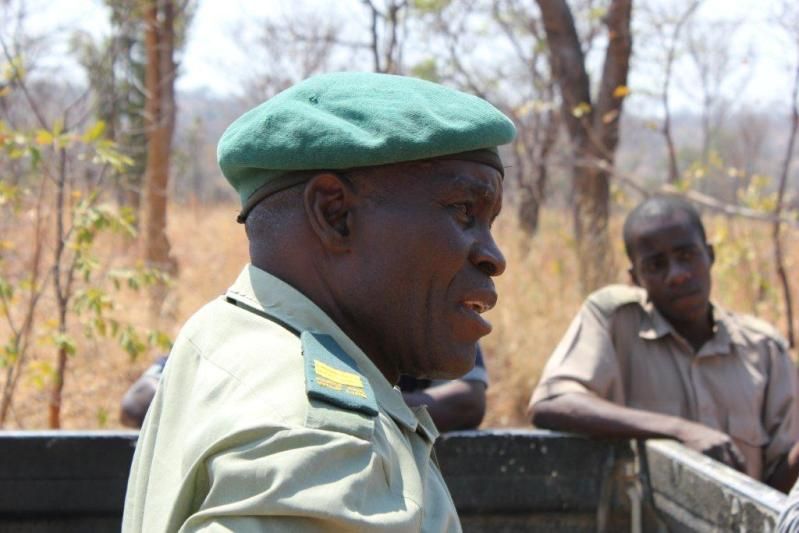 Final Impressions
It was great to see Criton back in the field. It is nothing short of a miracle to see someone hunting who just months earlier had been stomped on by an elephant and had his pelvis crushed. Occasionally you could see a little hitch in his step walking behind him, but if I had not known what he had gone through earlier in the season I would have never known he had almost been killed by elephant. Nyati and Eddy as always were delightful company. And while he is the quiet one in the group, Tedious made a wonderful contribution too. Timbersnake . . . not sure what to say about him other than I have never seen an elephant tail used in such a creative manner. Did you actually pick something off of yourself and eat it . . .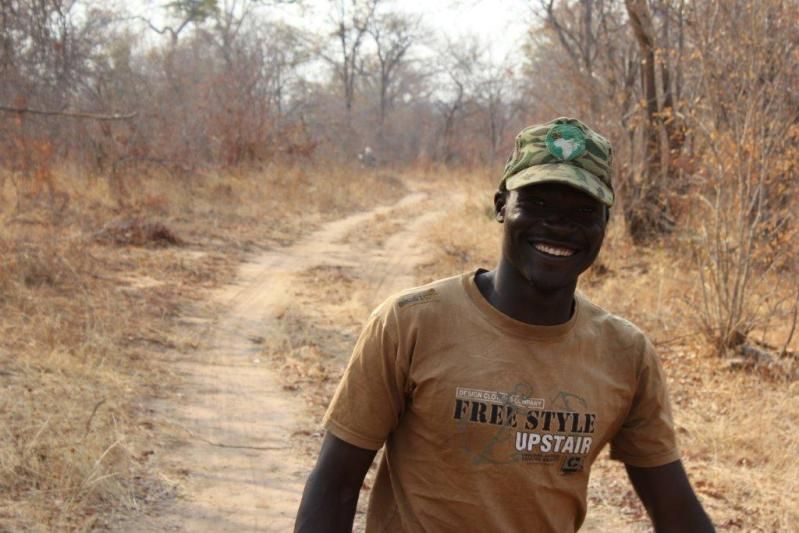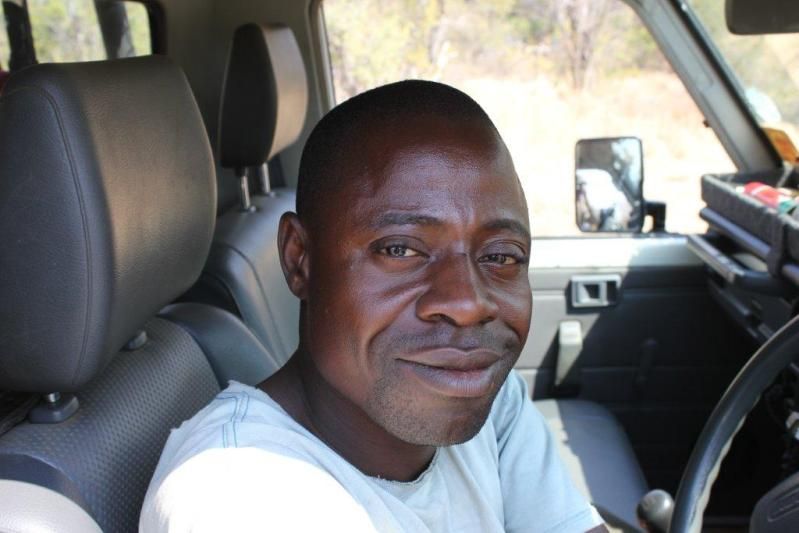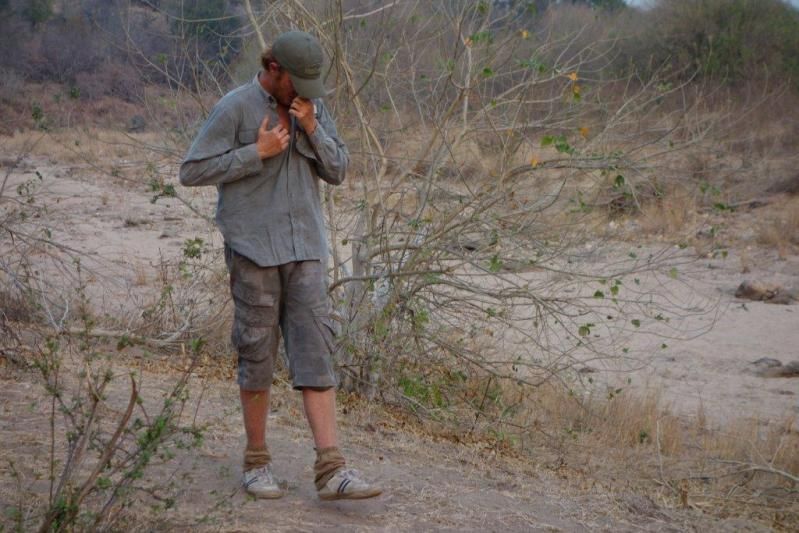 In Harare we enjoyed a wonderful dinner at Richard and Brita Harland's apartment. I am still burning off calories from Brita's dessert and Richard's abilities as a chef are only marginally bettered by his elephant hunting abilities. They are good people who have been dealt a tough hand, deserve better, yet never complain.
Steph, Buzz and Zoe were wonderful hosts too. Yes, it is true that Zoe has been blessed with her Mother's good looks thankfully.
In short, it seems that my trips to Zimbabwe have become annual visits with friends as much as they are hunting trips.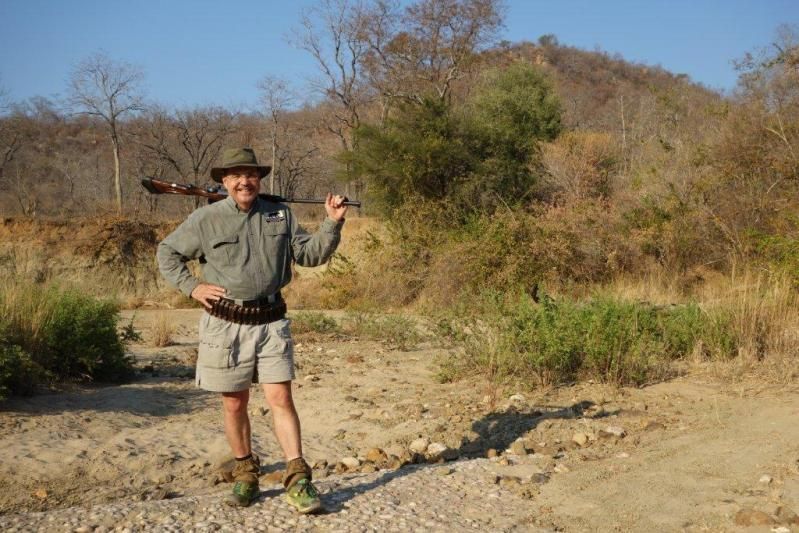 Mike

"Living dangerously is twice blessed -- it blesses the moment with elation; it blesses the after-day with warm memories." ~Major P.J. Pretorius

"The man who declares that he is not afraid of elephants is either an ignoramus or a liar." ~Baron Bror von Blixen-Finecke

". . . when a man has shot an elephant his life is full." ~John Alfred Jordan

"Danger not only adds zest to all forms of sport, it also tends to sharpen the faculties and to bring into focus all that is to be seen and heard in a forest. Danger, which is understood, and which you are prepared to face, does not in any way distract from pleasure." ~Jim Corbett

". . . he wasn't aware of it then, by the time he left he had been infected by a disease known to many born outside the continent as the call of Africa -- an incurable disease indeed. ~ Peter Stiff