October 2013 hunt with Alan Shearing/Charlton McCallum Safaris.
Dates: October 5th/October 17th 2013
Outfitter: Charlton McCallum Safaris
PH: Alan Shearing
Cameraman: Ray Buchanan
Trackers: Mplan, Martin
Driver: Bernie
Game scout: Martin (I recognized him as one of the scouts who last year was part of the team who eliminated 3 poachers)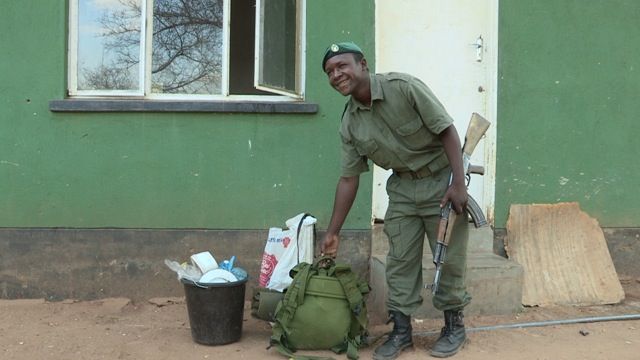 Area hunted: DSA
Animals hunted: ration cow elephant, spotted hyena
Animals taken: ration cow elephant
Rifle: Blazer .375 Ammo: Federal
It all got underway with a wedding invitation received earlier from my good friends in Harare, Justine Middlemost and Collen van der Linden (PH/Zambezi Hunters).
Not an event I was likely to miss and the opportunity to add yet another elephant hunt with CMS and Alan Shearing after the occasion and party was obvious. At least to me, not so much to my husband!
On last year's elephant hunt, I had the pleasure of the company of my youngest daughter Julia and found it hard to imagine another one without her. Justine and Collen graciously invited her as well, and October 3rd we left Copenhagen for Harare.
The hand luggage this year was packed with party dresses and high heels instead of hunting boots, shorts and binoculars. Just in case!
Our flights went smooth as silk and Royal from CMS was waiting to whisk us off to Ridgeway House, a very inviting B&B in Harare where we spent the next two nights.
The Saturday wedding was a beautiful affair and the ensuing party was so much fun and it was very enjoyable meeting and talking to, and even dancing with both old and new friends.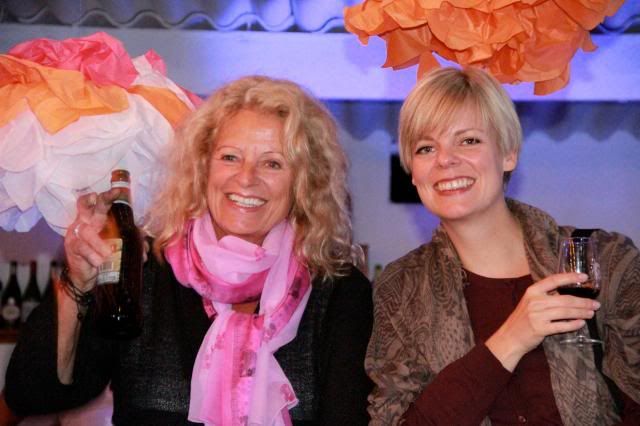 We had been asked shortly before we departed Denmark whether we would like two seats on a charter that was scheduled to depart Sunday morning for the valley. Small planes (and small boats) are not my cup of tea, but realizing Julia would probably love it, I thanked yes.
Plastic bag on the ready, seat mates Julia and Buzz assuring me all would be fine, we then took off. Being a big fan of flying (on large planes), especially straight from A to B; this particular plane also took us up and down as if the pilot was undecided as to where he should put us down!
Cool as cash when the wheels finally took the ground on the Pedza Pasi airstrip, I managed to disembark with some dignity and Julia and I were greeted by Alan and Ray.
Grateful to be back on terra firma, back in the bush! Let the hunt begin.
Mururu Camp welcomed us, familiar faces and some new ones as well. We shared camp with PH Lance Nesbitt and his German client Heinz. A happy camp, invigorating and full of laughter just as last year. Vincent, the new cook at Mururu is absolutely brilliant.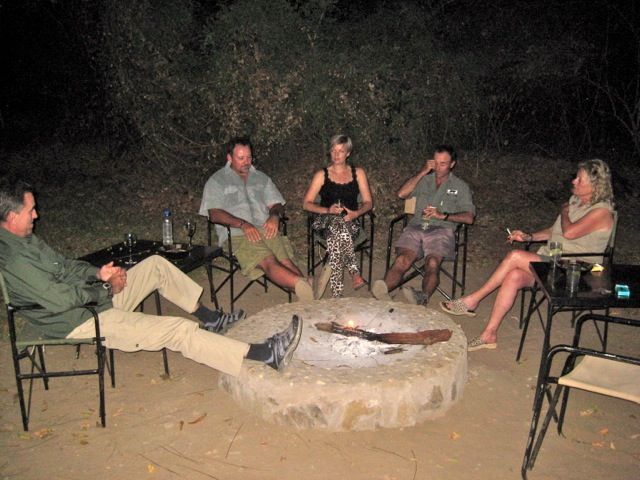 I have to say that the picture above does not really go with the text "full of laughter", but camp was.
Checked the zero of the rifle late in the afternoon, all was fine.
THE HUNT
The next days we walked and tracked in the pretty hot and awesome valley.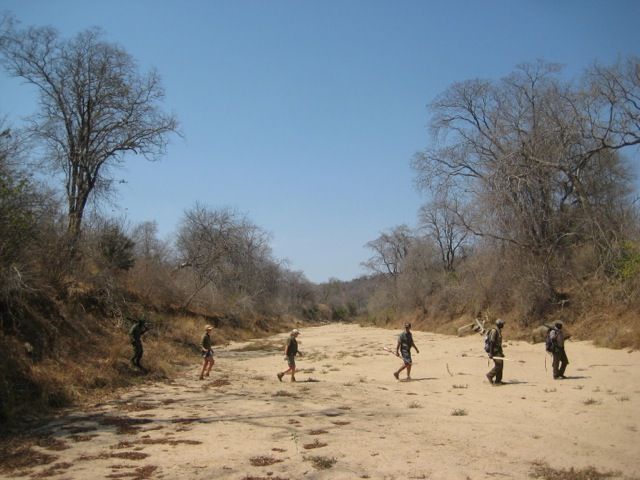 A massive headache that set in a few hours into the first walk, tracking through the heavy sands of a dry riverbed with the sun burning, was a reminder to drink even more water.
We came up to some young bulls that morning, very close to one in particular and while I last year had visible jitters on the first few approaches, this year I don't think anybody could actually see them.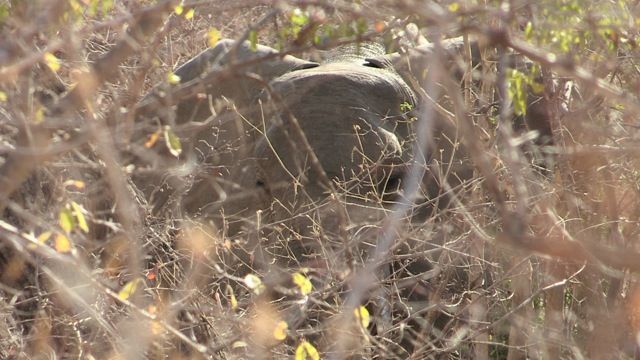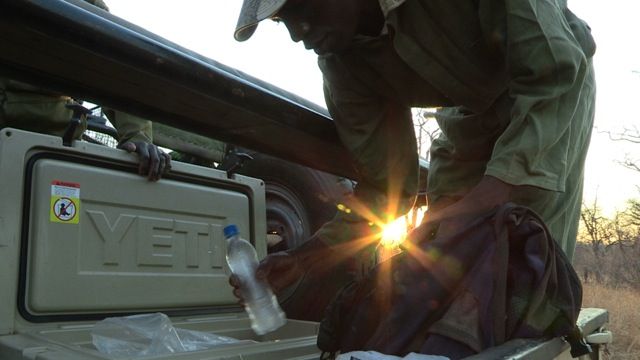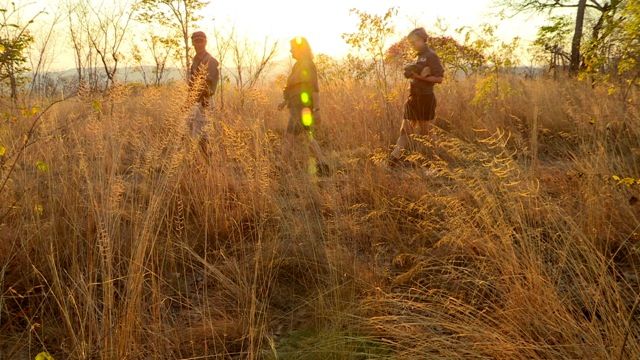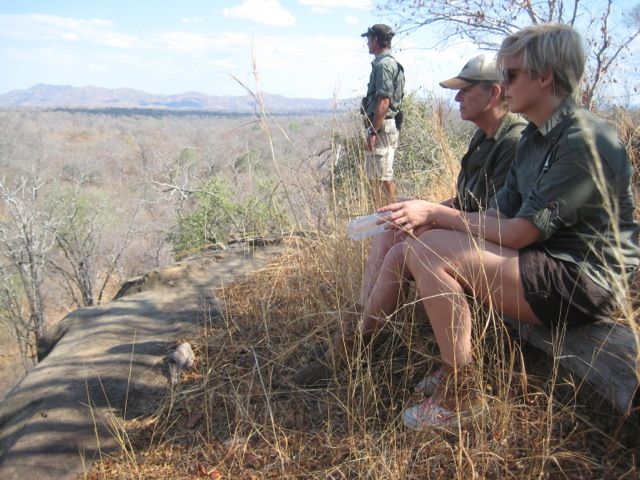 October 10th, returning to camp, we drove right into/up to a herd of elephant. At this stage, close to sunset, my hat and gaiters had been packed away and I forgot all about them when Alan suggested we go and have a look.
The elephant were moving through an area thick with mopane and tsetse flies. I have seen the video footage of this and it is a complete mystery the elephant stayed around, because we were all slapping away. I removed mopane flies from my eyelashes constantly, and on the footage I can see how tsetse's have anchored themselves on all our backs.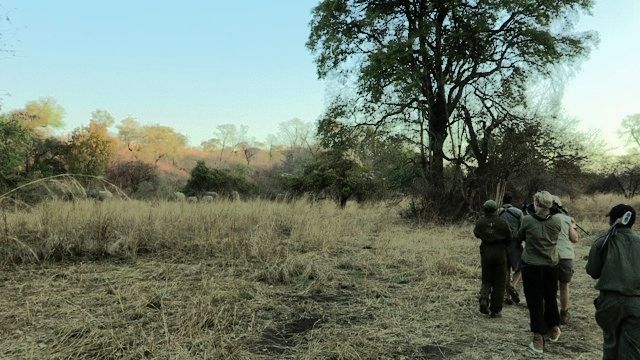 As we got closer the herd heard us; the grounds we came up to crunched no matter how carefully we walked. They were also much stressed, secretion streaming from their glands and more alert because of the state they were in. There were a lot of small ones and it didn't immediately appear as if there was any chance of a cow to be hunted from this herd.
We stopped when their screams and trumpeting increased and they began moving away fast. But they didn't move far, we had apparently interrupted their way to water.
From my previous hunts with Alan Shearing I have learned to understand some of his non-verbal communication. When hunting, he very effectively uses his eyes and brows! With his back turned, he speaks clearly as well.
And so I realized this was it, there was a cow in the herd that could be hunted. Mopane and tsetse's forgotten, focus was on an old cow, somewhat obscured by a bush, and right next to her, the matriarch. We walked in closer and closer and the sticks came up.
On the last two elephant hunts with Alan I have asked him to shoot with me. He has done so; a little reluctantly, and last year it turned out it had not been necessary.
This year we talked it through and agreed that he should not shoot with me, but back me up if necessary. Alan intended to get me very close this year, thereby increasing the chance for the best shot.
Alan gave me the go ahead, we were some 15 meters from the cow, she was standing with her right side towards me and I shot, attempting a good killing shot through her earhole. It stunned her, but did not kill her since it was a bit low and Alan had to help me out.
The matriarch was very upset; she screamed at the first shot, it sounded like a "why". Not rage, but rather hopelessness. A scream that shook me considerably and when I watch the footage and hear that scream I still cringe.
We moved back as Alan requested, I upped my magazine, then took Julia by the hand and we walked forward and participated in the standoff with the matriarch, who after several noisy mock charges finally left. A final shot and that ended the hunt.
The dark was descending upon us; we approached the old female elephant and paid our respects. There was not a lot of hair on her tail, but it did not matter. We cut her tail, took a few quick pictures and slowly walked back to the car.
The myriad of feelings experienced through the hunt: fear, doubt and anticipation gone, now replaced by emptiness and a little sadness.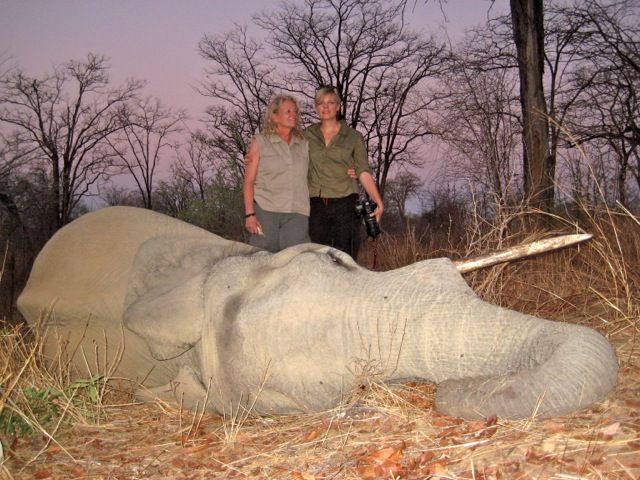 THE RECOVERY
The next morning we returned.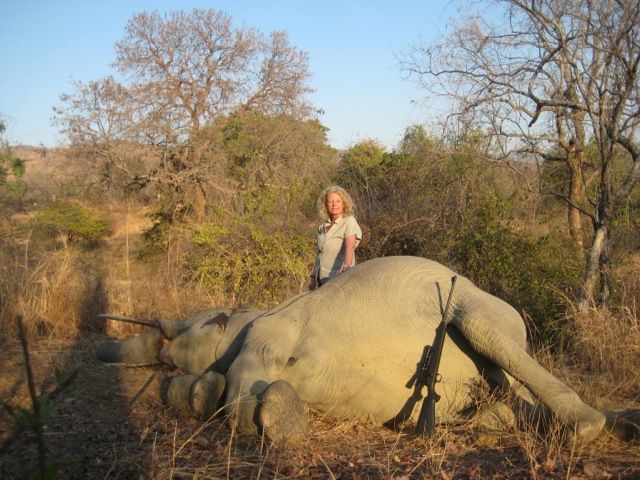 She was not harmed in any way and the skinning process got under way after more pictures had been taken.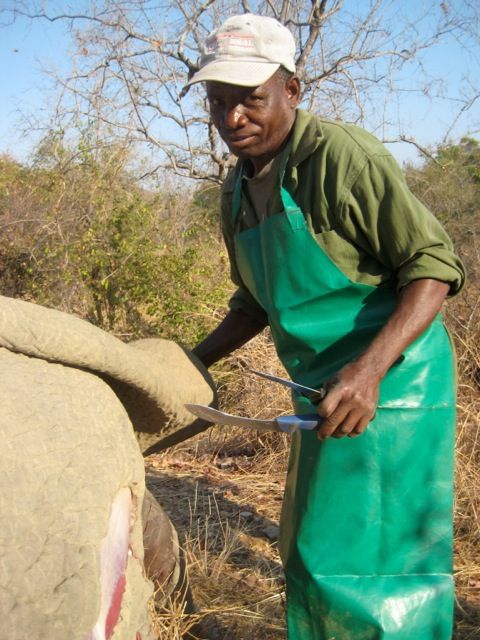 Alan prepared ele kebabs, marinated in Coca Cola and pineapple juice, salt and pepper, they tasted great. The area was still buzzing with mopane and tsetses, so we collected elephant dung, lit it and placed the dung piles in a circle around our fire and were able to have some relief from the flies as we munched through our very early lunch.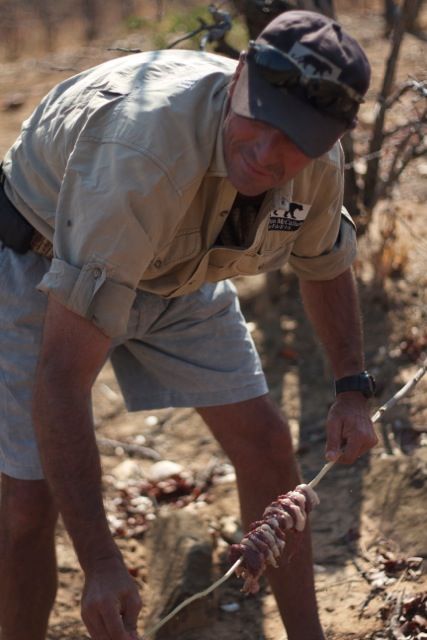 Julia, who last year was covered with tsetse bites, did not fare a lot better this year. The anti-histamines from our first aid kit reduced the swelling and itching considerably. She turned to wearing long pants, borrowed from Alan, and long sleeved shirts. It did help against the bites; she just sweated more than the rest of us!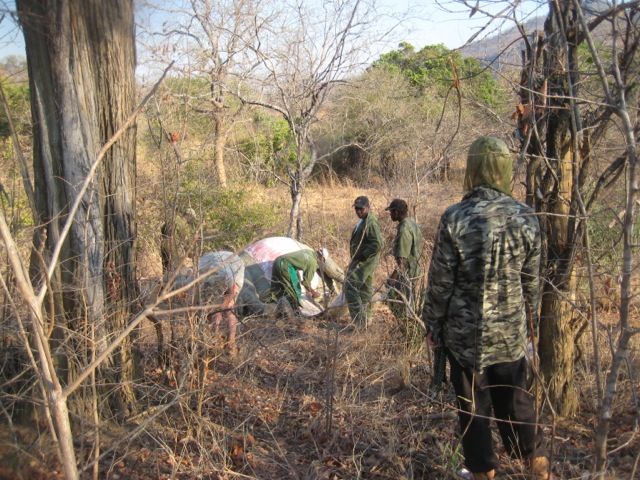 SPOTTED HYENA
We inherited some of Rich Tabors leftover baits and moved them, together with the head of our elephant, to a place where some large hyena tracks had been seen. A blind was built across the riverbed, 40 meters from the bait, and we returned that same evening.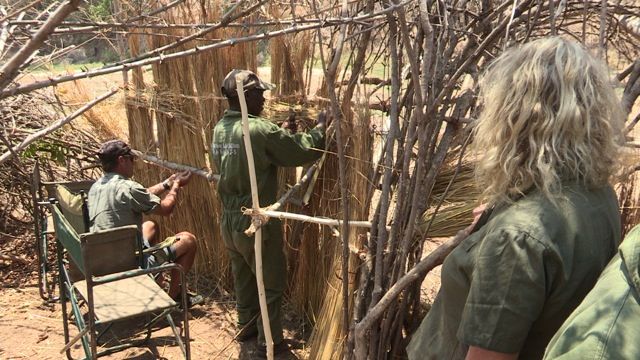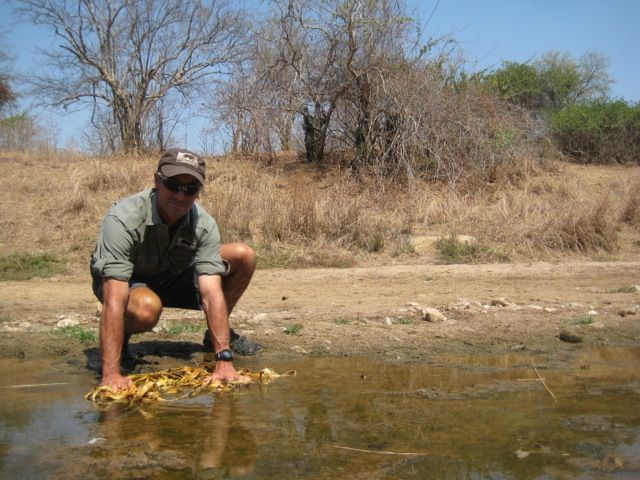 Alan, Julia, Ray and I climbed into the blind and the waiting game began. We knew a lion pride had frequented the area.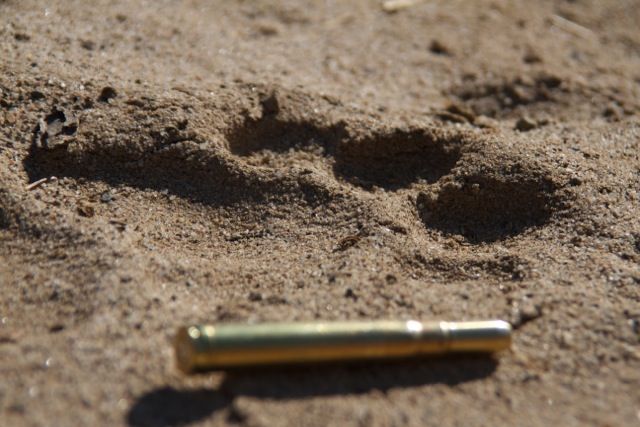 Lo and behold, just before dark the first lioness came to bait. Very exciting watching her in the still available light and it got even more exciting.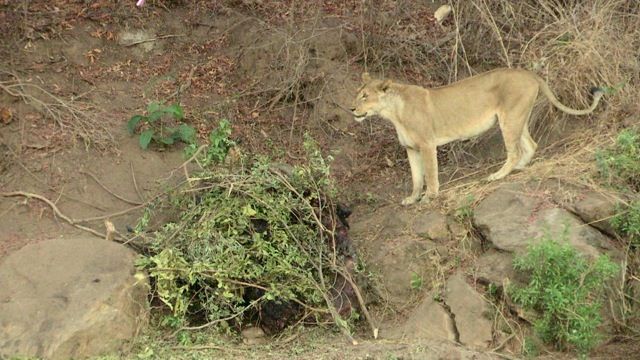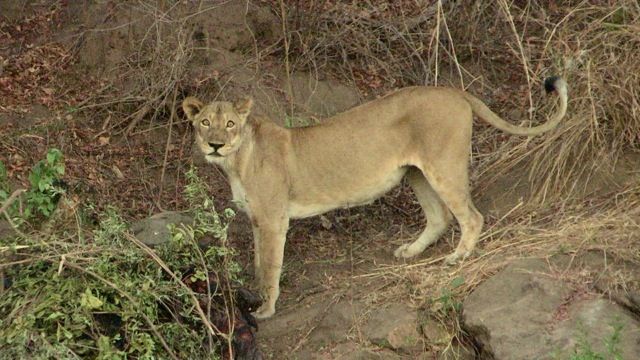 In the pitch black dark there were now 2 lionesses and 1 young. Crunching and eating. As long as we can hear them eating we're fine Al whispered, but before we cannot, let's call the cruiser in. It grinded its way up the dry river bed and Alan informed us he would turn on the flashlight as soon as the car was there, enabling us to evacuate the blind and keep an eye on the lions as well. The arrogance of these great night hunters, sitting in the long grass across from us; following our every step as we slowly moved towards the cruiser. They had been all over the blind after we left; this we saw the next day where we returned to remove and relocate the bait.
A front moved in and the heat became almost unbearable. We discussed the possibility of moving to the Zambezi for some fishing and since small boats give me a rash (or a hangover like last year); I hired a proper sized one, a pontoon boat with a skipper. We relocated the next day to Matombo Camp, and now that is a camp with a view.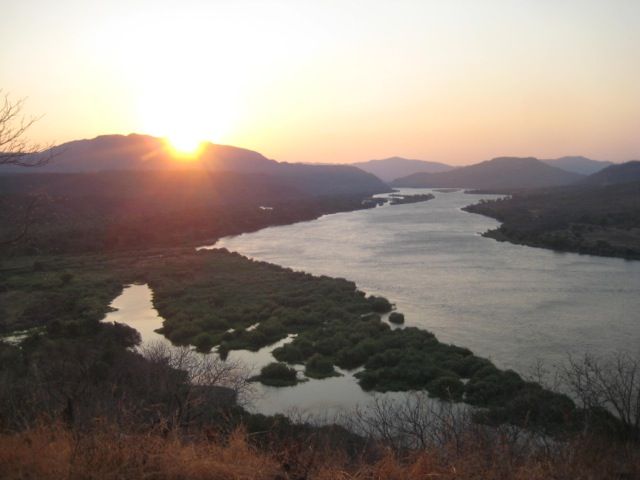 The hyena bait was relocated close to this camp and one evening we drove out and attempted to call in one of these underrated predators.
Trackers, game scout and Ray piled right up against the cruiser to allow me to shoot 360 degrees, Julia sitting on the floor of the top of the cruiser, Alan and I rotating on top as the replies to the whoops coming from the car speakers came in left and right from the very territorial hyenas. At one stage, behind us, Alan turns on the flashlight because they are right there. Sure enough, but I'm too slow. Shortly after, they are now right in front of us, one big hyena shadowed in the moonlight and I line up for the shot and let it go. No hyena and thankfully no blood. The adrenaline was hitting the roof.
TIGER FISHING
Some great days on the Zambezi, thank you to Rich for lending us his excellent and juju blessed equipment. Julia was a real tiger champ, pulling in three. I got the chance to pull in a 10 pounder, what a fight and thrill. We had good luck catching some large and fine bream also.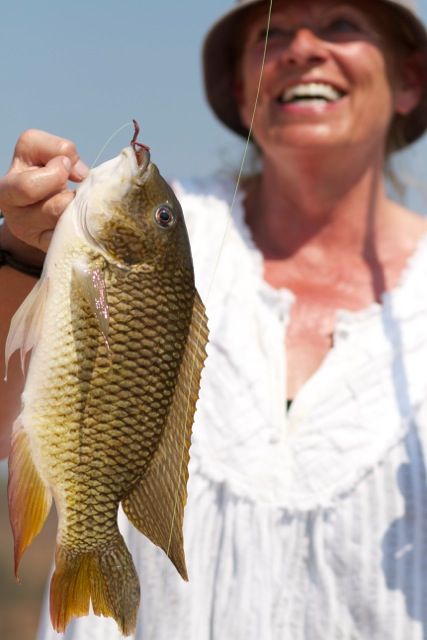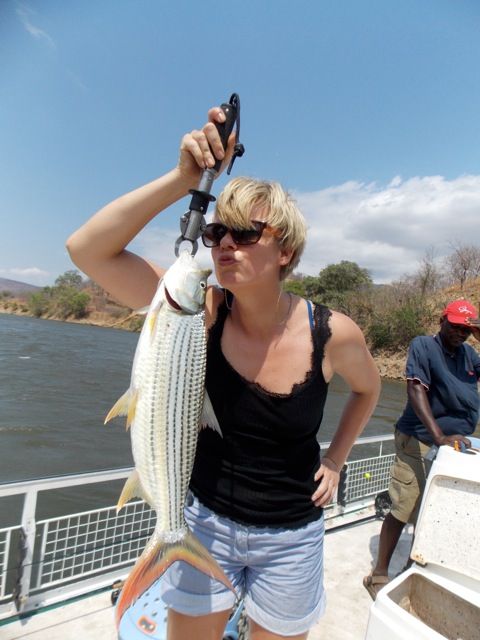 A great pleasure seeing elephant, hippo and croc along the river. African fish eagles calling, waterbuck, bushbuck and an abundance of bird life.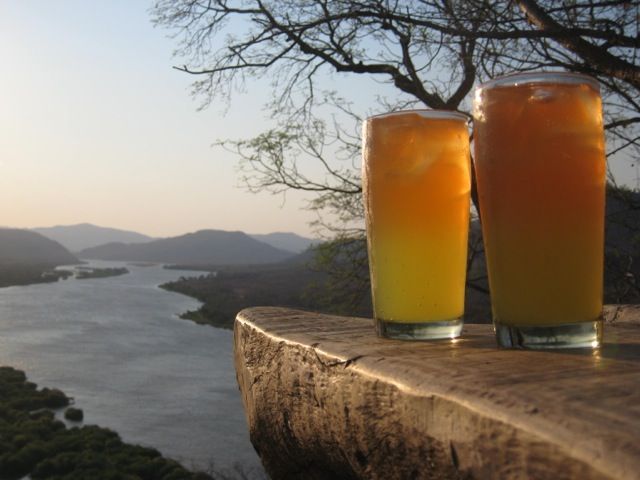 THE END
Julia has a love for all things wild. The walks in the bush, the hunts, fishing and game viewing, she never complains when the going gets tough, itchy or hot, in fact she turned out to be a pretty good and coolheaded shot herself when she had the opportunity to try. Perhaps I will end up as an observer some years from now. Heads up CMS!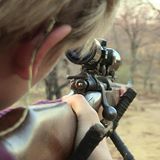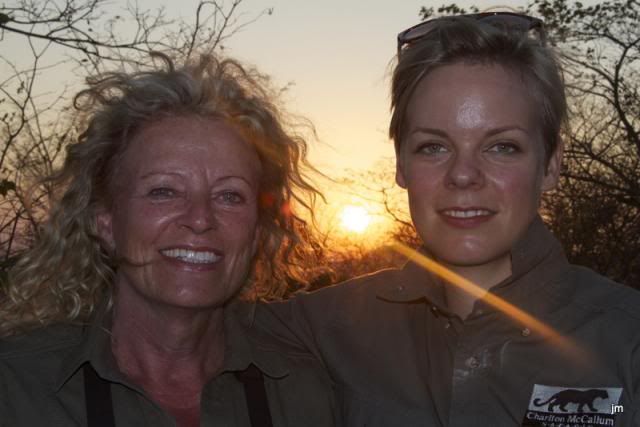 I hope she gets to hunt with Alan Shearing, because a finer PH is hard to find. His team of kind, capable and hardworking guys is also a joy to hunt with. Ray Buchanan, our cameraman this year, was excellent company, on his toes constantly and one who goes that extra mile to fulfil a client's dream.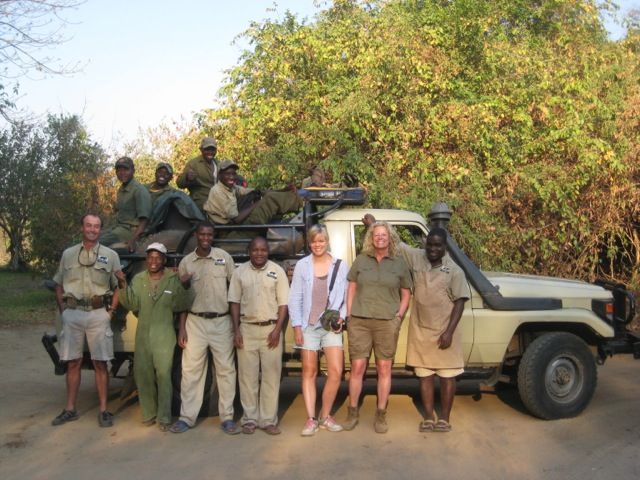 Buzz and Myles, another thank you and thumbs up!
Julia is a fine photographer with ambitions. This is her website.
www.hulujay.com
In connection with the Stu Taylor benefit, I was the lucky winner of the hunt donated by Chris Troskie in South Africa. Our hunt together will commence April 4th 2014, I have invited a couple of observes to join us and my next hunt report will be from that particular hunt, a hunt I am looking very much forward to.
Jytte