Operator: Charlton McCallum Safaris
PH: Richie Schultz
Safari areas: Dande North, Dande East
Dates: September 17th-September 30th
Rifles: Ruger RSM's in .416 Rigby and .375 H&H
Ammo: 400gr Swift A-Frames and Barnes Solids for the 416
300gr Swift A-Frames and Barnes Solids for the 375
Animals seen:Elephant, Buffalo, Leopard, Hippo, Crocodile, Baboon, Civet, Grysbok, Duiker, Kudu, Zebra, Warthog, Sable, Bushbuck, Genet, Eland, Klipspringer, Wild Dog
This hunt was booked in January 2010 at the S.C.I. show in Reno. It was a 14 day hunt for buffalo and tusk less as the main animals. The following 21 months would go by very quickly. I worked up loads and practiced shooting. I watched different DVD's on elephant and buffalo hunting to get familiarized with the animals and shot placement.
I was able to use airline miles to get a business class seat for most of the flights. I left San Francisco flying on Lufthansa to Munich. After a short layover, I was off to Johannesburg. I used Gracy Travel as a meet and greet/firearms service to avoid problems with rifles going through Europe. All bags showed up and Gracy's service moved me through customs and SAP's very quickly. It was then off to Harare. The airport was very unorganized but I had my paperwork filled out before so things went good.
I meet PH Richie Schultz and camera man Justin Drainer when I cleared customs. I also meet the other members of the team. The guys names were Cleaver, Tondi and Sam.
After a long drive to camp and a good night sleep, we were off to pick up the two games scouts. One was named Teacher and he was a National Parks Scout. The other was named Try More and he was a Communal Scout.
The camp was a fly camp with three sleeping tents, outdoor dining area and a cook tent. It is located near a spring so we had game in or around camp almost every day.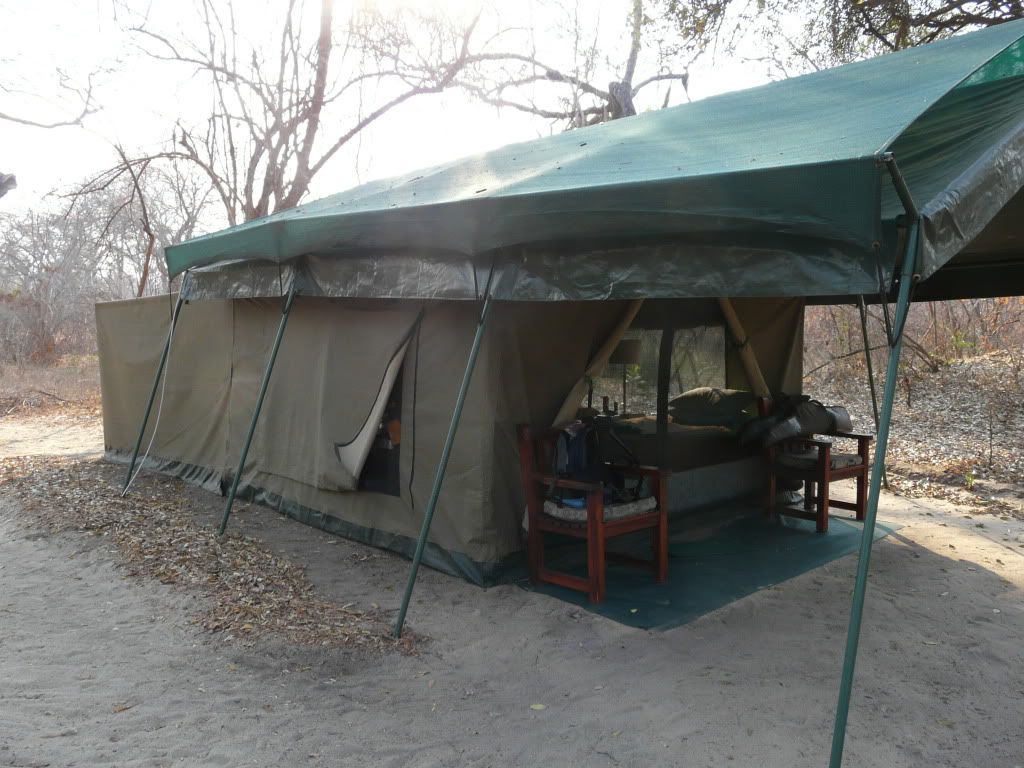 Day 1---We started by sighting in the guns. We then started checking different areas looking for elephant sign. Some plains game was seen but no Elephants.
Day 2---Early in the morning we located some elephant tracks and we were off. After walking for about two hours we caught the herd. They seemed to break into two groups but we spotted a tusk less in one group so we followed. We stalked them for another hour in the thick jess before I was able to get a clear shot. The .416 did the job and I had my elephant down.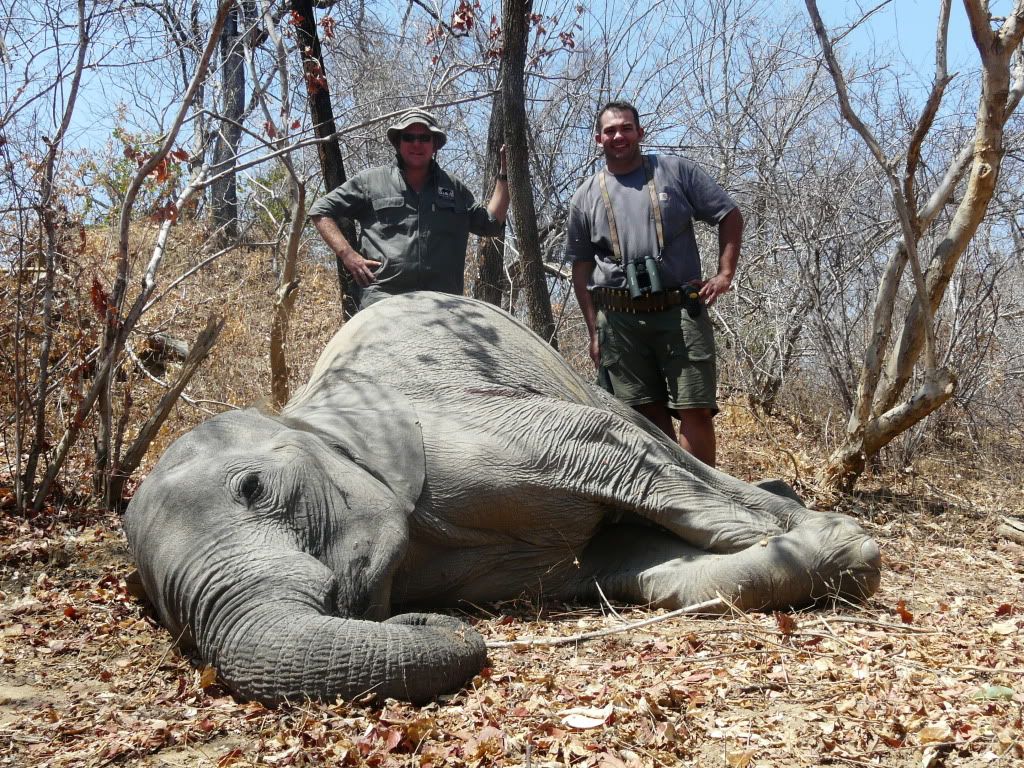 Day 3---Went out in the morning looking for plains game. Justin (cameraman) had gotten sick the night before so we decided he should rest. I was able to shoot a baboon in the morning with the .375. One shot and he was done. Returning to camp we found Justin very sick so he was rushed back to Harare.
Day 4---The plan was to head to a communal area called Ward 11 to look for buffalo. Right before we go to the Angwa River, we spotted a great bushbuck. He ran but after a short stalk I was able to take him. We cleaned and caped him and set off for buffalo. No fresh tracks were found crossing the river.
Day 5---We headed back to the Angwa River looking for buffalo sign. We found fresh tracks about 6:30am. Guns and water were loaded and off we went. An hour into the walk we found a fresh dead buffalo calf caught in a snare. We cleaned up the area and found 7 more snares. The team split up with a few of us continuing on and a few staying to recover the dead calf to take to the Council. We caught the buff by 10:00am. They were always one step ahead and we regrouped for lunch. After a short break, we picked up there tracks again and were on them pretty quick. We spotted my buffalo facing us. As I was setting up on the sticks, he came forward a few steps. I gave him one in the center of his chest and he fell forward. He got up and spun quickly. He was heading away uphill. I ran forward giving him a solid up the backside and another through both front shoulders. He collapsed in a heap and two more shots were given for insurance. After congratulations the work began cutting in a road. It was getting late so we didn't get pictures until after dark at the recovery.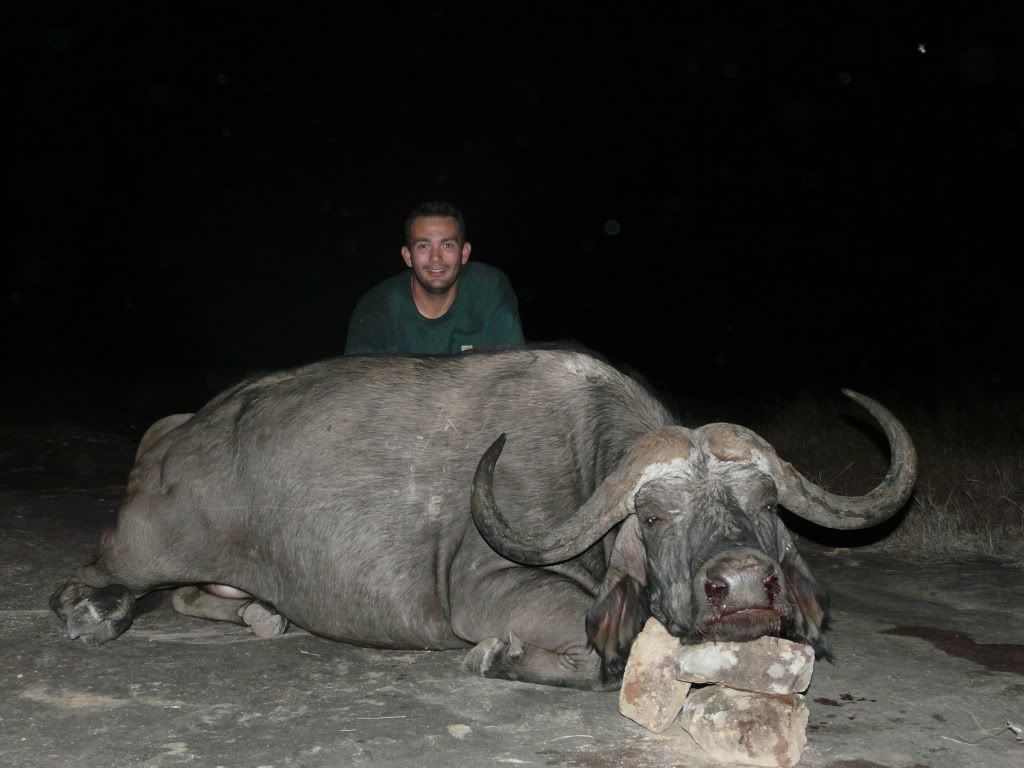 Day 6---Relaxing in the morning and going for plains game in the evening. No animals.
Day 7---Lots of plains game seen. I was able to connect on a civet cat that evening. Saw a nice female leopard in the road. She walked off 10 yards and stood there watching us.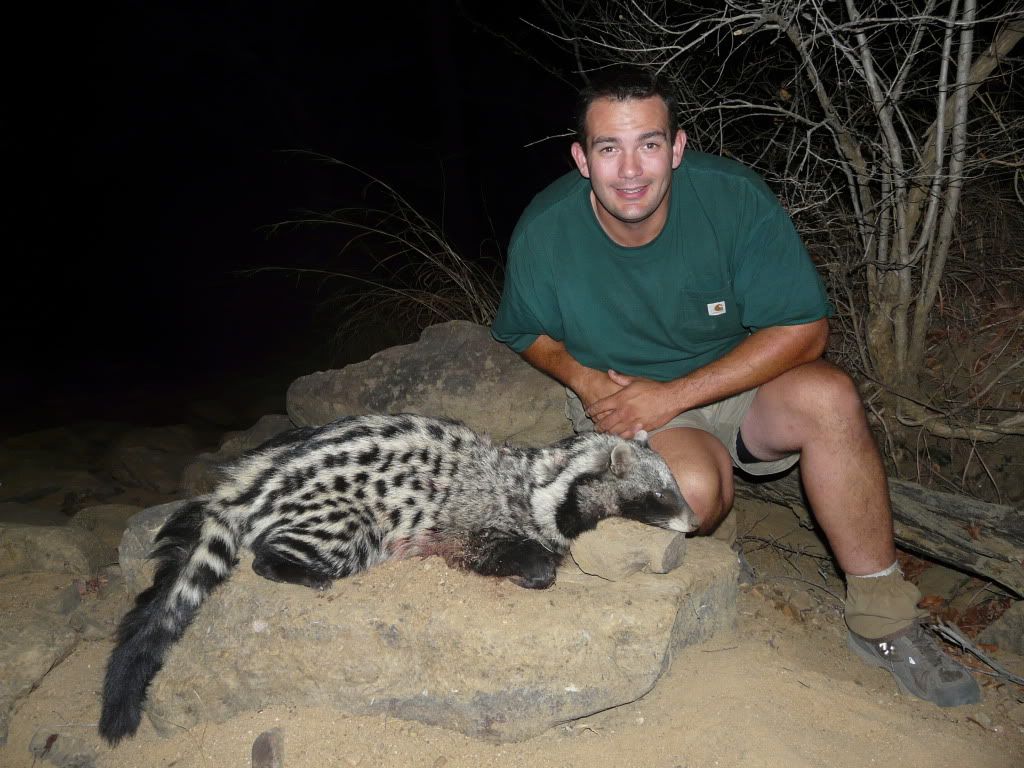 Day 8 and 9---I really wanted to try fishing the Zambezi. We packed some supplies an headed north to stay in a fishing camp. Coming along was the camp manager Jappie. The three of us started fishing for bream and in 1.5 hrs we had caught over 30. Using the bream as bait, we drifted the river looking for tigers. I was able to catch a nice fish that weighed 8lbs. Richie caught three more tiger.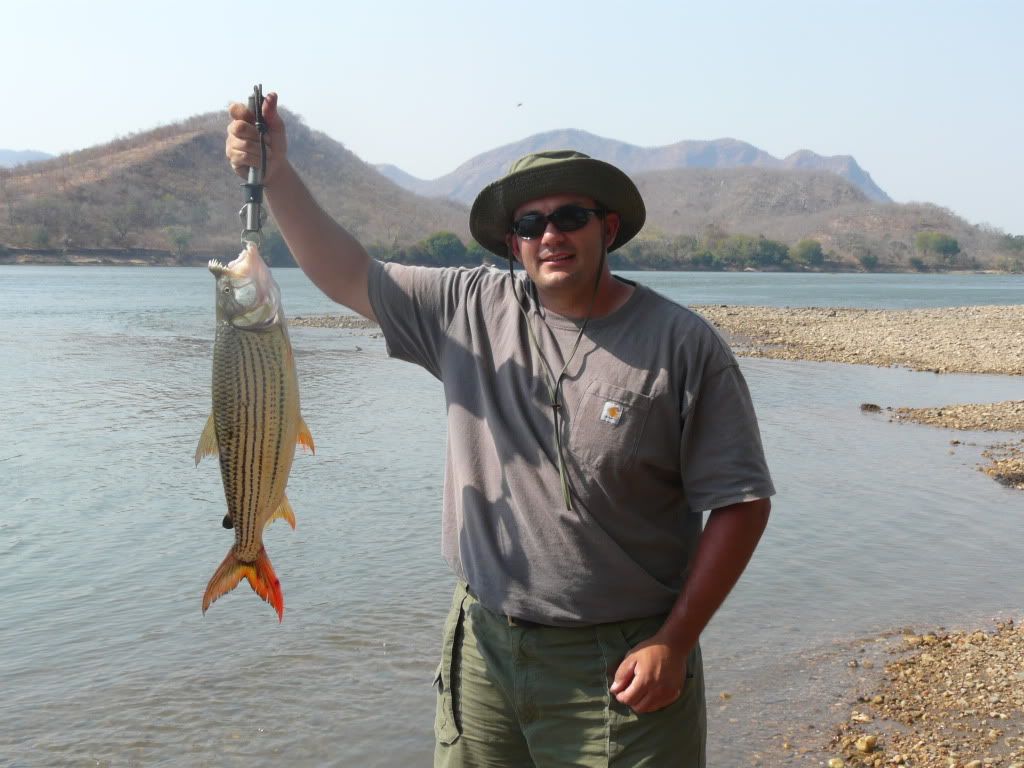 Day 10---Spotted a nice grysbok and after a short stalk I had him down with one shot.
Day 11---Looking for plains game. There was another hunter in camp hunting leopard and his baits weren't lasting long with the heat. I was able to connect on an impala that he would be able to use as bait.
Day 12---The crew headed to Dande East to try for a hippo. I was warned before hand that if I was successful, things would get crazy when the villagers showed up to get meat. We found the pod pretty quick and took a while to find the largest hippo in the group. I took a quartering away shot with the 375. The shot was just in front of the brain. The hippo went crazy thrashing in a circle. I was able to fire again along with a shot from Richie using my Rigby because it had a scope. The hippo was down and the wait began. At the sound of gun shots, the villagers began to appear with axes, knives, and sharpening stones. Once the hippo had surfaced enough we used a steel winch line to get it onto the shore and up to an area to start working. After taking pictures and removing the hide and head, the real action began. My crew tried to keep order but everyone swarmed the hippo. It was mayhem and the game scouts had to break up the mess. We got order and a small group of villagers cut up the hippo while everyone waited for a piece. Distribution started good but soon was chaos again. The crew got out just in time when everyone dog piled the meat. Nothing was left but stomach content.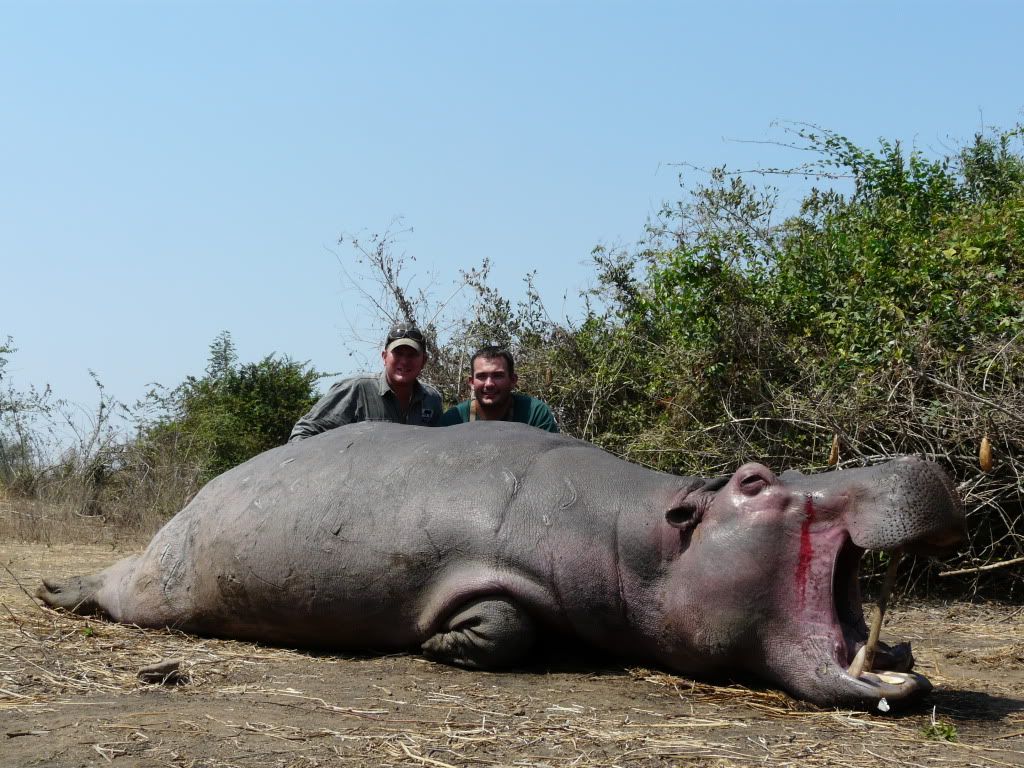 Day 13---Was able to use some dead baboons as bait to shoot a hyena.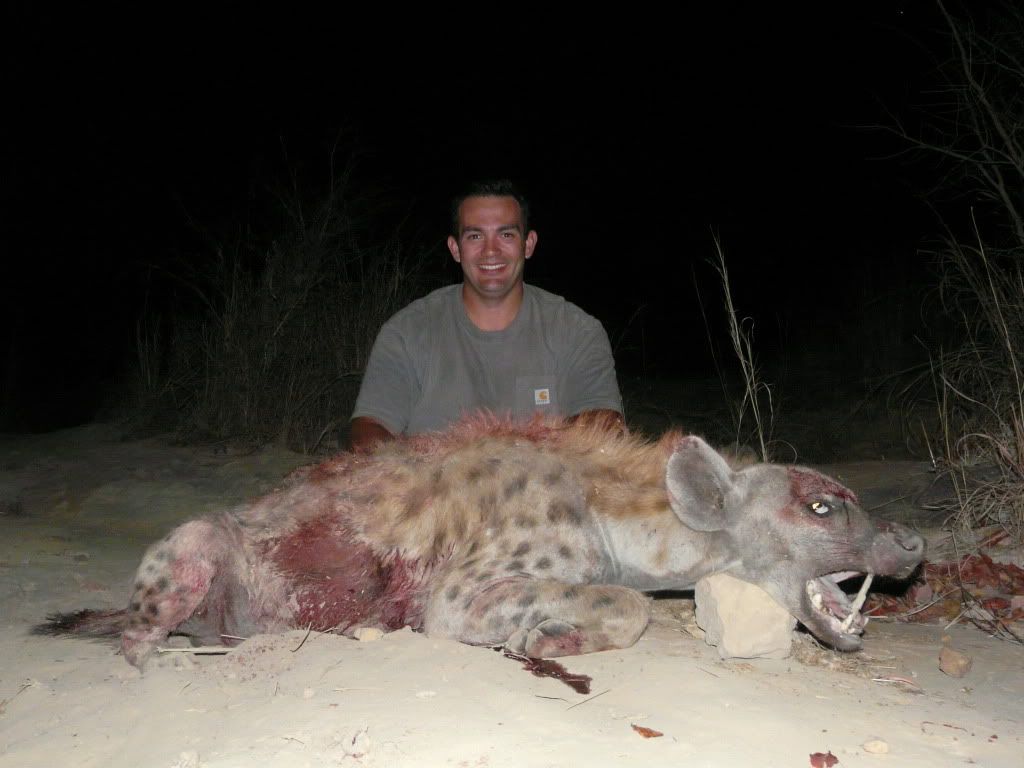 Day 14---Relaxing day. Hung out in camp and relaxed before long flight home.
I really enjoyed this hunt. There were plenty of animals seen, both dangerous game and plains game. Richie was a great PH and I was able to get along very good with him. His crew are all good guys. They did a great job tracking and working. We joked around a lot and had sweets. I wouldn't hesitate to hunt with them again. All members of the crew at the fly camp also did a great job. The cooking was very good at camp. One night I joked how much I missed pizza and at dinner that night was a nice combination meat/vegetable pizza. I was also to meet Richies parents a few times and they were very nice people. They would bring us biltong and dry wors. His mom also brought chocolate muffins for us one day. I want to also thank Myles and Buzz for the great experience and hospitality before my flight back home. I would enjoy sharing the campfire with all 3 guys. I cant wait to go back.
Another big thanks is to my wife and kids for putting up with all my planning and ideas. She was the one would did the travel arrangements and all other small details for the trip. It wouldn't have went as smooth as it did without her.
Thanks,
Greg