DocCoffee's Excellent Adventure
Koch Safaris, PH Gerhard Koch
Sass Post East, Tuli Block, Botswana, Aug. 3-13, 2021
I suppose the best place to start a story is at the beginning. To do that come with me back to the fall of 1967, I was 6-1/2 yrs old and my Dad was headed for Wyoming with a group of guys. To make a long story short there was a little confusion in my mind between the Antelope pictures I found in my "Big Book of Wild Animals" ( A Sable and a Roan) and what Dad was actually going after. Mom helped straighten that out but the seed was sown, one day I would hunt Africa.
Fast forward thru a lot of dreams, a few hunts in different North American locales, a couple of divorces. Dad and I talked of and dreamed together of the Ultimate Hunt. Along the line I put together a .416 Taylor "just in case". At 86 years old Dad was perhaps now a little old to make the trip but in 2015 I started to do some investigating, research some would call it, to finally make the trip in 2022 with my beautiful wife Jeni, a combination Hunt for me and 20th Anniversary/Honeymoon we never had trip for us. I had sort of settled on Namibia, even had an outfit picked out but had not made contact with them yet. And Jeni knew nothing of my plans. Then things changed. As in REALLY CHANGED in 2018. July 22 to be exact, after several months of illness for Jeni that we could not get a handle on we got the answer no one wants. The big C, breast cancer and Stage 4. Although we tried treatment the side effects were just too much for her and after a few months we stopped them, Jeni choosing a few months of quality life over agony and uncertainty. That Journey ended on May 5th 2019, then a couple months later my Dad passed, actually 1 year to the day of us getting Jeni's diagnosis. As the dust settled and my mind cleared a little I made the decision. I wasn't going to wait any longer, I was going to Africa.
Late in Nov. 2019 I contacted a guy that goes by M3Taco (aka Michael) on some of the forums. He had done some pretty thorough write ups on some hunts and it sounded like he had the experience that could make my planning a whole lot easier since I was a complete rookie on any sort of International Travel. My private message through the forum was answered within a couple hours with a phone call from him. I don't remember all that was said that 1st call but it was followed by several more and probably twice as many emails. Due to some tough conditions in Namibia due to a few years of drought and a Rabies outbreak that had hit the game pretty hard he suggested I look at Botswana, specifically Koch Safaris instead. Gradually a plan came together for us to go together, Michael already had dates reserved with them in August 2020 over the dark moon phase so we solidified our plans. Then CoVid reared its head in the spring of 2020. Although we held out until the very last minute we finally decided, on July 31, that it was not going to happen. We immediately rescheduled for August of '21 and the planning and anticipation had to be somehow put on pause. It wasn't easy but somehow I managed. At least I had another year to hone my shooting, especially off the sticks.
Although I had a couple rifles that could have made the trip, for a variety of reasons my Weatherby Mark V Accumark in .300 Weatherby with Leupold VX3 2.5-8x in Conetrol mounts was chosen. A little work at the loading bench and range came up with a load featuring a 200 grain Swift A-Frame running just over 3000 fps and groups off the bench a lot better than I ever expected, ½-5/8" for 5 shots. But you don't hunt from the bench rest so it was time to stand up and get serious. The range I go to doesn't accommodate sticks but I came up with a way to simulate them pretty well using an old mostly worn out Outers front rest. I supplemented that range time, which by the time we left amounted to over 200 rounds thru the .300 plus another 100 or so with other rifles, with Air Rifle practice in my backyard off the real sticks which added another 500 rounds to the count. "Minute of Impala" or a little better was achieved. I decided I was ready.
August 1, 2021 finally arrived. Due to the uncertainties of the various Delta and United flights when we booked the plan was American to Chicago O'Hara, meet Michael there then QATAR Air from Chicago to Doha and on to Johannesburg with SA Airlink finally getting us to Gaberone. Everything went smooth and a day and a half after departing we were on the ground in Gaberone. Gerhard was waiting for us, clearing the guns could hardly have been easier and we were in the van. 54 years in the making but I was finally in Africa!
A couple hours drive and we were in camp by about 1pm. The trip was uneventful other than seeing plenty of game since leaving the pavement, including an Impala Ram that still had Gerhard talking to himself a couple days later. Maggie, Gerhard's wife, had sandwiches waiting for us. After a bite to eat and a little unpack the decision to head for the range to check the rifles and a bit of a drive around before supper won out over a nap, jet lag not having caught up with us yet. This was a bonus since we had gotten in early, the real hunting to start the next day. A couple of shots for each of us showed that the rifles had survived the trip. The plan was just to drive around, see what we could see and shake the kinks out after 35 hours or so of air travel. Impala, zebra and Wildebeest seemed everywhere. Giraffe, Kudu, Waterbuck, Gemsbok, Steenbock are also seen along with various smaller critters. For a guy from Michigan used to seeing a dozen or so whitetail on a good day, it was almost overwhelming, the numbers and variety of game. After driving around a little while we saw a bunch of wildebeest that looked like worth a closer look so decided to take a walk. The wind was not quite right, and as we tried to circle a little we bumped into 3 Zebra that had gone unnoticed due to the bush. They didn't stick around long enough for a shot so that was that. We repeated this a couple times as we headed back to camp. Braised Kudu Shanks, Vegetables, Salads and fresh baked bread waited for us and really capped off the day. With the travel fatigue catching up on us we called it a night early. 6 am would be here soon enough.
August 4, 1st full day
The camp routine was pretty standard. Up at 6, breakfast at 630, out of camp by 7-715 as the sun came up. Drive in different directions until we spotted game or got to an area for a good spot and stalk walk. The plan was sort of to find an Impala or maybe a Wildebeest, start me out slow. We had a pretty good list to fill, trophies in the package I had chosen included Warthog, Kudu, Zebra and Eland along with Impala and Blue Wildebeest, but 10 days to do it in. From what I was seeing I was not worried about opportunities, game was everywhere. Having read a lot on African hunting over the years I had also padded my budget a little just in case some other opportunity came up, the decision on whether to take something extra would be easier. This turned out to be an excellent decision, but now I am getting ahead of myself. 30 minutes or so out of camp we spot a very good Waterbuck Bull, definitely a shooter. We looked long and hard at him but finally decided to pass for now. It was only the 1st morning and not one of my primary species. A little later we came on a bunch of Wildebeest and Zebra. They did not seem too interested in stopping to give us much of a look but the 4 Eland bulls tagging along behind them looked very interesting. A quick conference between Gerhard and Sentsho, his tracker, and we decided to try for them. Off we went for my first experience with tracking in Africa. As many others have said, it is easy to read about but to actually see it done is a whole different story. Every time I was convinced that we were just on a walk fresh droppings or other sign would show they were still somewhere ahead. While we never closed the distance it was one of the best mornings I had ever spent. After a couple hours and 4 or 5 km we came to a truck track where they had crossed. Their tracks showed they were moving in that Eland trot that meant we were likely not going to see them again today. We met up again with Michael and Gerhard's driver with the truck and headed toward camp for lunch and a nap. Back out around 3 until dark was the typical afternoon plan. As we headed out that afternoon it looked like just another day in the bush. Game of some sort pretty much always in sight. After a while we see a small group of Eland that had one in it that looked like it needed a closer look. Gerhard and I head off, Sentsho and Michael staying in the shade with the truck. A couple hundred yards of sneaking and we see them disappear over the hill. Not really spooked but not looking like they are going to slow down either. As we begin to work back toward the truck Gerhard spots a lone Wildebeest Bull. He sets up the sticks and as I get on them he takes a closer look. Although not a whopper it is a nice older bull, a good one for my first Africa animal. Standing looking straight at us at about 180 yards, Gerhard says take him in the center of the chest if you want. I settle the crosshair just under his chin and squeeze. Although I lost him in the recoil we heard the bullet hit and Gerhard likes the reaction he sees. We note which way it ran and wait for Michael and Sentsho to come up from the truck. As a group we move up, find where it was standing when I shot and a short track later found him. The Swift A-Frame had done its job, recovered from the intestine it had penetrated straight through from the chest shot and weighed just over 195 grains of the original 200 and was .620 in diameter.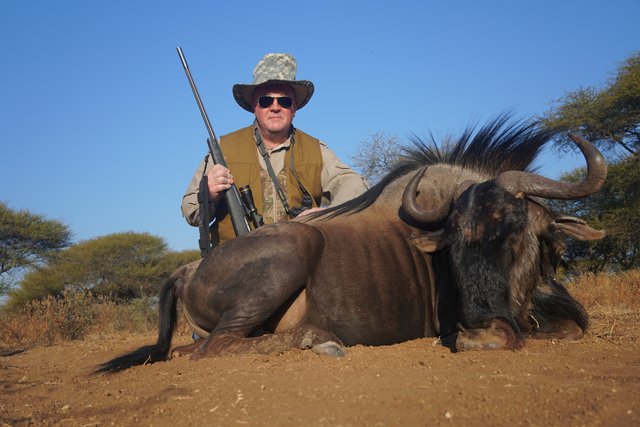 Day 2 started routine enough but would prove to be anything but routine by bedtime. About 20 minutes from camp a nice Kudu bull was spotted. A quick evaluation showed him very nice with good deep curls and some ivory on the tips. A quick stalk and set up and I took the shot. We were close enough that we could not hear the bullet hit but he sort of buck jumped. Rather than bolting it just trotted 15 yards or so and stopped to look at us again. Convinced I had missed I lined up quickly and shot again. Although I saw no reaction the others all said they saw the dirt and spray as the bullet exited. As I reloaded, still not convinced, it took a couple steps, wobbled and fell. My Kudu, #1 on my personal list, was down. And it wasn't even 9 am on the 2nd day. What a dream coming true.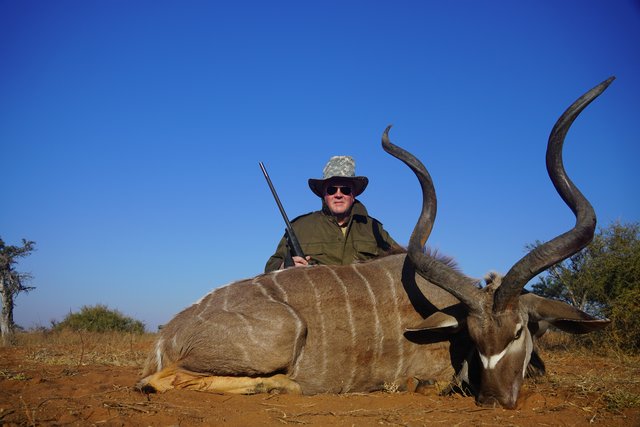 After dropping my Kudu off with the skinners we headed out again. With nothing specific in our plan we headed for an area that was sort of a high ridge that we could spot from. Game was everywhere but nothing really interesting. As we worked our way back for lunch a nice bunch of Wildebeest was again encountered. Some good heads in it but they showed no indication of hanging around. Trailing them were a dozen or so Zebra which seemed more cooperative. As we slipped into position and got the sticks up a couple stopped broadside in a small clearing 80 yards or so away. Gerhard says to take the one on the left. I shoot and it disappears in a cloud of dust. Gerhard asks how I felt about the shot. I reply good, very good. We move up, find where it had been standing and a short follow up. Having gone less than 50 yards my shot proved dead on, center of the "sergeants stripes". Two trophies in the same day. Could it get any better?
That afternoon Michael and I again split up. He was really only doing some management shooting on Impala and Wildebeest. Gerhard and I headed for an area along the Limpopo river which often holds some nice impala. We saw some nice groups but all the rams seemed young, not what we were looking for. Then a couple hundred yards ahead Gerhard spots a warthog. We sneak closer and it looks like a good one. The cover was pretty good so we continued to work closer. Then we spooked a couple bushbuck, unseen in the riverside brush, and they of course ran straight in the wrong direction. The hog exited stage left, tail in the air. With the River to our right, plenty of bush and a big dry pan to our left, Gerhard thought this was a good area to continue to hunt so we continued our spot and stalk walk. More impala seen and passed on. Then as we sort of came around a corner where the bush opened up and a wide expanse of the pan came in view Gerhard stops. Two Gemsbok were out in the open pan. "Kevin, that is a really nice Gemsbok. The one on the right, you should take him." I get on the sticks, and confirm which one is the shooter. Similar to my Wildebeest the shot was 180-200 yards and straight on. I take a breath and squeeze. On my shot both bulls wheel and run, the only difference being the one I shot at obviously had a broken front leg/shoulder. After running 30-40 yards they stopped, looking back at us. Confirming which was the correct one I lined up and tried to hip/spine him. Another solid hit but still not down. As his buddy disappeared in the distance ours ran, stumbled a short distance into the brush. After reloading we moved up. There he was in a small clearing, obviously down for the count. A finishing shot to the chest to be sure. I stayed with there while Gerhard went for the truck just enjoying the peace and sounds of the Africa bush. When Gerhard got back he asked if I had ever taken 3 trophies in a single day. Only thing I could say was I had never even shot 3 game animals in one day! Pictures taken and we got it loaded thanx to the winch. Although already a full day we decided we did have a little shooting light left so resumed our hunt for what was proving to be a most elusive Impala.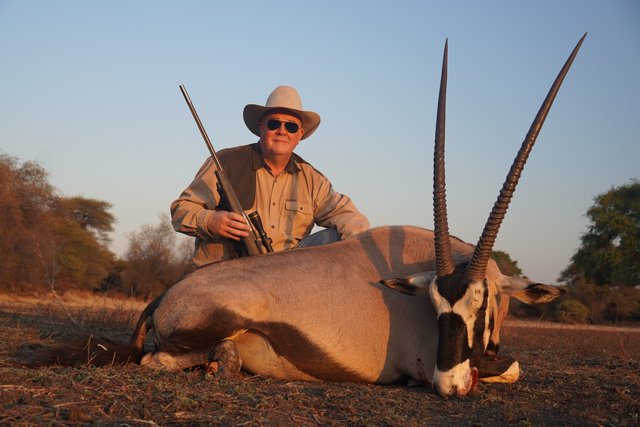 While we only had 30 minutes or so the day was just too good to end. Moving along slowly, not really expecting to see anything, I at least was relaxed, just enjoying the sights and sounds as the day drew to a close. Then as we rounded a bend things got exciting. Gerhard points and says "that is a HUGE (expletive) Waterbuck, shoot it." Reacting as if commanded I quickly get the sight picture I want and squeeze the trigger. As quick as it started it was over, the bull streaking out of sight in the bush. Gerhard asked me about the shot, I was very sure of a good hit. With the light fading fast we moved quickly to try to confirm a hit. After a short search he finds a couple drops of blood, although small the color looks like a lung hit. Now almost dark, we mark the spot with some branches and head for camp for help with more flashlights and most of all Sentsho.
At camp we gather flashlights and pile back on the truck. It happened that some good friends and neighbors of Gerhard and Maggie's had come for dinner with us with his family so "Botswana Kevin" joined Gerhard, Michael and I. A quick stop to pick up Sentsho and we were on the way. When we got back to the spot we had marked, Gerhard showed Sentsho the blood and direction the bull had run. Sentsho looked around a bit and somehow decided on a track. I say somehow because this kid from small town USA was seeing nothing, in the dark, on what they call "Black Cotton Soil" for good reason. I am from town but I am smart enough to keep my mouth shut and quietly walked along behind with the others, scanning ahead with our flashlights hoping to see something. After what had probably been 90 minutes and 250 yards or so of slow tracking I had privately decided that maybe we would be lucky and find it in the morning, hoping the jackals or hyena had not. I mean how could we possibly be on a track. Then Sentsho called Gerhard over. A drop of blood about the size of your little fingernail. How does he do it. We were still on the track. Continuing on another 30-40 yards one of the others sees what looks like eyes in the flashlight beam looking at us. Not blinking, not moving. Someone asks if their eyes reflect when they are dead. No one is sure on that and they still are not moving so we head more directly toward it. And there it is. Laying as if it just decided on a nap, looking back in the direction we came from. It was obvious that given just a little more time Sentsho would have led us to the same point. Catching the reflection of its eyes just brought the conclusion a little quicker. Handshakes and laughter. The truck was brought up and pictures by headlight then back to camp, some late dinner and an adult beverage or 2 in celebration. What a day it had been.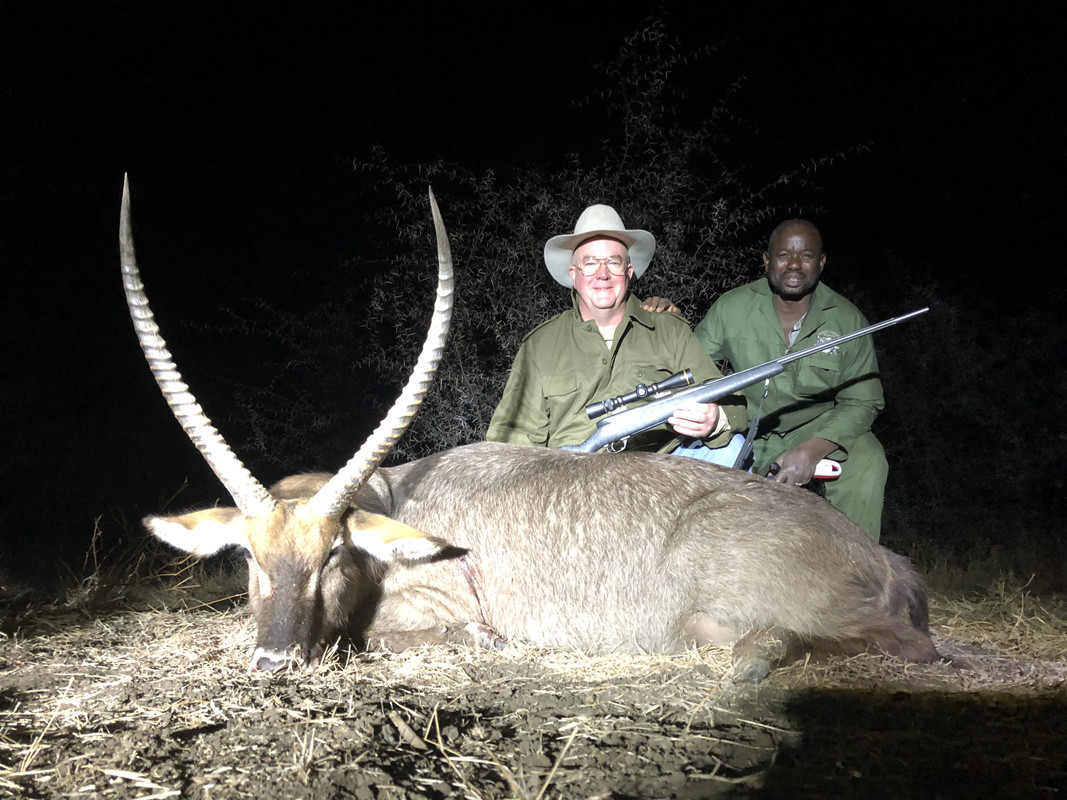 After the excitement of the previous day and the late night we decided to start a little later the next morning. 630 still came plenty early and although tired I felt rested. The plan for the morning was again that Michael would go one direction, Gerhard and I again heading for a section along the river, still looking for a good Impala. The camp Joke was beginning to be that I was going to be the 1st hunter Gerhard had had that got a Good Kudu, Gemsbok and a Great Waterbuck but might be going home without an Impala. But it was only the 3rd of our 10 days so no pressure, just sit back and enjoy the ride. Our hunt along the river that day was another of those "just perfect days" that can be had if you just relax. Impala were almost constantly in view from the moment we left the truck although a good ram continued to elude us. Some zebra, several waterbuck and steenbok all spotted. We came on a good bunch of Wildebeest only 100-150 yards away. They were settled and up wind so we spent some time looking through them for a Bull better than what I already had but could find nothing but cows and calves. As we worked back toward the truck to head for lunch Gerhard spotted a couple warthog. One looked pretty good so we moved closer and set up a shot. The Weatherby did it's thing and I had my 1st warthog. A great way to wrap up the morning.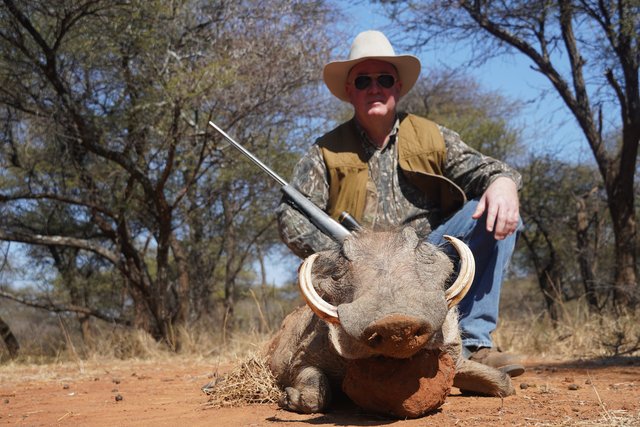 The afternoon was the same plan. After our power naps we head out. Impala still seemed rather scarce, at least of the quality we were looking for and knew were in the area. Kudu cows, gemsbok and more waterbuck. Giraffe staring down at us, bird life everywhere. Then as it so often happens everything started to happen fast. Sentsho says something in Tswana and points at the same time Michael says Eland to me and Gerhard says Eland Bull rather emphatically. He sets the sticks, takes another good look through his binoculars and says "There's your eland, shoot it". I am afraid my answer is "Eland, where?" all I see is bush. Then I think I see it, start to line up a shot and confirm with Gerhard. He says "No, that's a knot on a tree, to the right." Looking to the right I still can't pick out anything that looks like an Eland. How can anything that big be so hard to see. Finally Gerhard says "That's his head and neck right in the middle of that tree that is arched over. He is about 120 yards out. If you can't see the body, shoot him in the neck." Finally a "landmark" I can work with. His head and neck come in focus for me, framed under the tree Gerhard pointed out like it was the golden arches. No body shot so I line up on the center of the neck and squeeze the trigger. With the recoil all I see is a couple eland running off. Having only seen the one I shot at I immediately think the worse and say so. "I MISSED!" Gerhard replies "NO, you dropped him like a sack" as Sentsho signals the same. Straight Down!. Not sure if I should believe them although they seemed pretty confident of what we would find, I reload and we moved up. There it lay, just as they said. Although it could not go anywhere, I borrowed Michaels .30-06 to give it a finisher in the chest. What a bull, with a great forehead ruff and dewlap, beautiful gray blue color and slightly worn horns that would later measure near 35".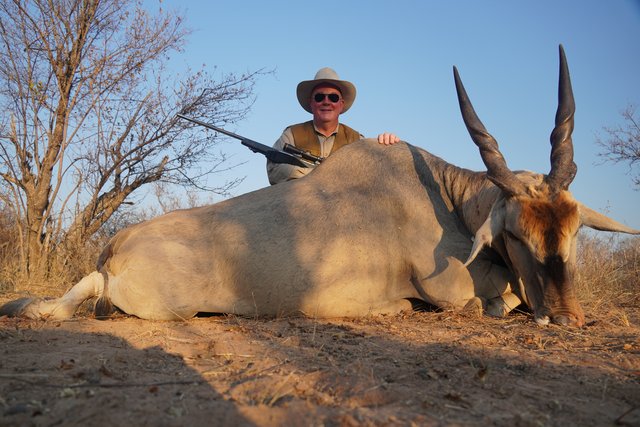 Saturday the 7th was our 4th day hunting. 6 days left and really down to just needing an Impala to complete my "List". Gerhard and I spend the morning along another section of the river, seeing lots of game of all types. The morning passes without a shot but no worry. With the quality of the trophies we have already taken we are not lowering our standards yet, especially since we are not really even at the halfway point yet. Stay positive and keep hunting, there are lots of good rams out there. Besides, I thought to myself. Wouldn't it be funny if the reason I HAD to come back was to get an impala not a kudu or eland.
That afternoon Michael decided to ride along with us, maybe he thought we had been goofing off when his back was turned. He is great company on the truck and an extra set of eyes couldn't hurt so was more than welcome. As we rolled along slowly checking out different groups it was looking like maybe just a quiet afternoon. Then as another section of the pan we were sort of paralleling came into view we all sort of saw it at the same time. A nice Impala ram with a small group of ewes. A couple hundred yards away and moving away from us but not spooked. Having no idea how to really judge one the only thing I really noticed was his tips flared out which I had come to learn was a good sign. A quick look with his binoculars and Gerhard grabbed the sticks and said lets go. We moved as quickly as we could using some bush to conceal our approach. The cover ran out and about 140 yards of wide open pan still separated us. The animals were still undisturbed though and the ram was standing pretty much broadside. Not a chip shot but not the longest of the trip either and I was confident. Getting on the sticks I settled in, Gerhard standing next to me with his arm bent so that I could use the pocket of his elbow as a brace for my elbow. Between that and my sling with the sticks I was as steady as ever in the field. Couple of breaths, the sear slipped and the rifle fired. The ram stumbled hard then bolted straight away from us disappearing into the bush on the far side of the pan. Michael and Sentsho join us from the truck and we moved quickly across the pan together. Between the black cotton soil and all the tracks a definite trail was not really obvious. Sentsho picked one he liked and the rest of us spread out a bit just looking. After a few minutes Michael called out, "Hey, does anyone want this Impala?" It had gone less than 100 yards, the Swift A-Frame again flawless in performance. A beautiful mature ram, his horns having a nice flare in the tips and showing some age. Just what we were after.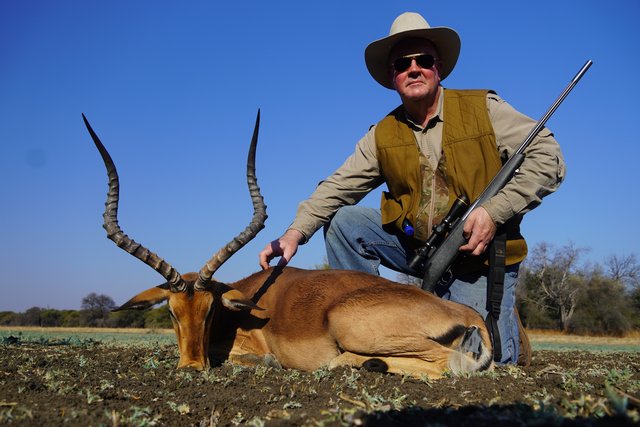 Although getting my Impala more or less filled the trophy list there was still a lot of adventure to enjoy. A neighboring land owner had contacted Gerhard about perhaps helping out with a problem leopard. There is no trophy leopard hunting in the area but there is also no shortage of the cats and occasionally they have to kill one that is causing problems, killing livestock. Gerhard took me along when he went to look over the situation and I got to see a bait set up. Having read about it many times and seen many videos it was really interesting to see all the theory actually applied. Another day we went and spent with a different neighbor on his property. "Vim" is a fascinating character who along with all his bush knowledge has a masters degree in Astronomy and is finishing his Doctoral in Archeology. He showed us some archeological sites on his property that he had found, describing them with an enthusiasm and teaching style that was infectious, making what for me at least is a very dry subject truly fascinating. We had a "Bush Lunch" there at a spot on the river bank and I took my 2nd zebra that afternoon. Another great day with what had become in a very short time great friends. (that's Vim in the middle and Michael hiding in the back)
Although there are many other highlights from this trip, telling of them will have to wait for another time. I would like to take this opportunity to say Thank you to Michael for helping make this dream truly come true. Your help was invaluable and your friendship is treasured.
And to my new "Botswana Family", Gerhard and Maggie Koch along with their daughters and all their staff a very special Thank you for not only making it all happen, but for making this, my first trip to Beautiful Botswana not only unforgettable but truly and Adventure beyond my wildest dreams.