Outfitter: Adictosacazar
Professional Hunter: Victor Anselmo
Rifle: MNR Custom Built .404 Jeffery
Detailed Here
Travel: Gracy Travel, United, SA Airlink
This hunt was brought about by Martin Rodriguez of Adictosacazar. Last year he posted a free buffalo hunt giveaway in the outfitters deals and offers page as a way to promote his outfitting business on AR, and I was fortunate enough to be drawn as the winner. This was to be my first safari and I was obviously quite elated. From the planning stage to the hunt itself, Martin was phenomenal. Unfortunately he wasn't able to be there himself for the hunt, as he came down with a severe illness that put him in the hospital, but he remained in constant contact throughout.
Getting there:
I booked the travel through Shawn Kennedy of Gracy Travel. She was great to deal with and came through when things started to go sideways on the trip (I'll get to that shortly).
Traveling with Covid was not a problem at all. Just had to do a bit of planning ahead to coordinate all of the PCR tests.
I flew Newark to Joberg on United. I know they have a bit of a bad rap, but my flight was great. Economy was so empty that I had three seats to myself and was able to lay down to sleep.
Arriving in Joberg, Bruce of Gracy Travel took care of everything with the gun and walked me to City Lodge where I was going to spend the night.
When I checked into the hotel I had a message waiting for me from a man named Raphael (who goes by Rafa) who had asked me to call him. Turns out he was the videographer who had been filming with Martin in South Africa for a Spanish hunting TV show and was going to be accompanying me to Mozambique. He let me know what had happened to Martin and I was able to WhatsApp Martin from Rafa's phone (I didn't bring one). Rafa proved to be a great companion on safari, a God-send as an interpreter, and was able to capture so many great moments on camera. I brought a camera that I never had to touch which made the experience so much better.
We had dinner that night and joked about how it was going to be fun communicating without Martin there with the PH (who only speaks Portuguese) through Rafa (who speaks Spanish and decent English) and myself (who only speaks English). It was certainly going to be an adventure!
In the morning off to Maputo, Mozambique. Martin had a guy waiting in the airport with the rifle permits to walk us through customs. This wasn't a big deal other than everyone in that airport with a uniform was asking for a bribe. Proud to say I never gave one.
Then came the bad news… my luggage with my ammunition didn't make it to Maputo. The man I spoke to from Airlink looked into it and claimed it wasn't in Johannesburg either and that it probably never left the states. They said if it turned up they'd send it along. We gave him the PH's phone number and left. I shot a quick email off to Shawn at Gracy travel before boarding the plane to Quelimane.
On that two hour flight I wondered how it would be not being able to hunt with the rifle I had put so much work into as I prepared for the hunt. A few weeks prior I had read a hunt report where the hunter's rifle never arrived, but he didn't let that ruin the trip and had a fantastic time with the borrowed camp rifle. I'd hoped I could have this same attitude, but the camp rifle in my case was a Blaser! I didn't know if I could enjoy hunting with this rifle but I decided that I was going to give it my best.
Upon arrival in Quelimane we met the PH Victor Anselmo (more about him later), and he explained that my luggage was found in South Africa and would be forwarded up to us. I was overjoyed. I don't know if Gracy Travel had a hand in this, but they had been raising holy hell for the last couple hours in SA, so I like to think that helped. The only problem was that the bag wouldn't arrive until the following evening, so we were to stay in Quelimane overnight and lose a day of hunting. After spending the last couple of hours imagining myself hunting with a Blaser, this news didn't bother me in the least.
I was also happy to spend the day exploring Quelimane. A bustling mid-sized coastal city with crumbling infrastructure but full of joyful residents. The roads were covered with bicycles weaving in and out of traffic trying to stay on what little pavement was left on the roads. Most of these bikes had makeshift wooden seats on the back so that a second person could ride. Later, as we found ourselves riding on the backs of these bicycles, I learned that these were, in fact, taxis. This was a fun way to see the city.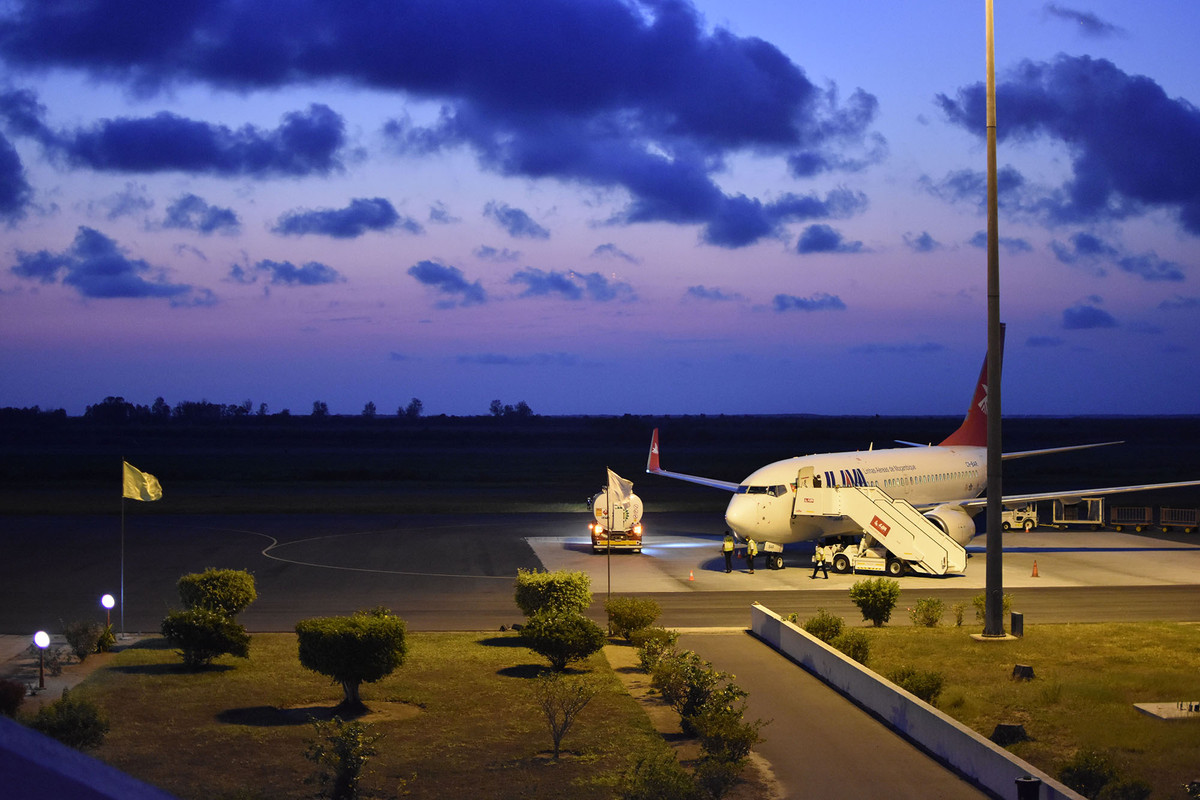 After retrieving the luggage the following evening, we made the six hour drive to camp which is located around 20km from Luabo.
Getting there, the road continued to get rougher and narrower till the last hour was spent on little more than a goat path. I was driving one rig, while Victor was driving the Land Rover we'd picked up from the mechanics a couple hours from camp.
Arriving at camp around midnight I was surprised to see the generator powered lights on and the camp alive with staff getting everything in order. The fires were going strong for the showers and food was being laid out on the table.
After a quick shower and a nice meal, I laid down to sleep, though that didn't come easy as I dreamed of what tommorow would bring. Plus the heat and humidity didn't make sleeping very easy that night or the nights to come. Didn't matter though, as the euphoric feeling of being on safari gave me all the energy I needed throughout the trip.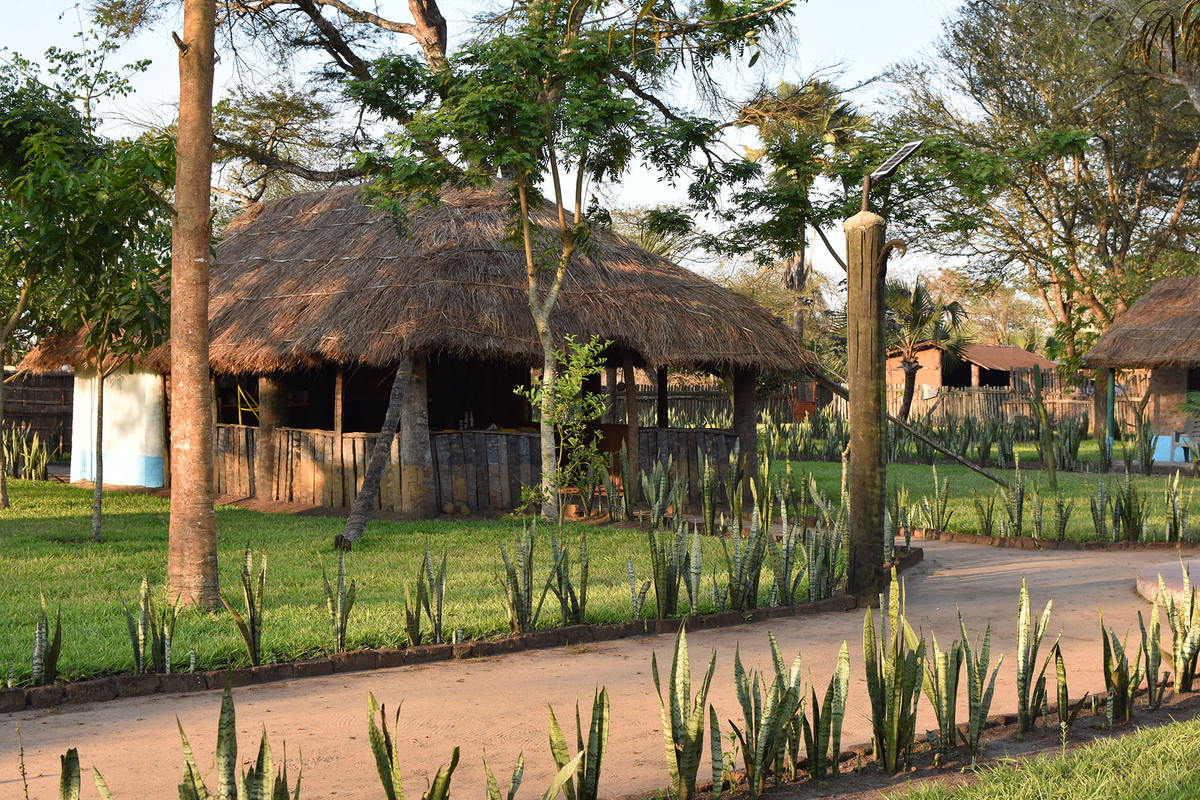 The PH:
Victor Anselmo is a Portuguese man in his 60's who has been hunting in Mozambique for over twenty years. The last ten of which were spent at his current concession of 25k unfenced hectares. I guarantee that he can out-walk and out-hunt most men half his age. He runs a tight ship in the field and in camp, making sure everything is in order and seemed to have a very friendly relationship with all his staff. I thoroughly enjoyed my time with Victor. The language barrier wasn't a big deal and in fact added to the experience. Even though Portuguese and Spanish are similar, they are by no means close enough for normal conversations. This led to many drawn out conversations where we repeated and rephrased words to get a point across. In the field when Rafa wasn't able to join us, we relied on a mix of charades and the few words he had learned in English with the few words I was learning in Portuguese. It was actually quite fun.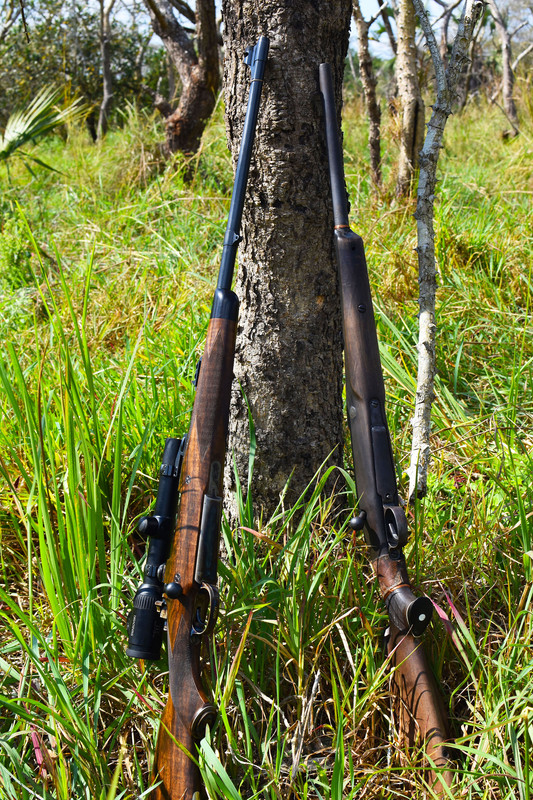 (Victor's .458 Win Mag. Boy if that gun could talk!)
The Trackers:
This being my first safari, the trackers were what surprised me the most. Their ability to pick up tracks where I couldn't see them, and then to follow them through every sort of terrain with a break neck speed was a marvel to behold. They are some of the toughest men I've had the pleasure of hunting with. We were often wading through swamps filled with some of the most rank smelling water. This is where they'd fill up their water bottles for the day. They wore rubber boots that would get filled with muck and water and they'd simply lift one leg and then the other when we reached the other side to empty them and would continue on the march, hardly missing a beat. I never saw them eat anything while we were in the field, and though they drank the swamp water, they hardly took much of this. This was while I was drinking three or four liters a day and still struggling to stay hydrated.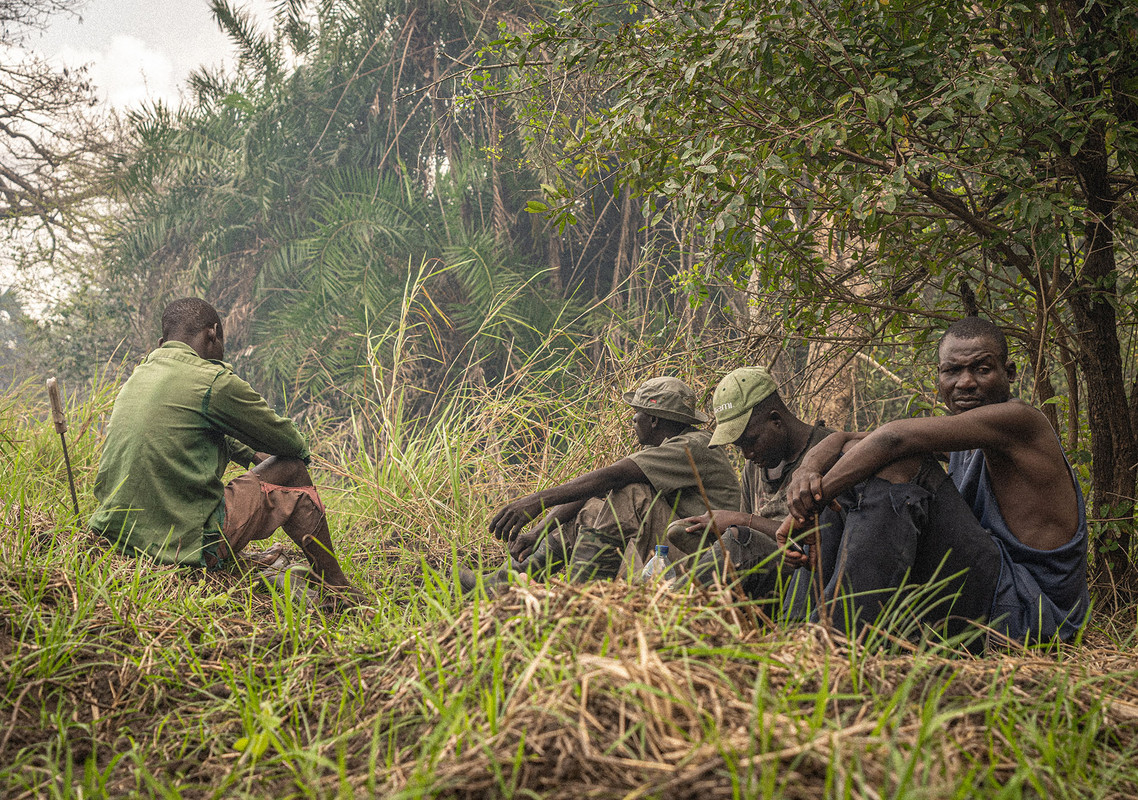 The Hunt:
I'll give a detailed day-to-day account below, but this will explain the general pattern we followed.
Each morning we'd eat a quick breakfast and hop in the Land Rover. We'd ride for around an hour, often times through grass that stood taller than the vehicle. The lead tracker would stand up in the back holding a long stick out over the hood and wherever he pointed the stick, Victor would drive. This kept us from running into rocks, trees, etc. We would drive till the trackers spotted buffalo sign and would then hop out to examine the tracks. If one looked large enough we'd hop out and follow that track. No matter what, we would stay on that track. There was no consideration given whether we should go around a thicket or swamp and pick up the track on the other side. If the buffalo went somewhere, we went there. This brought us through deep swamps, reeds that stood well over our heads, freshly burned ground, and thickets that we had to crawl through.
The trackers always seemed to know when we were close to the buffalo, sometimes by scent and others by sound. Everyone of these times I had no idea they were nearby.
I've hunted in the states a few times with a guide. The guides were always very helpful and added to the hunt, but I never felt like I wouldn't be able to hunt without the guide. Often times I spotted game as much as them or had a feeling that if I was alone I could conduct a stalk more efficiently. Well, this was certainly not the feeling in Mozambique. I dare say that it would be impossible for most hunters to be successful with buffalo without the trackers and the PH. My part was simple, to keep up with them and make a good shot. All the real hunting was left up to these men.
We'd arrive back to camp after dark, take quick showers to wash all the soot away, and sit down to a pleasant meal. I'd clean my rifle nightly which kept it from being impacted from the salt and humidity.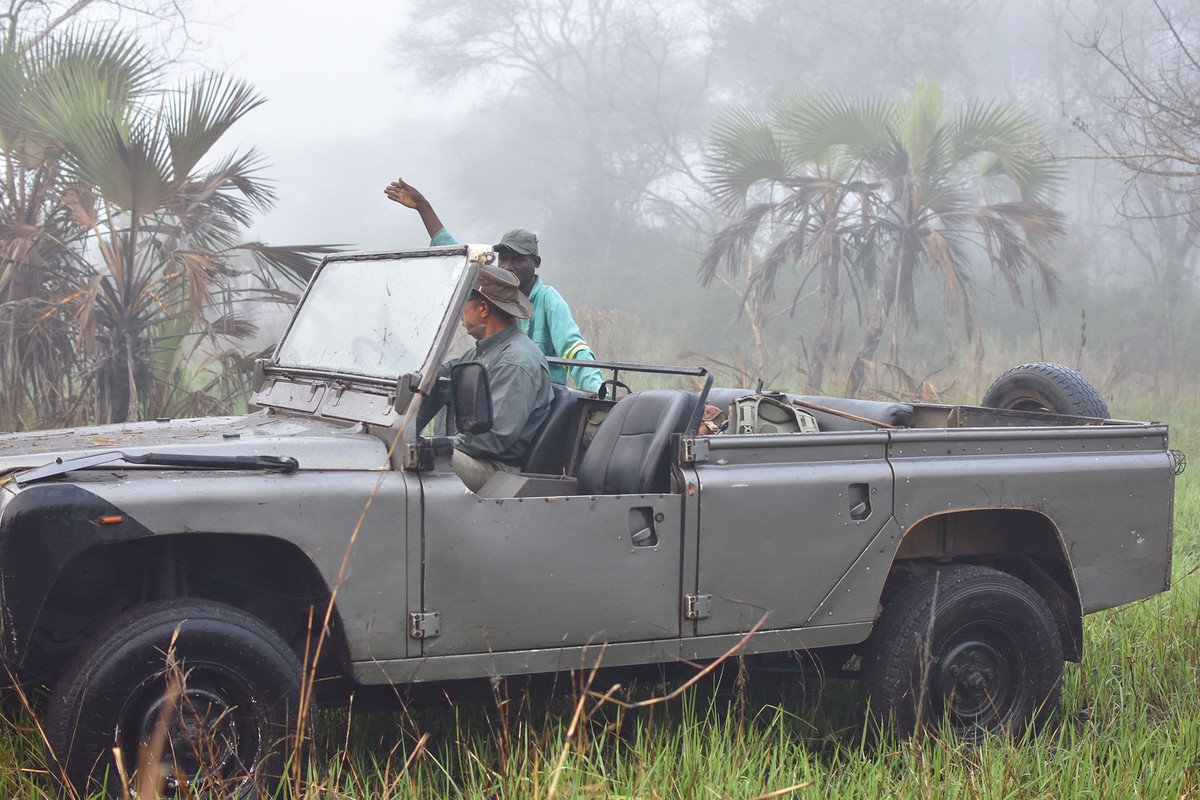 Day 1:
4:30am wake up. Quick egg and toast and instant coffee breakfast. In the open topped Land Rover at 5:00am. Find tracks in less than an hour that pleased the trackers. They were from the day before but had several large buffalo among them. We follow for approximately four hours and the sign is starting to look fresher. They slow down the pace now and become more alert. In a very dense section of forest the lead tracker motions for us to get down. There, approximately 30 yards ahead was a cow buffalo looking right at us. As we stay frozen we can hear many other buffalo in the thick brush around her but can't see anything. After a few minutes Victor and I slowly maneuver our way forward to try to get a glimpse of the other buffalo. At this movement the entire herd runs off. The sound of the herd crashing through the brush was incredible. 
We stay on their tracks and run back into them about an hour later. They were again in a thick section of woods not giving us a clear view.. The wind was picking up and was not in our favor. But when they break away this time they run through an opening that gave us a clear view of what was in the herd. Victor says there were three very large bulls. As a first timer I am shocked by the size and the speed at which they took off. 
We continue to follow their tracks through the heat of the day. Temperatures are now in the 90's and the humidity likely about the same. At this point, some of the trackers start setting fire to the grass as we pass through. They do this to allow for new growth, but to also make the area huntable, as much of the grass was over our heads. Apparently this year has been wetter than most so that they weren't able to get all of the burning finished in August which is typical. The constant burning throughout this trip meant that if we weren't walking on freshly burned ground that coated us in soot, we were hunting in heavy smoke that covered us in ash.
We bump into this same herd one more time. The winds are heavy now and not in our favor. At this point, Victor and the trackers discuss our options and decide that it's better to call it off for the day as we only have about an hour of daylight left. We spend this time driving around in the Range Rover. We stop occasionally for the trackers to get out and start fires.
Just before dark, we come across a warthog that Victor asks me if I want to shoot (at least that's what I thought he was asking). I wasn't really interested in shooting a warthog, so I tell him no thank you. As the warthog ran off, everyone seems a little upset. Rafa explains to me that he wasn't asking if I wanted to shoot it for a trophy, he was telling me to shoot it so we could have meat in the camp. I feel terrible, and even worse when we eat locally caught fish that night. The fish was good but I knew that everyone had wanted pork.
Day 2:
Wake up at 4:30am. Quick breakfast when Victor explains that Rafa won't be joining us as the local cuisine didn't agree with his stomach. That meant no translator for the day, but it's surprising how well you can communicate while hunting without speaking.
Within an hour we spot a group of three warthog. Victor motions for me to get out with my rifle. We stalk within 50 yards of them, which made for an easy frontal shot off the sticks. The warthog drops in its tracks. The men make quick work of field dressing, then lay it in the back of the Rover covered with palm branches. We park the rig in the shade and walk from there.
We walk for around two or three hours (I didn't bring a watch), bumping into several more warthogs and bushbuck, before finally coming across a set of buffalo tracks they determined were quite recent. After following them for about an hour we stop for lunch under the shade of a tree. The sun is beating down heavily now, and I am grateful for this break. Not long after picking up the trail again one of the trackers signals to freeze. He apparently hears something and points to the thick cover to our right. We stay still there for several minutes as they motion to each other what we should do. It's very thick and the wind is starting to swirl. Victor finally shrugs his shoulders and motions that we're going to go in. The lead tracker going in first (I wish I was half as brave as this guy) with shooting sticks in hand, Victor, then myself. We crawl through a small opening in the brush but it's almost just as thick inside. As we continue to work our way in I can see the legs of a buffalo a mere 10 or 15 feet away. The lead tracker motions for victor and I to scoot over to where he is as he has a clear view of a buffalo. As we attempt to join him, the forest erupts with sound as they take off. The ground shakes as they stampede away. I am just glad they ran the direction they did instead of towards us.
At this point Victor sends two of the trackers back to the Rover to bring the warthog meat back to the chef as we continue on the tracks.
We continue on the tracks until dark, but don't end up running back into them.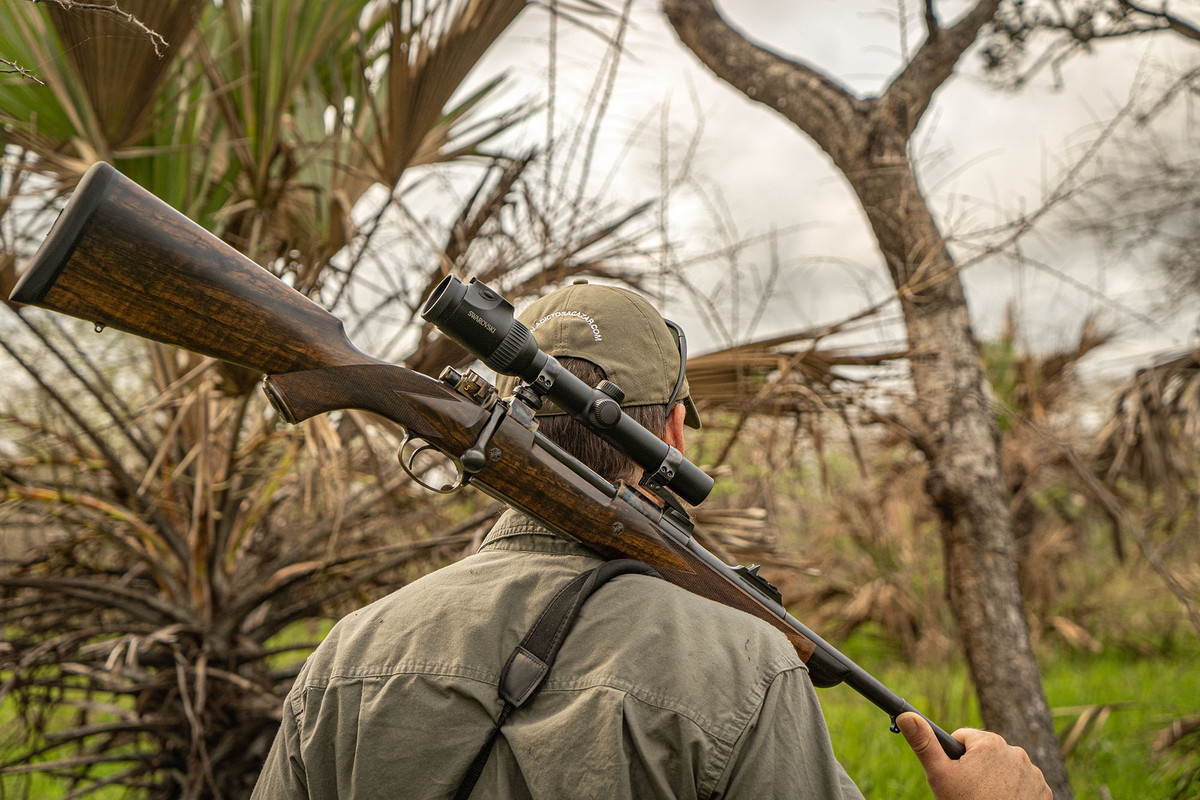 (Doing my best to look the part

)
Day 3:
4:30am wake up, egg and warthog omelet, and we're on our way. Rafa is still sick, so we go sans translator again. We drove longer this morning to a part of the concession I hadn't seen in the previous couple of days. After a couple hours, we ditch the vehicle and walk. An hour into the hike, we see something that I think might be buffalo several hundred yards off. Victor says "waterbuck." The stalk is on. We get to within 80 yards and up go the sticks. At the shot through the heart, he goes about 20 yards before toppling over.
I'm amazed at the size of these animals.
After bringing the waterbuck back to camp where it's broken down for distribution to the village, we have a nice lunch.
That afternoon Rafa is feeling well enough to join us again. We are on fresh tracks again and follow them until dark without catching up with the herd. This was the only day we didn't see buffalo.
The sunset as we work our way back to the Rover will stick with me as one of the most beautiful I've ever experienced. This place is rugged and wild, yet incredibly beautiful.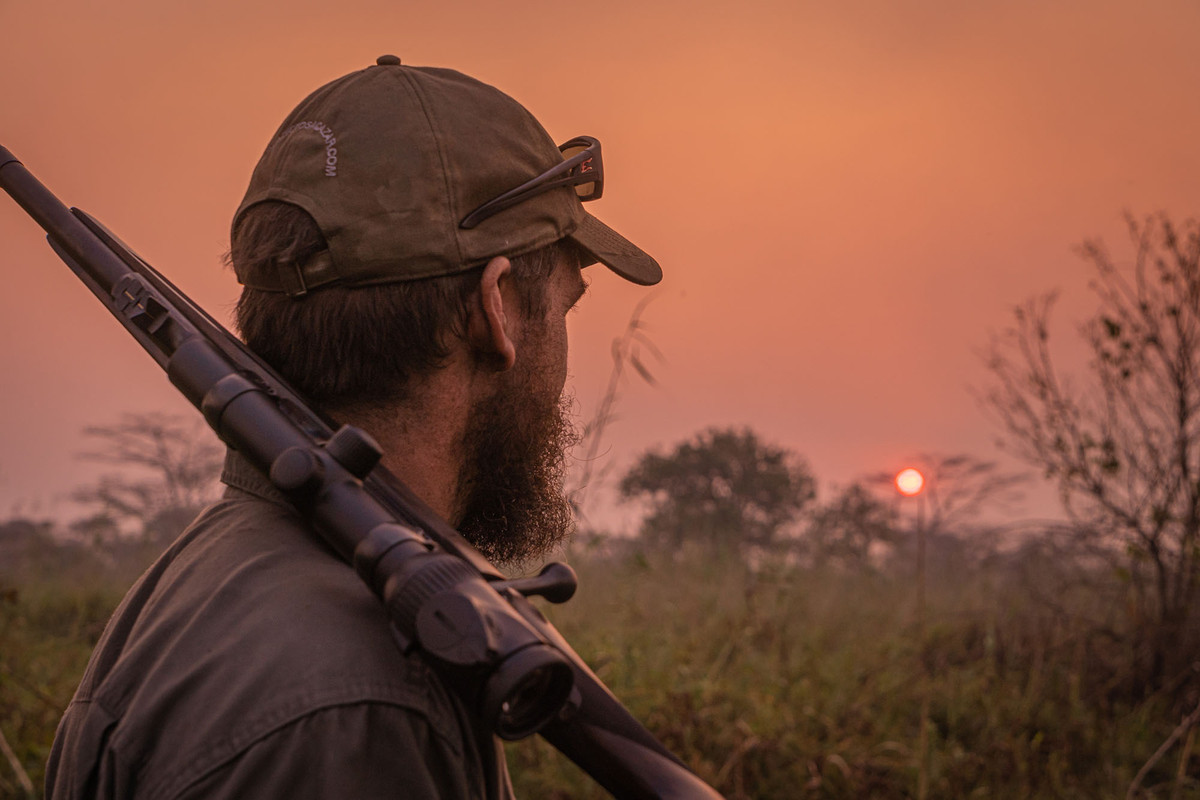 As we sip our after-dinner scotch, Victor proclaims that tomorrow we would be getting our buffalo but we are going to have to start earlier. He wants to leave well before daylight so that we can get back on the tracks we left that evening right at daybreak.
Day 4:
3:30am wake up, scarf down an egg and toast, and hop in the Rover. We get on the spoor we followed the previous evening and are soon pushing our way through reeds well over our heads. Hours in, a tracker climbs a nearby tree to see how far off they are. They're close. Moving in we can hear the sound of buffalo in the reeds just ahead. How I would have been able to shoot one in this stuff is beyond me. Visibility is as far as the PH, mere steps in front of me. I don't have to worry though, as the wind shifts and they move off again. About an hour later and we are out of the reeds and into knee high grass. The head tracker spots them a few hundred yards off. Leaving behind the other trackers, we crawl a hundred yards to reach the last tree between us and the prey. The last section of this crawl is a little painful. Other than the myriad of thorns, I start feeling stinging on my chest. I look down to see ants crawling up my arm and into my shirt (apparently the same thing was happening to Rafa, but neither of us dared deal with that now).
When we make it to the tree, Victor motions for me to use the tree as a rest as he starts glassing the herd. He describes which one I'm to shoot and I settle in to take the 100 yard shot. The bull reacts well to the shoulder shot and takes a second to turn and run after the rest of the herd. In that time I reload and steady my aim for the tail and shoot again. This one hits him in the right side of the hip and anchors him. Everyone's excited and Victor says it's a great buffalo.
As we walk up the bull starts to get up, another shot in the shoulder drops him again. I run up and put two in the chest cavity for good measure.
Major ground shrinkage! This wasn't a hard bossed bull and didn't have the mass or size of the ones we had been seeing. Victor looks concerned and says something to his trackers and they begin scouring the ground. I ask Rafa what's going on. He explains that they think I shot two bulls, one with the initial shot and one with the follow up hip shot. I told them I don't think this was possible because I never stopped looking through the scope while reloading and had kept my eye on this bull the whole time. The trackers look for awhile without finding other blood and Victor asks me to count my spent shells. He then counts the holes in the buffalo and determines that all rounds are accounted for. His countenance changes instantly from worried to joyful. Tells me it's a good buffalo, just not the one he had in mind. I know it's not, but I don't mind the lie. He's just being a good PH. I screwed up and shot the wrong bull. We determine that the directions of which bull to shoot was lost in translation. I was asking if it was the bull facing right, and he was saying, yes, it was the bull on the right. Of course in hind sight, I had made mistakes. One being that I didn't have binoculars with me to glass the herd myself. I had carried them on the previous days, but had gotten sick of them getting caught on brush and figured I wouldn't need them since we were hunting such thick cover.
Didn't matter now, this bull was dead. I had conflicting feelings. I obviously wasn't happy about killing an immature animal, but as we sat there and talked about the last four days there was a great feeling of accomplishment. We had waded through countless swamps, crawled through the densest thickets, been drenched in sweat and covered in soot, we had stalked within mere feet of buffalo on several occasions. This was a proper buffalo hunt even if this wasn't a proper buffalo. I was happy.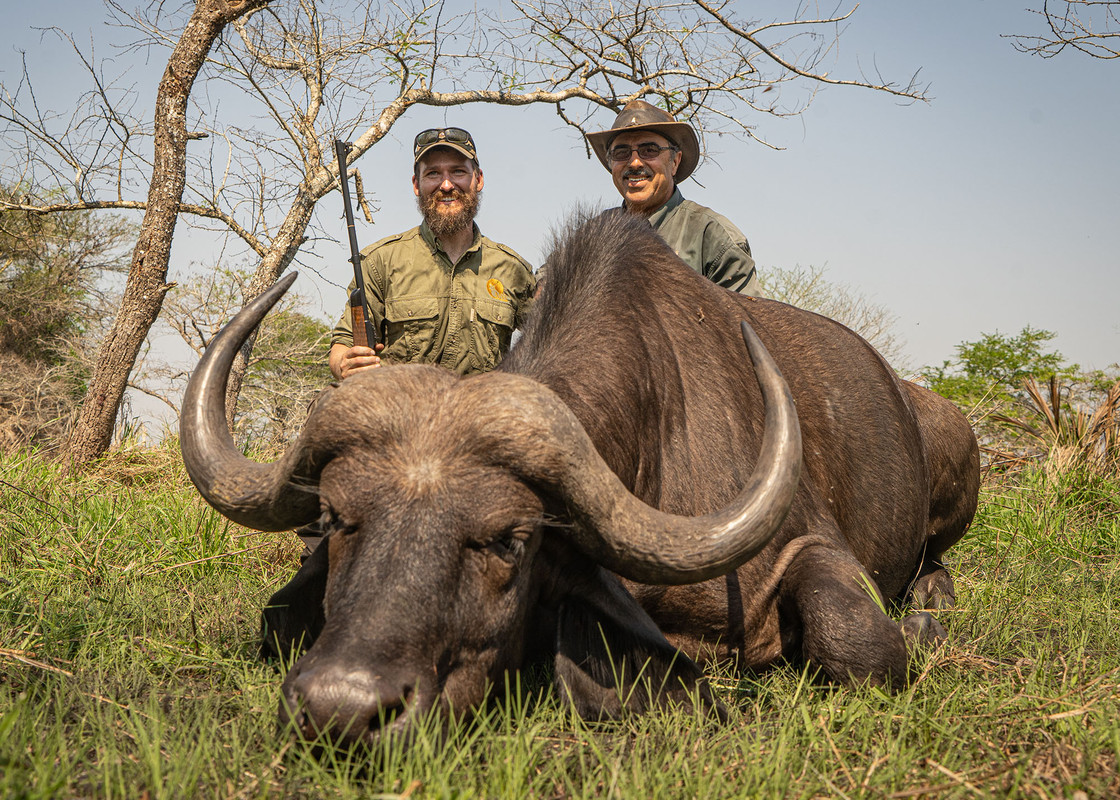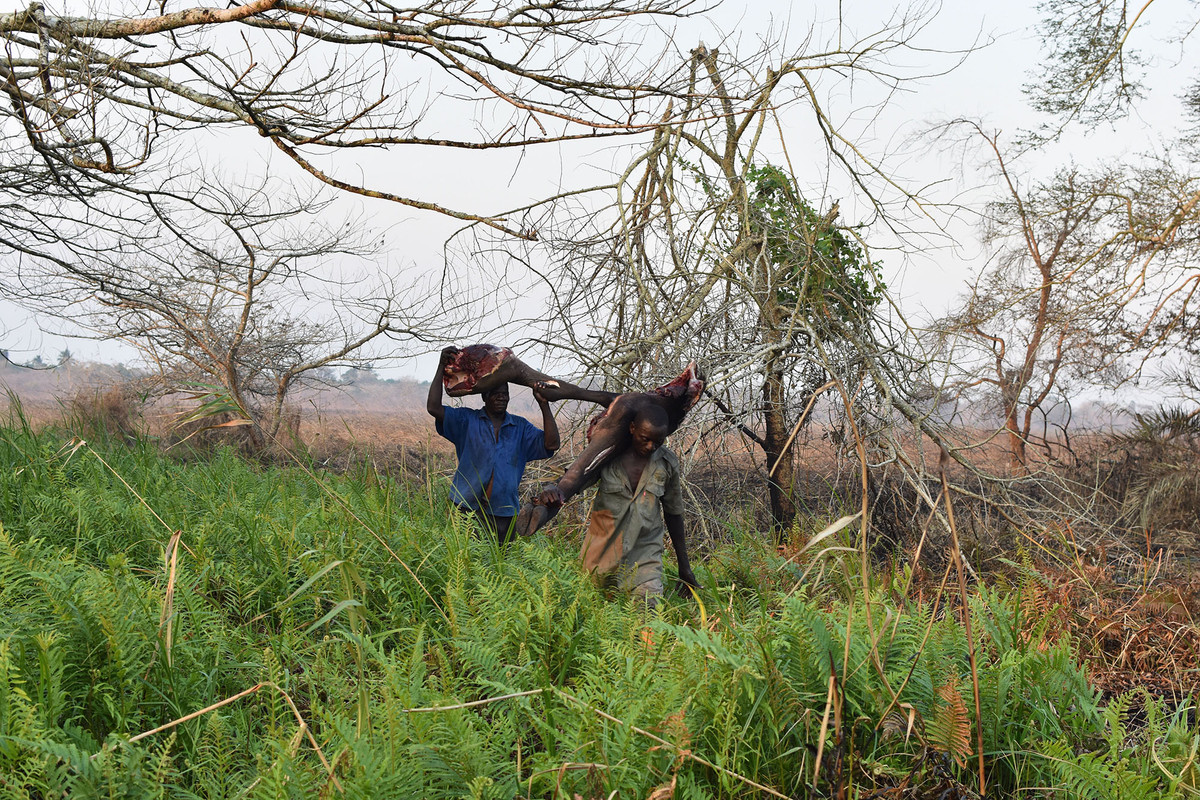 But the adventure wasn't quite over…
When we go to bring the Rover closer to pick up the buffalo, something in the drive train broke so that none of the wheels could turn, so Victor calls in help from camp and a couple guys bring down his 4x4 Mitsubishi to pull us back. Just as the last light fades, we see the headlights coming our way. They go to pull around us and immediately sink into the only section of soft ground in that area. With it buried up to its axles, we spend the next four hours with bottle jacks and makeshift cribbing to try to get something solid underneath. Finally at 11:00pm he calls it quits and we start the 15km walk back to camp. I know it is incredibly frustrating for Victor, but I thoroughly enjoy that walk back. The fireflies dance around us and the stars are out bright. Of course with only one headlamp among the group, I wonder what's slithering under the grass that we can't see, but we all arrive safely back to camp at 2:00am. Amazingly when we walk into camp the generator fired and I can see the chef busy setting the table for dinner and the fire going for the showers. The staff is incredible. Crawling into bed at 2:30am after a hot shower and a filling dinner, I sleep like a rock.
But not Victor. After he ate, he grabs the parts he thought he would need to fix the rig, hops on a motor bike, and heads back down the hill.
Day 5:
Unfortunately the part that was needed for the Rover has to be fetched from town, so hunting was out. I couldn't complain though as Rafa and I are sitting comfortably in camp while Victor and the trackers went without sleep and work all day on the vehicles. Just before dark they return with both rigs and we all have an excellent dinner together. I don't know how Victor stayed awake that whole time, but he was the same wonderful host until we went to bed around 10pm.
Mozambique summary:
I loved this hunt and would 100% recommend it to others. My only regret was not adding extra days to the hunt (an option Martin had given me for reasonable rates). Six hunting days are not enough and that's if nothing goes wrong like lost luggage or vehicle issues. I would suggest booking for at least 10 or 12 days and maybe adding croc and hippo. Victor and his staff are all top notch. It was by far the greatest hunting experience of my life and will be tough to beat in the future.
Travel:
The multi-day trip back to Johannesburg went off without a hitch. We found a doctor in Quelimane that did the PCRs in about an hour for an extra fee. The airport police in Quelimane and Maputo again tried to shake me down for money over the gun. They were all trying to be discreet so when I played dumb and asked for an interpreter they just let me go.
South Africa:
A couple weeks before the trip Martin emailed me and mentioned that he had an opening at his Limpopo lodge right after the Mozambique hunt for a couple days. He generously offered to allow me to stay there for free and only pay for the animals taken. A quick call to Gracy Travel and my flights were changed. This turned out to be an excellent experience. It broke the travel up nicely so that I didn't have to fly for three days in a row and also provided quite the variety in hunting.
Nicholas the PH and his assistant Ben met us at the airport. It was a joy to get to know these guys over the next couple of days. The lodge is located a convenient two hours from the airport and is quite comfortable.
They hunt several different large farms (10k-15k hectares) in the neighborhood. The terrain, weather, animals, and manner of hunting couldn't have been more different from Mozambique. We would cruise around in the back of the buggy until we spotted what we were looking for and then commenced the stalk. This was by no means a walk in the park though. On the first impala we went after, I completely blew the shot at less than 100 yards. No blood, and Nicholas was sure it was a clean miss. I would blame the gun, but the gunmaker wouldn't appreciate that

Next we saw a nice Nyala in a small grassy opening. As we moved closer, he retreated to the thick cover behind. We slowly followed and bumped it further several more times. Finally we caught a break and it paused for too long. The quartering away shot at 30 yards dropped it in its tracks. I was overjoyed. Ever since I've been interested in hunting Africa, Nyala was on top of my bucket list. A magnificent animal, and this one is a beauty.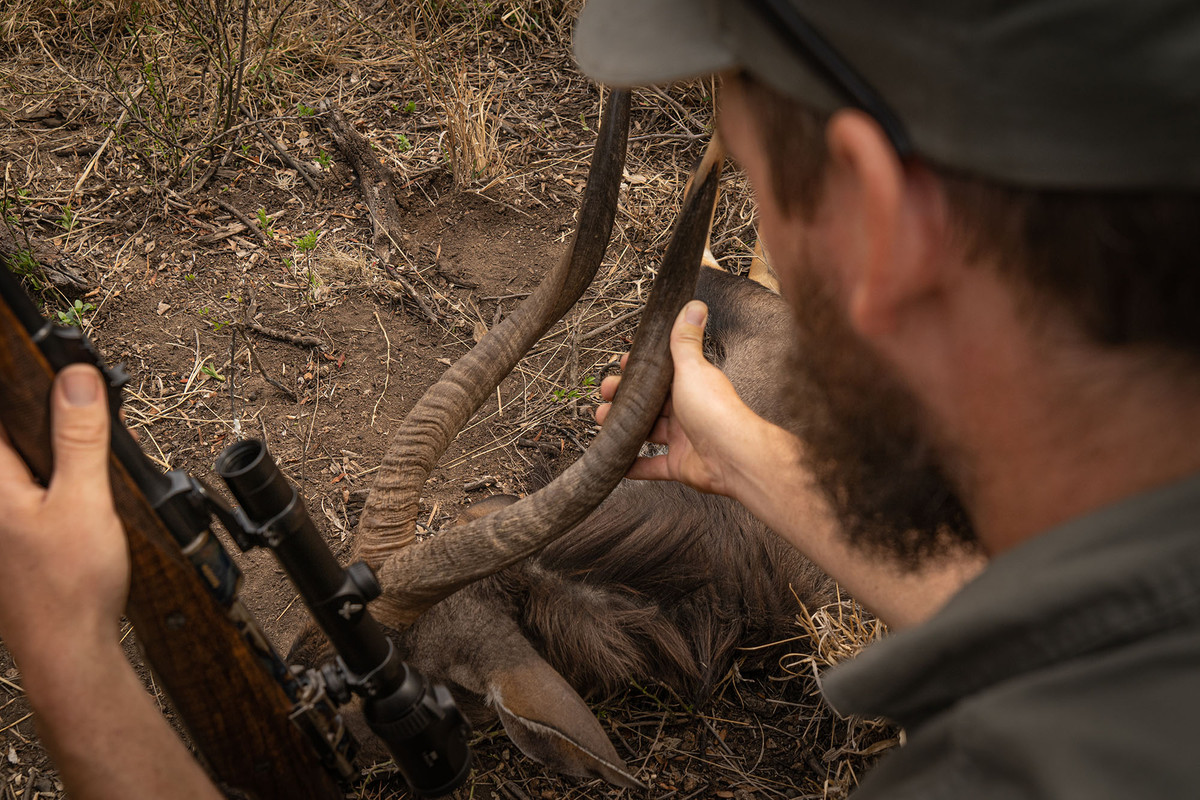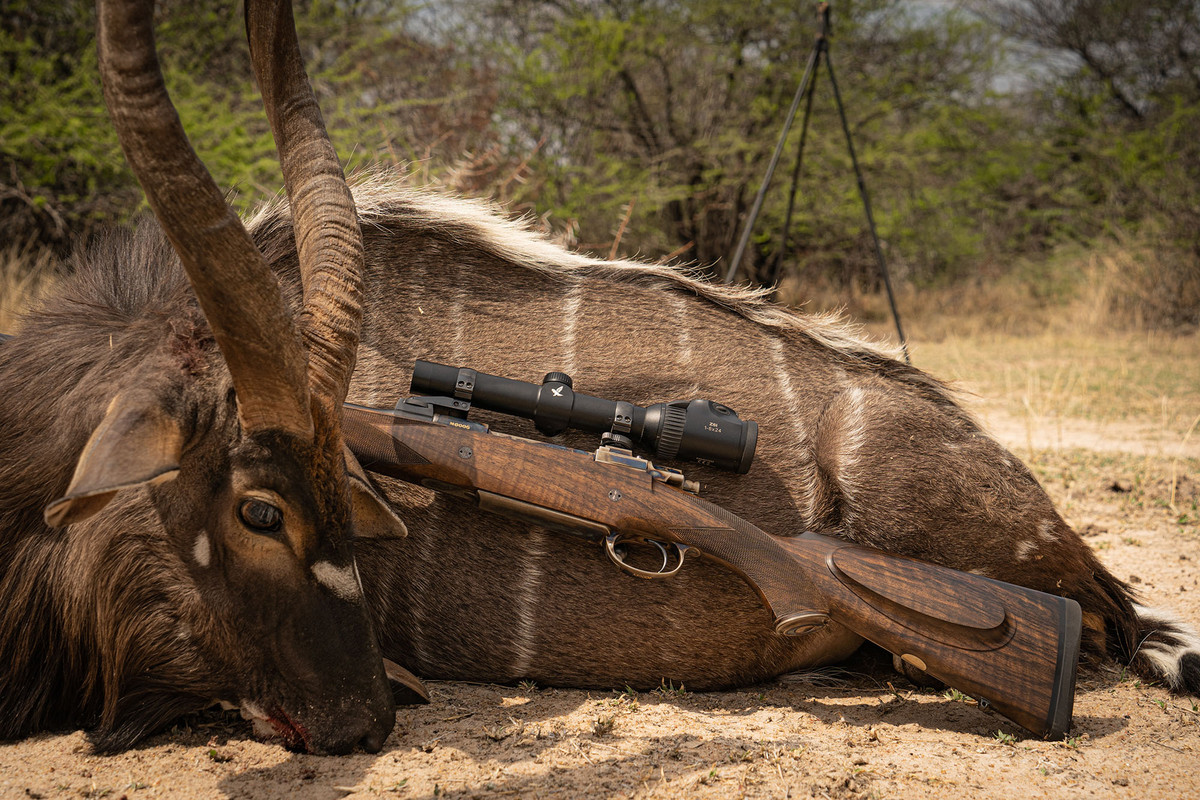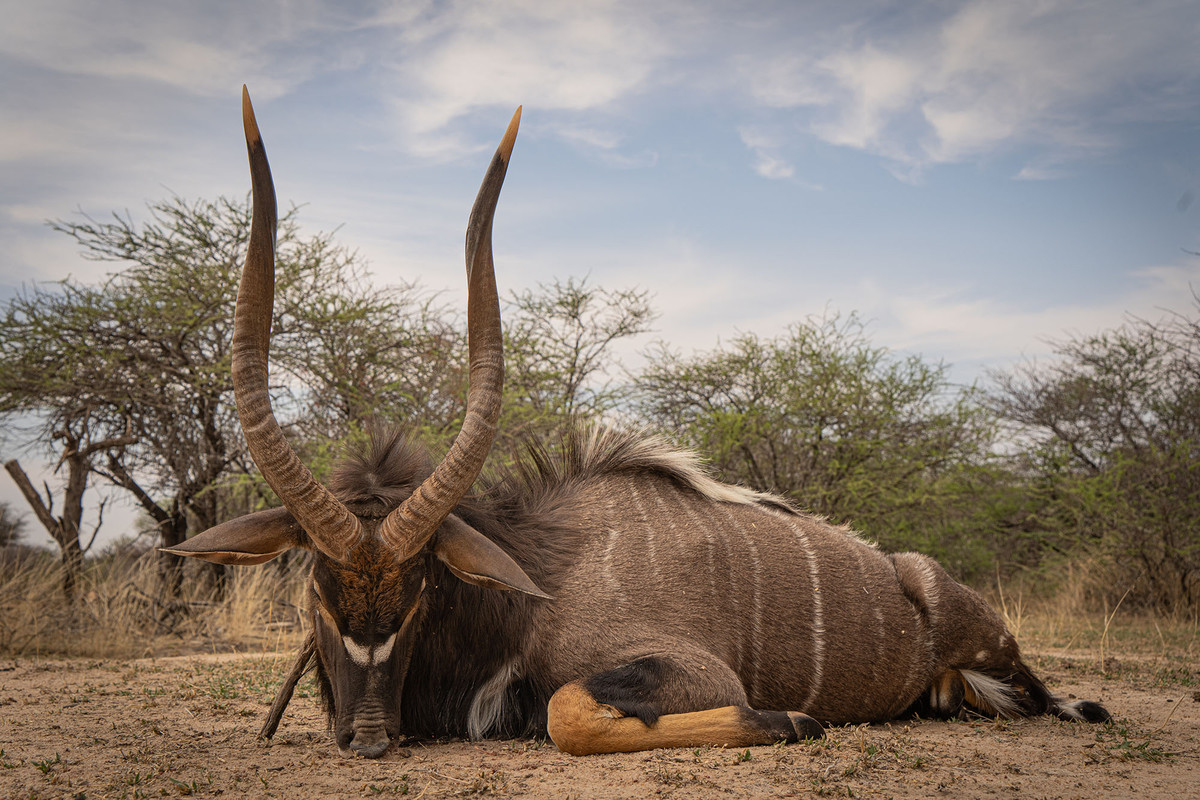 The following day we targeted sable. We had several successful stalks but the bulls weren't quite mature enough. And then we had several failed stalks on some nice ones where we were never given a shot opportunity.
Unfortunately this was the end of the 2 days that I had to hunt and we ran out of day light.
Watching the sun set from the back of the buggy, I was quite glad it ended this way. I was able to taste just enough of safari to be left hungering for much more. Many more animals to pursue and many more experiences to be had.
A big thank you to Martin for this hunt and the entire AR community for all the advice and help as I prepared for this trip.