Outfitter: Charlton McCallum Safaris
Date: 2 - 13 December, 2013
PH: Blake Wilhelmi
Area Hunted: Dande Safari Area, Ward 11, Dande North
Animals Hunted: Elephant Bull, Leopard (left over quota)
Animals Taken: Elephant Bull, Impala x3, Warthog, Baboon x2
Firearms and Loads: VC 500NE Round Body - 570gr North Fork Solids; Chapuis 9.3x74R - 255gr CEB Non-Cons
I'm going to follow the trend of late and let pictures do most of the talking on this one. This hunt was originally scheduled as an early season ele bull hunt with Buzz as PH but due to circumstances, had to be postponed to late season as well as a change to my old buddy Blake as PH. Although not as extensive of a hunt as last year's adventure, this was without a doubt, the toughest and most exciting hunt I've been on.
Blessed to be on Safari again:
The rains were late this year and therefore the temps soared and everything was bone dry. This made the conditions tough in terms of finding big bulls, as well as tracking the ones we found. Day 3 was particularly brutal as we were hot on the trail of a group of 5 bulls who were bent on a route march, never once taking a break to feed or rest. We tracked them 8.5 hours straight, at a very fast pace, 15 miles + in 120F+ heat without ever catching up. These 5 dogged us throughout the hunt, getting back on their track on day 4 with similar results. We again found them on day 10 after locating their tracks at a water hole in the Angwa River bed. On this particular day however, we caught them after an hour and a half. They were holed up in some of the nastiest jesse bush you can imagine, with a large herd of cows and new born calves. Very dangerous conditions. In the group was a single tusker with the largest ivory we saw on the entire hunt. For the next 7 hours, we were never more than 200 yards from them and at times, as close as 40 yards. Weaving in and out of the thick stuff, and in some extremely steep ravines, we played the wind and attempted to get a shot. The cows continued to keep them revved up and on alert throughout the day, resulting in a very close encounter right at dark, but with the wrong bull. The result was 7 hours of extreme adrenaline use leaving us completely spent at the end of light.
Tracks in the Angwa:
Eles in the Jesse: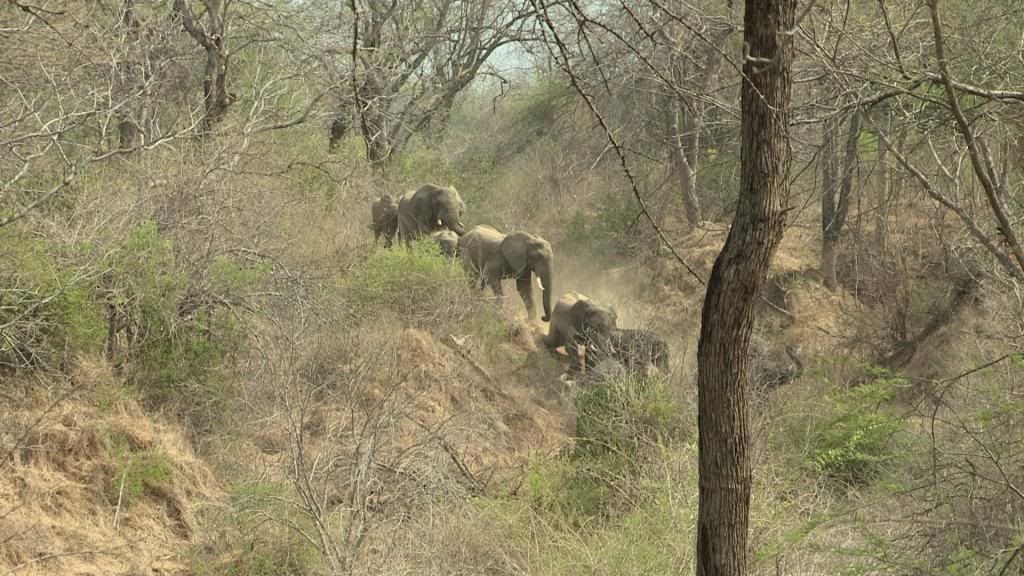 Start of Day 10, ready to go!:
End of Day 10, completely SPENT!:
What are you guys doing here?:
Hey, get out of here!:
A happy team makes for a successful hunt: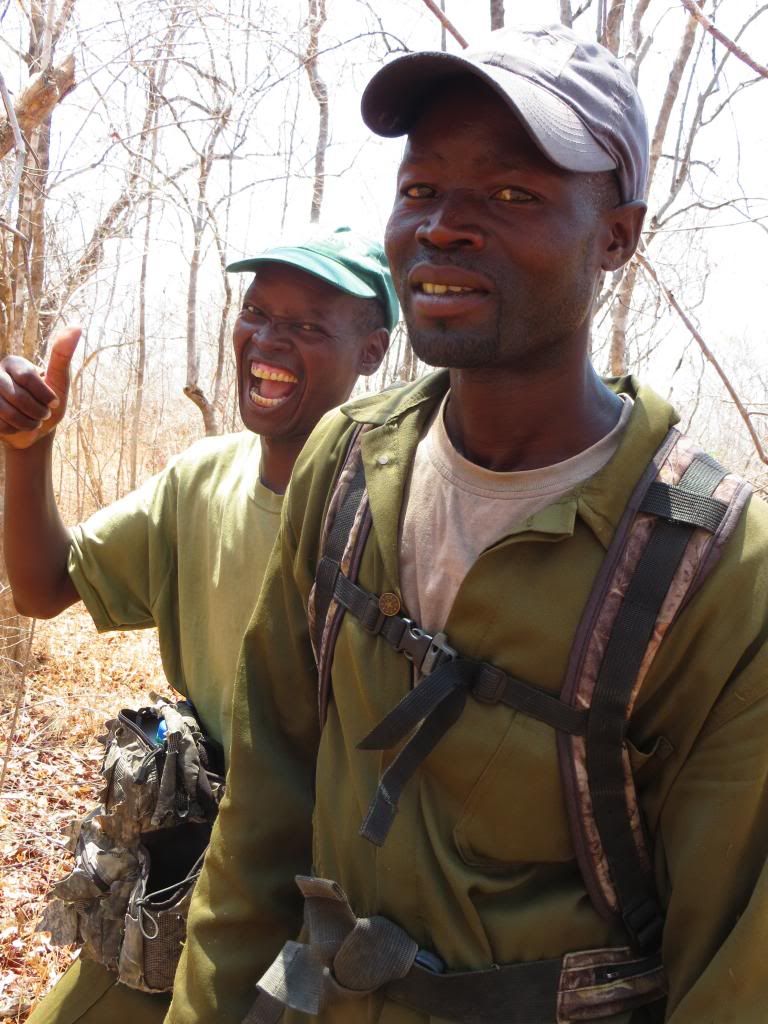 CMS is running the DAPU (Dande Anti Poaching Unit) with great success. While in camp, they made several arrests and I do believe word is getting out that poaching in Dande will result in getting caught. More work is needed and it's an never ending endeavor to say the least.
Poached lion found in snare. All of the teeth were removed. What a waste.: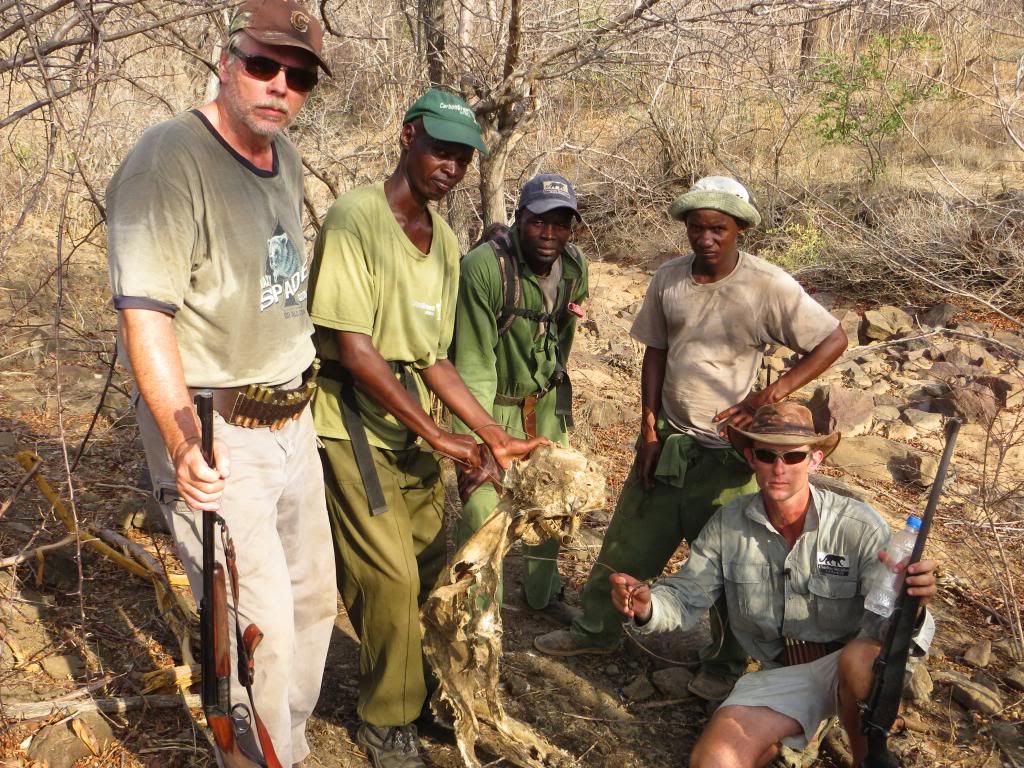 Sleeping Giant!: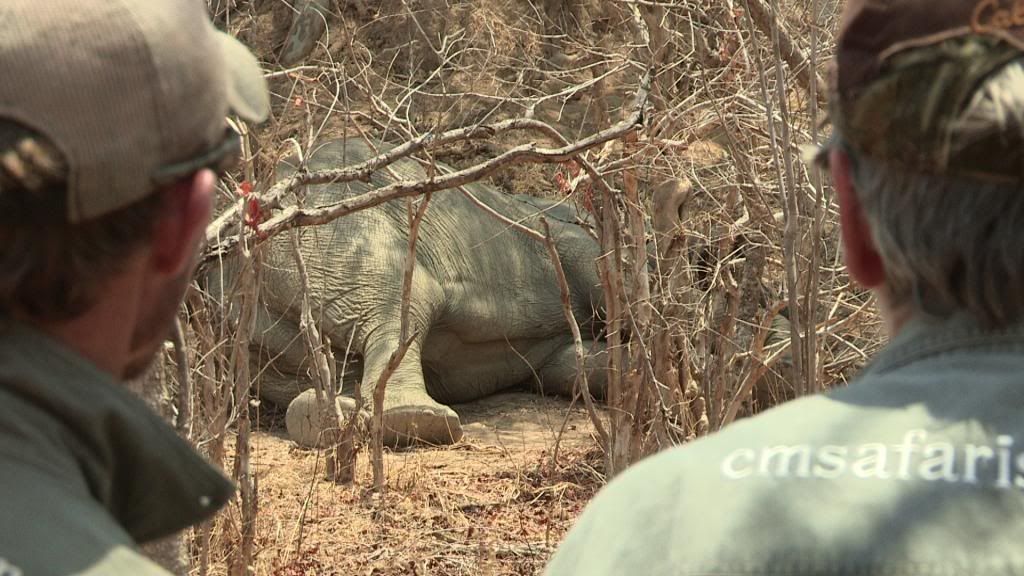 The Giant Awakened: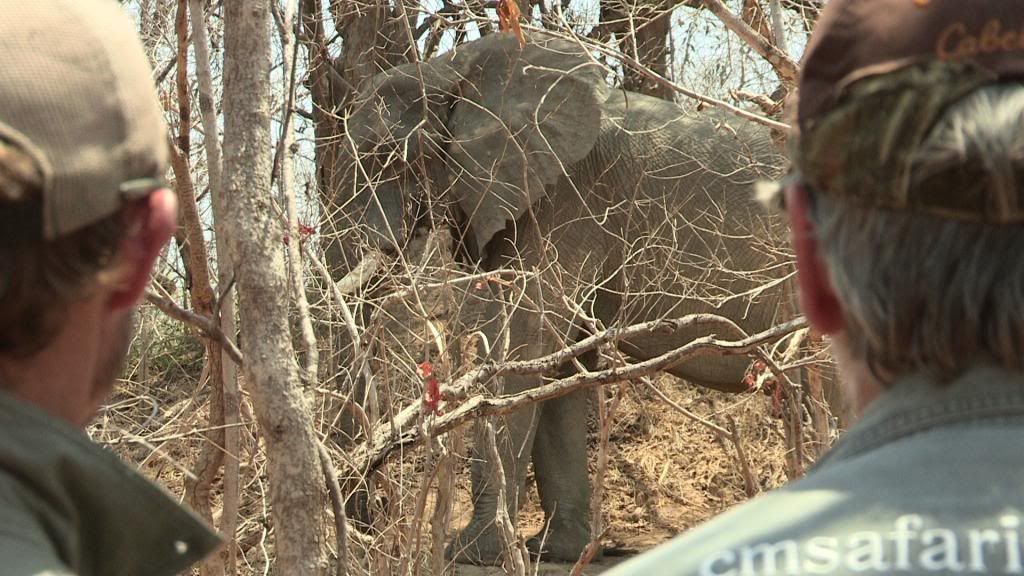 Day 11 brought a change in luck as we moved onto the Zambezi islands. Here, amongst the thickest and most up close and personal conditions I've ever experienced, we found ... our 5 bulls again! Hot, sticky, hands and knees conditions were the order of the day! Just the way I like it. Once I have a chance to catch my breath a bit, I'll post the video, but suffice it to say, the pucker factor was high this day. The side brain shot came at 6 yards. What happened next is a bit of a blur!
I took two steps left and fired a back up shot on the downed bull and quickly reloaded. Blake yelled: "RUN". One of the remaining bulls, a huge double stumpy, took offense to loosing his buddy and properly began chasing us through the reeds. At one point, I quickly looked over my shoulder, while running at what I thought was full speed, only to see the bull at 9 yards and closing with his ears fully extended. While I had a loaded rifle, I was completely out of position to fire the rifle accurately. I quickly saw that Blake had established a position about 6 yards ahead of me and was preparing to shoot the bull off of my back if necessary. This inspired a very short but impressive Olympic type of dash on my part to get out of the line of fire. Blake and I re-entered the thick reeds at full speed and were able to cause our pursuer to loose sight momentarily. Thankfully, this did the trick and we didn't have a defensive shooting.
Recovery was by boat on the Zambezi. A very interesting experience considering 6 or 7 locals, seeking meat, swam a 50 yard channel where we had observed 4 very large crocs earlier. We also had several Zambians in their dugouts come across and attempt to land, also looking for meat. The game scout turned them back.
Conditions going into the island:
6 yard shot:
After the chase: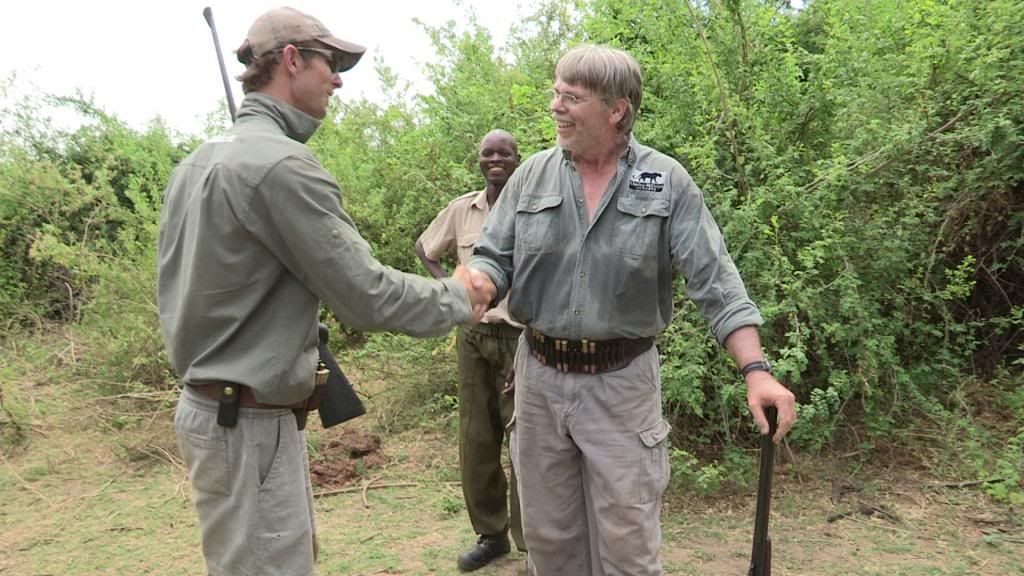 Pristine bullet found on the ground next to my bull. Maybe from the back up shot?: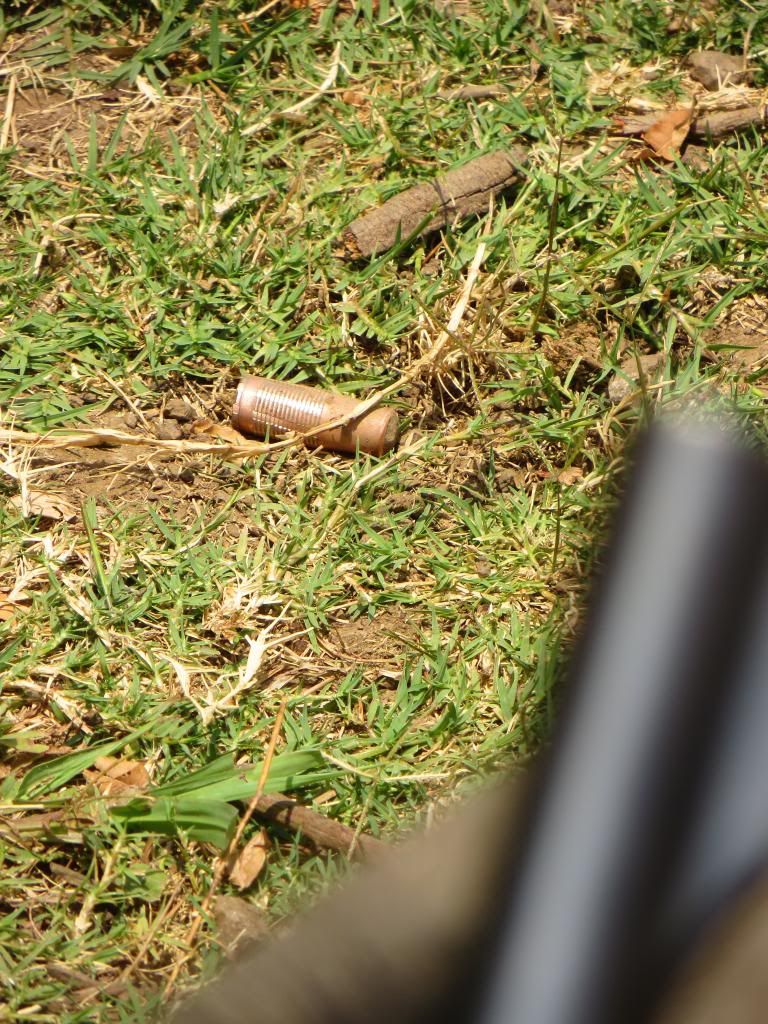 Blake and I with our bull:
Looking for Nyama!: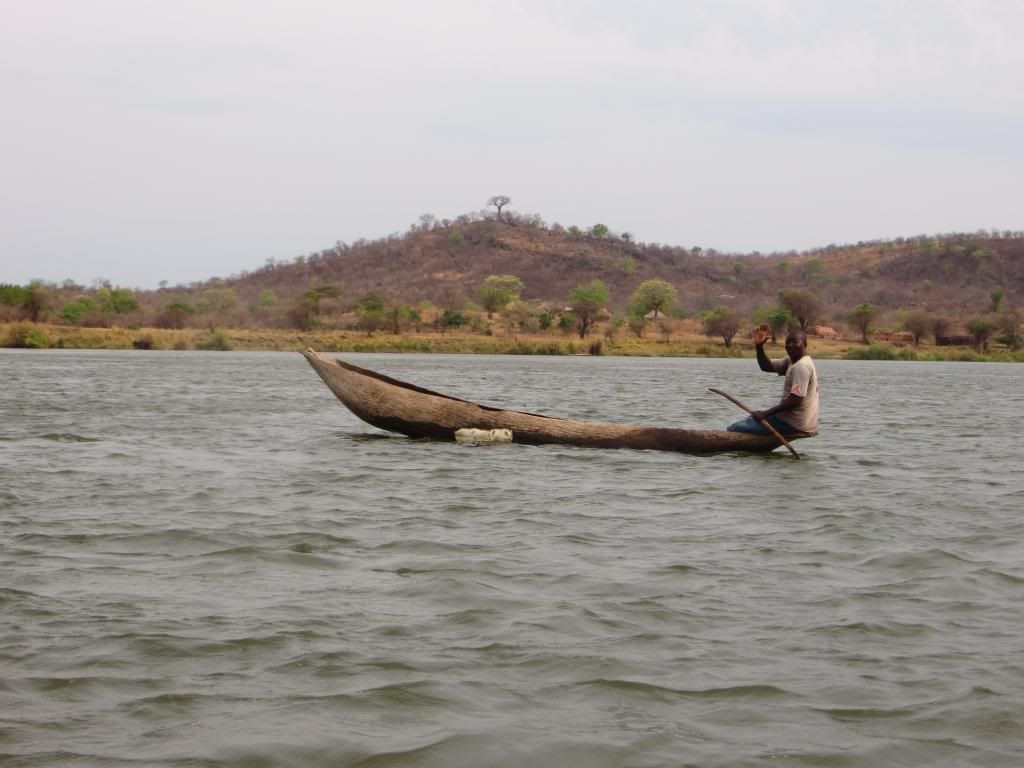 The heat really did a number on my wife Donna but day 12 finally brought a welcome change in the temps making for a nice, relaxing day in camp!
Cooler temps ahead!:
One of the world famous CMS / Pedsa Bush Babies enjoying his evening popcorn!: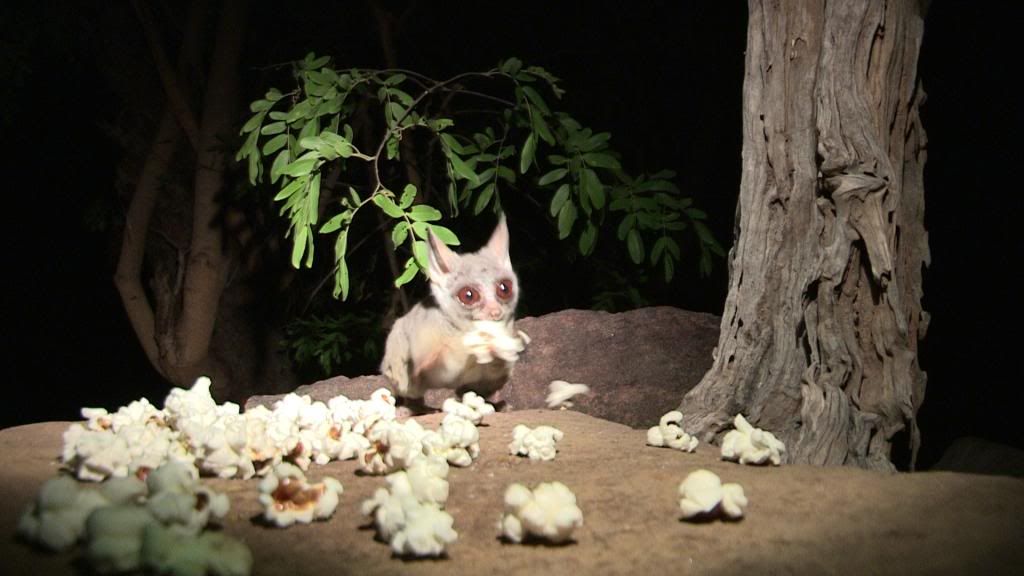 Another great safari in the rear view mirror!