All,
I have been a part of AR since 2004. I have learned a lot. I used a great deal of that knowledge on this very tough hunt.
Thanks for the encouragement to go on trips like this.
CAR Trip ReportDates
– March 6 – 21, 2012
Location
– Central African Republic
Safari Company
– Central African Wildlife Adventures –
www.cawasafari.com
Owners – Erik and Emelie Mararv
Booking Agent
– none, booked direct on special offer
Travel Agent
– Thomas Cook Agency in Cairo – they handled the visa also
PH's
– Adam Parkisson and Erik Nyman
Game Sought
– Lord Derby's Eland, Giant Forest Hog, Warthog, Red River Hog, Western Bush Duiker, Red Flanked Duiker, Yellow-backed Duiker, Savannah Buffalo, Lelwel Hartebeast, Western Roan, Harnessed Bushbuck, Baboon
Game Taken
– Lord Derby's Eland (2x), Giant Forest Hog (2x), Warthog, Western Bush Duiker, Yellow-backed Duiker, Red Flanked Duiker (2x), Harnessed Bushbuck, Baboons, Lelwel Hartebeast (lost)
Central African Wildlife Adventures – an Overview
CAWA is owned by Erik and Emelie Mararv, a young Swedish couple that grew up in CAR. Charlotte Mararv is Erik's sister living in Bangui and handling the logistics, meet and greet, and a hundred other details to support the operation. The area is very large and located a 2 1/2 hour charter plane ride from Bangui and is 200km from the nearest village. It was and is difficult for me to grasp the complexity of organizing and staffing a safari operation in this country and in the area. It is very remote and there is no road system giving access to this area. It is a FIVE day drive from Bangui to supply this operation.
The Mararv's and staff are truly some of the toughest people I have come across in my life, career and hunting adventures. They are doing something I would have not dared to do, even at their ages.
This is a relatively un-hunted, unspoiled part of Africa. The area I hunted was rolling savannah with trees interspersed by several streams surrounded by dense canopy forest. You can check their website for the exact location and size of the area.
They hunt from six camps, some as much as five hours from the airstrip. Our camp was the Ngoy Camp about one hour from the airstrip.
I learned about CAWA via a hunt reports on AR and a recent article in Sports Afield. Here are the links to those reports –
http://forums.accuratereloadin...881011031#4881011031
http://forums.accuratereloadin...043/m/8031029451/p/1
Sports Afield Magazine – March – April 2012 issue – "Central African Adventure"
Bill C's hunt report for his Lord Derby's Eland hunt in Cameroon was of use as well –
http://forums.accuratereloadin.../6321043/m/807101618
I read nothing negative about CAWA. I had communicated with Erik over the past three years about hunting but the dates never worked. I received an email of a date cancelation that fit my schedule and booked the hunt. I had tried to book a hunt via an agent a couple of years ago but he raised Erik's prices 20% compared to booking direct, so I booked direct.
Two things Erik offers that I have not seen elsewhere are- 1) a guaranteed shot opportunity at your desired animal, and 2) an all-inclusive price except trophy fees. I like an outfit with "skin in the game" with the guaranteed shot opportunity as that keeps the PH's motivated to put you on an animal. The longer you stay (21 or 28 day trip) the better the shot opportunity guarantee. On the costs, it is expensive but you get no surprises when you leave.
They started hunting the area in 2006 after Erik spent a year surveying the various areas in CAR for a hunting concession. Erik's parents live in Bangui and help with some aspects of the operations. In summary, this is a family operation where the family is very hands on and involved. To the extent possible, everything is top notch.
Camp Pics
Food was very good. Kitchen pics –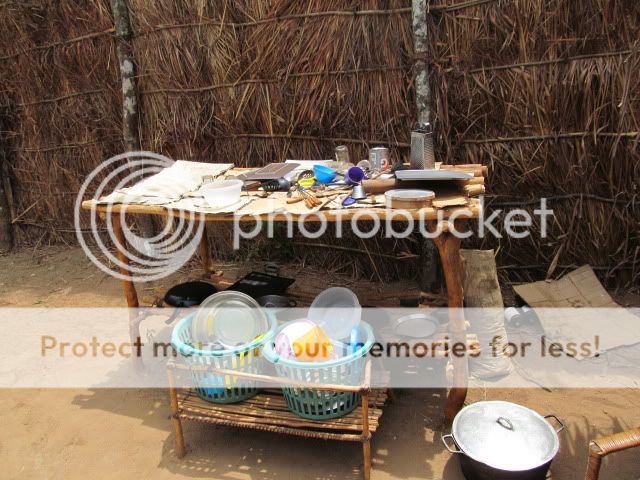 The Country
I have travelled the world in my job and worked in many no-so-nice places (Papua New Guinea, Pakistan, Nigeria, and Russia). I currently live and work in Egypt. Each has corruption in one form or another. However, the Central African Republic sets a new standard for what I have experienced. The Nigerians could learn a thing or two from the CAR folks.
When I booked my trip via our travel agent, I was immediately notified by our corporate security that CAR was not the normal country in Africa when dealing with corruption. In fact, it is ranked in the top 5 in world in terms of corruption, bribes, etc. I thought, "Yea, yea, yea, I have heard this before." For once, they were right as were the warnings on the US State Department website. With this said, we were not hindered significantly on our trip, just hassled by the relentless asking for money by the local "officials" and fake officials.
CAWA and especially Charlotte Mararv do a superb job of navigating this maze of corrupt officials and bribes. Charlotte has lived in Bangui most of her life and was able to get us in and out of the country fairly painlessly but it was still a hassle.
On the trip in, we had no issues with passport control and the bags were not inspected. On the trip out, we went through 7 separate checks and inspections. We made it through the first four without issue because Charlotte was standing there and knew the inspectors. When she was not allowed to entry the passenger area, she warned us not to pay anyone and to just say "no". We were then "inspected" by three different idiots each dumping our bags and asking for money, my binoculars, playing cards, deodorant (they needed it) and whatever else caught their eye. When I said no each time, they got increasingly agitated and finally settled on a hand mirror in my wife's bag. Insisting it was a weapon, we were told to check the bag or leave it with them. I argued for ten minutes but they would not relent. To check the bag meant they would inspect the bags without us being present and likely steal whatever they wanted so I opted to give them the $5 mirror and move on. It was likely sold on the black market later that day. If you go there, be prepared for this.
It made me wonder what kind of mentality that governs or drives those people and that country. My opinion is that they are basically expecting something for nothing. They seem to expect the white guy to hand out whatever they ask for. I saw very little in the way of work going on anywhere in Bangui. While in the airport (it is not much of an airport and very small) we saw an Air France 747 cargo plane arrive and a French military C-130 type transport arrive and off load a bunch of "stuff". I suspect it was food or something else that will appear on the black market within a couple of days. The UN and NGO's are there but I doubt any of the money that is spent in the country goes anywhere other than someone's Swiss bank account. The French ran this place until they granted independence years ago, but it is a mess. Nothing has been built since the French handed over control. It is run down and a very shabby place. I was thoroughly amazed that the Mararv's have been able to build a business here on the scale they have done it.
In summary, do not go here on vacation. Go to hunt, experience the "wildness" and get out.
Hunt Method
Very simple. Drive the roads and look for tracks. Check salt licks, look for tracks or animals. When you find a fresh track you will follow it. The animals do not move as much as I expected due to the abundance of water and food, so finding a good track to follow sometimes involved several hours of driving. You will see the occasional animal from the road but rarely. I shot both duikers and the baboons after spotting them from the truck. We spotted hartebeest from the truck but followed a short distance before I shot and lost the only one we saw. We attempted to follow a roan when it flashed across the road in front of us, but the trackers lost the track.
The animals most likely to be tracked are the Lord Derby's Eland and buffalo as they move the most. We followed four or five Lord Derby's Eland tracks before connecting. We followed buffalo three or four times and never connected. The trackers lost the tracks each time or bumped the animals into full flight late in the day. I was unaccustomed to giving up on a track, but the PH said that chasing them further would not be productive. If we did not have a track my mid-afternoon, we started looking for tracks that would give us a clue where to start looking the next day.
We did see a lot of activity at the various salt/mineral licks. Each was unique and different that I expected. At the end of the hunt we saw several groups of Giant Forest Hogs at the licks. I took one at a lick that was very nice. The bad news is that the licks are spread out and you spend a lot of time checking them.
My experience with CAWA was that the trackers were average compared to what I have experienced in Zimbabwe and Cameroon. I am no expert on evaluating trackers but we lost several tracks and one herd of buffalo. I expected better tracking but have no point of reference in CAR. The PH did a great deal of the tracking. The trackers were former poachers. In my experience, a former poacher is not much of a tracker as they are poachers shooting targets of opportunity, rather than tracking and hunting. My son felt the same way about his trackers. He had one experienced tracker that did a good job and two that were average. My group had three average trackers.
One of the salt licks
The Animals
Rather than do a shot by shot or day by day diary, let me just discuss the various animals we encountered and the results.
Lord Derby's Eland
This is the prize on any trip to CAR. Magnificent animals in stature and being. You hunt them by tracking and tracking and tracking. They do not stop to graze as they eat while walking. Occasionally, they will bed down for a rest, but only briefly. The bulls travel alone or in bachelor groups when not in the breeding season. In the breeding season, they are in the herds or fighting to get in a herd.
We drove roads to find tracks. Tracks are tough to find as the area is very large and they are constantly moving. You need a very fresh track in order to have time to follow them.
On his second full hunting day, my son and his team got on an hours old solitary track at 6am. They tracked until 9am, bumped the eland and did not get a shot. They then waited, tracked, rested an hour in the heat, then resumed the tracking until the bull stopped to look at his back trail at 3:30pm. A fatal mistake as my son made a one shot kill in the chest. Eland go down easily, according to the PH's. Nearly any hit in a vital area will put one on the ground. The goal is to get the eland to stop walking.
This eland walked 10 to 12km before being taken, then required a three hour march back to the truck. The trackers stayed with the eland after the pics were taken and waited on a crew to recover the eland during the night. Each of the PH's carry a GPS so finding the truck or the eland was not hard, just a long hot hike.
They had followed a couple of older tracks on the first day to no avail and were fortunate to find a solitary bull on the next day to follow.
Here are pics.
For me, our group tracked eland nearly each day until getting a real hot track on Day 9. My son had left camp by then and we had the luxury of two teams looking for tracks. My son's crew found the track and called us via sat-phone from ten miles away. We hurried over and started the pursuit. It was a group of four eland which we had previously followed. In the days leading up to Day 9 , we tracked a single bull, a group of 8 to 10 animals, this same group of 4 and a couple other groups. We actually saw one of the previous groups on Day 3 of my hunt, but were busted by a barking bushbuck as we made the final approach. It was very frustrating to get busted just as we spotted the group and were prepping for a shot. The bushbuck barked just as we were stalking the final few meters to get a better look at the bull. I glimpsed the bull for my first sighting of a Lord Derby's Eland. I was surprised at the elegance and size of them. What magnificent animals.
Anyway, we were busted by the bushbuck. We walked ahead a little ways to see the direction the eland had taken when out stepped the barking bushbuck. Turns out he was a medium sized Harnessed Bushbuck and the PH said to shoot him. I thought that odd being this close to the LDE but I shot anyway. After the shot, I asked why he said to shoot. Adam's comment was that LDE were easier to find than a good Harnessed Bushbuck and we had several more days to hunt eland. Little did we know that we would be seven more days before getting close again.
Back to Day 9 – we picked up the track at 7am and followed as fast as we could move until the eland walked into a very rocky area making tracking hard. We slowed and could tell from the tracks we were losing ground on them. Adam pushed hard and we gained a little ground finding that they were trying to bed down but not able to find a good spot. At about 11:30am the tracks separated. Most of the time, eland walk downwind to smell you if you are following them. Each group we tracked did this most of the time. On this day, the wind kept shifting and they had a hard time staying downwind from us. When the tracks separated, one bull walked downwind and the others walked across the wind. We ended up walking in between the single bull and the group of three. When we figured out what they had done, we knew it was a matter of seconds before we were busted again. Luckily, the group of three stopped and started looking back for the other bull. That is when we caught sight of them. Adam said, "Shoot the closest bull now." I fired into the chest at about seventy five yards and heard the shot connect. All them took off at the shot. The one I hit stopped quickly and I put another round under his tail that broke a rear leg. He hobbled another twenty yards or so when he stopped. I finished him with a shot in the neck. All of this happened in less than thirty seconds following nine days of tracking, sweating and getting eaten by tsetse flies.
Needless to say, we were all elated. My wife of thirty years was with me on this stalk and she was as tired and bitten as I was. It was great to see him on the ground but also very sad. They are truly stunning animals, much like bongo or elephant. I doubt I will hunt them again as they are special.
One of the trackers carried on a long conversation in Sango with the other guys. I asked Adam what the monologue was about and he said the tracker was telling a make believe story of the conversation between the surviving eland. It went like this –
Eland 1, "Ed? Where is Ed? He was right beside me?"
Eland 2, "Yea, he was. I saw him right beside you. What happened?"
Eland 3, "I told you morons to walk downwind. You never listen. When I started moving to get that breeze on my back, you said, 'It's too hot, it's too much trouble to keep changing directions all the time. My feet are sore, yada, yada, yada.' You meatheads, trouble always comes from behind us. You did not listen and Ed did not listen. Poor old Ed is no more. Let that be a lesson to you. Let's get out of here and go downwind."
A great hunt and stalk, not likely to be repeated.
This pic is where the eland stopped to rub his horns on a termite hill and break off some branches of a tree to eat the leaves. This was the only thing they seemed to stop to do.
Giant Forest Hog
I had no idea what these were. I had heard of Giant Forest Hog but was unsure if this was a Russian boar or some other sort of African pig. I had no clue that they were hard to hunt or were a real trophy. The PH's and Erik Mararv each said that they are challenging and hard to get. Usually half of the hunters go home without one. Hearing that, I had no real compulsion to hunt them hard. I ended up killing two.
The first one came by accident. We were scouting for eland or buffalo tracks and chanced upon three that were near the road. One was a big boar, the other being a sow and youngster. Adam said to shoot the big one and do it quick as they run when spooked. The good thing was that Giant Forest Hogs have poor eyesight, not so good hearing but exceptional noses (as you would expect from a pig's snout). They did not hear us or see us and we were downwind so the shot was easy and quick. What I did not expect was the size, the prickly hair and the cute ugliness of these beasts. They are big – pushing 200 kilos. They are hairy – but with bristle type hair widely spaced (see the pics) with squished faces. Their tusks are short by warthog standards but imposing nonetheless. I came away thinking that I underestimated the Giant Forest Hog as a trophy. When we got to camp that evening, the staff held a dance or "kaboobi" to celebrate the taking of one. That was my first dance and just watched not knowing I was to dance as well. I got scolded by the trackers for not celebrating enough. I remedied this on the eland a few days later.
The second Giant Forest Hog came to us while checking a salt lick in a marshy/muddy area. We had checked the area several times looking for eland or buffalo. When we approached the area in the heat of the day, not expecting to see anything, we found two separate groups of Giant Forest Hogs at the site about two hundred meters from each other. We chose the biggest boar, took a ton of picks as we stalked (we had the wind perfect for the stalk) and got to within one hundred yards for a very open and easy shot.
When the boar dropped at the shot, the others just stood around trying to figure out why their buddy was sleeping when he should be eating. We took pics of the shot and the milling around after the shot. The others ran away when we exposed ourselves from our hiding place. Again, it was a nice pig. It was older and skinnier than the first. Tusks were thick but worn down. An elegantly ugly trophy.
Before I broke up the dinner party
Seconds before the shot –
The Ham Slam is almost assured.