The Accurate Reloading Forums
Fun with knives!
23 March 2019, 03:20
Geedubya
Fun with knives!
I finally got away to the "Petting Zoo" late Saturday eve last. I'd been trying to get away since Thursday, but alas, it did not happen. Saturday was opening day of Turkey season in Texas and I had planned to be there. Oh well better late than never.
Got there late, unpacked and did not go out.
However Sunday morning began what I am calling the "St. Paddy's Day Massacre", which continued on until Tuesday. Nailed 4 hoglets on Sunday,
Three before 8 AM.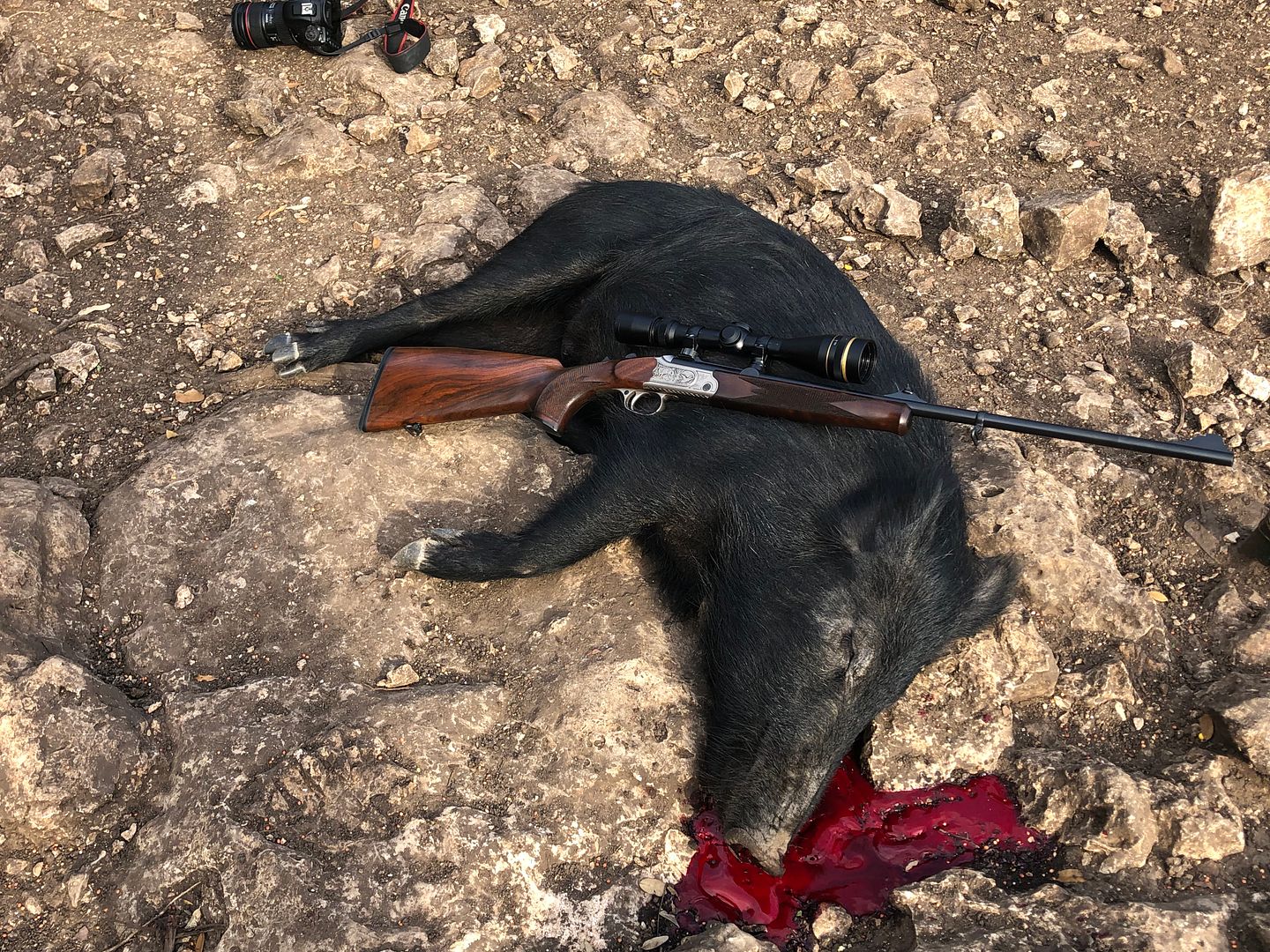 Merkel K1, 222Remington, 50gr. Nosler Ballistic Tips
Recovered two.
I loaded them up and took them back to camp.
Had not played with this Honeycutt set in a while so I figured, what the hey.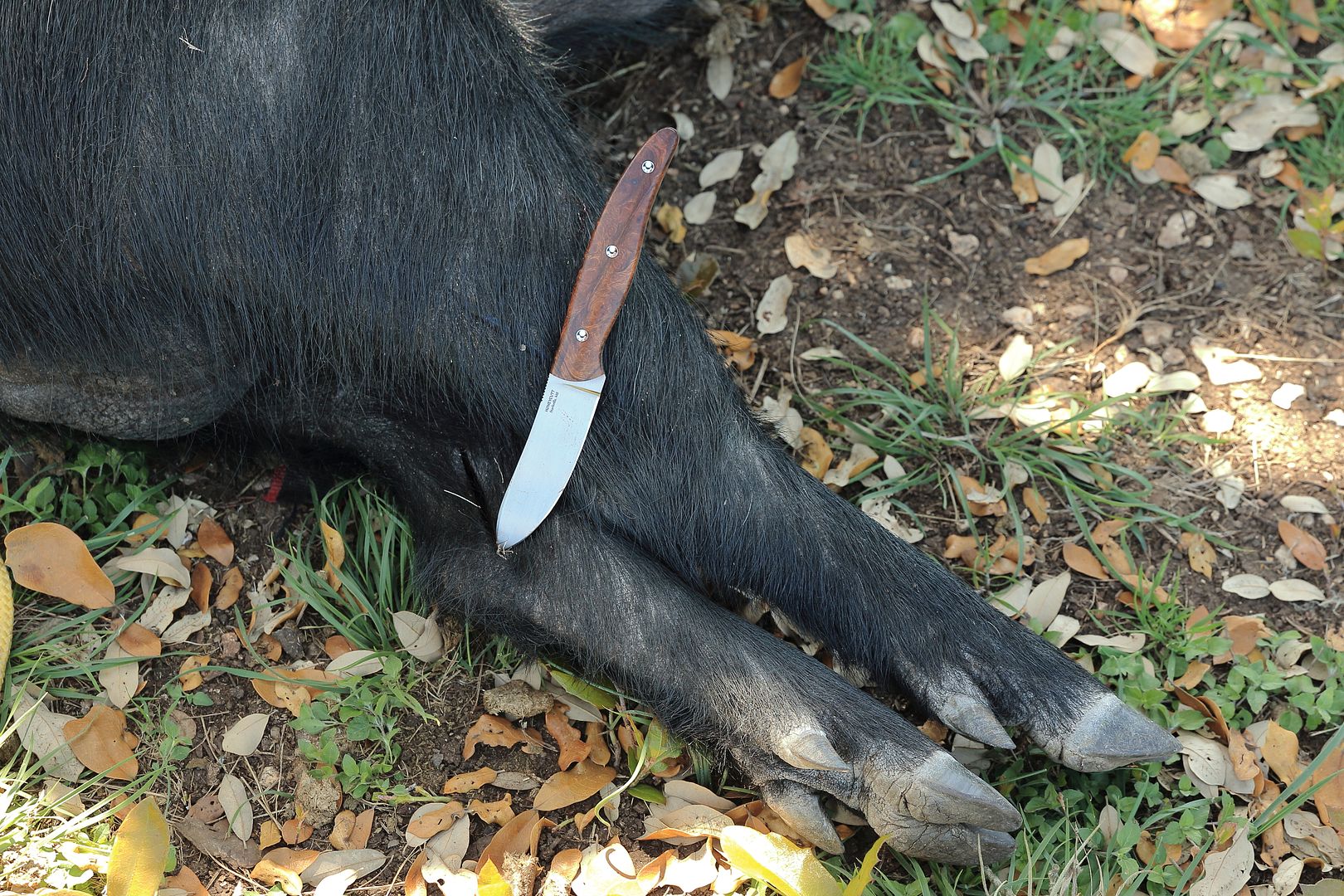 This weekend, I preferred the smaller of the two blades for taking the back-straps.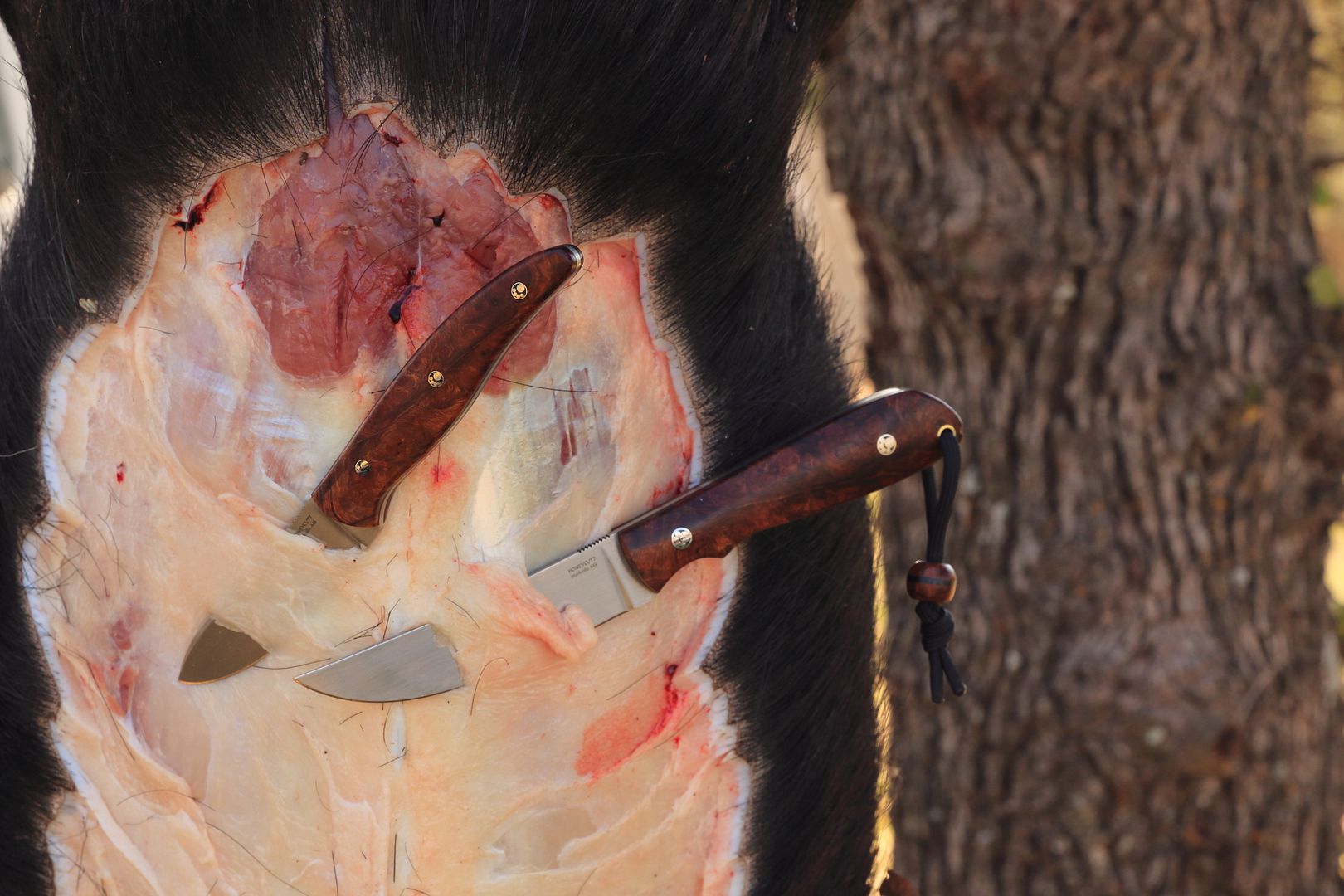 Desert Ironwood, S30v steel
On the second I figured I'd try a new knife that I just got in.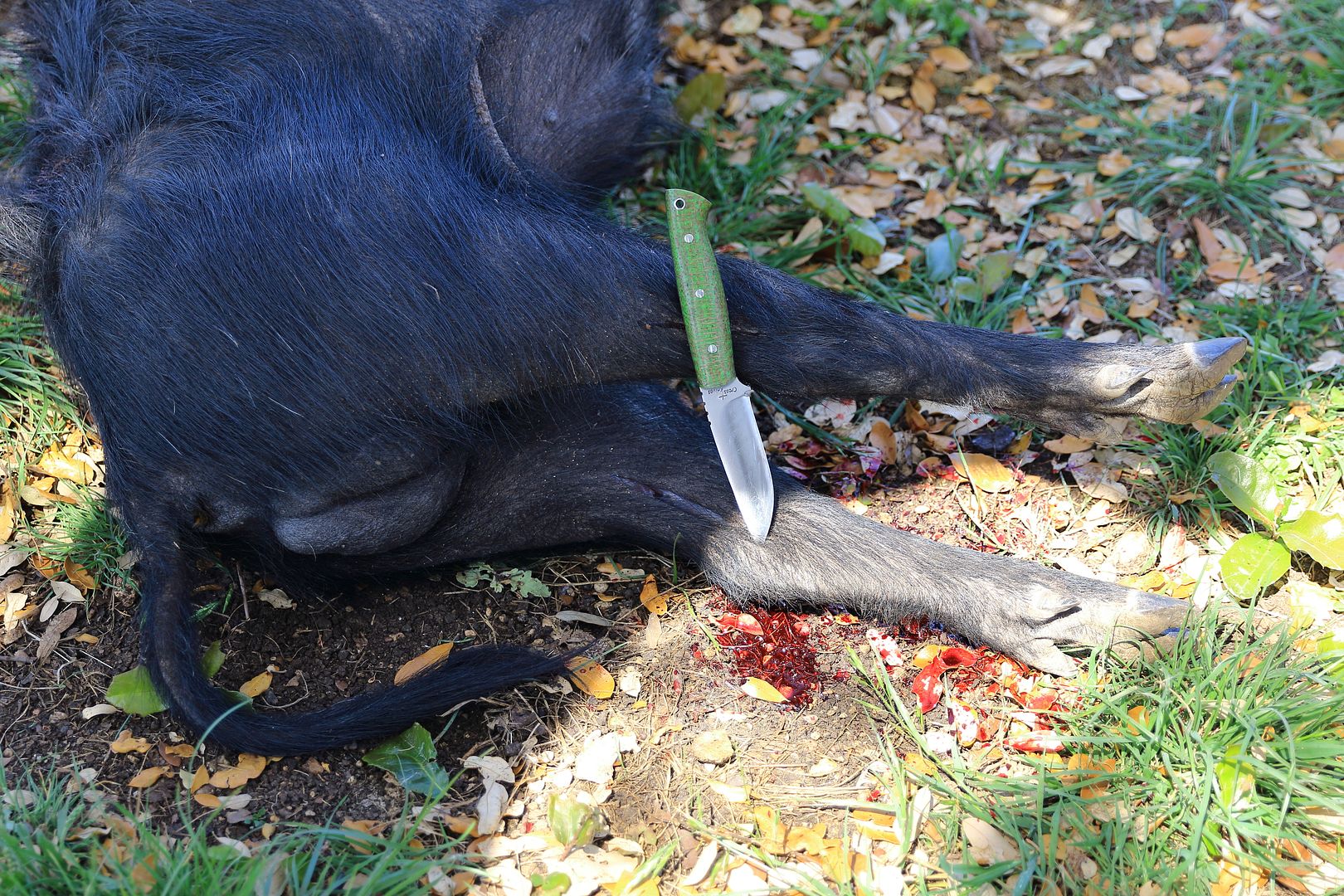 Cross Knives EDC, A2 steel, Neon Lime Burlap Scales. What caught my attention is that it has a convex grind.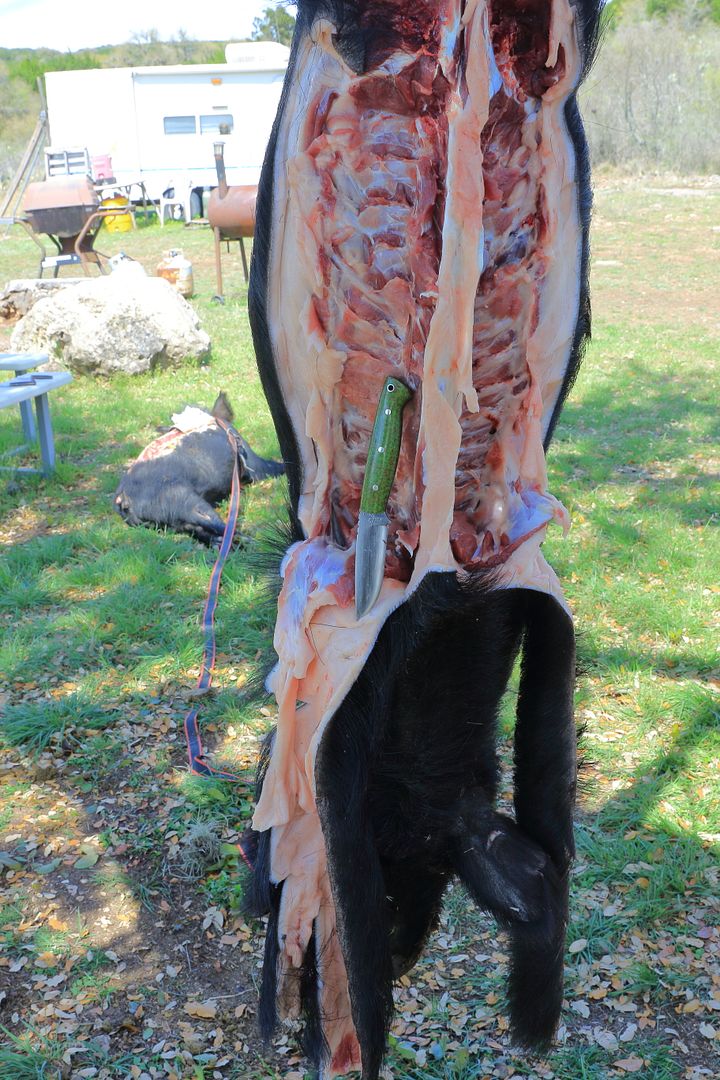 Anywho,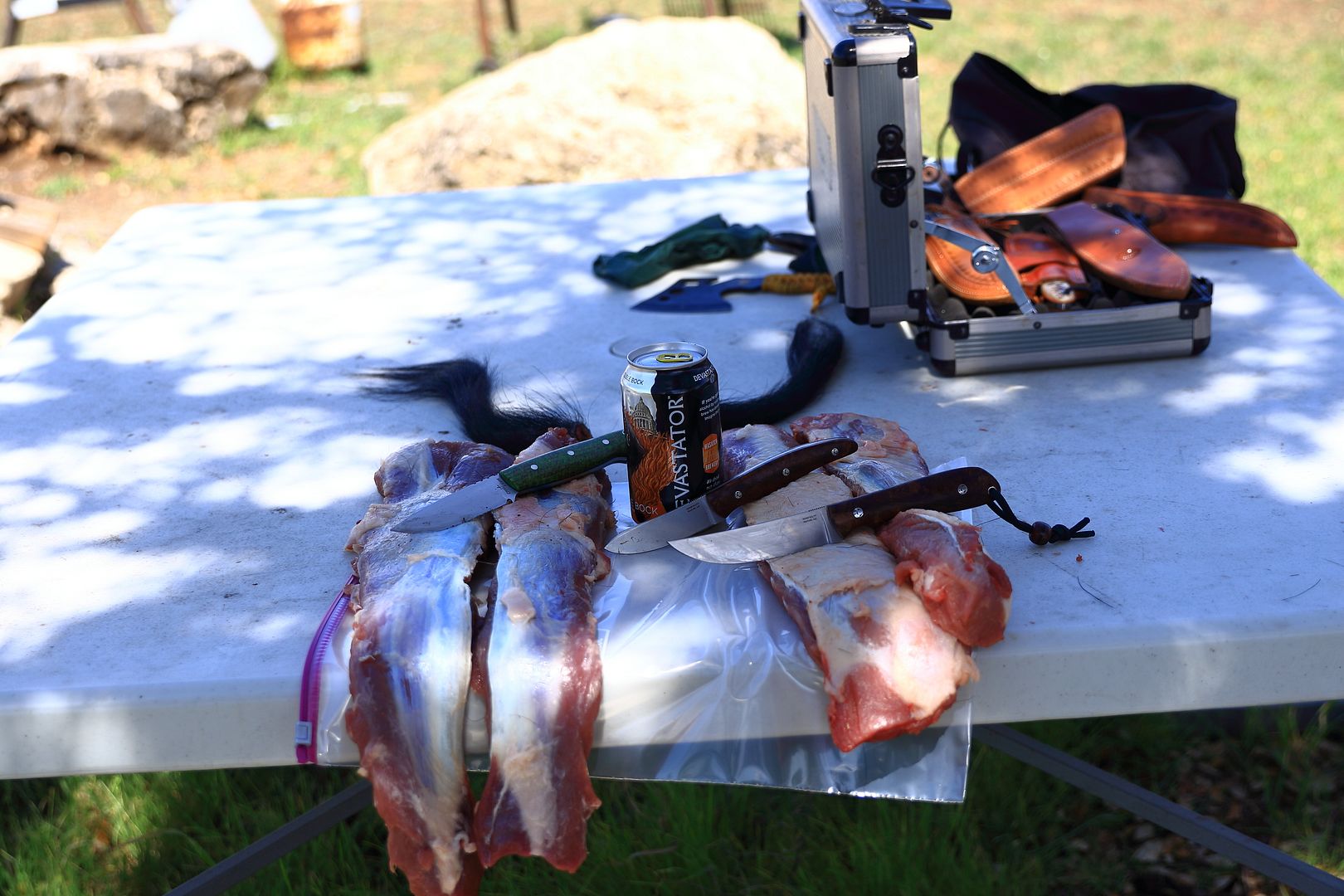 Made they made short work of stripping out the loins.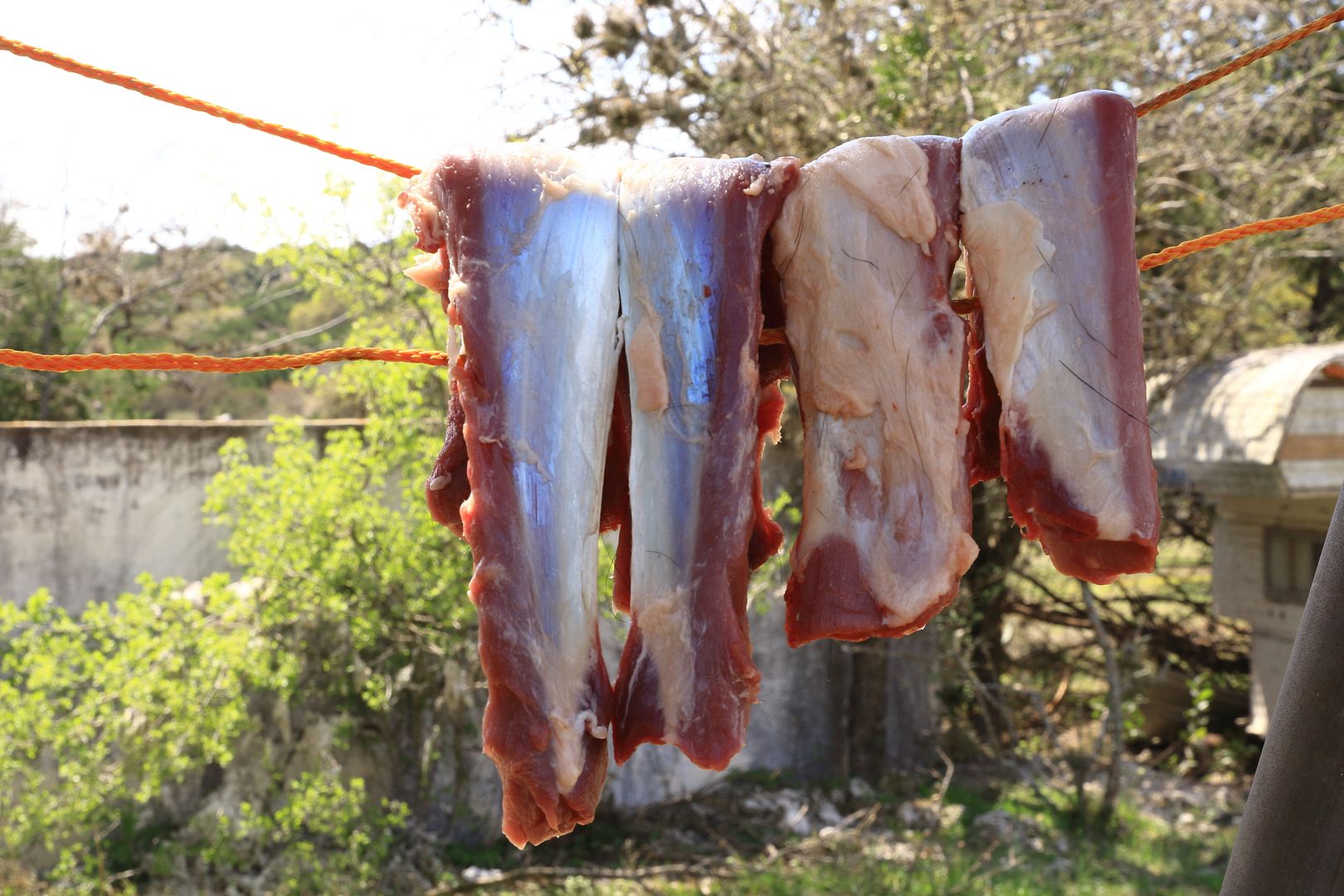 Shot a 4th pig on Sunday eve.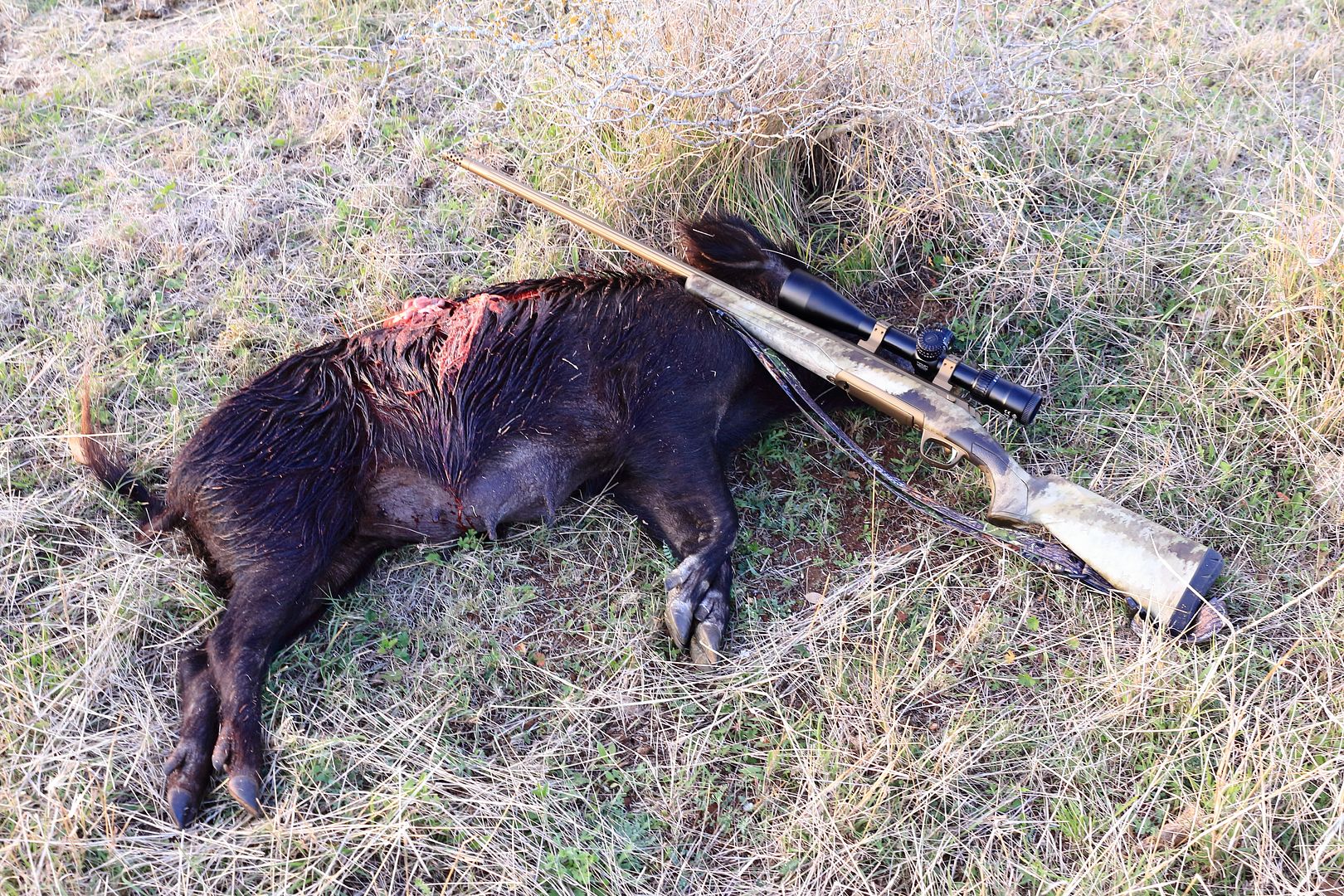 eve and a 5th on Monday eve.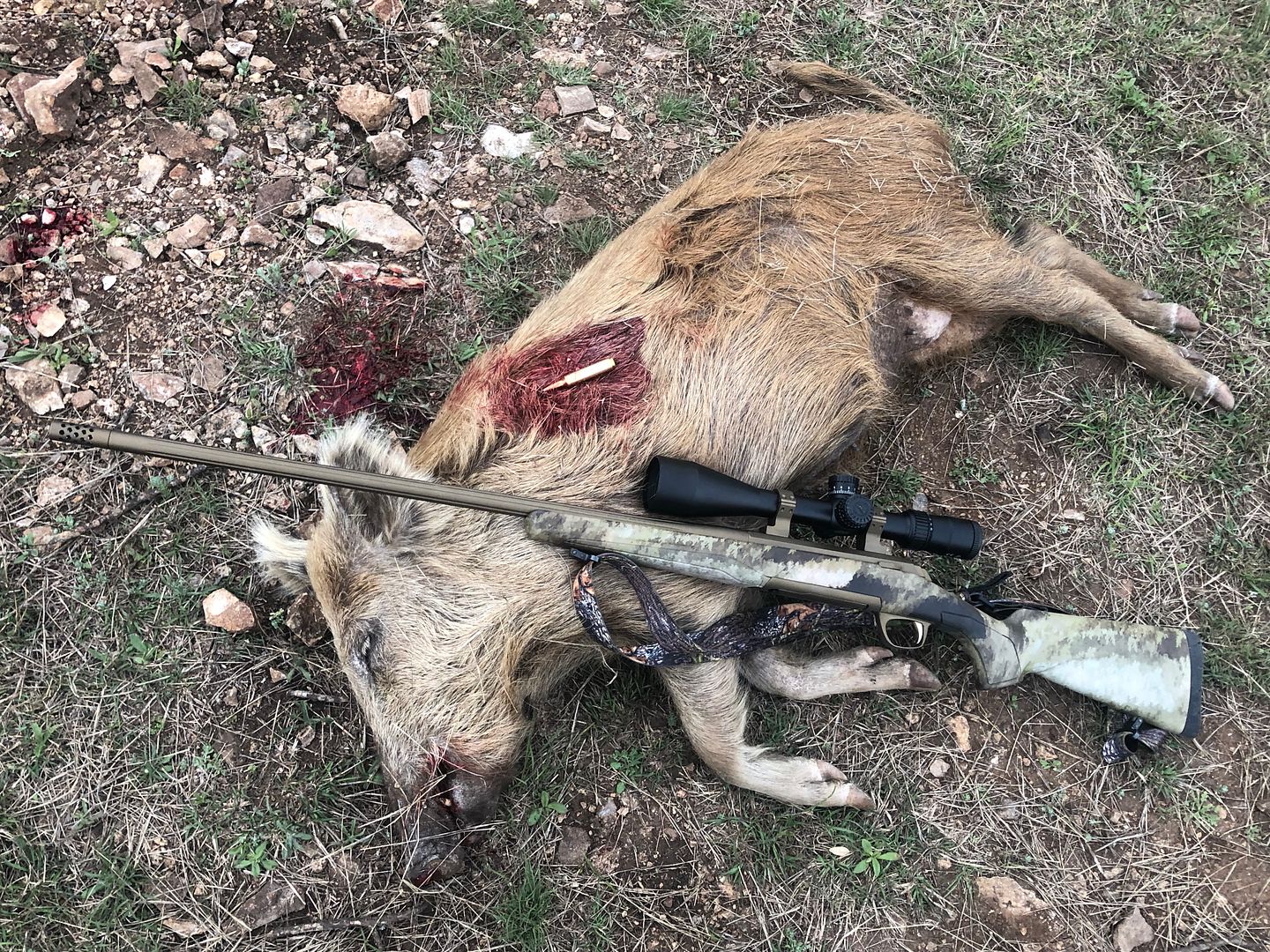 Browning Hells Canyon Speed, Long Range,26 Nosler,142gr. LR Accubonds
Both were sows that had piglets on them and they were pretty poor, so I left them for the buzzards.
Took my sixth hog in a trap on Tuesday morning.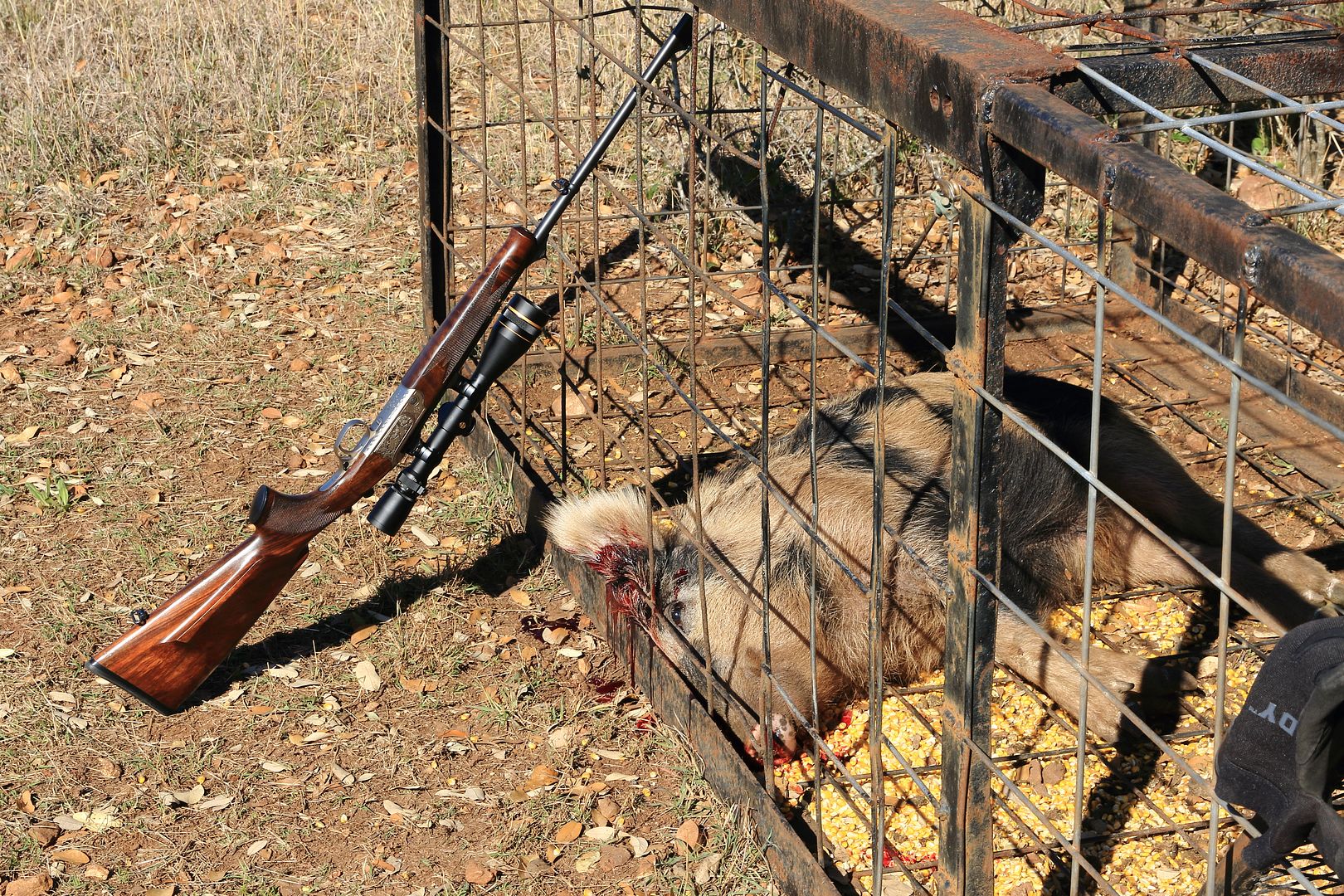 Whenever I go afield, I always carry my Menefee "Sweet Sixteen in my pack, just in case I have to do emergency surgery!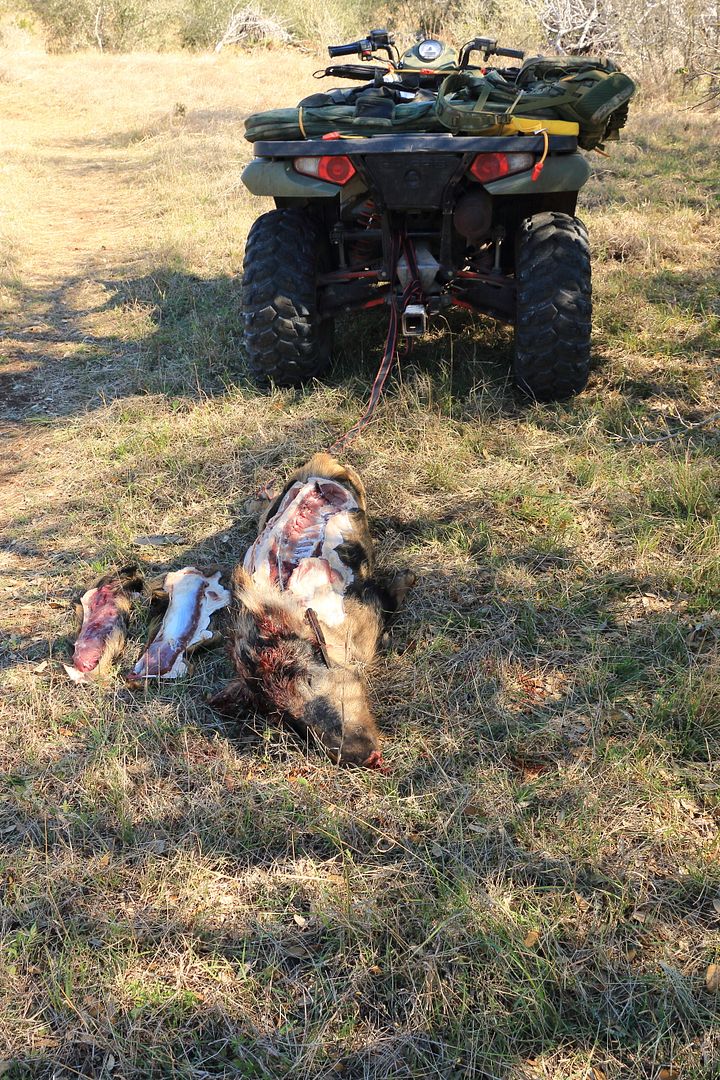 The turkeys did not co-operate, but what the hey, there's always next time!
Ya!
GWB
23 March 2019, 06:42
Jerry Fisk
It's always fun to get out and do field work like that.
23 March 2019, 21:22
nopride2
Great pictures as usual. Pigs have a bad day when your around.
Dave
24 March 2019, 00:30
p dog shooter
Back straps from those size pigs make very good eating.
25 March 2019, 14:26
Karoo
I really your posts, Geedubya.
When do you peel the skin off the backstrap before removing and when do you take it off, skin and all?
28 March 2019, 06:12
TexKD
Pigs want to RUN to the next county when they know you are driving up!
But one good thing is that you are never buying Spam.

(My daughter recently had a school project and it involved Spam. I hadn't had it many years. )
Excellent hunting and great knives and blade work.
28 March 2019, 07:17
Geedubya
quote:

Originally posted by Karoo:
I really your posts, Geedubya.
When do you peel the skin off the back strap before removing and when do you take it off, skin and all?
Karoo,
I am not sure I understand your question, so let me address it this way.
First I skin, whether it is the whole hog or just an area sufficient to take the meat off that I want.
In this case I first took the skin off of about a six inch wide by twenty inch long strip on either side of the backbone. I was on my ATV away from camp and did not have anything to wrap the loins in other than a tee-shirt. So what I did was take the 6" x 20" flap of hide and lay it fur side down. Then I removed the loins from either side of the backbone, and laid each loin on the fat side of the skin flap.
I then made a sandwich with the flaps of skin out and the loins facing each other. I then took 4 lengths of tie wire and wired that together. Looked kinda like a hoagie. I removed my tee-shirt and slid the "hoagie' into the tee shirt and wrapped it and put it in the front of the ATV so it would not get dirt and dust on it before I could get the loins into the cooler. All this was done within 20 minutes of the animals demise! Muscles were still twitchin' when the blade was slicing along the backbone!
ya!
GWB
29 March 2019, 00:24
Karoo
Thanks GWB. In my ignorance, it looked like you cut the loin out without skinning first. Makes sense now.
All a bit new to me as in Africa everything gets used of an edible animal, but I understand the different situation with hogs in the US.
29 March 2019, 03:23
Geedubya
I left my traps/pens set as a bud was to be up the day after I left. The hogs hit the traps at night and it was going to be in the 40's to 60 degrees F during Tuesday night and Wednesday Day.I don't mind killing critters but I don't care to torture or abuse them.
Anwho when he got there there were six in the trap he dispatched. Next morning he had 5 more in a different trap. In about 10 days of being there between the two of us this month we have dispatched 22 hogs. If I could get another hundred by October, the start of our archery season, I might make a small dent.
ya!
GWB
29 March 2019, 04:17
ZekeShikar
GW,
You're a critter slaying, knife wielding, colorful son-of-a-gun.
Well done...again!
Zeke
02 April 2019, 07:47
mdstewart
Those pigs are incredibly ugly, but the rifles are so fine. You know I love that X-Bolt. Best out of the box rifle ever.


JP Sauer Drilling 12x12x9.3x72
David Murray Scottish Hammer 12 Bore
Alex Henry 500/450 Double Rifle
Steyr Classic Mannlicher Fullstock 6.5x55
Steyr Classic Mannlicher Fullstock .30-06
Walther PPQ H2 9mm
Walther PPS M2
Cogswell & Harrison Hammer 12 Bore Damascus
And Too Many More
10 October 2019, 08:11
Charlie64
.
GWB, Just saw this now. Great hunting and great job on the pork. Like the Merkel K1. Interesting caliber for a hog rifle in 222 Rem?! Clearly note lite from the job dorn but to a European a surprisingly lite choice for hogs!
Wishing you that you 'dent' away at the pork population!
Cheers
Charlie
.


"Up the ladders and down the snakes!"