The Accurate Reloading Forums
Randall Knives - What makes them one of the best?
01 January 2009, 09:04
Singleshotlover
Randall Knives - What makes them one of the best?
When I separated from active duty in the navy, the first knife I wanted was a randall. But shoveling coal at 1.95 an hour left precious little for such a knife. Instead bought a puma "buddy" for about $30.00 and over 40 years later never regretted it. Still have it and will easily shave hair with it. Always thought a good knife was sort of a "personal" choice. May sound kind of funny but there it is. Happy New Year Frank
02 January 2009, 00:53
Abob
For the Army, it's like owning a pre-64 Model 70
Bo is the man!!!
If you check his web site
"*****Important--Please Read Before Ordering****** Current order deliveries are being scheduled for delivery in 58 MONTHS, year 2013. Randall order limit is a single knife every three months per household."
he must be doing something right
Jim
fur, feathers, & meat in the freezer

"Pass it on to your kids"
02 January 2009, 20:58
blackbearhunter
Bo Randall was taught how to make a knife by William Scagle...Thats as good as it gets my friends..I love Randalls
03 January 2009, 00:58
pichon1
quote:

Originally posted by Abob:
For the Army, it's like owning a pre-64 Model 70

Bo is the man!!!

If you check his web site

"*****Important--Please Read Before Ordering****** Current order deliveries are being scheduled for delivery in 58 MONTHS, year 2013. Randall order limit is a single knife every three months per household."

he must be doing something right
By the time my knife arrives, I will have forgotten why I ordered it.

24 January 2009, 08:59
N. Garrett
I grew up in Orlando, and Mr. Randall (Bo) was my neighbor (I lived on Jessamine Lane, which was the back entrance to his property, and the front entrance to his 2 daughters/families place).
His grandson Whit and I would go over to his shop frequently, and watch the knives being made. I learned a little bit about the process, and also about what makes a quality product.
Mr. Randall started selling his knives at the end of WWII. There were very few custom knife makers at all then.
He sold more during the Korean conflict too, but it was Vietnam that made his reputation.
He also was doing something very different from the other custom makers: he actually had around 6 guys working in his shop full time, and they (for the most part) never quit or went elsewhere.
Therefore he could turn out a small but predictable inventory of custom knives, that was WAY ahead of other custom shops.
Also, a member of the Armed Forces got their knives right away, and it became a cult in certain combat units during the Vietnam war to own a Randall.
They kept a big display area in the shop with letters from service men who used the knives in combat, including silencing sentries, hand to hand, and yes...cutting out of a downed Huey (I think that letter is still there).
Also, the knives were so well regarded that NASA made them the official survival knife of the Mercury, Geminii and Apollo programs.
Gary Powers was wearing one when he was shot down over Russia in his U2.
During the 60's and 70's, his was just about the only game in town if you wanted a high quality fighting/combat knife, and you wanted it pretty quickly (again assuming you were in the military/covert forces).
Knife making has evolved a lot since then, but his operation was pretty seminal in the custom knife world, and it was the coveted status of the Randall knives that drove other makers to create a similar mystique with their clientele.
I doubt that any other knife maker has 100 or so letters saying something like: "I am writing to ask for replacement of my Model 14 as it was lost when I attacked a VC sentry in Quan Tri province".
I've used them pretty vigorously.
I think they are worth the money you pay for them, although of course today you have more choices than in 1966.
Garrett
09 February 2009, 09:36
jetdrvr
quote:

Originally posted by DMB:
To be quite honest here, Randall knives do get the job done, no question about it. They use good steel, heat treated properly, and have good stag handles.


Don
Yeah, I like Randall. Met Bo may years ago. I have four of them, did have five, a # 18 (I seem to recall) survival knife I carried for many years flying. Gave it to a friend. That thing would have ripped sheet aluminium all to hell if I had needed to make a hole.
I can't agree with the comments on fit and finish. Maybe the new ones are rough, but the older ones I have are slick. Had a friend who was a dealer in Miami during the 70's and bought three from him and one from Randall in Orlando. To illustrate how long ago that was, they had a case full of knives in their shop the last time I was there. If you're ever in Orlando, drop by the shop. They have a really neat museum there.
I ordered a #27 in June '05 that's scheduled for delivery this July. Glad I locked in the price. They've gone up a bit, but nowhere near as much as on eBay or at the gun show I visited last weekend. Looks like a good camp knife and I'll hopefully have it in time for Tanzania.
04 March 2009, 02:57
MacD37
In 1955, right after Korea I ordered a Randall Alaskan. The price tag was $50, a price unheard of for a belt knife at the time! But somehow I scraped together the price, and placed an order.
Things rocked on for about nine months, with no word from Bo! I wrote him a letter and ask where my knife was. In about a week I got a letter from Randall that read:
"Randall knives are hand made by me only, and they are the best custom hand made knife in the world. If the Randall knife is not worth waiting for, here is your uncashed check, and you can buy a knife elswhere!"
I promptly sent the check, back to Bo, and asked that he go ahead with my knife!
....Mac >>>===(x)===> MacD37, ...and DUGABOY1
DRSS Charter member
"If I die today, I've had a life well spent, for I've been to see the Elephant, and smelled the smoke of Africa!"
~ME 1982
Hands of Old Elmer Keith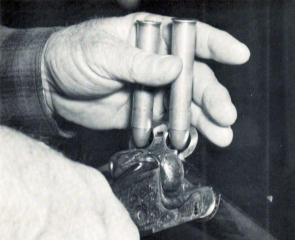 05 March 2009, 09:07
N E 450 No2
I handled some of my Randall knives today.
My original post still stands.
They have excellent balance, and as I stated in my first post they cut extremely well.


DOUBLE RIFLE SHOOTERS SOCIETY
I wanted a Randall for about 15 years. I purchased a #14 with the border patrol handle on e-bay. Great feel and balance. Very poor finish quality for a $400 knife. The grind is not even the point looks twisted. The back edge of the knife was rolled over. 120 grit grinding marks showing through the finial polish.I am sure it will make a great working knife,but AM really sad to see such poor finish quality.
JD


DRSS
9.3X74 tika 512
9.3X74 SXS
Merkel 140 in 470 Nitro
22 June 2009, 07:24
Bill Cooley
quote:

Originally posted by Snowwolfe:
I guess as most of us age we have more money to buy shit we really don't need, lol.
Finding myself in this position lately I find myself looking at Randalls web site and ordered his catalog.
Are his knives that good? Or is it simply they are so expensive people perceive they are better?
Before you spend all your money on Randall's take a look at this web site
http://www.jmcclureknives.net/Hunting%20Knives.htm
You might find something you like.
Bill


Member DSC,DRSS,NRA,TSRA
A man who carries a cat by the tail learns something he can learn in no other way.
-Mark Twain
There ought to be one day - just one – when there is open season on Congressmen.
~Will Rogers~

22 June 2009, 16:42
Gatogordo
THEN, which is up to the 70s, Randall's were top tier knives. Since then, the knife making world and steels have long passed them by. Their backorders are because of their reputation earned THEN, not because of their knives now. Personally, I'd rank them as third tier knives and priced as very good quality second tier. A great piece of modern American knife making history, but not up to current standards.
Do they cut, well,
, of course, but so will a piece of lawn mower blade. I've got several of them, from the 60s and 70s, and I'll be selling them as I dig them out.
I'm adding this comment, let me be clear, Randall makes a nice knife, and they "invented" many of the modern blade styles which are often copied or changed just a bit. However, their waiting times for delivery and their prices are substantially more than they are worth.


xxxxxxxxxx
When considering US based operations of guides/outfitters, check and see if they are NRA members. If not, why support someone who doesn't support us? Consider spending your money elsewhere.

NEVER, EVER book a hunt with BLAIR WORLDWIDE HUNTING or JEFF BLAIR.

I have come to understand that in hunting, the goal is not the goal but the process.