The Accurate Reloading Forums
New Hunter
22 July 2015, 21:48
lost okie
New Hunter
It's about too hot to work at the forge.
Old School style; random pattern damascus and maple.
Haven't done one like this in several years.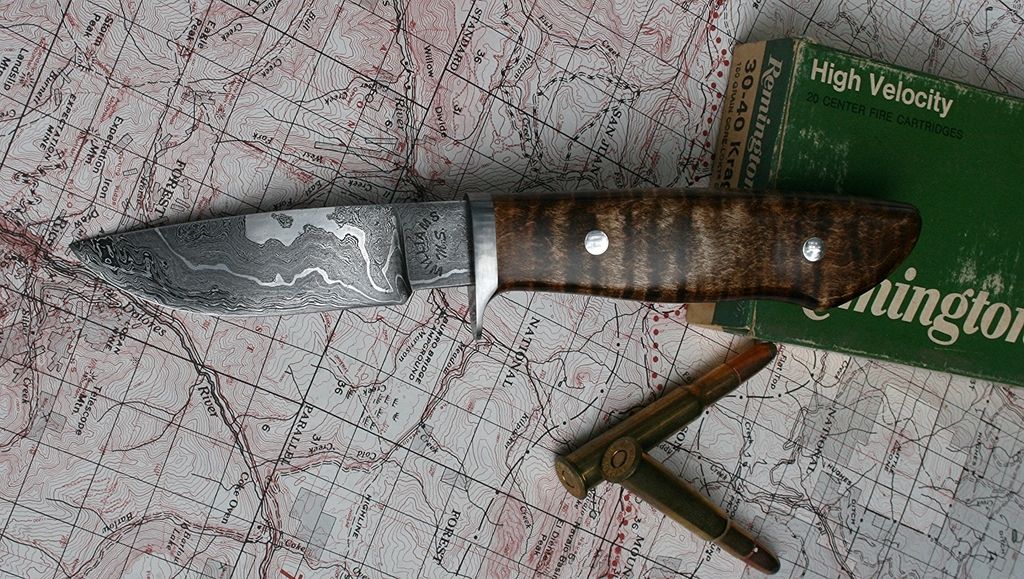 22 July 2015, 22:04
Lee Baumgart
I really like it!
Having same problem with the heat here in the Northwest, although we are cooling down this week. I find it hard to wear a respirator while doing handle work when it is over 90 degrees in my little shop. I don't enjoy feeling like I am suffocating!
Lee
22 July 2015, 22:10
ZekeShikar
I know a little bit about what you're going through.
I had my respirator on while working on my Kevlar stock. I was a hot mess! I don't like the heat but breathing Kevlar grindings is probably even worse. ha
Zeke
22 July 2015, 22:12
ZekeShikar
Opps!
I meant to also say, awesome looking "old school".
I'm so old that the knife pattern looks pretty new to me!
Zeke
23 July 2015, 05:45
Geedubya
MW,
I don't know whose idea it was to take the pix on a topo map, but it's amazing how it sets off the damascus pattern. When I look at that damascus pattern it looks like it could be an extension of the map and is illustrating the meandering of two tributaries of a stream/river emptying into a lake. And the fact that it is "random" makes it all the more stunning. Luv it.
As always, very much appreciate you taking the time to post such finery here.
Best,
GWB
23 July 2015, 19:03
Jerry Fisk
Real nice Mike and you can tell by the grind that sucker will cut well.
For those of you who do not know, Mike helped over see the national and the world's finals cutting competitions. He knows how to make a knife cut.
26 July 2015, 09:34
Use Enough Gun

26 July 2015, 16:21
lost okie
Thanks for the kind words guys; hot in OK right now!
mike