The Accurate Reloading Forums
.30-40 Krag big game loads
01 September 2019, 06:47
Buglemintoday
.30-40 Krag big game loads
Any favorite loads for this caliber? It is in a Krag bolt rifle so would need to be lower pressure (not a Ruger #3/#1) mainly want to try 180-220gr flat or round nose for nostalgia

04 September 2019, 09:13
NormanConquest
My loading room + book of my reloading history is at my shop + I'm at home. So I can't give you the powder + charge. Most likely it was IMR 4350 (one of my favourites) The bullet I am sure of was the Sierra 220 G. R.N. That is what the Krag was regulated for.That's the only one I load for the Krag. Pull out your Sierra manual + start at about 75%. They will give you an accuracy + hunting load (usually full tilt). I say to start at 75% + work your way up.


Never mistake motion for action.
07 September 2019, 04:08
Buglemintoday
Thanks Norman, I should be receiving my 220gr Sierras today and it looks like all over the web 40.0gr of IMR4350 is everyone's favorite load for these guns.
I hope my package arrives so I can go shoot the gun over the weekend
07 September 2019, 09:14
NormanConquest
Please post your results. I for one am interested.


Never mistake motion for action.
08 September 2019, 08:55
Snellstrom
I've been loading 180 grain Sierra's for my Krag
45 grains of IMR4350 which gives me about 2200 fps.
This load is pleasant and very accurate, sub 2" groups with peep sights at 100 yards.
I have also loaded IMR 4064 as well with similar results.
I need to take a few deer with it just to make sure it works (laughing out loud)…
16 September 2019, 09:42
NormanConquest
Of course, but one wants to make certain that it WILL work, oh well an excuse will do I suppose. HAHA. Bugle have you had a chance to try your 220 Sierras?


Never mistake motion for action.
26 September 2019, 23:13
Atkinson
Ive seen the Krag used on elk and deer out of a Win mod. 95 on more than a few ocassions growing up, the 220 gr. Sierra bullet is rather soft or was at the time and it performed beautifully. maybe 50% exits and always good expansion.. Powder used by my uncle btw was of course 4895, 4350 and 4831, that's about all folks used back then, and not many handloaded as it was considered a dangerous practice locally. I suspect IMR-4064 was used some, but don't know.
I did track down and kill a wounded elk that someone had shot and I used his mod. 95, but it was a neck shot and blew up on the bone, but took out 3 or 4 inches of the spine and back bone and killed instantly. Left it, as Im sure it was fevered and it smelled and was littered with maggots, maybe a week old??? There was a group of hunters across the divide from us that year..Of interest is the wounding shot was what most would have called a killing shot, the bullet went over the top of the lungs and under the backbone, and rotted out a huge hole of puss and maggots..unfortunate, but not bad shooting, just happened..Ive seen this several times.
Additionally I remember a shot on a big mule deer at about 100 yards. I was using a 30-40 carbine Krag rifle..That 220 Rem corelokt knocked a hole in that deers heart.lung area that I could have drove my PU through, well 2 inches in and 6 inches out. impressive.


Ray Atkinson
Atkinson Hunting Adventures
10 Ward Lane,
Filer, Idaho, 83328
208-731-4120

rayatkinsonhunting@gmail.com

07 October 2019, 00:10
tdoyka
30-40 krag
165gr ranch dog (.311")
25.5gr of h4198
1930fps


"All that was great in the past was ridiculed, condemned, combated, suppressed — only to emerge all the more powerfully, all the more triumphantly from the struggle."
― Nikola Tesla
22 October 2019, 21:10
Huvius
quote:

Originally posted by Buglemintoday:
...it looks like all over the web 40.0gr of IMR4350 is everyone's favorite load for these guns.

I loaded some with the 220gr Sierra RN and the old Lyman book says starting load for IMR4350 is 41gr starting load to 45 max.
41grs at 1934fps out of a 22" Krag rifle.
2127fps at 45grs.
Most accurate load was 43grs at 2004fps
I loaded a ladder of 41, 41.5 and 42gr loads and will report on how it goes.
31 October 2019, 07:54
Buglemintoday
Rifle shoots great! I have been eyeing an 1895 carbine in the Krag cartridge as well. Pretty pleasant to shoot! It's difficult with open sights to figure out what is most accurate, Maybe I need to re-test at 50y to see what groups it will do. At 100y it shows promise but the sights are not precise like a peep/globe or scope.
17 November 2019, 02:06
Huvius
I got out today with my 30-40.
The rifle is a Westley Richards 1881 patent falling block custom rifle by Harlan Howe.
As mentioned above, 220gr rn Sierras
H4350 powder.
All 4 shot groups at 50yds as a "get on paper" effort. No cleaning after the first shot.
Light left to right breeze.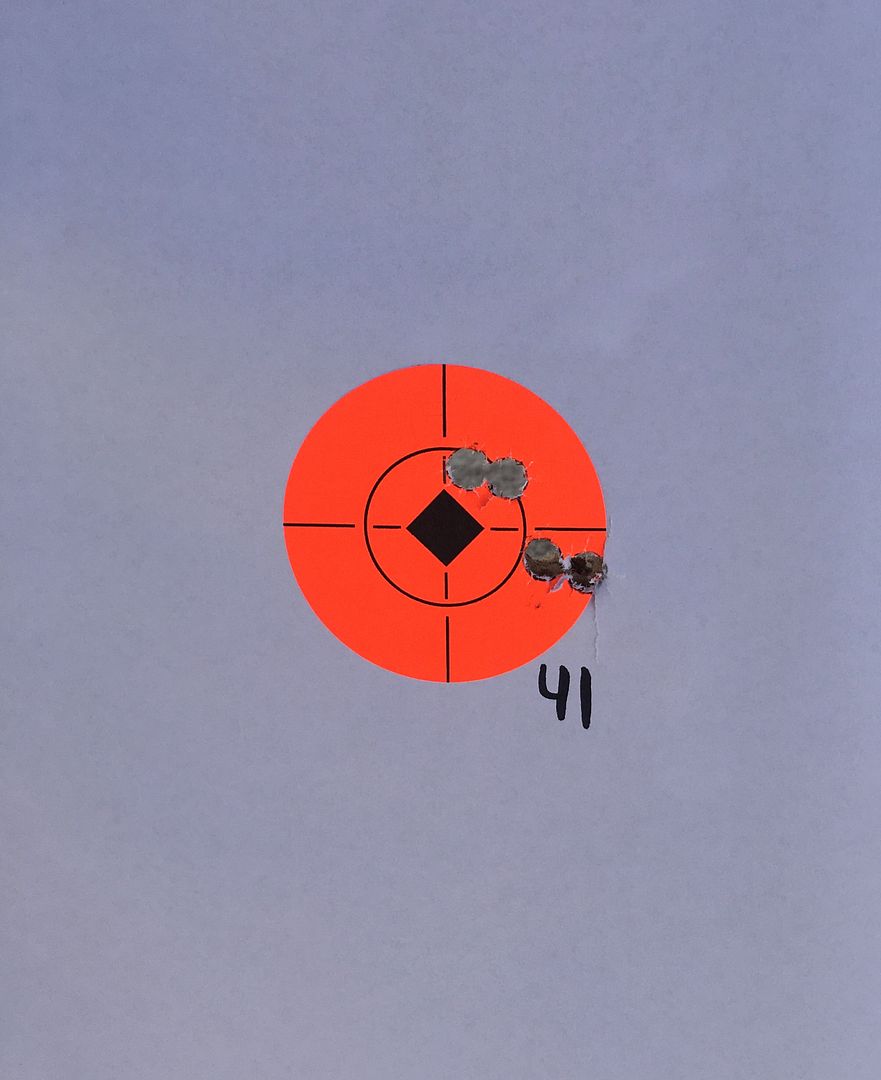 Didn't have another orange dot on the paper so just did the old "first shot is the target" on this load. I knew I pulled the last shot so 42grs will probably be where I settle with this rifle.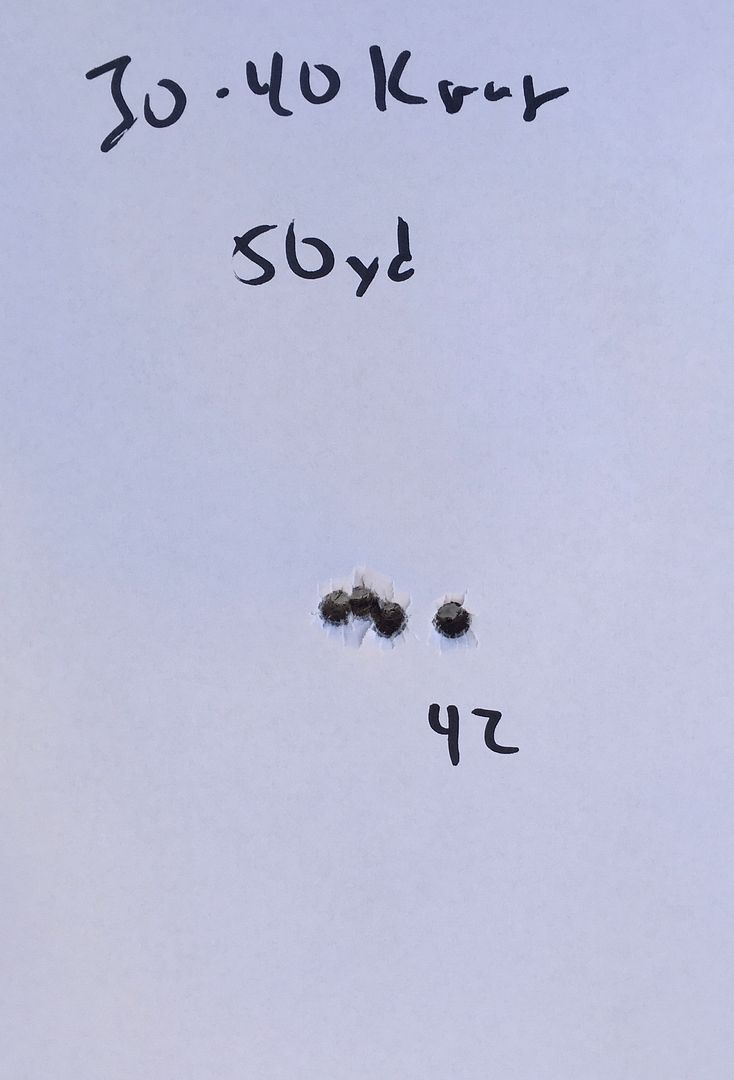 The guys next to me had a 12" X 16" steel out at 200yds so I held even with the shoulders and hit all four. Not sure of the sequence though.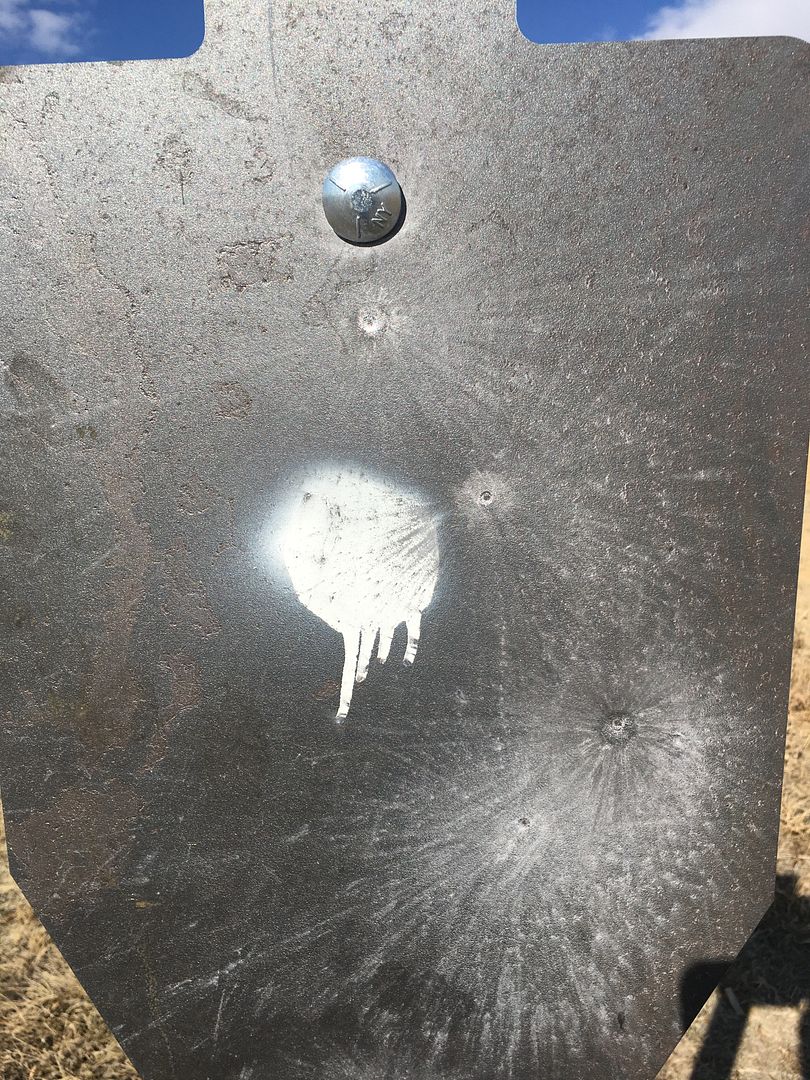 I'll tune it a bit more and probably go again on a calm day but I'd say that the Krag is a pretty forgiving cartridge with the 220 grainers.
23 February 2020, 05:01
Atkinson
Any 220 gr. bullet at about 1900 FPS works best..I use old surplus 4831..


Ray Atkinson
Atkinson Hunting Adventures
10 Ward Lane,
Filer, Idaho, 83328
208-731-4120

rayatkinsonhunting@gmail.com

25 February 2020, 08:40
NormanConquest
I agree. I use a 220G. Sierra R.N. with IMR 4350


Never mistake motion for action.