Here are some pics. of the bulls we shot with Garvey Brothers Outfitting in Nucla,CO. owned by Stan and Doylene Garvey
Hunt consisted of myself, one of my older brothers (Dean), and 2 friends, Richard and Reuben.
The hunt was conducted Oct. 23rd - 27th as an elk only hunt.
Stan also offers mule deer hunts (7 - 8 pref. points) and mtn. lion. Both of which he takes some dandies. Landowner tags are also available.
Accomodations: Great. They built a new sleeper cabin a couple of years ago and we got lucky enough to get that. A couple of the other hunters stayed in the main cabin, while the rest stayed in heated wall tents.
Food: Excellent. Homecooked meals and sack lunches during the day. Meals were usually every morning at 5 am in the main cabin. Stan's wife Doylene is an excellent cook. Even got homemade pies (3 diff. ones to choose from 1 night)! If you ever were hungry, it was your own fault.
Guides: Couldn't get any better. Guides were Stan's son Dustin, His brother Joe and a younger man named Doug. The hunt was set up as a 2x1 but the amount of hunters and guides dictate this. There was never a situation where there more than 2 hunters with a guide. Some days, you went 1x1.
Stan's policy is that you don't have the same guide every day. He feels that it is more fair if the guides switch hunters every day.
Amount/Quality of game: Excellent. Saw elk everyday. Not uncommon to see 10-15 bulls a day. We saw close to 200 elk on day 4.
Day 1:
Our friend Richard started off by taking this nice 6 x 6. Even though 2 of the tines were broken, it's still a great trophy.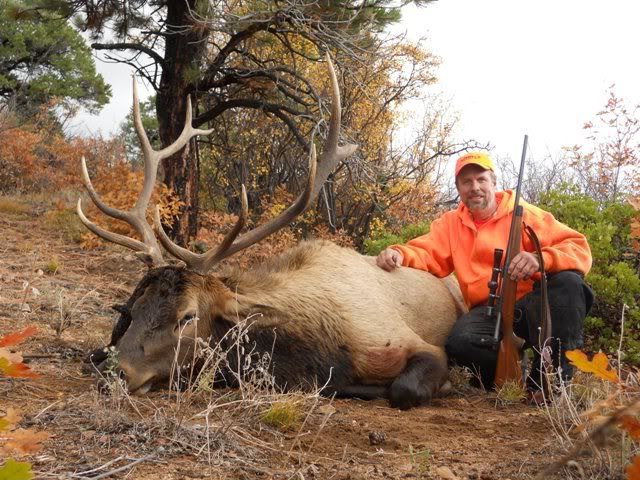 Day 2:
My brother Dean took his nice 6 x 6 late morning.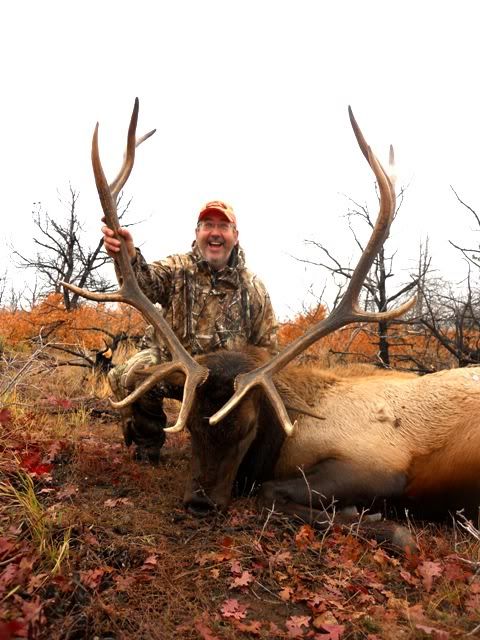 Day 3:
Bad weather - rain, sleet, snow. Nothing taken today
Day 4:
The guides had decided that we would start out at the top of the mountain and work our way down towards camp. We started off early (bkfst. was at 4:30 am) and drove the 2 hrs. to the top of the mountain. As soon as daylight broke, there were elk everywhere. We looked at approx. 10 - 15 bulls before 9 am. At 9:30, my guide Dustin all of a sudden said "here's your bull". Through the spotting scope, we could see a big 6 x 6 feeding along with a smaller bull. Dustin said that the bull would probably bed down, so we had better get moving, as it was about a 3 hr. walk to get into position.
I thought "no way"........it didn't look that far. He assured me that it was. He was right, and then some. It took us 4 hrs. of steady walking to get in position for a stalk. We were lucky.....the bull was still bedded, but in thick brush. We closed the gap to approx. 400 yds. when all of a sudden, we jumped a small bull. I thought this was it......the small bull was going to spook my bull and i didn't have a shot !! Luckily, the small bull trotted off in the opposite direction. The stalk was back on. We snuck our way though and closed the distance to 250 yds. We could see the bull still bedded along with another smaller bull bedded higher. All of a sudden, the smaller bull got up, then mine. We hurried and found an opening for a shot. My bull got out of his bed, and started through the brush. I pulled my gun up and took the shot. The bull dropped in his tracks. A beautiful 6 x 7 with good mass.
Day 5:
With 3 out of 4 tags full, it was Reuben's turn. Not that he hadn't seen any bulls (he had seen plenty), just with the amount of bulls we had spotted, he was holding out for a bigger bull. In the end, he took a nice 5 x 5. Not really what he wanted, but after all those days and all those miles, this was a well earned bull !!