The Accurate Reloading Forums
Flat Top Checkering
18 May 2019, 19:49
Jim@IMReps
Flat Top Checkering
Am a big fan of flat top checkering, have tried many times to make a cutter, not a ton of information available on how to. The results when done well are outstanding.
20 May 2019, 01:23
setters5
I've read that the guys and gals that do it, use normal spacers. some apparently use pieces of hacksaw blade with the set ground off, and then soldered to handles to cut to depth.
Normal checkering is tough enough, but I too love good flat top,
20 May 2019, 20:52
LesBrooks
First, learn to use checkering tools with air blowing away from you to keep dust away from your nose. I have checkered for yrs and now have problems with allergies from the wood. I would make a tool as a spacer to cut only one line. The first line is a single line tool and then space from right to left with the cutter guide side following in the first line. Me being right handed I can see what is going on by watching the cutting side on the left of the spacer. High speed hack saw blades ground down to narrow the cutting edge will work well. Use soft solder to hold cutter on the shaft and make the spacer as you wish for size. Older skip line cutter can be used.
I have lots of info on my DVD on checkering with an hour or more of video. I use mostly electric tools as it will save time in spacing regular checkering, but not for flat checkering.
22 May 2019, 02:44
Russ Gould
You can do it using a simple 60 degree single cutter and limiting the depth. You would struggle to get it deep enough to point the diamonds, on anything coarser than about 20 lpi anyway. You can do your spacing/layout with normal tools.


Russ Gould - Whitworth Arms LLC
BigfiveHQ.com, Large Calibers and African Safaris
Doublegunhq.com, Fine English, American and German Double Rifles and Shotguns
VH2Q.com, Varmint Rifles and Gear

24 May 2019, 17:12
Jim@IMReps
Russ can you post any pics of your work using the 60 degree cutter, would like to see an example?
20 June 2019, 18:25
clowdis
https://photos.google.com/shar...alo3LVNaUThVTm1UWjN3
This is some checkering that I did by using an 18 lpi standard spacer and then deepened with a 60 degree liner. I have to agree with Russ that this seemed to be the easiest way to get there without making a bunch of checkering tools. I guess you could argue that the grooves need to be square shaped or V shaped but to me it's a moot point.


"Peace is that brief glorious moment in history when everybody stands around reloading".

26 July 2019, 06:21
Jim@IMReps
With Duane's permission, excellent example of flat top checkering
27 July 2019, 19:08
Jim@IMReps
From the bench of James Tucker
27 July 2019, 19:15
Jim@IMReps
One of Butch Lambert's rifles with flat top checkering
17 January 2020, 00:26
Jim@IMReps
Martin Hagn Falling Block .270, pictures by John Bladen
26 January 2020, 09:09
carpetman1
Les Brooks---I'd bet the answer to my question is going to be no. Do you irrigate your sinuses? ( This is in response to your problems from the dust). If your answer is no, perhaps you don't know how. If you want the how, let me know.
27 January 2020, 18:37
LesBrooks
I will show my checkering setup. With the power wheel throwing dust back into your face it won't be long before you will get the sinus running. The dust is poisonous to humans and it can be a cause for cancer. I wear a mask and with the air system it keeps dust blowing away from your face which will allow you to continue checking without blowing the dust out of the grooves. A very light amount of air will keep out the dust problem. The use of hand tools can be used the same way, but I switched over to power tools 40 yrs ago and I believe you can cut straighter line with the power. I use a salt spray to flush out the nose and you people need to take a look so you can stay safe.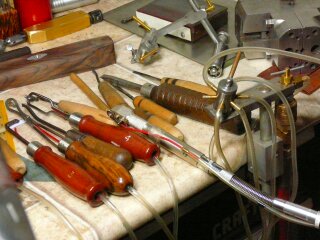 22 January 2021, 09:08
Alec Torres
James - you work is really excellent. Thanks for posting photos of work that meets the highest standards. Hope to wee you soon when I visit the shop to take delivery of the .404 that Reto is working on.
24 January 2021, 02:09
metal
Nice to know that hacksaw blade works well, I'm going to have a crack.
What LPI looks best?
25 March 2021, 19:30
Jim@IMReps
What is the typical LPI for flat top checkering, just bought a used checkering tool made for flat top checkering but the LPI looks to be in the 12-14 range?