The Accurate Reloading Forums
Bowtech backstraps
09 October 2006, 05:17
Tx6BR
Bowtech backstraps
I finally got out this weekend for some bowhunting on a friends place near Abilene. Time for some doe and buck culling. We just shot does this weekend and a great opportunity to break in the Bowtech. The bugs about carried us off all weekend but Eric and I managed to each take a doe. I shot this doe Sat. morning shooting GT Pro Hunters and 100gr Vortecs. She was hit at 21 yards from the tree stand and ran for about 60. Not much need for bloodtrailing, the Vortec opened up a pretty good hole. Saw a couple of good cull 8pts for the next hunt in 2 weeks. We'll see what happens.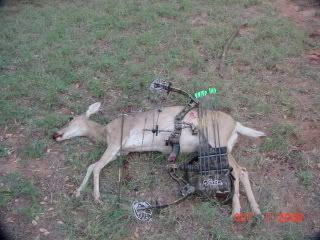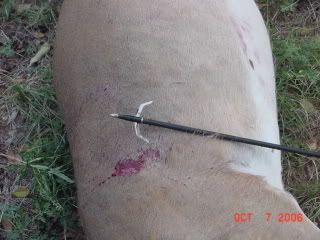 Texas Verminator
Verminator Predator Calls Pro Staff
09 October 2006, 16:19
Don_G
Looks like some good shooting, and eating!
Please keep us posted on how those mechs operate over the long run. Did you get a through-and-through? They look huge!
Are you going to cull a lot of deer, or just a couple?


Don_G

...from Texas, by way of Mason, Ohio and Aurora, Colorado!

09 October 2006, 17:05
Tx6BR
Here is a pic of the exit hole. I have used Vortecs for about 12 years. They work. We worked on the does pretty hard last season and have the ratio about right. We have several cull 7-8 pointers to work on now.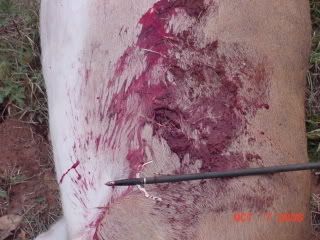 Texas Verminator
Verminator Predator Calls Pro Staff
09 October 2006, 20:29
Gerhard.Delport
The Bowtech sure did a good job.
Enjoy the meat.
Gerhard
Gerhard
FFF Safaris
Capture Your African Moments
Hunting Outfitter (MP&LP)
Proffesional Hunter (MP&LP)
History guide
Wildlife Photographer
www.fffsafaris.co.za
10 October 2006, 03:37
Tx6BR
It would be great to come over your way Gerhard. I think I could tally up a pretty good plains game bill in just a few days with the bow. Always wanted an ugly wart hog for some reason. Kind of go with my javelinas. How's the calling going over your way? I haven't talked to you in a while.
Bob


Texas Verminator
Verminator Predator Calls Pro Staff