Another hog by Pat on his south Texas ranch.
Have a stand in the back corner that needed a south wind for me to hunt it.. This afternoon we had the perfect wind so I decided to slip in there about an hour before dark..
Got settled in the stand and for once the mosquitos weren't too bad so I didn't fire up the Thermacell.. Actually I was thinking I'd have deer this evening but just after sundown a batch of pigs came in.. There were about 10, I guess, didn't count 'em. Two, including the biggest one, were spotted and the rest were black. They were scattered under the feeder and when the bigger one got broadside at about 15 yards I was able to concentrate on a spot just at her shoulder.. The arrow hit exactly where I was looking and stuck in the ground on the off side. Of course the herd of pigs scattered at the shot. I knew the pig I shot wouldn't go far so I nocked another arrow and just waited. I had another 10 or 15 minutes of daylight so I thought the others might come back.. Sure enough right at dark they came back in. I started to shoot a black one but the light was so poor it was hard to ''pick a spot''. I held off and in another minute or two the other spotted on turned broadside, sure is easy to aim at one of those black spots on a blonde pig !!! I thought this shot was perfect too and, in fact, I hit right where I wanted but I was later to find out that this pig was quartering to me a little bit.. This caused the arrow to angle back, obviously.
The first one ran about 50 yards and piled up.. The second ran in a half circle, probably running a total of 75 or 80 yards. This one never bled that I could see.. I felt sure it was a good hit so I kept looking and finally stumbled up on him.. It was, of course pitch dark...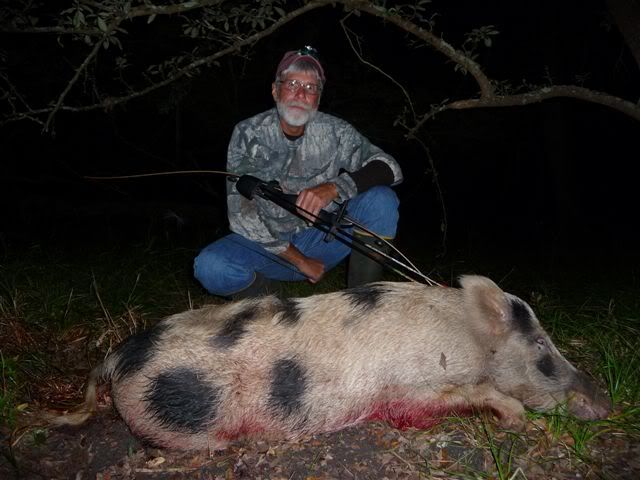 Rich, You probably remember Pat as a BR Hall of Famer. I think he likes bowhunting more than the rifle. Said it gives him a lot of satisfaction.
Butch